Praggnanandhaa wins Julius Baer Challengers Chess Tour Finals
by Shahid Ahmed - 18/10/2021
Praggnanandhaa decimated his competition IM Christopher Yoo in the finals as he needed only three games to win the Julius Baer Challengers Chess Tour Finals. With this win he won US$ 12500 and a Regular place in the next year's Meltwater Champions Chess Tour. This means we will get to see him face Carlsen more than in one event and go against the world's best. Yoo was not an easy opponent as he is considered to have the strength of the Grandmaster, however Pragg made it look easy. The world champion Carlsen and the legend Anand congratulated the wunderkind on twitter. This triumph could possibly be the launching pad which announces Praggnanandhaa's arrival in the big leagues of the chess universe, permanently. Photo: Champions Chess Tour
Praggnanandhaa phenomenal at the Finals
Praggnanandhaa scored eight victories and conceded only one draw in the Finals. He was completely winning the drawn game too, he drew because it was enough for him to secure his place in the Finals. When asked how will he celebrate his triumph, "Actually I need to prepare for the Grand Swiss, which is coming in 10 days! I'll not look at chess for one day..." - the soft-spoken powerhouse, Praggnanandhaa responded.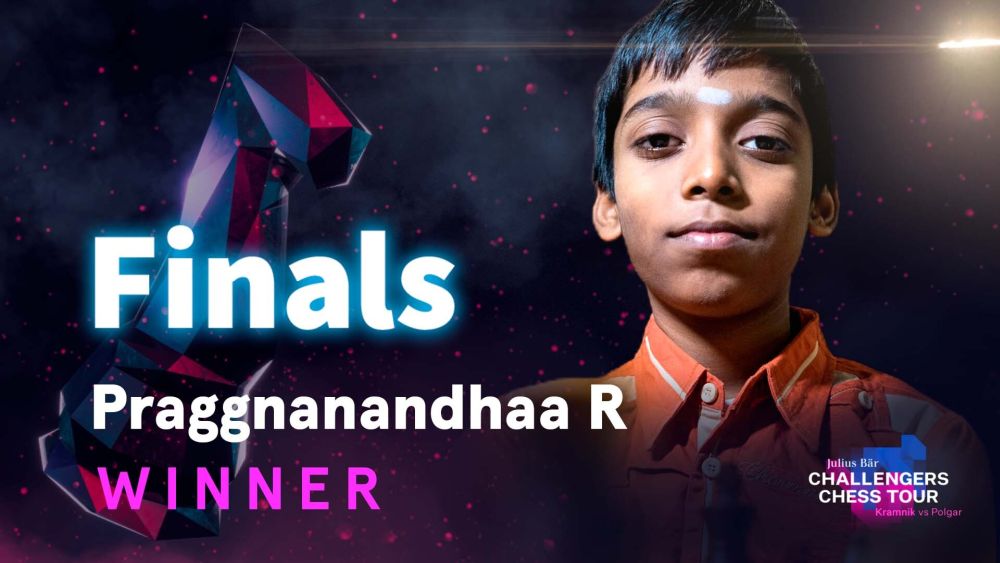 Praggnanandhaa - Yoo: 3-0
IM Christopher Yoo went wrong early in the opening against GM Praggnanandhaa in the first game of the Final.
Yoo - Praggnanandhaa, Game 1
7.d5 cost an exchange for White after 7...Qf6. Although White eventually managed to fight back and equalize in the endgame.
35.g5 fxe5 36.fxg5 imbalance eventually turned out to be in Black's favor.
In search of his first victory in the finals, Yoo made an interesting sacrifice which Pragg defended quite well in the second game.
Praggnanandhaa - Yoo, Game 2
36...Nxh3+ is very interesting as it has some practical chances. However, Black's lack of enough pieces on the board allowed Praggnanandhaa to defend his position and eventually score a win.
Yoo was in a must-win situation. His best attempt was not enough as Praggnanandhaa was in top form and scored his third consecutive victory of the day.
The man with the encyclopaedic knowledge of chess, GM Sundararajan Kidambi reminded everyone of a beautiful queenside majority which Capablanca had decades ago
How the chess universe reacted to Praggnanandhaa's triumph
Pragg on his victory
The world champion Magnus Carlsen congratulated
The icon of Indian chess, the one and only, Vishy Anand
The greatest female chess player of all time, Judit Polgar
Pragg's coach GM R B Ramesh
India no.4 Adhiban
Replay all games of Finals
Replay the live stream
Schedule
Every day between 14th and 17th October, game starts at 7:30 p.m. IST.
Format
The format for the final eight-player knockout will be four rapid games with 10 minutes per player for each game, plus a 5-second increment added each move. If the score is level at 2:2 a playoff will feature two 5+3 blitz games. If needed, there will be Armageddon to decide the winner of the match.
Links
---
Related news
:
Praggnanandhaa wins Julius Baer Challenger Championship

@ 14/12/2022 by Shahid Ahmed (en)
Julius Baer Challenger Championship: Praggnanandhaa takes 2-0 lead

@ 13/12/2022 by Shahid Ahmed (en)
Julius Baer Challenger Championship: Praggnanandhaa wins Match 1

@ 12/12/2022 by Shahid Ahmed (en)
Astounding Pranav Venkatesh wins Challengers Final Four and Challengers Chess Tour 2022

@ 31/10/2022 by Shahid Ahmed (en)
Invincible Pranav Venkatesh wins Magnus Academy Challenge 2022, Bharath Subramaniyam third

@ 10/10/2022 by Shahid Ahmed (en)
Magnus Academy Challenge 2022 R1-8: Pranav, Ilamparthi and Bharath in a four-way lead

@ 09/10/2022 by Shahid Ahmed (en)
Five Indian juniors will feature in Magnus Chess Academy Challenge starting today

@ 08/10/2022 by Shahid Ahmed (en)
Raunak Sadhwani second at Julius Baer Challenge 2022, advances to the Tour Finals

@ 05/09/2022 by Shahid Ahmed (en)
Julius Baer Challenge 2022 R1-7: Prraneeth and Leon make an unbeaten start

@ 04/09/2022 by Shahid Ahmed (en)
Six Indian juniors will feature in Julius Baer Challenge starting today

@ 03/09/2022 by Shahid Ahmed (en)
भारत के प्रग्गानंधा नें जीता चैलेंजर चैस टूर का खिताब

@ 18/10/2021 by Niklesh Jain (hi)
Julius Baer CCT Finals: Praggnanandhaa dominates Keymer to reach the Finals

@ 17/10/2021 by Shahid Ahmed (en)
Julius Baer CCT Finals: Vincent Keymer eliminates Leon Mendonca in tie-breaks

@ 16/10/2021 by Shahid Ahmed (en)
Julius Baer CCT Finals: Praggnanandhaa storms into Semifinals

@ 15/10/2021 by Shahid Ahmed (en)
Challengers Chess Tour Finals featuring Leon and Praggnanandhaa starts today

@ 14/10/2021 by Shahid Ahmed (en)
Vincent Keymer wins Hou Yifan Challenge

@ 22/09/2021 by Shahid Ahmed (en)
Hou Yifan Challenge Day 3: Leon does a rare mate with two knights

@ 21/09/2021 by Shahid Ahmed (en)
जूलियस बेर टूर - प्रग्गानंधा नें जीते लगातार 9 मुक़ाबले

@ 20/09/2021 by Niklesh Jain (hi)
Hou Yifan Challenge Day 2: Praggnanandhaa stays perfect 9.0/9

@ 20/09/2021 by Shahid Ahmed (en)
Hou Yifan Challenge Day 1: Praggnanandhaa makes a blazing start 5.0/5

@ 19/09/2021 by Shahid Ahmed (en)
Aditya Mittal and Vaishali make their tour debuts in Hou Yifan Challenge

@ 18/09/2021 by Shahid Ahmed (en)
Vincent Keymer wins Kramnik Challenge

@ 16/08/2021 by Shahid Ahmed (en)
Kramnik Challenge Day 3: Liang remains at the top

@ 15/08/2021 by Shahid Ahmed (en)
Kramnik Challenge Day 2: Abdusattorov remains unbeaten

@ 14/08/2021 by Shahid Ahmed (en)
Kramnik Challenge Day 1: Tough start for Leon

@ 13/08/2021 by Shahid Ahmed (en)
Leon Mendonca stars in Kramnik Challenge starting today

@ 12/08/2021 by Shahid Ahmed (en)
Gukesh bests Pragg and wins Gelfand Challenge

@ 14/06/2021 by Shahid Ahmed (en)
Gelfand Challenge Day 3: Keymer takes sole lead, Praggnanandhaa still in the hunt

@ 13/06/2021 by Shahid Ahmed (en)
Gelfand Challenge Day 2: Praggnanandhaa makes a brilliant comeback and joins the lead 8.0/10

@ 12/06/2021 by Shahid Ahmed (en)
Gelfand Challenge Day 1: Awonder Liang makes a perfect start 5.0/5

@ 11/06/2021 by Shahid Ahmed (en)
Nihal, Praggnanandhaa, Gukesh and Leon will battle in the Gelfand Challenge

@ 10/06/2021 by Shahid Ahmed (en)
Nihal Sarin beats Magnus Carlsen clean

@ 21/04/2021 by Shahid Ahmed (en)
Praggnanandhaa dominates Julius Baer Challengers Chess Tour Polgar Challenge

@ 12/04/2021 by Shahid Ahmed (en)
Can Praggnanandhaa win the Polgar Challenge?

@ 11/04/2021 by Shahid Ahmed (en)
Polgar Challenge Day 2: Praggnanandhaa takes sole lead 8.5/10

@ 10/04/2021 by Shahid Ahmed (en)
Polgar Challenge Day 1: Praggnanandhaa, Yoo and Abdusattorov share the lead 4.0/5

@ 09/04/2021 by Shahid Ahmed (en)
जूलियस बेर टूर - निहाल, प्रग्गा ,गुकेश और लियॉन खेलेंगे , जूडिथ और क्रामनिक की टीम में होगा मुक़ाबला

@ 06/04/2021 by Niklesh Jain (hi)
Nihal, Praggnanandhaa, Gukesh and Leon will feature in Julius Baer Challengers Chess Tour

@ 06/04/2021 by Shahid Ahmed (en)