Aditya Mittal and Vaishali make their tour debuts in Hou Yifan Challenge
by Shahid Ahmed - 18/09/2021
The fourth and last leg of Julius Baer Challengers Chess Tour - Hou Yifan Challenge starts today with a line-up of 17 players. Praggnanandhaa returns to the tour where he will be joined by Leon and tour debutants IM Aditya Mittal, IM Vaishali R, IM Pawel Teclaf and WIM Oliwia Kiolbasa. Total prize fund for the Hou Yifan Challenge is US$15,000. The Finals will take place next month between 14th and 17th October. Details of the Finals will be revealed later. The tournament will start at 7:30 p.m. IST every day between 18th and 21st September 2021. Photo: Challengers Chess Tour
Who will win the Hou Yifan Challenge?
Praggnanandhaa won the Polgar Challenge in April, Gukesh won the Gelfand Challenge in June and Vincent Keymer won the Gelfand Challenge in August. Pragg returns to the tour, while IMs Aditya Mittal, Vaishali along with Poland's IM Pawel Teclaf and WIM Oliwia Kiolbasa will be making their tour debuts today. Team Polgar leads the overall team standings going into the Hou Yifan Challenge with 266 points to Team Kramnik's 234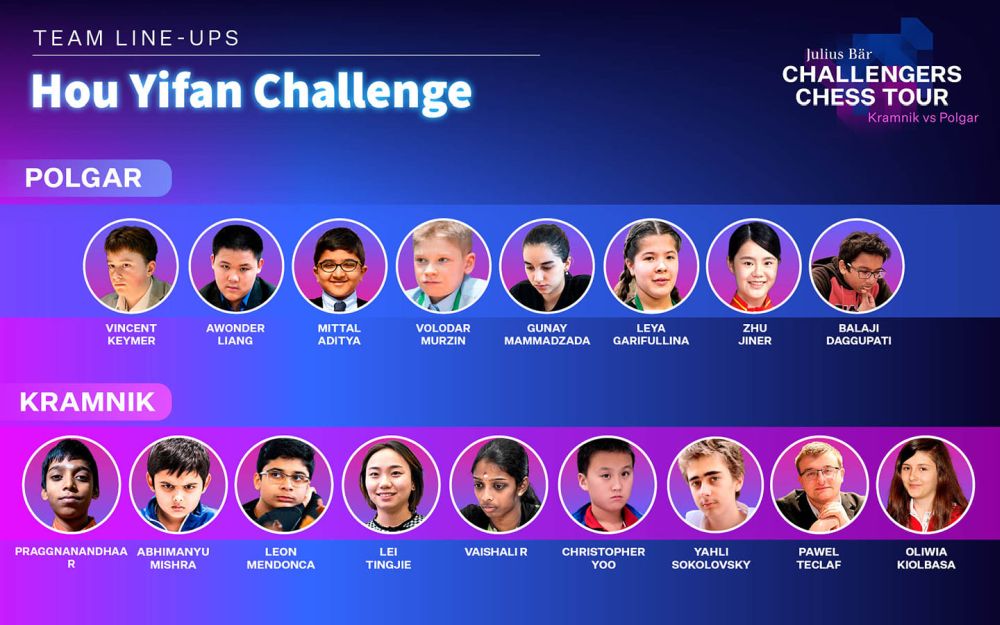 The players have been divided into two teams, Team Polgar and Team Kramnik, competing in a series of four four-day round-robin tournaments organised by the Play Magnus Group before the grand finals. This is the fourth and last leg in the Challengers Chess Tour.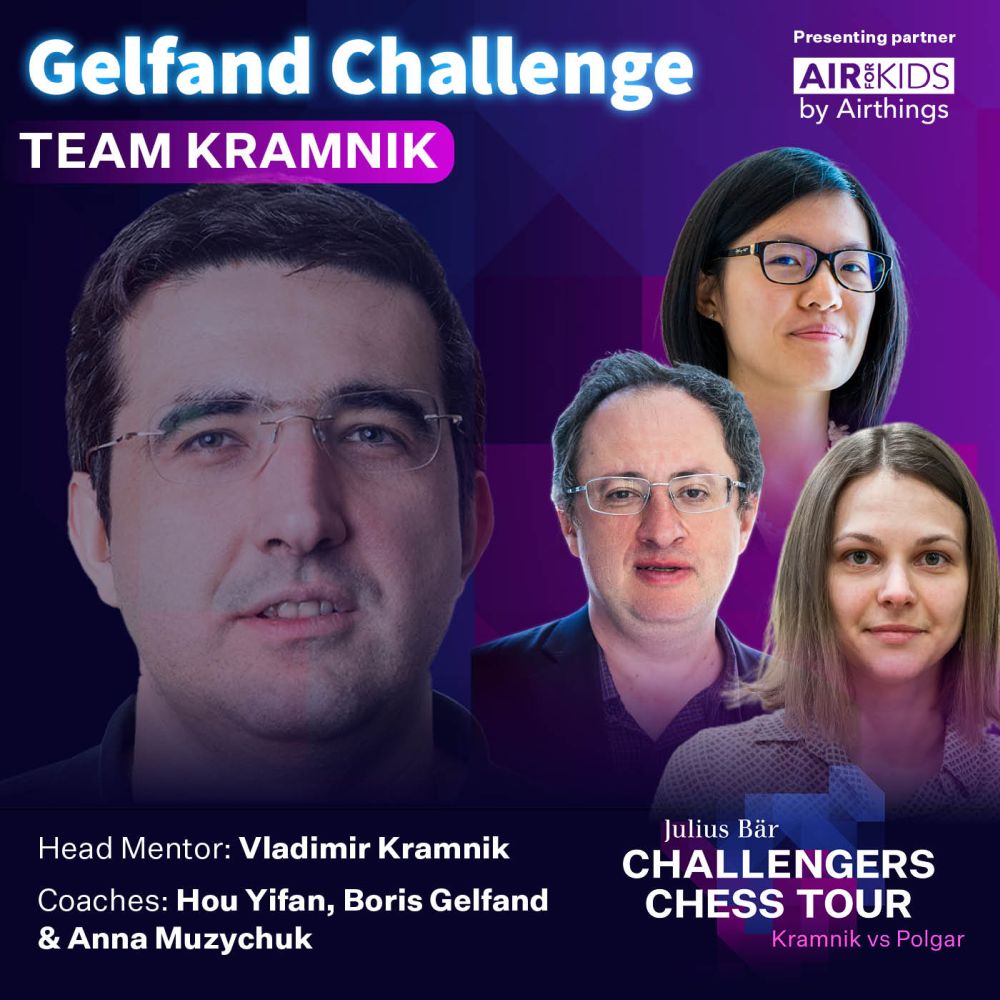 Team Kramnik
R Praggnanandhaa (India)
Abhimanyu Mishra (USA)
Leon Mendonca (India)
Lei Tingjie (China)
Vaishali R (India)
Christopher Yoo (United States)
Yahli Sokolovsky (Israel)
Pawel Teclaf (Poland)
Oliwia Kiolbasa (Poland)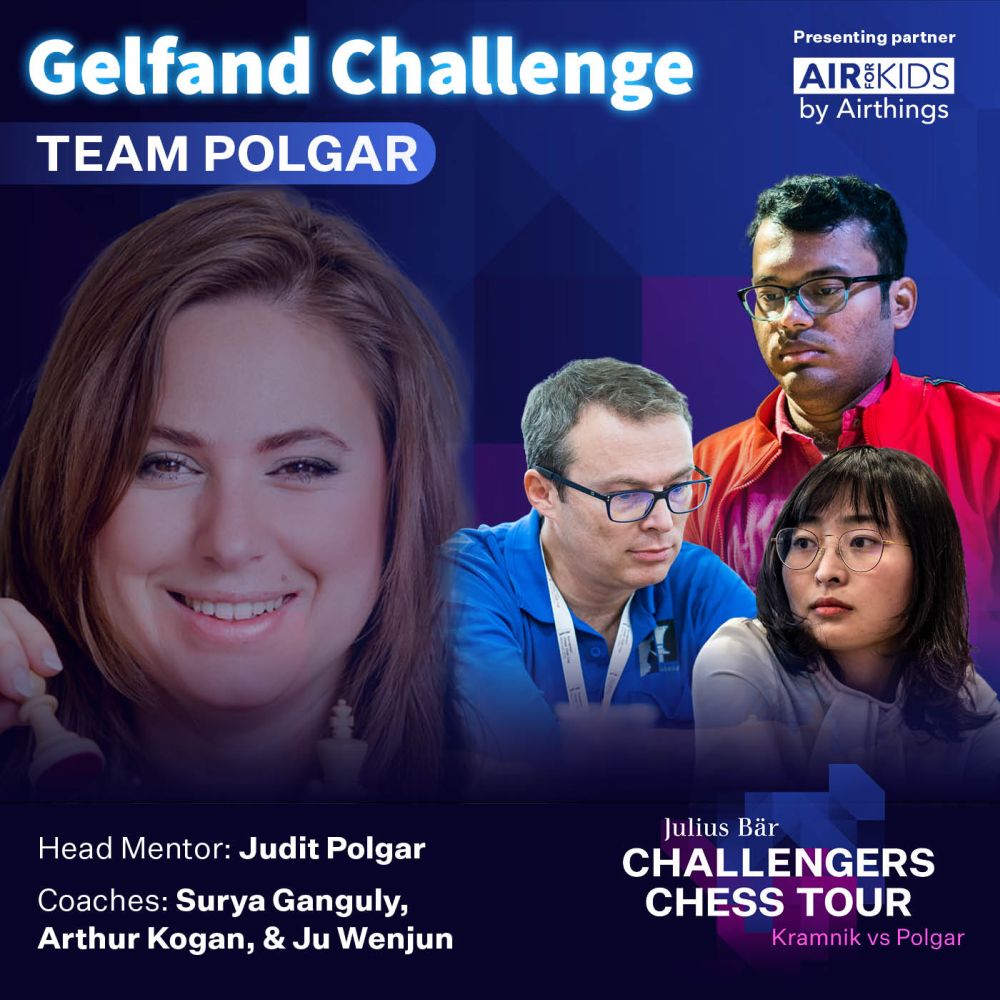 Team Polgar
Vincent Keymer (Germany)
Awonder Liang (United States)
Aditya Mittal (India)
Volodar Murzin (Russia)
Gunay Mammadzada (Azerbaijan)
Leya Garifullina (Russia)
Jiner Zhu (China)
Balaji Daggupati (USA)
Schedule
Every day between 18th and 21st September, game starts at 7:30 p.m. IST.
Links
---
Related news
:
Praggnanandhaa wins Julius Baer Challenger Championship

@ 14/12/2022 by Shahid Ahmed (en)
Julius Baer Challenger Championship: Praggnanandhaa takes 2-0 lead

@ 13/12/2022 by Shahid Ahmed (en)
Julius Baer Challenger Championship: Praggnanandhaa wins Match 1

@ 12/12/2022 by Shahid Ahmed (en)
Astounding Pranav Venkatesh wins Challengers Final Four and Challengers Chess Tour 2022

@ 31/10/2022 by Shahid Ahmed (en)
Invincible Pranav Venkatesh wins Magnus Academy Challenge 2022, Bharath Subramaniyam third

@ 10/10/2022 by Shahid Ahmed (en)
Magnus Academy Challenge 2022 R1-8: Pranav, Ilamparthi and Bharath in a four-way lead

@ 09/10/2022 by Shahid Ahmed (en)
Five Indian juniors will feature in Magnus Chess Academy Challenge starting today

@ 08/10/2022 by Shahid Ahmed (en)
Raunak Sadhwani second at Julius Baer Challenge 2022, advances to the Tour Finals

@ 05/09/2022 by Shahid Ahmed (en)
Julius Baer Challenge 2022 R1-7: Prraneeth and Leon make an unbeaten start

@ 04/09/2022 by Shahid Ahmed (en)
Six Indian juniors will feature in Julius Baer Challenge starting today

@ 03/09/2022 by Shahid Ahmed (en)
भारत के प्रग्गानंधा नें जीता चैलेंजर चैस टूर का खिताब

@ 18/10/2021 by Niklesh Jain (hi)
Praggnanandhaa wins Julius Baer Challengers Chess Tour Finals

@ 18/10/2021 by Shahid Ahmed (en)
Julius Baer CCT Finals: Praggnanandhaa dominates Keymer to reach the Finals

@ 17/10/2021 by Shahid Ahmed (en)
Julius Baer CCT Finals: Vincent Keymer eliminates Leon Mendonca in tie-breaks

@ 16/10/2021 by Shahid Ahmed (en)
Julius Baer CCT Finals: Praggnanandhaa storms into Semifinals

@ 15/10/2021 by Shahid Ahmed (en)
Challengers Chess Tour Finals featuring Leon and Praggnanandhaa starts today

@ 14/10/2021 by Shahid Ahmed (en)
Vincent Keymer wins Hou Yifan Challenge

@ 22/09/2021 by Shahid Ahmed (en)
Hou Yifan Challenge Day 3: Leon does a rare mate with two knights

@ 21/09/2021 by Shahid Ahmed (en)
जूलियस बेर टूर - प्रग्गानंधा नें जीते लगातार 9 मुक़ाबले

@ 20/09/2021 by Niklesh Jain (hi)
Hou Yifan Challenge Day 2: Praggnanandhaa stays perfect 9.0/9

@ 20/09/2021 by Shahid Ahmed (en)
Hou Yifan Challenge Day 1: Praggnanandhaa makes a blazing start 5.0/5

@ 19/09/2021 by Shahid Ahmed (en)
Vincent Keymer wins Kramnik Challenge

@ 16/08/2021 by Shahid Ahmed (en)
Kramnik Challenge Day 3: Liang remains at the top

@ 15/08/2021 by Shahid Ahmed (en)
Kramnik Challenge Day 2: Abdusattorov remains unbeaten

@ 14/08/2021 by Shahid Ahmed (en)
Kramnik Challenge Day 1: Tough start for Leon

@ 13/08/2021 by Shahid Ahmed (en)
Leon Mendonca stars in Kramnik Challenge starting today

@ 12/08/2021 by Shahid Ahmed (en)
Gukesh bests Pragg and wins Gelfand Challenge

@ 14/06/2021 by Shahid Ahmed (en)
Gelfand Challenge Day 3: Keymer takes sole lead, Praggnanandhaa still in the hunt

@ 13/06/2021 by Shahid Ahmed (en)
Gelfand Challenge Day 2: Praggnanandhaa makes a brilliant comeback and joins the lead 8.0/10

@ 12/06/2021 by Shahid Ahmed (en)
Gelfand Challenge Day 1: Awonder Liang makes a perfect start 5.0/5

@ 11/06/2021 by Shahid Ahmed (en)
Nihal, Praggnanandhaa, Gukesh and Leon will battle in the Gelfand Challenge

@ 10/06/2021 by Shahid Ahmed (en)
Nihal Sarin beats Magnus Carlsen clean

@ 21/04/2021 by Shahid Ahmed (en)
Praggnanandhaa dominates Julius Baer Challengers Chess Tour Polgar Challenge

@ 12/04/2021 by Shahid Ahmed (en)
Can Praggnanandhaa win the Polgar Challenge?

@ 11/04/2021 by Shahid Ahmed (en)
Polgar Challenge Day 2: Praggnanandhaa takes sole lead 8.5/10

@ 10/04/2021 by Shahid Ahmed (en)
Polgar Challenge Day 1: Praggnanandhaa, Yoo and Abdusattorov share the lead 4.0/5

@ 09/04/2021 by Shahid Ahmed (en)
जूलियस बेर टूर - निहाल, प्रग्गा ,गुकेश और लियॉन खेलेंगे , जूडिथ और क्रामनिक की टीम में होगा मुक़ाबला

@ 06/04/2021 by Niklesh Jain (hi)
Nihal, Praggnanandhaa, Gukesh and Leon will feature in Julius Baer Challengers Chess Tour

@ 06/04/2021 by Shahid Ahmed (en)