Gelfand Challenge Day 2: Praggnanandhaa makes a brilliant comeback and joins the lead 8.0/10
It would not be an understatement to say Praggnanandhaa stole the show in Day 2 of Julius Baer Challengers Chess Tour - Gelfand Challenge. Pragg went through all of his opponents and emerged victorious. Thus jumping at the top of the table in a shared lead with Abdusattorov 8.0/10 each respectively. Gukesh earlier in the day shared the news of him getting a Wild Card in the FIDE World Cup 2021, played fantastic and scored 4.0/5, thus moving towards shared third place 7.0/10. Nihal and Leon had a tough day. They are at 5.0/10 and 4.5/10 each, respectively. The tournament continues today with Round 11 starting from 6:30 p.m. IST. Photo: Niklesh Jain
Team Kramnik - Team Polgar: 50-50
Praggnanandhaa showcased his talent as he beat all five opponents he faced in Day 2. He won against Nihal, Jiner, Leon, Keymer and Jonas. He also scored a double hat-trick of wins and now tied at the first place with Abdusattorov 8.0/10. Gukesh also made a fantastic recovery after starting the day with a loss against Keymer, then he turned things around and won the next four games to finish the day with 7.0/10 at shared third place with Liang and Keymer.
Round 6: Pragg beat Nihal
Day 2 started with Praggnanandhaa scoring a victory over Nihal, Leon won and Gukesh lost.
Nihal - Praggnanandhaa: 0-1
Nihal invited trouble by pushing the pawn infront of his castled king.
23.c3 was uncalled for. White needed to play 23.Rge1 and everything would have been fine. Find out why 23.c3 causes trouble for White.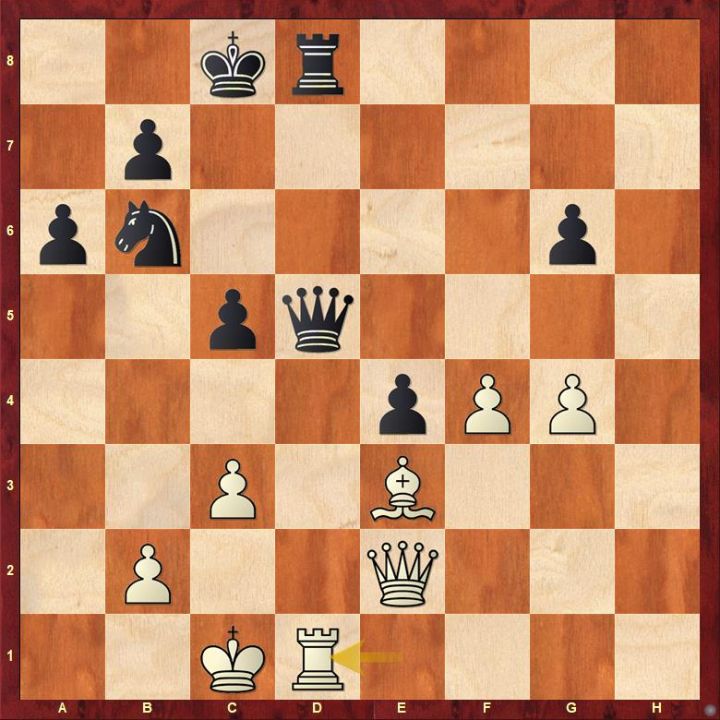 White's final mistake was 31.Rd1 because the resultant bishop vs. knight endgame is completely winning for Black. Praggnanandhaa exchanged the major pieces and went into the minor piece endgame which he converted without any difficulty.
Keymer - Gukesh: 1-0
In the endgame Gukesh responded incorrectly to Keymer's attempt to break his opponent's kingside.
It is not easy to determine black's best response in the above diagram, especially when the clock is ticking down to the last seconds. The game continued 39...g5 which turned out to be incorrect. What was the better continuation for black? Keymer managed to pick up a lot of pawns and eventually threaten checkmate to win the game.
Jiner - Leon: 0-1
Leon scored a comfortable victory over WGM Zhu Jiner after his opponent was unable to capitalize on his exchange sacrifice. She blundered a pawn and returned the exchange eventually.
Round 7: Pragg and Gukesh win
Praggnanandhaa and Gukesh scored a win each respectively, Leon lost and Nihal drew in Round 7.
Leon - Keymer: 0-1
Leon blundered a piece in an already difficult position which caused him to resign immediately against Vincent Keymer.
White had to play 27.Ree1 to keep the bishop alive but still things would have remained difficult.
Praggnanandhaa - Jiner: 1-0
Instead of focusing on her advantage, Jiner went passive and made an incorrect queen exchange.
Black should have pushed the passed a-pawn down the board like 29...a5. Instead 29...Qf7 passive move did not help black in any way.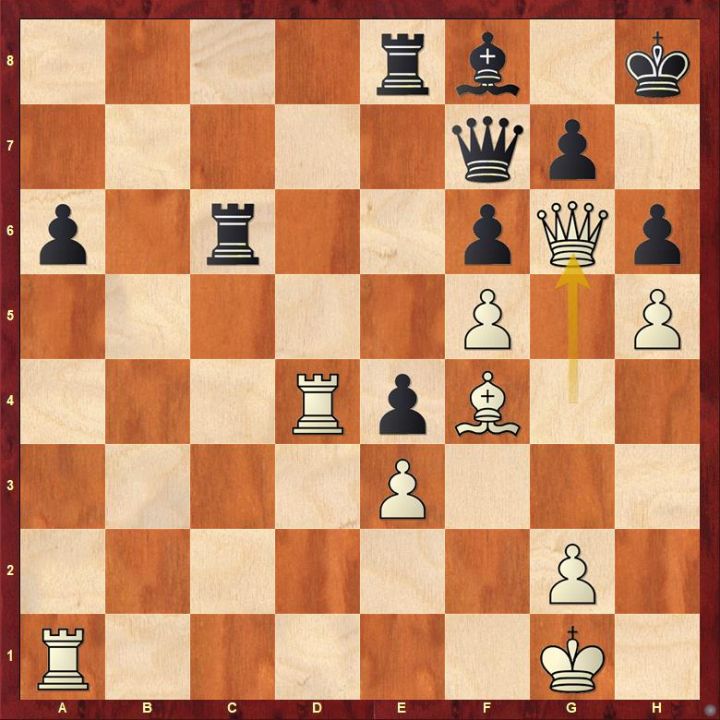 Black should not exchange the queens at g6 because it weakens the back-rank and unnecessarily makes things difficult. 31...Kg8 would have been a better choice. Pragg seized every opportunity he was presented in the game. During the final moments his opponent blundered a piece and immediately resigned.
Jonas - Nihal: 0.5-0.5
Despite being slightly worse in the middlegame, Nihal managed to go into a queen and rook endgame with an extra pawn. However Jonas made sure he did not make any significant mistake and managed to hold Nihal to a draw.
Gukesh - Badelka: 1-0
IM Olga Badelka misjudged the intensity of Gukesh's onslaught on her kingside.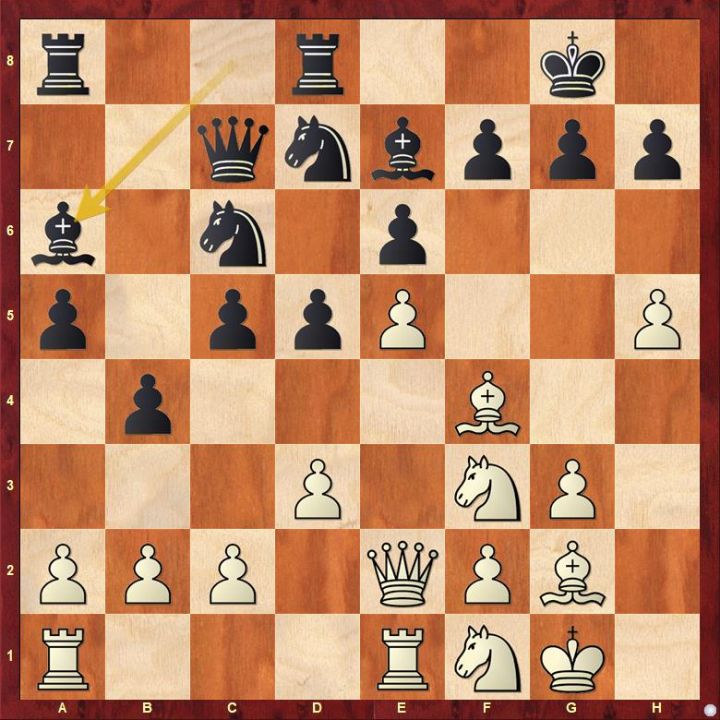 Black needed to prevent a deadly threat. What was it?
White has a huge advantage and primed to wreck havoc. How? Black resigned in another four moves.
Round 8: Gukesh and Pragg win
Gukesh and Pragg scored victories, Leon and Nihal lost.
Salimova - Gukesh: 0-1
Bulgaria no.2 among women, IM Nurgyul Salimova was better for the majority of the game. However, after a few mutual errors, Gukesh eventually checkmated her.
White needed to play a bit more actively after 40...Qg6. 40.Rc1 did not add much to the position, instead 40.Rxe6 would have been better. After 41...Qf5, White's final mistake was 42.Qc2 which allowed Black to bring more pieces into the attack 42...Ne4 and it was over White.
Nihal - Tingjie: 0-1
It is not everyday when Nihal gets attacked and succumbs to his opponent. GM Lei Tingjie's attack was not perfect but Nihal's inaccuracies cost him the point.
White can still save the game here, how?
Leon - Praggnanandhaa: 0-1
Leon and Praggnanandhaa had a very similar position to Nihal and Tingjie's above game. The result was the same again, Black won.
Should White take on e4? White did in the game which turned to be incorrect.
It is evident that the end is nigh. Find out the winning plan for Black in the above position.
Round 9: Pragg surprised Keymer, Gukesh made a quick work of Liang
Pragg, Nihal and Gukesh won their respective games, Leon drew.
Praggnanandhaa - Keymer: 1-0
Pragg surprised everyone by playing 2.h3 after 1.Nf3 d5. Everyone thought it to be a mouse slip but those who follow his and Aravindh Chithambaram's games know that it is not. They have been doing this for more than over a year.
Position after 31...d4
31...d4 turned out to be a big mistake for Black as White's bishop pair proved to be absolutely menacing and eventually decided the fate of the game. This was Pragg's fourth consecutive victory of the day, fifth of the event.
Jonas - Leon: 0.5-0.5
Leon got himself in a bit of a pickle in the rook endgame as he trapped his own rook against GM Jonas Buhl.
33...Ra5 would have been better as 34.a4 g5 and Black does not need to worry about losing the b7-pawn. 33...Rb4 although does not exactly loses the rook completely if you can see it thoroughly. Of course with less time on the clock, it is not at all easy to defend but Leon managed to save the game and salvage a draw quite well.
Abdumalik - Nihal: 0-1
Nihal scored a fine victory over Abdumalik who made an incorrect break on her kingside.
28.g4 was an unforced error. White could have played 28.Qd3 or Bg5 and things would have remained fine. The break makes the kingside volatile and ripe for attack. Nihal grabbed the opportunity and converted the advantage into a full point.
Gukesh - Liang: 1-0
Liang could not get out of the gate as he made a series of mistakes early in the opening and lost the game in just 22 moves.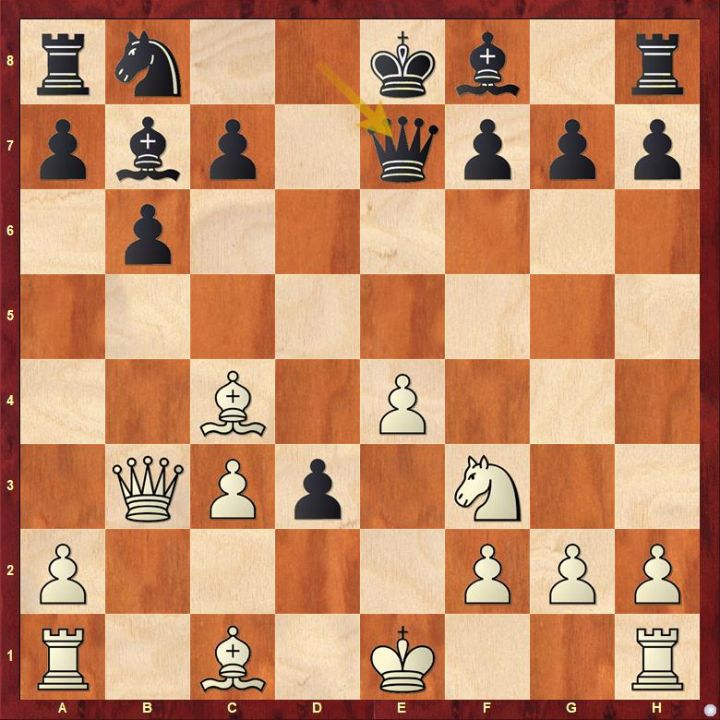 Position after 10...Qe7
Black needed to play 10...Qf6 to defend f7 as 10...Qe7 does not actually protect the f7-pawn.
Round 10: Gukesh and Pragg finish the day on a high note
Gukesh and Pragg ended the Day 2 with a victory, while Nihal and Leon drew their respective games.
Sara - Gukesh: 0-1
Gukesh won his fourth consecutive game of the day as he beat IM Sara Khadem as she misplayed the endgame.
Gukesh had a reason to rejoice as he shared with the world about getting a Wild Card entry into the upcoming FIDE World Cup 2021.
Nihal - Shuvalova: 0.5-0.5
Nihal made a solid draw with IM Polina Shuvalova.
Leon - Tingjie: 0.5-0.5
Leon had a well contested draw with Tingjie.
Replay Round 6-10 games
Replay the live stream
Round 6-10 results
Round 6 on 2021/06/11 at 15:00
Bo.
No.
Gr
Rtg
Name
Result
Name
Gr
Rtg
No.
1
20
P
2591
GM
Keymer Vincent
1 - 0
GM
Gukesh D
P
2578
13
2
14
K
2433
IM
Badelka Olga
0 - 1
IM
Yoo Christopher Woojin
K
2455
12
3
15
K
2397
IM
Salimova Nurgyul
½ - ½
IM
Saduakassova Dinara
K
2500
11
4
16
P
2592
GM
Liang Awonder
1 - 0
IM
Mammadzada Gunay
P
2443
10
5
17
P
2494
IM
Khademalsharieh Sarasadat
1 - 0
IM
Shuvalova Polina
P
2476
9
6
18
P
2478
IM
Murzin Volodar
1 - 0
IM
Abdumalik Zhansaya
P
2472
8
7
19
K
2627
GM
Abdusattorov Nodirbek
1 - 0
GM
Lei Tingjie
K
2505
7
8
1
K
2430
IM
Yip Carissa
0 - 1
GM
Bjerre Jonas Buhl
K
2550
6
9
2
P
2620
GM
Nihal Sarin
0 - 1
GM
Praggnanandhaa R
K
2608
5
10
3
P
2459
WGM
Zhu Jiner
0 - 1
IM
Mendonca Leon Luke
K
2549
4
Round 7 on 2021/06/11 at 15:45
Bo.
No.
Gr
Rtg
Name
Result
Name
Gr
Rtg
No.
1
4
K
2549
IM
Mendonca Leon Luke
0 - 1
GM
Keymer Vincent
P
2591
20
2
5
K
2608
GM
Praggnanandhaa R
1 - 0
WGM
Zhu Jiner
P
2459
3
3
6
K
2550
GM
Bjerre Jonas Buhl
½ - ½
GM
Nihal Sarin
P
2620
2
4
7
K
2505
GM
Lei Tingjie
0 - 1
IM
Yip Carissa
K
2430
1
5
8
P
2472
IM
Abdumalik Zhansaya
0 - 1
GM
Abdusattorov Nodirbek
K
2627
19
6
9
P
2476
IM
Shuvalova Polina
½ - ½
IM
Murzin Volodar
P
2478
18
7
10
P
2443
IM
Mammadzada Gunay
1 - 0
IM
Khademalsharieh Sarasadat
P
2494
17
8
11
K
2500
IM
Saduakassova Dinara
1 - 0
GM
Liang Awonder
P
2592
16
9
12
K
2455
IM
Yoo Christopher Woojin
1 - 0
IM
Salimova Nurgyul
K
2397
15
10
13
P
2578
GM
Gukesh D
1 - 0
IM
Badelka Olga
K
2433
14
Round 8 on 2021/06/11 at 16:30
Bo.
No.
Gr
Rtg
Name
Result
Name
Gr
Rtg
No.
1
20
P
2591
GM
Keymer Vincent
1 - 0
IM
Badelka Olga
K
2433
14
2
15
K
2397
IM
Salimova Nurgyul
0 - 1
GM
Gukesh D
P
2578
13
3
16
P
2592
GM
Liang Awonder
0 - 1
IM
Yoo Christopher Woojin
K
2455
12
4
17
P
2494
IM
Khademalsharieh Sarasadat
1 - 0
IM
Saduakassova Dinara
K
2500
11
5
18
P
2478
IM
Murzin Volodar
1 - 0
IM
Mammadzada Gunay
P
2443
10
6
19
K
2627
GM
Abdusattorov Nodirbek
1 - 0
IM
Shuvalova Polina
P
2476
9
7
1
K
2430
IM
Yip Carissa
1 - 0
IM
Abdumalik Zhansaya
P
2472
8
8
2
P
2620
GM
Nihal Sarin
0 - 1
GM
Lei Tingjie
K
2505
7
9
3
P
2459
WGM
Zhu Jiner
½ - ½
GM
Bjerre Jonas Buhl
K
2550
6
10
4
K
2549
IM
Mendonca Leon Luke
0 - 1
GM
Praggnanandhaa R
K
2608
5
Round 9 on 2021/06/11 at 17:15
Bo.
No.
Gr
Rtg
Name
Result
Name
Gr
Rtg
No.
1
5
K
2608
GM
Praggnanandhaa R
1 - 0
GM
Keymer Vincent
P
2591
20
2
6
K
2550
GM
Bjerre Jonas Buhl
½ - ½
IM
Mendonca Leon Luke
K
2549
4
3
7
K
2505
GM
Lei Tingjie
½ - ½
WGM
Zhu Jiner
P
2459
3
4
8
P
2472
IM
Abdumalik Zhansaya
0 - 1
GM
Nihal Sarin
P
2620
2
5
9
P
2476
IM
Shuvalova Polina
½ - ½
IM
Yip Carissa
K
2430
1
6
10
P
2443
IM
Mammadzada Gunay
1 - 0
GM
Abdusattorov Nodirbek
K
2627
19
7
11
K
2500
IM
Saduakassova Dinara
½ - ½
IM
Murzin Volodar
P
2478
18
8
12
K
2455
IM
Yoo Christopher Woojin
½ - ½
IM
Khademalsharieh Sarasadat
P
2494
17
9
13
P
2578
GM
Gukesh D
1 - 0
GM
Liang Awonder
P
2592
16
10
14
K
2433
IM
Badelka Olga
0 - 1
IM
Salimova Nurgyul
K
2397
15
Round 10 on 2021/06/11 at 18:00
Bo.
No.
Gr
Rtg
Name
Result
Name
Gr
Rtg
No.
1
20
P
2591
GM
Keymer Vincent
½ - ½
IM
Salimova Nurgyul
K
2397
15
2
16
P
2592
GM
Liang Awonder
1 - 0
IM
Badelka Olga
K
2433
14
3
17
P
2494
IM
Khademalsharieh Sarasadat
0 - 1
GM
Gukesh D
P
2578
13
4
18
P
2478
IM
Murzin Volodar
1 - 0
IM
Yoo Christopher Woojin
K
2455
12
5
19
K
2627
GM
Abdusattorov Nodirbek
1 - 0
IM
Saduakassova Dinara
K
2500
11
6
1
K
2430
IM
Yip Carissa
½ - ½
IM
Mammadzada Gunay
P
2443
10
7
2
P
2620
GM
Nihal Sarin
½ - ½
IM
Shuvalova Polina
P
2476
9
8
3
P
2459
WGM
Zhu Jiner
0 - 1
IM
Abdumalik Zhansaya
P
2472
8
9
4
K
2549
IM
Mendonca Leon Luke
½ - ½
GM
Lei Tingjie
K
2505
7
10
5
K
2608
GM
Praggnanandhaa R
1 - 0
GM
Bjerre Jonas Buhl
K
2550
6
Standings after Round 10
Schedule
Everyday game starts at 6:30 p.m. IST
Links
---