Julius Baer CCT Finals: Vincent Keymer eliminates Leon Mendonca in tie-breaks
by Shahid Ahmed - 16/10/2021
Leon Luke Mendonca put up a valiant effort against Vincent Keymer in the Quarterfinals of Julius Baer Challengers Chess Tour Finals. Keymer made a comeback from being down by a full point to level the score 2-2 and force tie-breaks. The German was too proved to be stronger in the Blitz as he defeated Leon in the second game after their first encounter ended in a draw. Awonder Liang knocked out Nodirbek Abdusattorov without losing a single game. Keymer-Praggnanandhaa and Yoo-Liang Semifinal matches will take place today from 7:30 p.m. IST. Photo: Lars OA Hedlund/TePe Sigeman & Co.
Liang too strong for Abdusattorov
After Volodar Murzin, GM Nodirbek Abdusattorov became the other player who was unable to register a single win in the Quarterfinals. He lost two games and managed to draw the remaining two against Awonder Liang.
Keymer - Leon: 3.5-2.5
Leon struck first against Keymer in the second game after the first game ended in a draw.
Keymer struck back in the second game after Leon had a momentary spot when he blundered a rook.
The fourth rapid game also ended in a draw, thus Blitz tie-break was enforced. The first tie-break ended in a draw. Keymer won the second topsy-turvy Blitz tie-break to advance to the Semifinals.
Replay all games of Quarterfinals Day 2
Replay the live stream
Quarterfinal results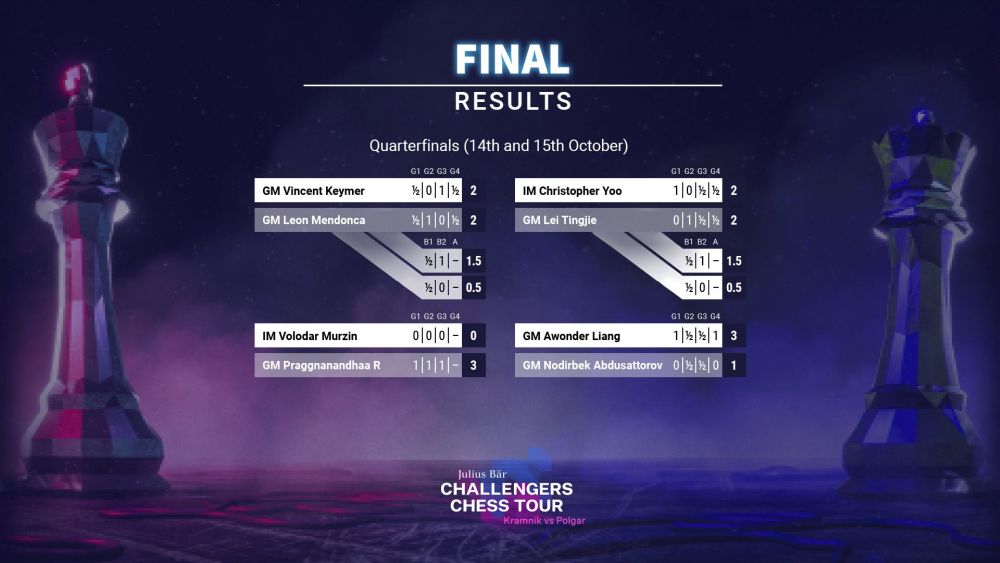 Brackets
Schedule
Every day between 14th and 17th October, game starts at 7:30 p.m. IST.
Format
The format for the final eight-player knockout will be four rapid games with 10 minutes per player for each game, plus a 5-second increment added each move. If the score is level at 2:2 a playoff will feature two 5+3 blitz games. If needed, there will be Armageddon to decide the winner of the match.
Links
---
Related news
:
Praggnanandhaa wins Julius Baer Challenger Championship

@ 14/12/2022 by Shahid Ahmed (en)
Julius Baer Challenger Championship: Praggnanandhaa takes 2-0 lead

@ 13/12/2022 by Shahid Ahmed (en)
Julius Baer Challenger Championship: Praggnanandhaa wins Match 1

@ 12/12/2022 by Shahid Ahmed (en)
Astounding Pranav Venkatesh wins Challengers Final Four and Challengers Chess Tour 2022

@ 31/10/2022 by Shahid Ahmed (en)
Invincible Pranav Venkatesh wins Magnus Academy Challenge 2022, Bharath Subramaniyam third

@ 10/10/2022 by Shahid Ahmed (en)
Magnus Academy Challenge 2022 R1-8: Pranav, Ilamparthi and Bharath in a four-way lead

@ 09/10/2022 by Shahid Ahmed (en)
Five Indian juniors will feature in Magnus Chess Academy Challenge starting today

@ 08/10/2022 by Shahid Ahmed (en)
Raunak Sadhwani second at Julius Baer Challenge 2022, advances to the Tour Finals

@ 05/09/2022 by Shahid Ahmed (en)
Julius Baer Challenge 2022 R1-7: Prraneeth and Leon make an unbeaten start

@ 04/09/2022 by Shahid Ahmed (en)
Six Indian juniors will feature in Julius Baer Challenge starting today

@ 03/09/2022 by Shahid Ahmed (en)
भारत के प्रग्गानंधा नें जीता चैलेंजर चैस टूर का खिताब

@ 18/10/2021 by Niklesh Jain (hi)
Praggnanandhaa wins Julius Baer Challengers Chess Tour Finals

@ 18/10/2021 by Shahid Ahmed (en)
Julius Baer CCT Finals: Praggnanandhaa dominates Keymer to reach the Finals

@ 17/10/2021 by Shahid Ahmed (en)
Julius Baer CCT Finals: Praggnanandhaa storms into Semifinals

@ 15/10/2021 by Shahid Ahmed (en)
Challengers Chess Tour Finals featuring Leon and Praggnanandhaa starts today

@ 14/10/2021 by Shahid Ahmed (en)
Vincent Keymer wins Hou Yifan Challenge

@ 22/09/2021 by Shahid Ahmed (en)
Hou Yifan Challenge Day 3: Leon does a rare mate with two knights

@ 21/09/2021 by Shahid Ahmed (en)
जूलियस बेर टूर - प्रग्गानंधा नें जीते लगातार 9 मुक़ाबले

@ 20/09/2021 by Niklesh Jain (hi)
Hou Yifan Challenge Day 2: Praggnanandhaa stays perfect 9.0/9

@ 20/09/2021 by Shahid Ahmed (en)
Hou Yifan Challenge Day 1: Praggnanandhaa makes a blazing start 5.0/5

@ 19/09/2021 by Shahid Ahmed (en)
Aditya Mittal and Vaishali make their tour debuts in Hou Yifan Challenge

@ 18/09/2021 by Shahid Ahmed (en)
Vincent Keymer wins Kramnik Challenge

@ 16/08/2021 by Shahid Ahmed (en)
Kramnik Challenge Day 3: Liang remains at the top

@ 15/08/2021 by Shahid Ahmed (en)
Kramnik Challenge Day 2: Abdusattorov remains unbeaten

@ 14/08/2021 by Shahid Ahmed (en)
Kramnik Challenge Day 1: Tough start for Leon

@ 13/08/2021 by Shahid Ahmed (en)
Leon Mendonca stars in Kramnik Challenge starting today

@ 12/08/2021 by Shahid Ahmed (en)
Gukesh bests Pragg and wins Gelfand Challenge

@ 14/06/2021 by Shahid Ahmed (en)
Gelfand Challenge Day 3: Keymer takes sole lead, Praggnanandhaa still in the hunt

@ 13/06/2021 by Shahid Ahmed (en)
Gelfand Challenge Day 2: Praggnanandhaa makes a brilliant comeback and joins the lead 8.0/10

@ 12/06/2021 by Shahid Ahmed (en)
Gelfand Challenge Day 1: Awonder Liang makes a perfect start 5.0/5

@ 11/06/2021 by Shahid Ahmed (en)
Nihal, Praggnanandhaa, Gukesh and Leon will battle in the Gelfand Challenge

@ 10/06/2021 by Shahid Ahmed (en)
Nihal Sarin beats Magnus Carlsen clean

@ 21/04/2021 by Shahid Ahmed (en)
Praggnanandhaa dominates Julius Baer Challengers Chess Tour Polgar Challenge

@ 12/04/2021 by Shahid Ahmed (en)
Can Praggnanandhaa win the Polgar Challenge?

@ 11/04/2021 by Shahid Ahmed (en)
Polgar Challenge Day 2: Praggnanandhaa takes sole lead 8.5/10

@ 10/04/2021 by Shahid Ahmed (en)
Polgar Challenge Day 1: Praggnanandhaa, Yoo and Abdusattorov share the lead 4.0/5

@ 09/04/2021 by Shahid Ahmed (en)
जूलियस बेर टूर - निहाल, प्रग्गा ,गुकेश और लियॉन खेलेंगे , जूडिथ और क्रामनिक की टीम में होगा मुक़ाबला

@ 06/04/2021 by Niklesh Jain (hi)
Nihal, Praggnanandhaa, Gukesh and Leon will feature in Julius Baer Challengers Chess Tour

@ 06/04/2021 by Shahid Ahmed (en)