Hou Yifan Challenge Day 2: Praggnanandhaa stays perfect 9.0/9
by Shahid Ahmed - 20/09/2021
Praggnanandhaa continued his domination as he won all four games on the second day of Julius Baer Challengers Chess Tour Hou Yifan Challenge. He is now at 9.0/9, a full two points ahead of the competition. He defeated Liang, Murzin, Kiolbasa and Mammadzada on the second day. Vincent Keymer is at sole second place 7.0/9 followed by Christopher Yoo 6.0/9. Both Leon Luke Mendonca and Aditya Mittal are at shared fifth place along with Awonder Liang 5.0/9. Vaishali scored only two draws and took her score to 3.5/9. Pragg will face Keymer in Round 11. Round 10 starts today at 7:30 p.m. IST. Photo: Amruta Mokal
Catch Pragg if one can
Praggnanandhaa continued his momentum from the previous day as he managed to win all four games of his. He seems to have no plans to slow down. The second day also witnessed eight draws, which means 75% games were decisive.
Round 6: Leon - Mammadzada: 1-0
GM Leon Luke Mendonca started the day with a win over Azerbaijan no.1 woman IM Gunay Mammadzada.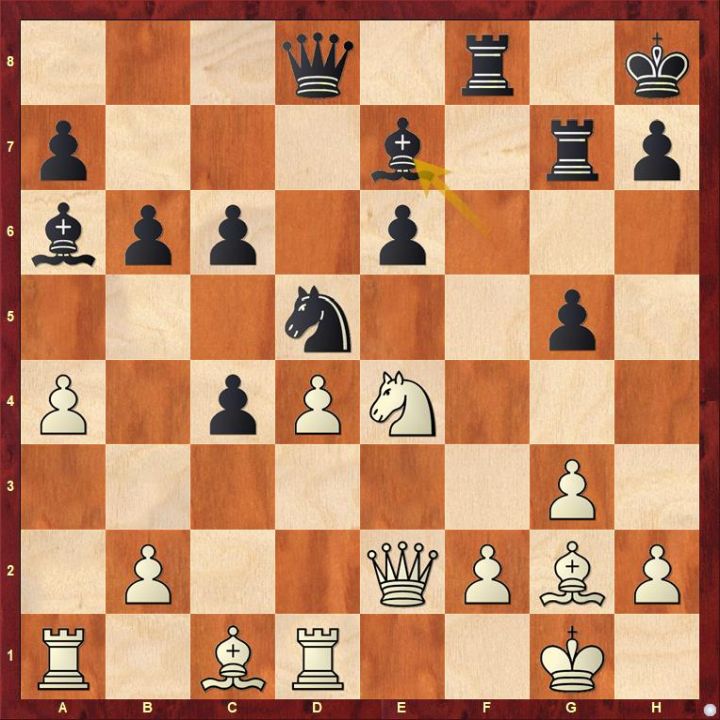 21...Be7 allows White to get back in the game. Find out how.
Praggnanandhaa - Liang: 1-0
Praggnanandhaa maneuvered his knight beautifully against Liang.
Try to figure out where does the b5-knight want to go. 18...Nc7 only helped White.
Round 7: Murzin - Praggnanandhaa: 0-1
Pragg punished IM Volodar Murzin for passive play.
White had to take on d4, 15.cxd4 Nxd4 is still good for Black. 15...b5 16.Rfc1 Qd6 17.Bf1 Rac8 18.Qe1 a5 and Black just rolls all his pawns down the board, eventually forcing White to resign after 30th move.
Round 8: Aditya - Yoo: 1-0
IM Aditya Mittal braved through difficult position, eventually IM Christopher Yoo (USA) blundered in the end, allowing his opponent to win the game.
Praggnanandhaa - Kiolbasa: 1-0
Praggnanandhaa completely outplayed his opponent WIM Oliwia Kiolbasa (POL) to score his eighth consecutive victory.
Round 9: Liang - Vaishali: 0.5-0.5
GM Awonder Liang was held to a draw by IM Vaishali. Although she was better for the major part of the game.
Mammadzada - Praggnanandhaa: 0-1
Praggnanandhaa completed his triple hat-trick with a win over Mammadzada.
39.f6 was an unnecessary pawn sacrifice as White does not get anything out of it. 39...gxf6 40.Qb1+ Kg7 41.Be2 a3 and now Black has decisive advantage.
Highlights
Some interesting finishes from Day 2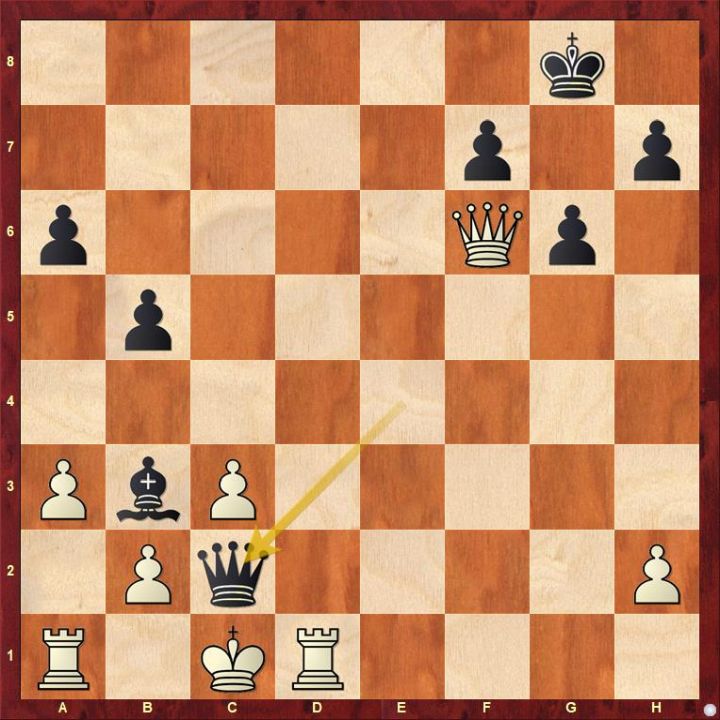 Replay the Live stream
Replay all games from Round 6-9
Standings after Round 9
Schedule
Every day between 18th and 21st September, the game starts at 7:30 p.m. IST.
Links
---
Related news
:
Praggnanandhaa wins Julius Baer Challenger Championship

@ 14/12/2022 by Shahid Ahmed (en)
Julius Baer Challenger Championship: Praggnanandhaa takes 2-0 lead

@ 13/12/2022 by Shahid Ahmed (en)
Julius Baer Challenger Championship: Praggnanandhaa wins Match 1

@ 12/12/2022 by Shahid Ahmed (en)
Astounding Pranav Venkatesh wins Challengers Final Four and Challengers Chess Tour 2022

@ 31/10/2022 by Shahid Ahmed (en)
Invincible Pranav Venkatesh wins Magnus Academy Challenge 2022, Bharath Subramaniyam third

@ 10/10/2022 by Shahid Ahmed (en)
Magnus Academy Challenge 2022 R1-8: Pranav, Ilamparthi and Bharath in a four-way lead

@ 09/10/2022 by Shahid Ahmed (en)
Five Indian juniors will feature in Magnus Chess Academy Challenge starting today

@ 08/10/2022 by Shahid Ahmed (en)
Raunak Sadhwani second at Julius Baer Challenge 2022, advances to the Tour Finals

@ 05/09/2022 by Shahid Ahmed (en)
Julius Baer Challenge 2022 R1-7: Prraneeth and Leon make an unbeaten start

@ 04/09/2022 by Shahid Ahmed (en)
Six Indian juniors will feature in Julius Baer Challenge starting today

@ 03/09/2022 by Shahid Ahmed (en)
भारत के प्रग्गानंधा नें जीता चैलेंजर चैस टूर का खिताब

@ 18/10/2021 by Niklesh Jain (hi)
Praggnanandhaa wins Julius Baer Challengers Chess Tour Finals

@ 18/10/2021 by Shahid Ahmed (en)
Julius Baer CCT Finals: Praggnanandhaa dominates Keymer to reach the Finals

@ 17/10/2021 by Shahid Ahmed (en)
Julius Baer CCT Finals: Vincent Keymer eliminates Leon Mendonca in tie-breaks

@ 16/10/2021 by Shahid Ahmed (en)
Julius Baer CCT Finals: Praggnanandhaa storms into Semifinals

@ 15/10/2021 by Shahid Ahmed (en)
Challengers Chess Tour Finals featuring Leon and Praggnanandhaa starts today

@ 14/10/2021 by Shahid Ahmed (en)
Vincent Keymer wins Hou Yifan Challenge

@ 22/09/2021 by Shahid Ahmed (en)
Hou Yifan Challenge Day 3: Leon does a rare mate with two knights

@ 21/09/2021 by Shahid Ahmed (en)
जूलियस बेर टूर - प्रग्गानंधा नें जीते लगातार 9 मुक़ाबले

@ 20/09/2021 by Niklesh Jain (hi)
Hou Yifan Challenge Day 1: Praggnanandhaa makes a blazing start 5.0/5

@ 19/09/2021 by Shahid Ahmed (en)
Aditya Mittal and Vaishali make their tour debuts in Hou Yifan Challenge

@ 18/09/2021 by Shahid Ahmed (en)
Vincent Keymer wins Kramnik Challenge

@ 16/08/2021 by Shahid Ahmed (en)
Kramnik Challenge Day 3: Liang remains at the top

@ 15/08/2021 by Shahid Ahmed (en)
Kramnik Challenge Day 2: Abdusattorov remains unbeaten

@ 14/08/2021 by Shahid Ahmed (en)
Kramnik Challenge Day 1: Tough start for Leon

@ 13/08/2021 by Shahid Ahmed (en)
Leon Mendonca stars in Kramnik Challenge starting today

@ 12/08/2021 by Shahid Ahmed (en)
Gukesh bests Pragg and wins Gelfand Challenge

@ 14/06/2021 by Shahid Ahmed (en)
Gelfand Challenge Day 3: Keymer takes sole lead, Praggnanandhaa still in the hunt

@ 13/06/2021 by Shahid Ahmed (en)
Gelfand Challenge Day 2: Praggnanandhaa makes a brilliant comeback and joins the lead 8.0/10

@ 12/06/2021 by Shahid Ahmed (en)
Gelfand Challenge Day 1: Awonder Liang makes a perfect start 5.0/5

@ 11/06/2021 by Shahid Ahmed (en)
Nihal, Praggnanandhaa, Gukesh and Leon will battle in the Gelfand Challenge

@ 10/06/2021 by Shahid Ahmed (en)
Nihal Sarin beats Magnus Carlsen clean

@ 21/04/2021 by Shahid Ahmed (en)
Praggnanandhaa dominates Julius Baer Challengers Chess Tour Polgar Challenge

@ 12/04/2021 by Shahid Ahmed (en)
Can Praggnanandhaa win the Polgar Challenge?

@ 11/04/2021 by Shahid Ahmed (en)
Polgar Challenge Day 2: Praggnanandhaa takes sole lead 8.5/10

@ 10/04/2021 by Shahid Ahmed (en)
Polgar Challenge Day 1: Praggnanandhaa, Yoo and Abdusattorov share the lead 4.0/5

@ 09/04/2021 by Shahid Ahmed (en)
जूलियस बेर टूर - निहाल, प्रग्गा ,गुकेश और लियॉन खेलेंगे , जूडिथ और क्रामनिक की टीम में होगा मुक़ाबला

@ 06/04/2021 by Niklesh Jain (hi)
Nihal, Praggnanandhaa, Gukesh and Leon will feature in Julius Baer Challengers Chess Tour

@ 06/04/2021 by Shahid Ahmed (en)