Grand Swiss R9: Caruana ends Firouzja's unbeaten run, Howell joins the three-way lead
World no.3 Fabiano Caruana (USA) ended Alireza Firouzja's (FRA) undefeated run in the ninth round of FIDE chess.com Grand Swiss 2021. David Howell (ENG) scored his fourth consecutive victory to join the three-way lead along with Caruana and Firouzja at 6.5/9. The former world championship challenger has beaten both Firouzja and Howell. Sasikiran bounced back from his defeat as he defeated Pavel Eljanov (UKR) with a beautiful knight maneuver, punctuated by a nice combination in the end. Raunak also played well to beat Aleksey Dreev (RUS). Harika beat IM Alina Kashlinskaya (RUS) to end her five-game draw streak. Round 10 starts today at 5:30 p.m. IST. Photo: Anna Shtourman/FIDE
Sasikiran, Raunak and Harika win
Krishnan Sasikiran played a very instructive game in the Ruy Lopez Berlin to score a win. Tingjie Lei (CHN) scored her fourth consecutive victory, this time against Alexandra Kosteniuk (RUS), to increase her lead by two points. She needs just a draw in the next two rounds to win the first edition of FIDE Women's Grand Swiss and secure her place in the next Women's Candidates.
Caruana - Firouzja: 1-0
Firouzja overextended his king in the endgame which cost him the sole lead and the game against Caruana.
36...Ke4 makes sure that Black stays in the game. The game continued 36...Ke2 37.e6 d3 38.f5 and 38...Nd4 turned out to be the final mistake which gave White a complete decisive advantage 39.Bxb4 d2 40.Bxd2 Kxd2 41.Rc5. White's connected passed pawns on e and f-file are too strong for Black to stop.
Sasikiran - Eljanov: 1-0
Sasikiran made a beautiful maneuvering of his knight to gain a significant positional advantage against Pavel Eljanov (UKR).
31...Bxd7 32.Rxd7 Kf8 would have continued the fight. However, 31...Bd8 ends the game immediately for Black. Find out how.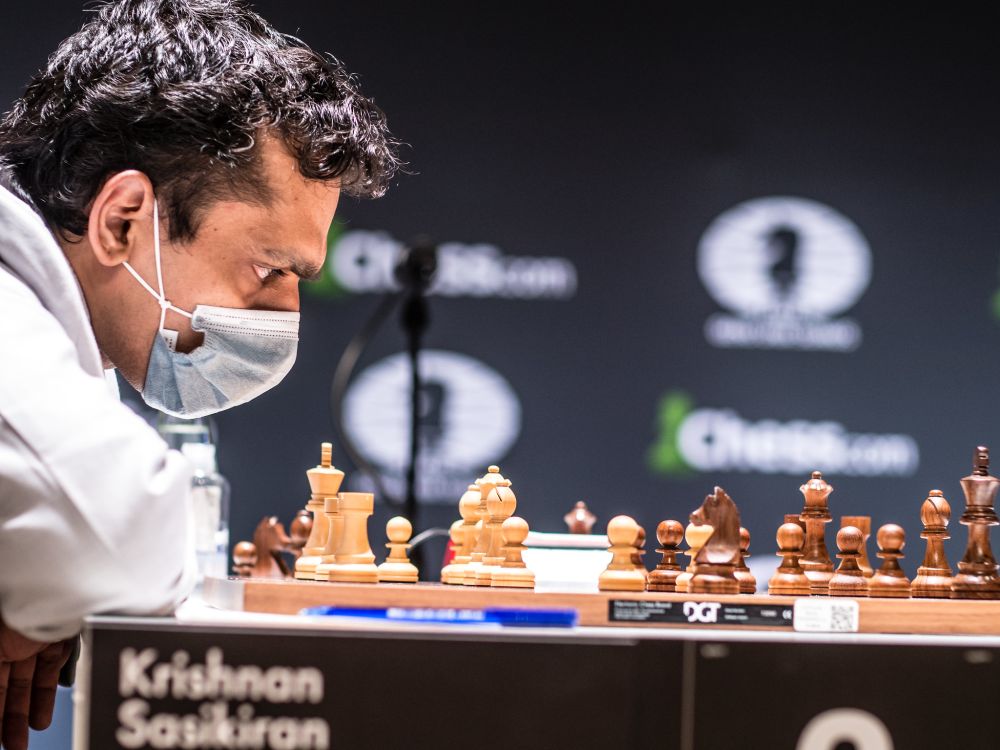 Raunak - Dreev: 1-0
Raunak Sadhwani scored a very nice win against Alexey Dreev (RUS).
White can capture either d5 or f4. Which one should White take here? Try to think like Raunak and find out the winning continuation for White.
Kashlinskaya - Harika: 0-1
Harika scored her first win since the third round, her third overall win of the event, against IM Alina Kashlinskaya (RUS) after the latter misplayed in the endgame.
Black was lacking in development. 29.gxf5 eased that issue. The game continued 29...Bxf5 30.Bxf5 gxf5 31.R5c3 Ra6 32.Rb3 Rg8 and Black eventually converted her advantage into a win.
Highlights
A few interesting finishes from Round 9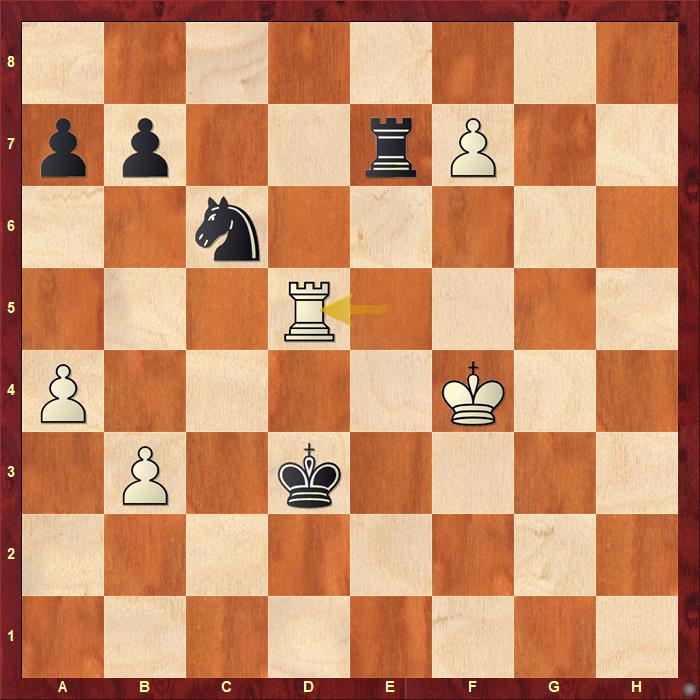 Photo Gallery
Schedule
Everyday game starts at 2 p.m. local time (4:30 p.m. IST) between 27th October and 7th November 2021. Rest day is on Tuesday 2nd November 2021.
Time Control
The time control for each game is: 100 minutes for the first 40 moves, followed by 50 minutes for the next 20 moves, followed by 15 minutes for the rest of the game with an increment of 30 seconds per move starting from move 1.
Qualification
The top two players in the open event will qualify for the FIDE Candidates 2022. The next six players will earn their spots in the FIDE Grand Prix. The Women's Grand Swiss winner will qualify to the Women's Candidates. The following four best players will qualify for the FIDE Women's Grand Prix.
Prizes
The total prize fund in the Open is US$ 425,000 with the first prize being $70,000. For Women's the total prize fund is $125,000, first prize $20,000. Total numbers of prizes are 60, Open - 40 and Women - 20.
Replay Round 9 Open games
Replay Round 9 Women games
Replay the live stream
Round 9 results
Round 10 pairings
Links
Tournament Regulations: Open and Women
---