Grand Swiss R5: Sasikiran beats Fedoseev
Krishnan Sasikiran scored a fantastic victory over Vladimir Fedoseev (RUS) which can be called a positional Masterclass in French Defense in the fifth round of FIDE chess.com Grand Swiss 2021. It was a good day for the Indian players as Praggnanandhaa, Raunak Sadhwani, Arjun Erigaisi, Surya Sekhar Ganguly, B Adhiban and Divya Deshmukh scored a victory each. Nihal drew with Manuel Petrosyan. Harikrishna showed his true grit as he survived by the skin of his teeth in a completely lost endgame against Darius Swiercz (USA). The endgame specialist believed in himself when others would have given up in a similar situation. Round 6 starts today at 5:30 p.m. IST. Photo: Mark Livshitz/FIDE
A great day for the Indian players
Seven out of 15 Indians scored a win each in the fifth round. It was a welcome break for the following players who scored their first win of the event - Raunak, Arjun, Surya, Adhiban and Divya. Arjun Erigaisi arguably scored the toughest victory of the round among the Indian players as he was up against former women's world championship challenger, Aleksandra Goryachkina (RUS), who is well-known to not give up easily and put up a good fight even if she is at a disadvantage.
Petrosyan - Nihal: 0.5-0.5
There was a try for Nihal in the rook endgame against Manuel Petrosyan (ARM).
33...Rc6 followed by Rb6 is worth a try. It is not much and probably might end up in a draw anyway. Still Black would have had some chances. The game continued 33...Rd8 34.Rc1 Rd4 35.b3 Rd3 36.bxc4 Rxa3 37.Rb1 Ra2+ 38.Kf1 Rxh2 and a draw was agreed.
Harikrishna - Swiercz: 0.5-0.5
Harikrishna was completely lost against Darius Swiercz (USA). However, he did not give up. Instead, fought valiantly and managed to salvage a draw.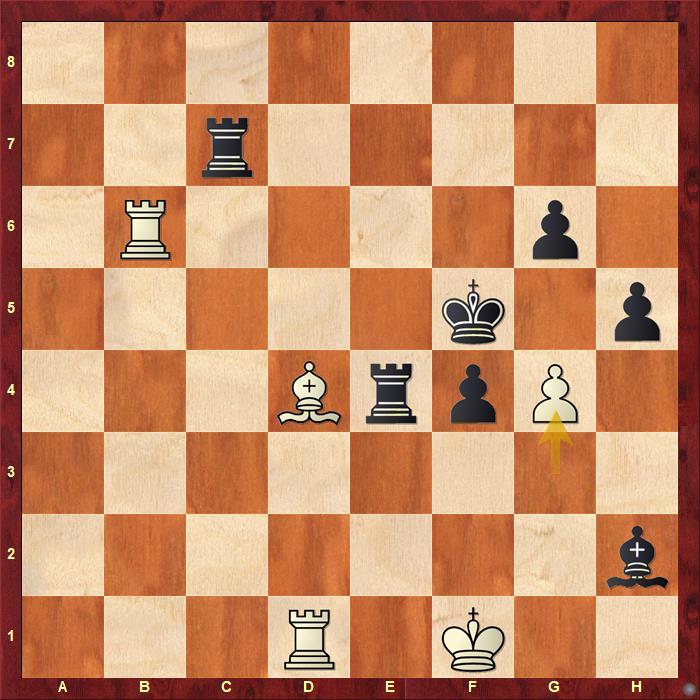 The position was hopeless for White. 48.g4+ is one last attempt to make things a bit more complex. It turned out to work in White's favor. White managed to get the g6-pawn after pushing the Black king all the way to the back rank as he had to leave the pawn to avoid repetition.
Almost anything was winning for Black except 56...Be5. Find out how White can get back in the game.
Sasikiran - Fedoseev: 1-0
Sasikiran outplayed Vladimir Fedoseev (RUS) after the latter made an incorrect decision to support his rook instead of taking a pawn.
Black needed to take the b5-pawn 17...Rxb5 and things would have been fine. The game continued 17...b6 18.Rb1 Ng6 19.Nxg6 Qxg6 20.Qd3 Qe8 21.Bf1 and White managed to save the b5 and now b6 is a weakness, something which Black could have easily avoided. White converted his advantage beautifully into a win.
Navara - Gukesh: 1-0
Gukesh was playing well against David Navara (CZE) until the former made a mistake, probably under time scramble.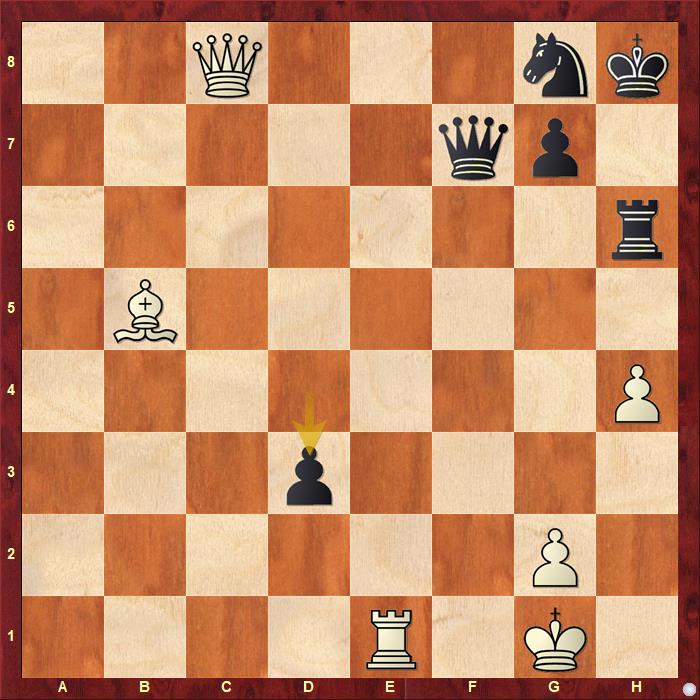 34...Qd5 keeps Black in the game as 35.Bc4 is met by Rc6. Unfortunately for Black, 34...d3 ends the game for White after 35.Bc4 d2 36.Rd1 Qa7+ 37.Kh2 Rxh4+ 38.Kg3 and there is no perpetual check for Black.
Praggnanandhaa - Mamedov: 1-0
Rauf Mamedov (AZE) played quite passive against Praggnanandhaa. He lacked enough space for his pieces which cost him a pawn and eventually the game.
Arjun - Goryachkina: 1-0
Aleksandra Goryachkina (RUS) is the only female player playing in the Open section. Arjun Erigaisi had a very interesting game against her.
19.e5 threatens to gain material, although Black wouldn't have lost any if 19...b3 was played, which leads to many interesting variations. The game continued 19...Rcd8 20.exf6 Nxf6 21.Nf4 d4 22.Bc1 Ne4 23.fxe4 Bxg5 and Black did not get any attack on the queenside. However, Goryachkina is not the one to give up easily. She put up a brave fight in Queen vs Rook and Bishop endgame. It was not lost for Black by any means. Since the endgame is quite difficult for Black to play, eventually she made a mistake and lost the game. Arjun played fantastic to make sure he does not make any big mistake and secure the full point.
Harika - Pogonina: 0.5-0.5
Harika got herself a very good position in the middlegame against WGM Natalija Pogonina (RUS). However, she did not capitalize on her advantage and decided to play it safe.
22.Nxh6+ is a tempting choice for White. A much safer choice would be to go for 22.Qf4. Idea is simply to maintain the stronghold in the center using the knights and at the right moment, launch an attack on the kingside. The game continued 22.Nd4 Qd5 23.Qf4 Nb3 24.Nxb3 Qxb3 25.Qc4 and it petered out to a draw.
Highlights
A few interesting finishes from Round 5
Photo Gallery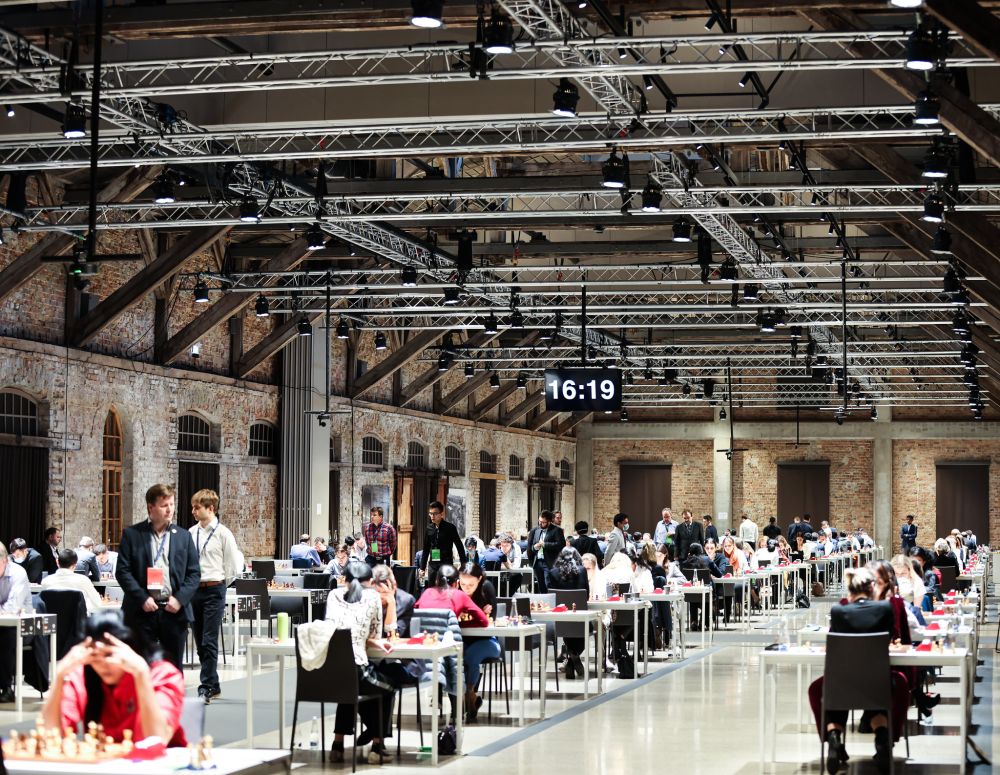 Schedule
Everyday game starts at 2 p.m. local time (4:30 p.m. IST) between 27th October and 7th November 2021. Rest day is on Tuesday 2nd November 2021.
Time Control
The time control for each game is: 100 minutes for the first 40 moves, followed by 50 minutes for the next 20 moves, followed by 15 minutes for the rest of the game with an increment of 30 seconds per move starting from move 1.
Qualification
The top two players in the open event will qualify for the FIDE Candidates 2022. The next six players will earn their spots in the FIDE Grand Prix. The Women's Grand Swiss winner will qualify to the Women's Candidates. The following four best players will qualify for the FIDE Women's Grand Prix.
Prizes
The total prize fund in the Open is US$ 425,000 with the first prize being $70,000. For Women's the total prize fund is $125,000, first prize $20,000. Total numbers of prizes are 60, Open - 40 and Women - 20.
Replay Round 5 Open games
Replay Round 5 Women games
Replay the live stream
Round 5 results
Round 6 pairings
Links
Tournament Regulations: Open and Women
---