Grand Swiss R4: Harikrishna and Vaishali score a win
Harikrishna scored his second consecutive win of the event to move to 2.5/4 at the conclusion of the fourth round of FIDE chess.com Grand Swiss 2021. Nihal, Gukesh and Sasikiran drew their respective games against three strong Russians, Ponkratov, Fedoseev and Artemiev. WGM Jiner held Harika to a draw. Padmini missed a completely winning opportunity against Kashlinskaya. Divya escaped a loss against Sophie. Vaishali scored a comfortable victory. Vantika, Raunak and Sethuraman drew with Anna Sargsyan, Maxim Matlakov and Boris Gelfand respectively. Round 5 starts today at 5:30 p.m. IST. Photo: Mark Livshitz/FIDE
Nihal and Harika in pursuit
Alireza Firouzja (FRA) continues his sole lead 3.5/4 as he drew his game against Yangyi Yu (CHN). Eleven players are at a half point behind him, Nihal Sarin is the only Indian among them. Harikrishna, Sasikiran and Gukesh are at 2.5/4 each. Among the Women, Tingjie Lei has taken sole lead 3.5/4. Ten players are at a half point behind him including Harika 3.0/4. Padmini and Vaishali are at 2.0/4 each.
Nihal - Ponkratov: 0.5-0.5
Pavel Ponkratov made a greek gift sacrifice on Nihal's kingside.
White is forced to accept the sacrifice, as the alternative leads to an instant loss. The game continued 12.Kxh2 Qh4+ 13.Kg1 Rf6 and now 14.f4 prevents any kind of perpetual as 14...Rh6 runs into 15.Nf3 exf3 16.Bxf3 allows king to escape via e2. White decided to allow the perpetual 14.f3 Nf6 15.Qe1 Qh2+ 16.Kf2 Qh4+ and there is no way for White to get out of the checks.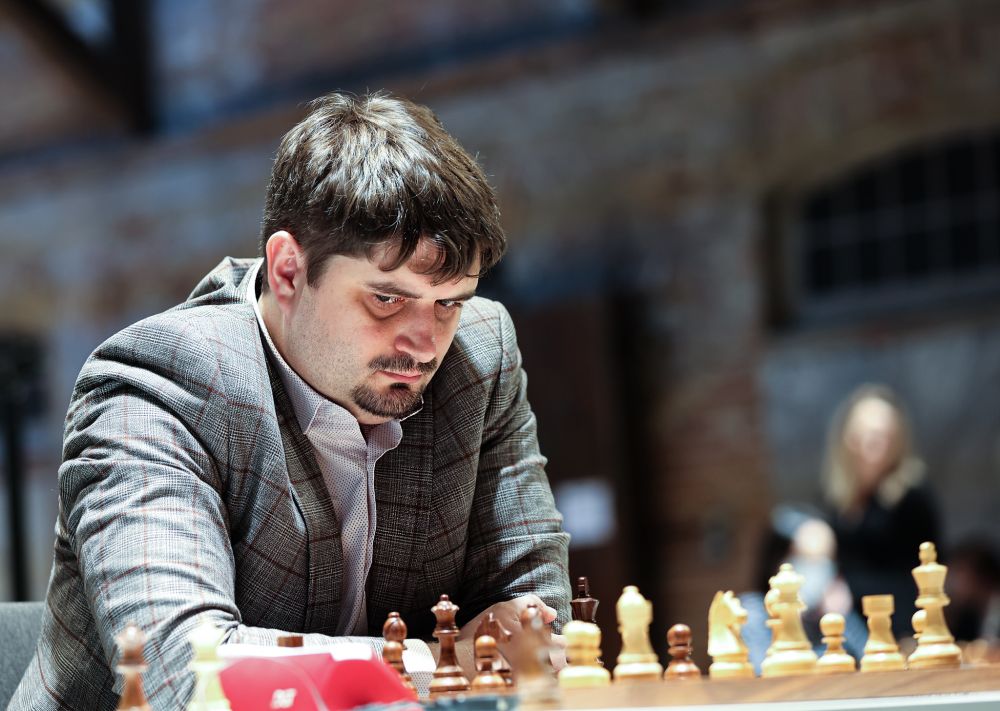 Fedoseev - Gukesh: 0.5-0.5
Vladimir Fedoseev decided to give up an exchange against Gukesh at the right moment. However, he did not follow through correctly and allowed his opponent to get back in the game.
Although the knight is well-placed at c6, it allows Black some counterplay 25...Re1+ 26.Kf2 Rc1 27.Ra7 Rxc2+ 28.Kf3 Rxa2 29.Bb8 Kg8 and eventually White used the d-pawn as a leverage to get a perpetual check. Perhaps 29...h5 would have been a better try instead of bringing the king all the way to the center as Black got into a perpetual because of that and did not get any time to push the passed a-pawn.
Movsesian - Harikrishna: 0-1
Harikrishna scored his second consecutive victory in the event, this time against Sergei Movsesian (ARM).
33.Ra6 would have kept White in the game. However, 33.Rd8 is a game losing mistake, find out why.
Jiner - Harika: 0.5-0.5
Harika had to sacrifice a pawn to prevent her position from getting worse. Later in the double rook and minor piece endgame, it seemed like Jiner Zhu (CHN) had something. However a careful inspection reveals that there was not much practically.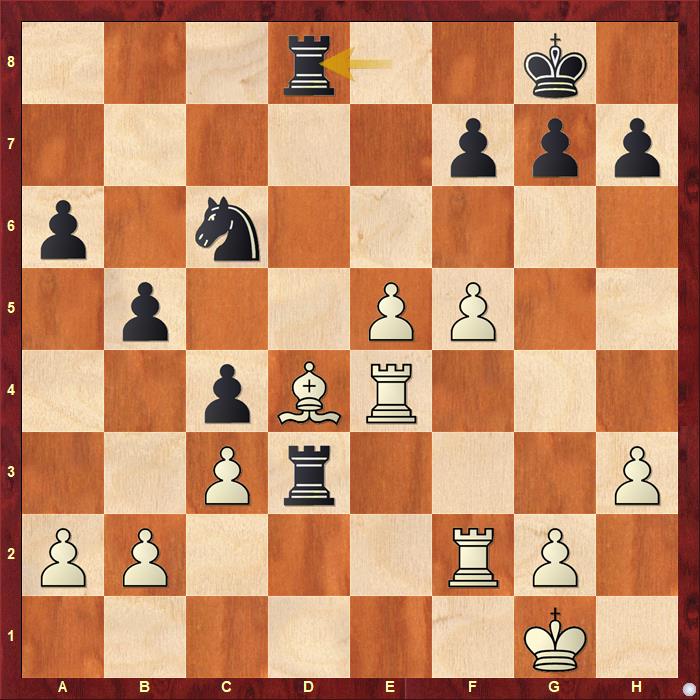 Computer may not like 32...Rd8 for Black, in reality there is nothing White can do to take advantage of it either via 33.Bb6 or Be3. White is unable to create a real threat or a passed pawn on e-file. The game meandered into a draw.
Padmini - Kashlinskaya: 0-1
IM Padmini Rout got a fantastic opportunity against IM Alina Kashlinskaya (RUS).
Black has made a bluff 29...Rxf2. The best way to refute a sacrifice is to accept it. This case is no different either. 30.Kxf2 Qf7+ 31.Nf5! and now no matter which piece Black captures in any way, White wins the game. Unfortunately, White opted for 30.Nd5 which is a bigger mistake and lost the game in the next few moves.
Anna Sargsyan - Vantika: 0.5-0.5
WGM Vantika Agrawal continues her unbeaten run as she drew with WGM Anna Sargsyan (ARM).
21.Rh5 might give Black a slight edge. However, it is not enough to get anything substantial.
Vaishali - Meruert: 1-0
IM Vaishali scored a fine victory against WIM Meruert Kamalidenova (KAZ).
Divya - Sophie: 0.5-0.5
At one point, WGM Divya Deshmukh was completely lost against France no.2 woman, IM Sophie Mililet (FRA).
Find out the winning continuation for Black in the above position. Black missed her opportunity and played 36...Rg5 which allowed White to save the game 37.Ra2. The game continued for another 70 moves before a draw happened with only kings left on the board.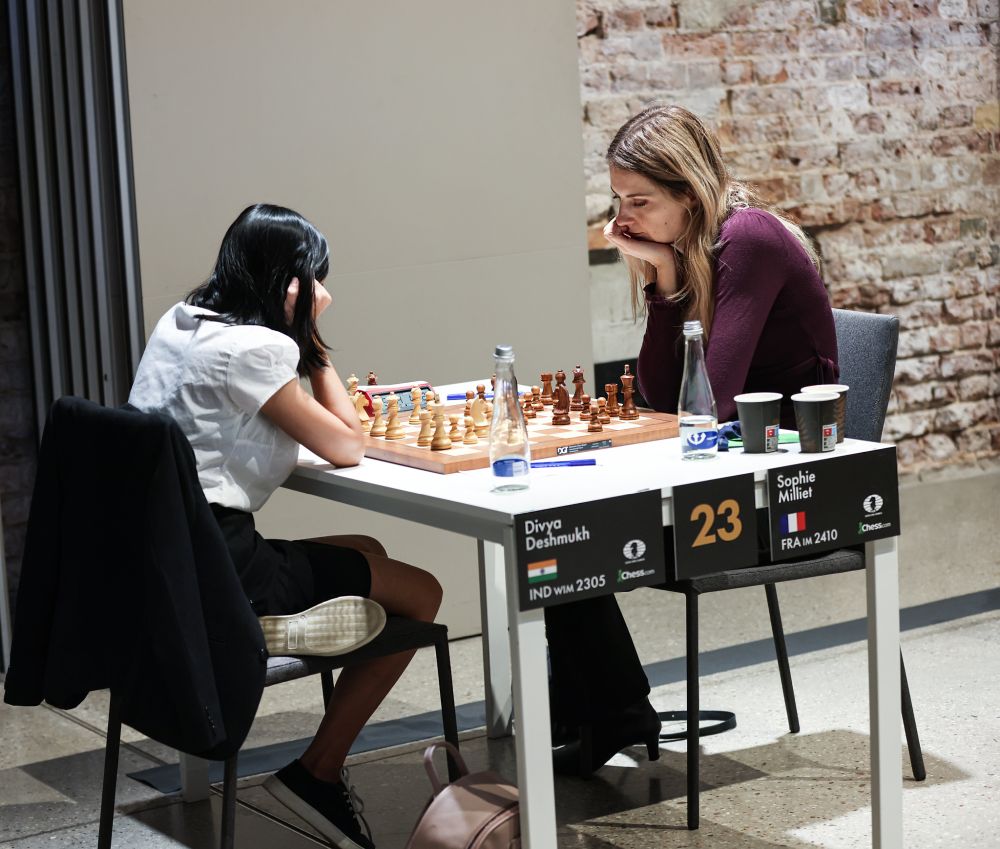 Highlights
A few interesting finishes from Round 4
Photo Gallery
Schedule
Everyday game starts at 2 p.m. local time (4:30 p.m. IST) between 27th October and 7th November 2021. Rest day is on Tuesday 2nd November 2021.
Time Control
The time control for each game is: 100 minutes for the first 40 moves, followed by 50 minutes for the next 20 moves, followed by 15 minutes for the rest of the game with an increment of 30 seconds per move starting from move 1.
Qualification
The top two players in the open event will qualify for the FIDE Candidates 2022. The next six players will earn their spots in the FIDE Grand Prix. The Women's Grand Swiss winner will qualify to the Women's Candidates. The following four best players will qualify for the FIDE Women's Grand Prix.
Prizes
The total prize fund in the Open is US$ 425,000 with the first prize being $70,000. For Women's the total prize fund is $125,000, first prize $20,000. Total numbers of prizes are 60, Open - 40 and Women - 20.
Replay Round 4 Open games
Replay Round 4 Women games
Replay the live stream
Round 4 results
Round 5 pairings
Links
Tournament Regulations: Open and Women
---