Grand Swiss R2: Tenacious Nihal survives the Caruana challenge
Nihal Sarin managed to survive against the former world championship challenger, Fabiano Caruana in their first-ever Classical encounter in the second round of FIDE chess.com Grand Swiss 2021. The 17-year-old persevered where many would have crumbled under sheer pressure of playing against the world no.2. Arjun Erigaisi also showed the world that his win against Dubov four months ago at Goldmoney Asian Rapid was not a fluke, as he put up a very good fight in the Classical game to make a draw. Praggnanandhaa played the role of 'The Beastmaster' as he beat Adhiban in his own game. Round 3 starts today at 4:30 p.m. IST. Photo: Mark Livshitz/FIDE
Arjun Erigaisi draws with Dubov
Sasikiran and Padmini defeated Shamsiddin Vokhidov (UZB) and Pia Cramling (SWE); D Gukesh, Sethuraman and Surya Sekhar Ganguly drew with Parham Maghsoodloo (IRI), Gabriel Sargissian (ARM) and Ivan Cheparinov (BUL); Harikrishna, Raunak and Vaishali lost to Alexey Dreev (RUS), Sanan Sjugirov (RUS) and Nino Batsiashvili (GEO) respectively. Harika was too strong for Divya.
Nihal - Caruana: 0.5-0.5
Caruana opted for the Tarrasch Defence against Nihal. During the middlegame, Nihal put his knight on the edge which made things slightly difficult for him.
According to the computer, 19.Nxc6 bxc6 20.Bxe4 dxe4 21.Ne1 Bxh3 22.Rxd8 Rxd8 23.Qxa6 and the position is equal but it is quite obvious to understand that in a practical game, a human would not prefer to opt for this, especially against the world no.2. 19.Nh4 Nxd4 20.Bxd4 Qh6 21.Nf3 Bxh3 22.gxh3 Qxh3 23.Qf1 Qxf3 24.Qg2 Qxg2+ 25.Kxg2 and now White is down by two pawns. Nihal had to return the piece via 23.Qf1 as Re6-g6 threat was looming large. Nihal showed a great tenacity in the endgame by recovering one of the lost pawns and steering the game to a draw.
Dubov - Arjun: 0.5-0.5
The best way to make sure Dubov does not go all creative on you is by taking the role of an aggressor which is what Arjun Erigaisi did against him.
It is clear from the above position that Arjun is the one who is in control of the position. He managed to play solid till the end and not give any chance to his opponent. The game ended in a draw by threefold repetition.
Praggnanandhaa - Adhiban: 1-0
Praggnanandhaa unleashed an attack like his opponent Adhiban usually does.
24.g4 left Black no choice but to take on f3 as the threat of exf6 cannot be prevented, only delayed. The game continued 24...Qxf3 25.exf6 Be2 26.Rf2 and Black made the bold decision of taking the g4-pawn 26...Qxg4+ 27.Rg2 Qf4 28.Rxe6 gives White the decisive advantage, as the bishop is much more dangerous than Black's scattered three pawns. Praggnanandhaa showcased fantastic technique to convert his advantage into a win.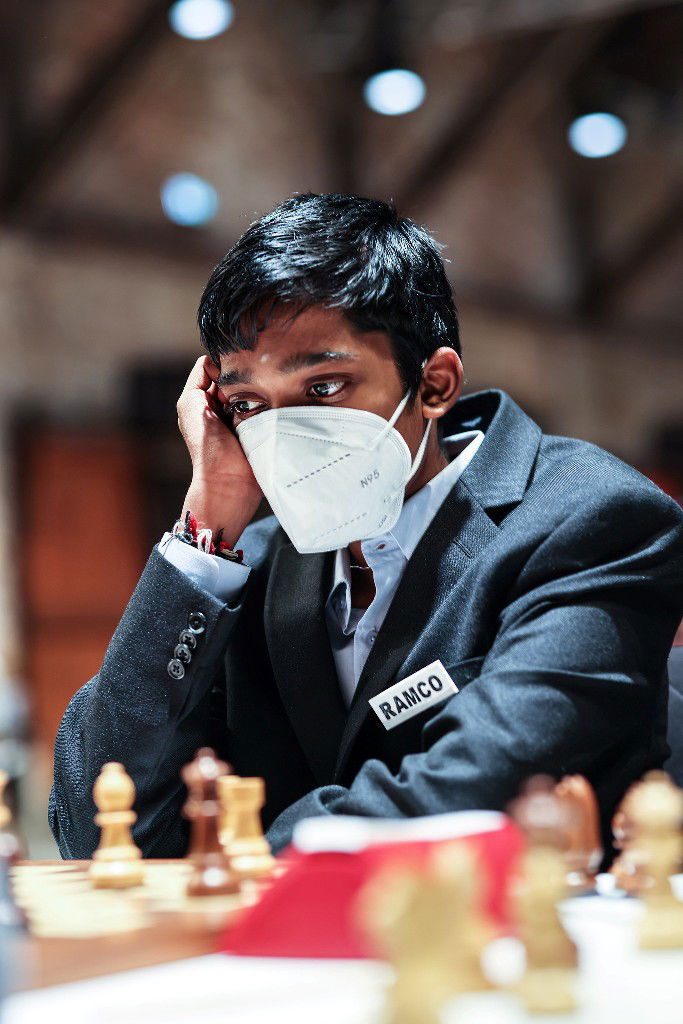 Sethuraman - Gabriel: 0.5-0.5
Sethuraman and Gabriel Sargissian (ARM) had a roller-coaster game where both players had their fair share of substantial advantage.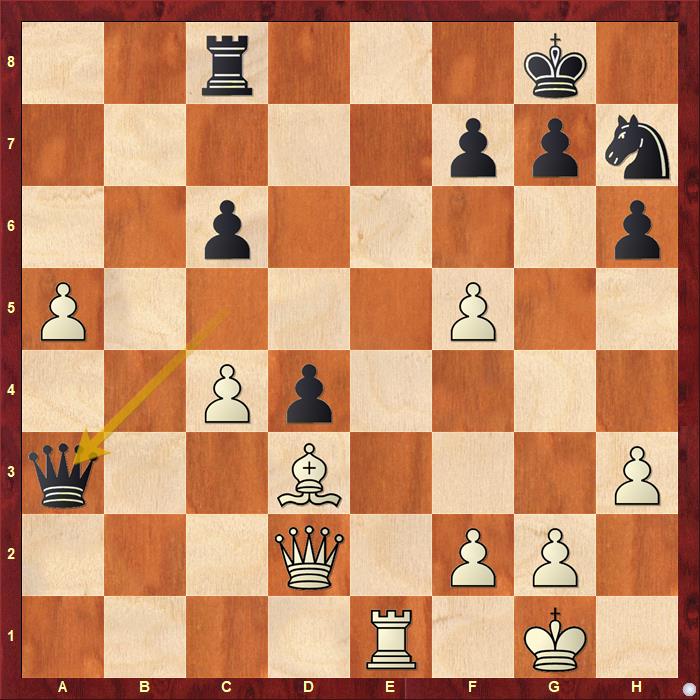 Black's intention is simple, to play c5 and get rid of the passed a-pawn. To prevent that from happening, White needed to play 33.c5 and then play a6 which would have kept good chances for White. Unfortunately, 33.Bf1 was played and Black got 33...c5 in place and the a-pawn fell in a few moves. Eventually Black got a winning opportunity too which he missed and the game ended in a draw.
Divya - Harika: 0-1
GM Harika got a better position out of the opening against WGM Divya Deshmukh.
16...c4 gives a clue that something has gone terribly wrong for White in the opening. White could not get back for the rest of the game.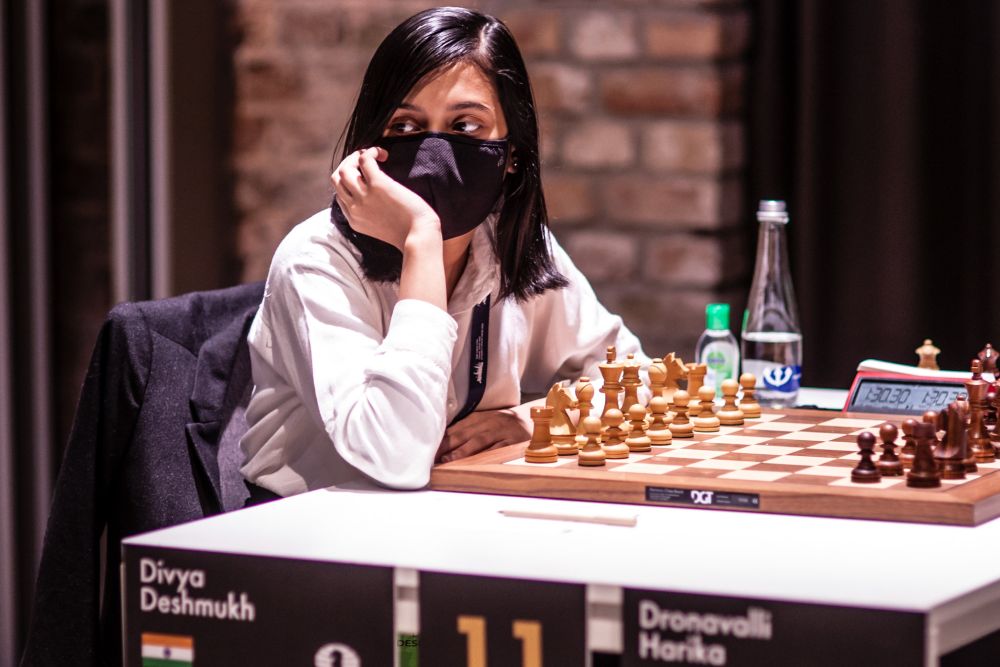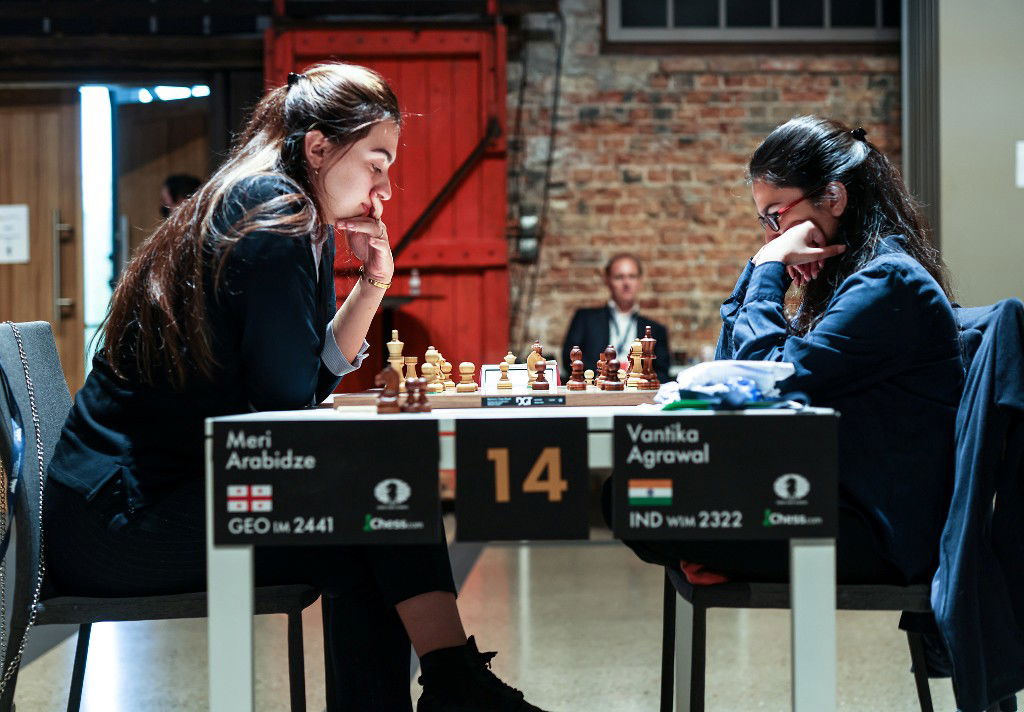 Pia Cramling - Padmini: 0-1
IM Padmini Rout struck at the right moment when the legendary GM Pia Cramling (SWE) made an error.
Find out the winning continuation for Black after 30.Nd6
Highlights
A few interesting finishes from Round 2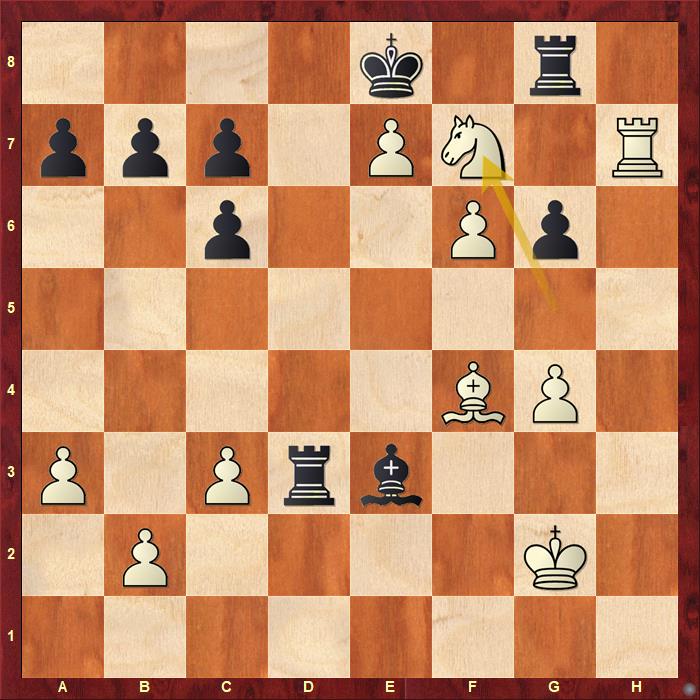 Photo Gallery
Schedule
Everyday game starts at 2 p.m. local time (4:30 p.m. IST) between 27th October and 7th November 2021. Rest day is on Tuesday 2nd November 2021.
Time Control
The time control for each game is: 100 minutes for the first 40 moves, followed by 50 minutes for the next 20 moves, followed by 15 minutes for the rest of the game with an increment of 30 seconds per move starting from move 1.
Qualification
The top two players in the open event will qualify for the FIDE Candidates 2022. The next six players will earn their spots in the FIDE Grand Prix. The Women's Grand Swiss winner will qualify to the Women's Candidates. The following four best players will qualify for the FIDE Women's Grand Prix.
Prizes
The total prize fund in the Open is US$ 425,000 with the first prize being $70,000. For Women's the total prize fund is $125,000, first prize $20,000. Total numbers of prizes are 60, Open - 40 and Women - 20.
Replay Round 2 Open games
Replay Round 2 Women games
Replay the live stream
Round 2 results
Round 3 pairings
Links
Tournament Regulations: Open and Women
---