Grand Swiss R7: Sasikiran draws with World no.10 Maxime Vachier-Lagrave
Krishnan Sasikiran continues his good form as he played solid and drew with world no.10 Maxime Vachier-Lagrave (FRA). Both of them along with Alexei Shirov (ESP) are just a half point behind the sole leader Alireza Firoujza (FRA) 5.5/7. Sasikiran will face Firouzja in the next round. Harikrishna beat Maksim Chigaev (RUS) to take his score 4.5/7. Nihal also has the same points. Praggnanandhaa escaped with a draw against Peter Svidler (RUS). Harika drew with Jolanta Zawadzka (POL) 4.5/7. Vantika continues her impressive run as she beat IM Carolina Lujan (ARG) to move to 4.0/7. Round 8 starts today at 5:30 p.m. IST. Photo: Anna Shtourman/FIDE
Harikrishna, Nihal and Harika at 4.5/7
Apart from Sasikiran, Harikrishna and Nihal are having a great tournament as both of them are at 4.5/7 each. While Harikrishna will go against Evgeniy Najer (RUS), Nihal will face Parham Maghsoodloo (IRI) in Round 8.
Sasikiran - Vachier-Lagrave: 0.5-0.5
The Najdorf specialist, World no.10 Maxime Vachier-Lagrave opted for his pet line against Krishnan Sasikiran. The game reached to a complex middlegame.
The players repeated 27...Ng3 28.Rg1 Nh5 and so on. In a post-match interview Sasikiran revealed that he drew because he thought it was difficult to improve for both sides in the final position. If he felt there was a clear-cut chance, he would have definitely played. He also added that he did not go on excursion on the rest day. He rested himself and worked between 3 to 7 pm (local time) which is the scheduled match hours.
Firoujza - Najer: 0.5-0.5
The rook and pawn ending between Alireza Firouzja (FRA) and Evgeniy Najer (RUS) was heading towards a draw until the Russian blundered by promoting the pawn.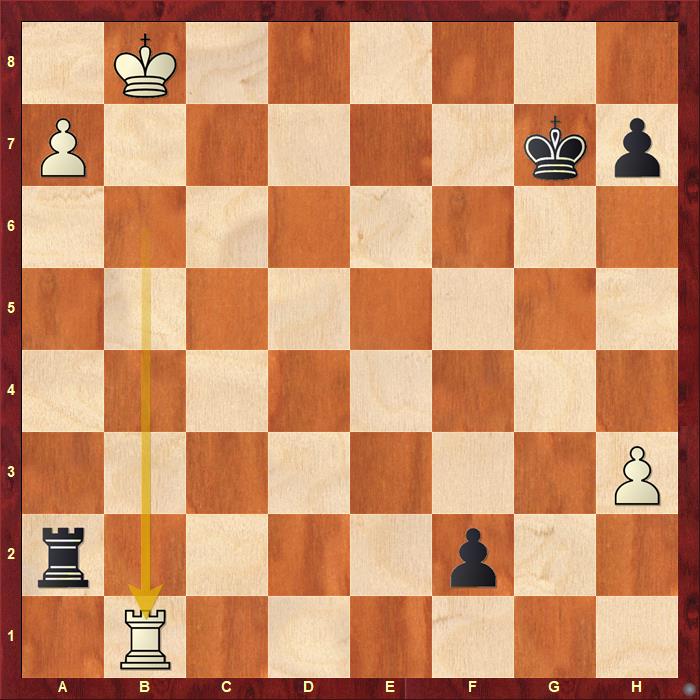 Black need not promote the f-pawn here. Instead, he should have moved the king to capture h3-pawn and the game would have ended in a draw, Firouzja shared it in a post-match interview. 50...Kf6 51.Rf1 Kg5 52.a8=Q Rxa8+ 53.Kxa8 Kh4 54.Rxf2 Kxh3 and it's a draw. Black blundered 50...f1=Q and it was all over.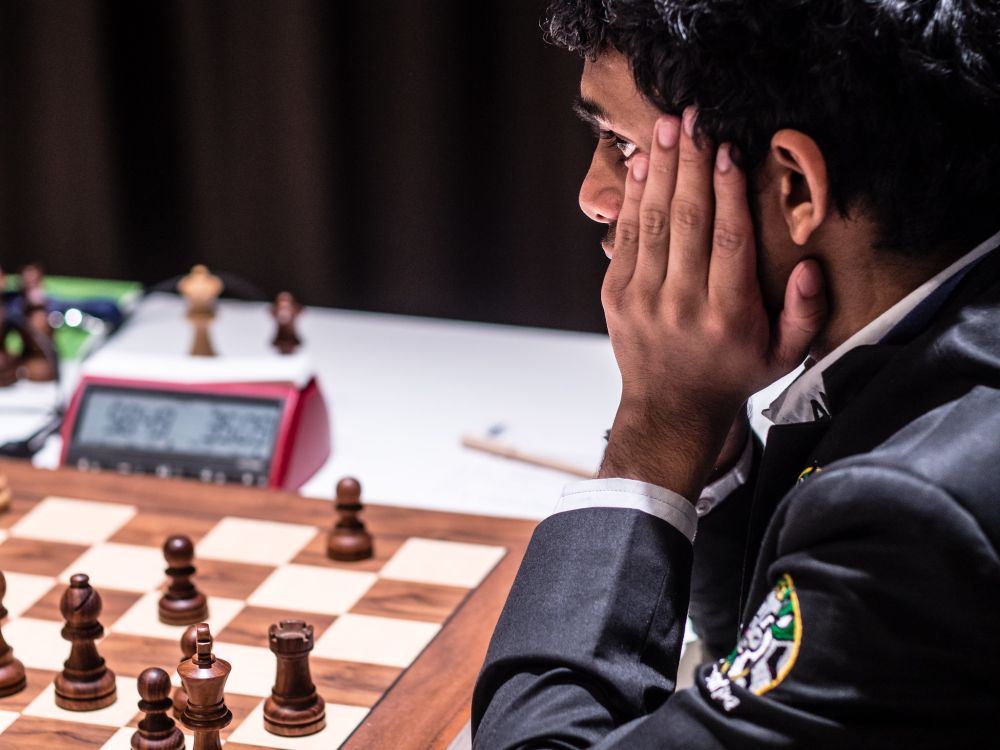 Harikrishna - Chigaev: 1-0
Harikrishna scored a fine victory against Maksim Chigaev (RUS) who misjudged the attack on his kingside.
Black brought his passed pawn to a2 by neglecting his queenside pieces' development. 24...f6 is a big mistake. 25.Qg4 Qc3 26.Qe6+ Kh8 27.Nf7+ Kg7 28.Nd8! a fantastic final blow for Black. It is a point of no return and Black had to resign in the next few moves.
Svidler - Praggnanandhaa: 0.5-0.5
Praggnanandhaa was in deep trouble against Peter Svidler (RUS) in the middlegame.
24.d5 makes things uneasy for Black. The bishop pair is unable to do anything since the position is not open for the bishops to move freely or create a threat. White not being at his best continued 24.Nfd2 Be6 25.h3 Bf7 26.Ra6 Qb7 27.Rea1 Qb4 28.Qxb4 Rxb4 and Pragg managed to escape with a draw.
M Socko - Vaishali: 0.5-0.5
IM Vaishali had a substantial advantage for the better part of the middle game against GM Monica Socko (POL).
Find out the winning continuation for Black after 24.Rh6.
Vantika - Carolina: 1-0
WGM Vantika Agrawal seized her opportunity when IM Carolina Lujan (ARG) misplayed in the final moments of the seemingly equal rook and few pawns endgame.
53...Kg5 is what Black had to play, instead 53...Kg6 gives White the decisive advantage as 54.f4 comes freely, the rest is just a matter of technique which Vantika converted without any trouble.
Jovanka - Divya: 0-1
WGM Divya Deshmukh capitalized on her opponent's mistake IM Jovanka Houska (ENG) who had a good position herself.
28.Ba3 pins the knight and puts White in the driver's seat. However, the game continued 28.e4 Nh5 29.Qe5 Qg5 30.Nd5 Bxd5 31.exd5 Nf4 32.Qxg5 hxg5 and Black is not only out of danger but also has gained a decent advantage.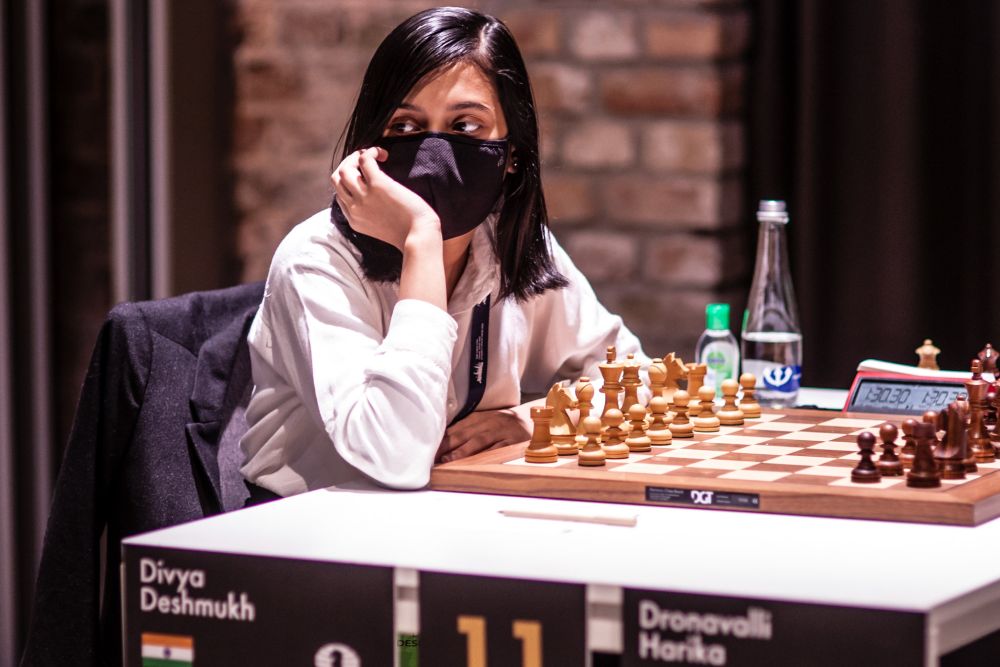 Highlights
A few interesting finishes from Round 7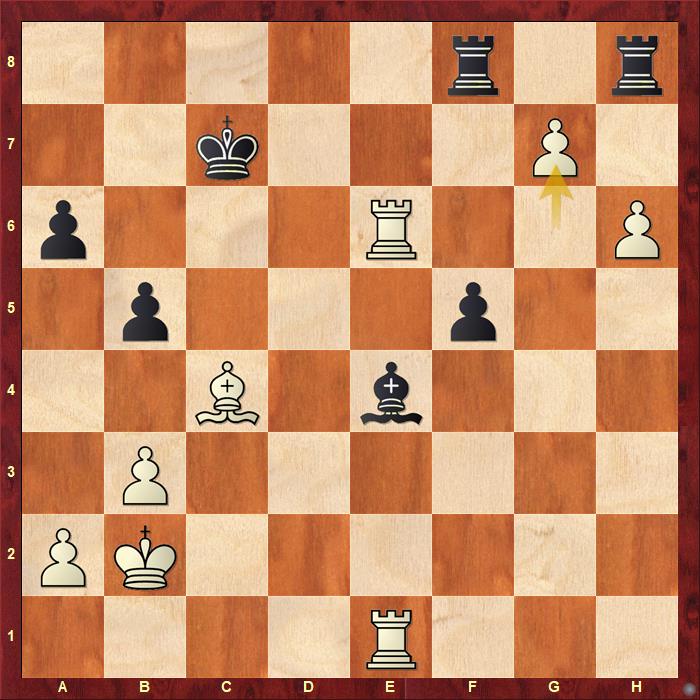 Photo Gallery
Schedule
Everyday game starts at 2 p.m. local time (4:30 p.m. IST) between 27th October and 7th November 2021. Rest day is on Tuesday 2nd November 2021.
Time Control
The time control for each game is: 100 minutes for the first 40 moves, followed by 50 minutes for the next 20 moves, followed by 15 minutes for the rest of the game with an increment of 30 seconds per move starting from move 1.
Qualification
The top two players in the open event will qualify for the FIDE Candidates 2022. The next six players will earn their spots in the FIDE Grand Prix. The Women's Grand Swiss winner will qualify to the Women's Candidates. The following four best players will qualify for the FIDE Women's Grand Prix.
Prizes
The total prize fund in the Open is US$ 425,000 with the first prize being $70,000. For Women's the total prize fund is $125,000, first prize $20,000. Total numbers of prizes are 60, Open - 40 and Women - 20.
Replay Round 7 Open games
Replay Round 7 Women games
Replay the live stream
Round 7 results
Round 8 pairings
Links
Tournament Regulations: Open and Women
---