Grand Swiss R6: Sasikiran joins the five-way lead
Krishnan Sasikiran once again played sublime chess as he beat Alexandr Predke (RUS) in the sixth round to join the lead in FIDE chess.com Grand Swiss 2021. The remaining four players in the lead are - Alireza Firouzja (FRA), Maxime Vachier-Lagrave (FRA), Alexei Shirov (ESP) and Evgeniy Najer (RUS). Sasikiran will face MVL in the seventh round. Raunak Sadhwani was the only other victor among the Indians, as he defeated a fellow countryman, D Gukesh. Nihal had good chances against the Czech Republic no.1 David Navara, much to his chagrin, he was unable to capitalize and Navara managed to create a fortress. Today is a rest day. Round 7 starts tomorrow, Wednesday 3rd November at 5:30 p.m. IST. Photo: Anna Shtourman/FIDE
Sasikiran and Raunak win
It was a tough day for the Indian players apart from Sasikiran and Raunak. Arjun Erigaisi lost after 7.5 hour-long grueling battle against Volodymyr Onyshchuk (UKR). Harika had a substantial advantage against GM Nino Batsiashvili (GEO), however she could not make the most out of her opportunity. Vaishali also had good chances against Bibisara Assaubayeva (KAZ). Vantika lost her first game of the event against former women's world champion and the first ever women's world cup winner, Alexandra Kosteniuk (RUS).
Nihal - Navara: 0.5-0.5
Czech Republic no.1 David Navara decided to exchange his queen for Nihal's two rooks.
The game continued 15.Bh6 Bh8 16.Rxd8 Rfxd8 17.h4 and so on. White got a firm control of the position due to the passed pawn on c5 and space advantage, despite Black having two rooks and bishop pair on the board.
Here White can force Black's rooks to remain fixed on the back rank by retreating the bishop first, say 29.Bh2 Ree8 30.c6 Bd2 31.c7 Rc8 32.Be5. White is not winning immediately, however Black pieces movement gets limited and White has a higher chance of converting this than the text which sacrificed the bishop via 29.c6 Rexd6 30.c7 Bg5 31.a4 Kg7 32.a5 Re8 33.c8=Q. White needed to delay the c-pawn promotion, instead 33.a6 and threaten to promote both would have given more practical chances. However, the result might not have been that different.
Predke - Sasikiran: 0-1
Alexandr Predke (RUS) made a bold decision to do long castle in a position where he should have a short castle against Krishnan Sasikiran.
The primary reason why 16.0-0-0 is bad because it invites trouble 16...Nxf2 17.Rhf1 Nd3+ 18.Bxd3 exd3 19.Qc3 Qg6 20.g4 f6. White got himself a very poor pawn structure and there is no compensation for it. Sasikiran converted his advantage into a win with a beautiful play.
Gukesh - Raunak: 0-1
Gukesh vs. Raunak is an interesting encounter as they met each other for the first time in a Classical game.
25.Qd4 had an adverse effect to the position as the battery on the long diagonal is ineffective. In fact, the position completely turns into Black's favor after 25...Ne4 26.Rf3 f6 27.Bc7 b6 and now White's bishop is virtually trapped as it has no safe square to go to. Soon the queens got traded, Raunak's superior knight dominated the position which prompted Gukesh to give up his bishop for a couple of pawns. However, it was not enough as Raunak showed correct technique to convert his advantage into a full point.
Harika - Nino: 0.5-0.5
Harika had the upper hand for the majority of the middlegame against GM Nino Batsiashvili (GEO).
Perhaps defending the b2-pawn 35.Rc2 and playing on her advantage would have given White better chances to go for a win than the text 35.Rd6. It forced the queen exchange 35...Qb7 36.Qxb7 Rxb7 37.g3 Ne6 and it became just a matter of time before the b-pawn fell and the game petered out to a draw.
Vaishali - Bibisara: 0.5-0.5
IM Vaishali made a nice tactic against IM Bibisara Assaubayeva (KAZ).
Position after 18...Nf5
18...Nf5 is a mistake because of 19.Nxh7 which of course Black had calculated thoroughly before playing it, because she decided to give up her queen for two minor pieces. 19...Kxh7 20.Bxd8 Rxd8 21.Qh3+ Nh6 22.Nxf7 Bxf7 23.Bxe6 Nc6 24.Rhf1 Bxe6 25.Qxe6 Nd4 and now White capture a wrong pawn at a6 26.Qxa6 Ra8. Instead 26.Qh3 would have kept Black on its toes with no counterplay. Soon the game ended in a draw by repetition.
Highlights
Arguably one of the most exciting game of the tournament so far was played by Daniil Dubov (RUS) against Ivan Saric (CRO). It is well known by now that the former world rapid champion is one of the most creative players among the current top players.
Dubov - Saric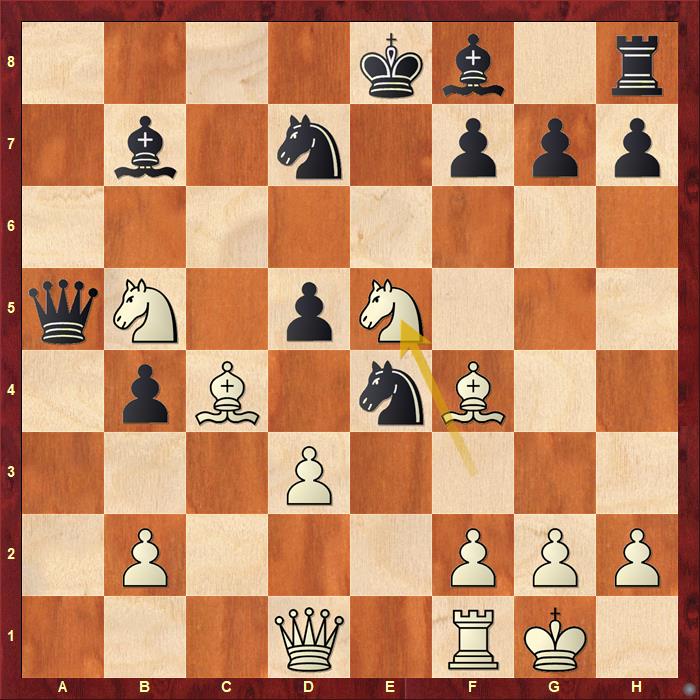 To understand Dubov's games, you have to get his ideas by turning off the computer assist because even computer is unable to comprehend what goes in his mind. The idea behind 16.Nxe5 is simple, try to open up the center as quickly as possible because the black king is still unmoved, even if it costs material for White.
They say, it takes two to tango. For every beautiful game, someone has to make some mistake for the other one to capitalize it beautifully. Make no mistake, Saric is a very strong player. This past summer, he played fantastic at the Croatia Grand Chess Tour. Anyway it is time to find the winning the continuation for White after 34...Kf8.
A few interesting finishes from Round 6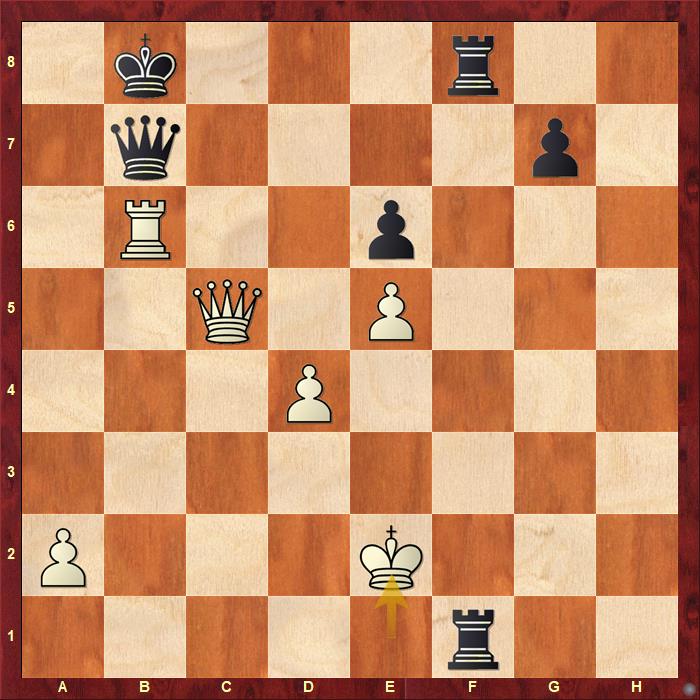 Photo Gallery
Schedule
Everyday game starts at 2 p.m. local time (4:30 p.m. IST) between 27th October and 7th November 2021. Rest day is on Tuesday 2nd November 2021.
Time Control
The time control for each game is: 100 minutes for the first 40 moves, followed by 50 minutes for the next 20 moves, followed by 15 minutes for the rest of the game with an increment of 30 seconds per move starting from move 1.
Qualification
The top two players in the open event will qualify for the FIDE Candidates 2022. The next six players will earn their spots in the FIDE Grand Prix. The Women's Grand Swiss winner will qualify to the Women's Candidates. The following four best players will qualify for the FIDE Women's Grand Prix.
Prizes
The total prize fund in the Open is US$ 425,000 with the first prize being $70,000. For Women's the total prize fund is $125,000, first prize $20,000. Total numbers of prizes are 60, Open - 40 and Women - 20.
Replay Round 6 Open games
Replay Round 6 Women games
Replay the live stream
Round 6 results
Round 7 pairings
Links
Tournament Regulations: Open and Women
---