Ding Liren becomes the 17th World Chess Champion scoring a thriller in the Playoff
Ding Liren has become the 17th World Chess Champion. One must not forget that he was a FIDE World Cup 2017 runner-up, won Olympiad team Gold and individual Bronze and Gold medals for China in 2014 and 2018 respectively. The World no.3 also won team Gold and individual Silver at World Team Championship in 2015. He became a runner-up at the FIDE World Cup 2019, for the second consecutive edition. The new world champion became the first Chinese man to win the crown, he was also the first Chinese player to qualify to the Candidates back in 2017. After Karjakin was banned by FIDE, Ding Liren got an opportunity to qualify for the Candidates. He managed to achieve it, finished second in Candidates. He already had a long impressive list of accolades. The most important thing is - a person can be brave, quiet, calm, composed, confident and let his moves do all the talking. Ding Liren personified that. Photo: FIDE/Anna Shtourman
"I just wanted to become the player that plays the best"
"Well quite relieved. The moment Ian resigned the game, it was a very emotional moment. I could not control my mood, my feelings, yes I know myself, I will cry, I will burst into tears. It's quite a tough tournament for me. I would like to thank to my friends..." - Ding Liren's first words after becoming the 17th World Chess Champion. He also shared, "...I started to learn chess from (the age of) four years old. I spent 26 years playing, analyzing, trying to improve my chess ability with many different ways, different training methods, with many new ways to changing, maybe it's not so well-known among the elite players. I think I did nearly everything. Sometimes I thought I would (do) education to chess because sometimes results of the tournaments made him not so happy, sometimes I struggle to find another hobbies to make me happy. Also, I was inspired by many sayings to achieve, to climb mountains, to strive to do best or to learn from the best... I think the match reflects the deepest of my soul."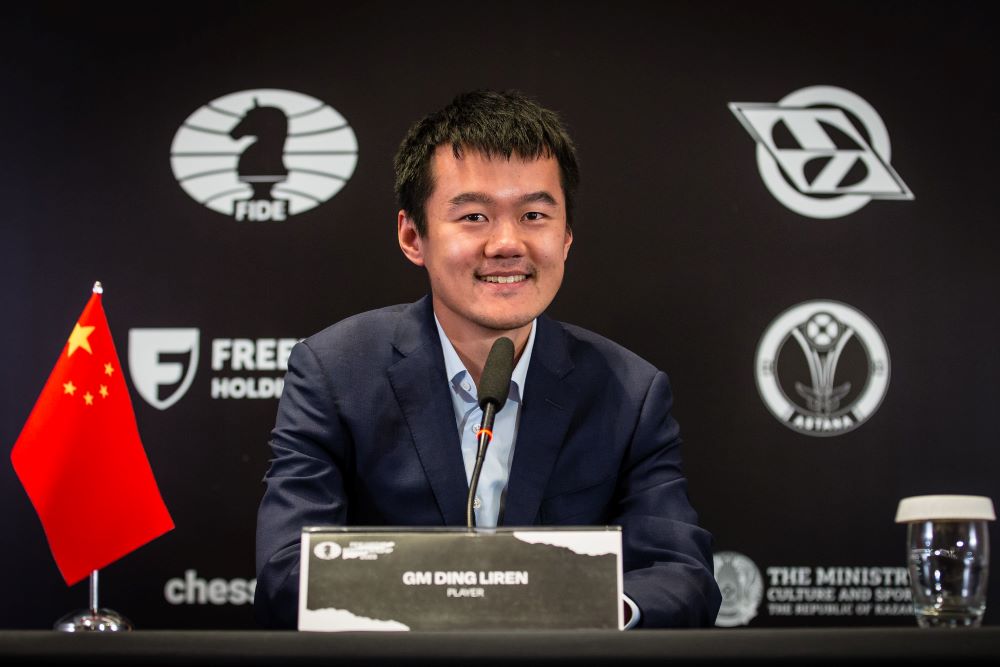 "If I try to find the reason inside of chess, I think it might be some Chinese ways. Maybe that's what makes me play a little bit different than other Grandmasters." - Ding Liren on what makes him the new World Champion. "I have a list. I want to go to Turin to see a game of Juventus, my favorite club... just travel." - Ding Liren on where he wishes to travel when he gets some spare time. "Yeah, good memories I think. I would like to get back here if there are tournaments." - On Astana and making memories here.
"No, actually I haven't dreamed of becoming a world champion. At one point, I just wanted to become the player that plays the best. It's not so important to become the world champion." - Ding Liren on whether he dreamed of becoming a world champion.
"Yeah I feel good. I think it will inspire a lot of Chinese young players to play chess because the tournament I guess was followed by many spectators around China. So I hope it will influence a lot of people." - On becoming the first Chinese world champion in the Open section.
Ding Liren - Nepomniachtchi, Tie-break 1
White cannot take the queen as 26.Rxc7 runs into Nf3+ and White cannot avoid material loss. White found 26.Nb5 Rxd2 27.Nxc7 Bh3 28.Bxh3 Rxh3 and the game ended in a draw via perpetual check in the next few moves.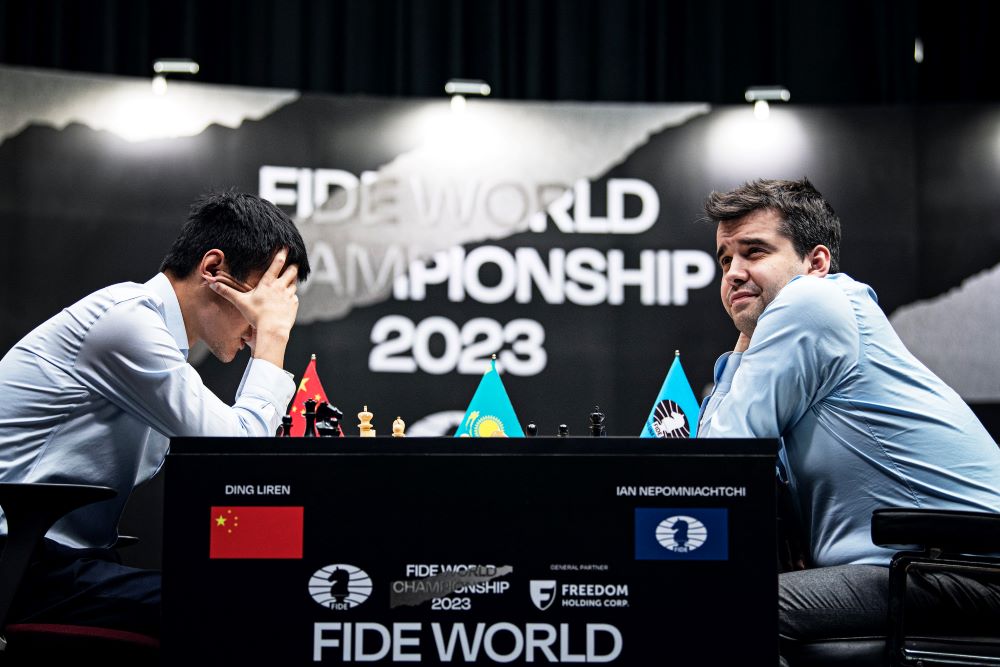 Nepomniachtchi - Ding Liren, Tie-break 4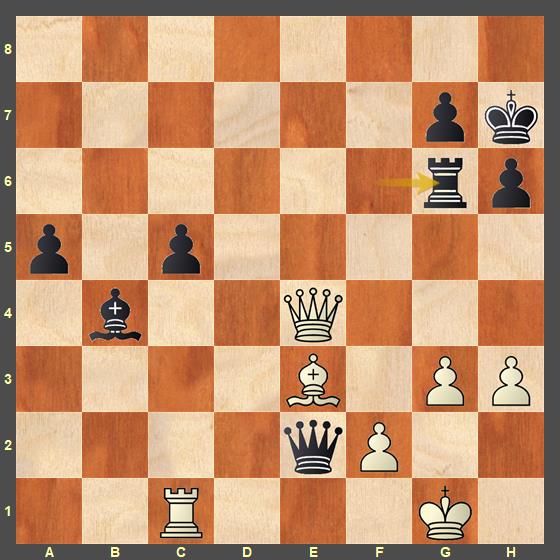 Instead of going for a repetition, Ding Liren self-pinned his rook 46...Rg6. The world no.1 Magnus Carlsen congratulated, quoting this diagram, "Self-pinning for immortality. Congrats Ding!!" The new world champion shared this about his choice, "It's one of the two ways to play for a win. The other one was to play Rf7 after 45.Qd5+. I guess obviously the rook is better (at g6) and the king is safer on h7. So I decided to play for a win. It was because when I played 43...Bb4 I realized that I could play for a win because if you take on c5, I can play 44...Be1 and do not exchange the bishop. If you get the chance, I think you need to save it. I saw that." 47.Qf5 c4 48.h4?? is what the computer says to be the decisive mistake. However, the position was extremely difficult for White to defend especially when the clock was ticking down to the last seconds in a high pressure World Championship match. 48...Qd3 the best way to unpin the rook. Although Black could have won slightly earlier, he made all the correct practical decisions in time trouble, won the game and the world title.
Solve instructive positions from all 14 games in an interactive format at ChessRanga.
"I guess I had every chance. I had so many promising positions, probably should have tried to finish everything in the Classical portion, because once again it was I guess a matter of one or two precise moves, both in round 12 and round 14 as well... It's always some sort of luxury especially after 14-games match. Probably my opponent made the penultimate mistake, so that's it. - Ian Nepomniachtchi on the overall match.
Nepomniachtchi's team consisted of - Nikita Vitiugov, Ildar Khairulin, Maxim Matlakov and Vladimir Kramnik were some of the names revealed in the post-match press conference.
After winning the Candidates 2022, Nepomniachtchi tweeted the following
It is a clip from the Doctor Strange movie which is my favorite MCU movie. Now we all know how the scene played out. If we take the clip at the face value, it is apt considering Nepomniachtchi was attempting to beat Carlsen in his second attempt. However, if we consider the rest of the scene and the movie, we know that it took countless or infinite attempt for Strange to defeat Dormammu. The exact number is not revealed and it is open to interpretation. Unfortunately for Nepomniachtchi, he is kind of living the same scenario.
When it comes to achieving a goal against a difficult opponent, the scene 'How many seconds in eternity' from the 'Heaven Sent' episode of Doctor Who comes to mind. Whovians would certainly be familiar with this scene and episode, which is arguably one of the best scenes and episode of the cult-classic series and quite possibly in the history of television.
Ding Liren almost kind of lived the similar fate of the twelfth doctor, where he lost, drew, won then lost again, won again, despite never being in the lead throughout the match, he won it when it mattered the most.
Our ChessBase India Hindi head, FI Niklesh Jain shared a photo from the Batumi Olympiad 2018 where Ding Liren won team and individual Gold with a fractured hip. Ding in undoubtedly an inspiration to generations of chess players both on and off the board.
Path to World Championship
Vishy Anand tweeted another fantastic line about Ding Liren's journey towards the World Championship match - He was literally the last minute participant from the candidates stage and this was a miraculous journey all the way!
ChessBase's Carlos Alberto Colodro, shared the timeline of Ding Liren's path towards the World title:
• July-August 2021: Ding Liren misses participating in FIDE World Cup 2021 in Khanty-Mansiysk after becoming a runner-up in the past two editions, due to China's strict travel restrictions during Covid-19 pandemic.
• February-April 2022: Ding Liren misses FIDE Grand Prix 2022 in Berlin and Belgrade due to China's Covid-19 strict travel restrictions.
• March 2022: The FIDE Ethics commission imposes a six-month ban on Sergey Karjakin, who had secured a spot in the Candidates.
• April 2022: Ding Liren plays 28 classical rated games in a bit over a month (all in China) to meet FIDE's requirement of playing 30 or more rated games in a year to be able to play in the Candidates based on the player's average rating. He had not been able to play enough rated games due to China's travel restrictions.
• 4th July 2022: Ding secures second place in the Candidates Tournament after defeating Hikaru Nakamura in the final round. Nakamura headed the final round in sole second place, Ding leapfrogged him in the final standings.
• 20th July 2022, International Chess Day: Magnus Carlsen announces that he will not defend his World Championship title. According to the regulations, Ding, as the runner-up in the Candidates, qualifies for the match.
Photo Gallery
Ding Liren thanked his family, his mother, grandfather, his friends and others. Richard Rapport who is an 'artist' definitely played a crucial role in Ding Liren becoming the world champion. The creative genius is known to have the ability to beat Magnus Carlsen and other world's top players in any format on any given day. It undoubtedly gelled well with Ding's adapting style in chess which a lot of elite players do not yet, according to him. The fondness of the 80s music also certainly did him good to relax during the tense match.
Video Gallery
Replay all games
Schedule
Every game starts at 3 p.m. local time, 2:30 p.m. IST. There is a rest day after every two games.
Links
---