World Championship Game 5: Nepomniachtchi outplays Ding Liren
FIDE World Championship 2023 just keeps getting interesting by each game. Three out of five games have been decisive so far. It goes without saying that this has been the most dramatic World Championship match in recent memory. Ian Nepomniachtchi outplayed Ding Liren right from the opening till the very end. The critical moment according to the world no.3 was when his opponent played 29.Nf5 when he should have opted for Qf6 instead of 29...Nxf5 which he played. Nepo was staring daggers at his opponent for the better part of the game. His reasoning behind the action was that he 'missed him a little on rest day'. Game 6 starts today at 3 p.m. local time, 2:30 p.m. IST. Photo: FIDE/David Llada
"This loss even hurt more than the previous one"
"Well it's hard to say. Clearly this line is at least looking pretty much innocent for Black but I felt like some long-term positional, not advantage but it's easier to play for White. So I was more or less happy with the opening. After Ding chose 19...Bd8 and 22...Bb6, I guess it was very risky. If I'm in time to put h4 and h5, I think White is better. Then I am not sure. Probably there was a better way to defend for Black but I felt like White was pressing. So that's basically it and in the time trouble he blundered this 37.g5 hxg5 38.Rg4 Nh4 idea. At this point White is almost winnng." - Nepomniachtchi on if he felt in control in the fifth game.
"This loss even hurt more than the previous one. I thought I was totally fine... We still have many rounds. I hope I can recover from this tough loss." - Ding Liren answered on this World Championship match having more decisive results than the last few.
Nepomniachtchi - Ding Liren, Game 5
Nepomniachtchi mentioned in the post-game press conference that 19...Bd8 followed by 22...Bb6 was quite risky for Black. Sweden no.1 GM Nils Grandelius tweeted that despite the position being slightly different, the World no.2 used the idea mentioned in his course. 23.h4 Qc6 24.h5 c4 25.d4 although computer might say it's equal, one cannot deny the long-term advantage White has and it's much easier to play than Black.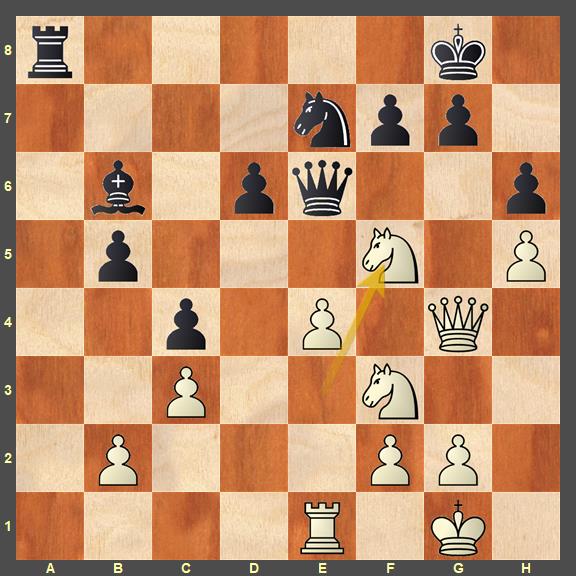 "Obviously, I think the critical moment was when he played 29.Nf5. I think I should have played 29...Qf6 instead of Nxf5. I missed the move 33.g4 which is quite strong. It not only protects the f5-pawn but also creates space on the kingside. I don't have so many moves. It's a very good game played by him. I was on the defensive side throughout the game. Maybe I should have played 29...Qf6. After that it's a very difficult position to defend.
The straw that broke the camel's back moment would be after 37.g5 when Black took hxg5. There wasn't really much to do for Black. 37...Qd7 would have only delayed the inevitable 38.gxh6 gxh6 39.f6.
"Well definitely the position was part of my prep. I should credit that for the most of the game he played quite sensible moves. It's quite normal I think due to some weather issues, it was a little bit too cold inside the lounge. That basically forced me to stay in the venue overtime." - Nepomniachtchi quipped on him walking inside the playing arena during the game and whether Ding Liren got into his prep.
"Actually as I said my preparation today was not like as deadly as it could seem. After rest day, I already missed him." "Missed him!?" "Yeah a little" - Witty Nepo on why he was looking at Ding Liren a lot during the game.
World no.6 and Netherlands no.1, GM Anish Giri tweeted on the match so far
World no.34 and India no.4, GM Pentala Harikrishna shared
Photo Gallery
Replay all games
Schedule
Every game starts at 3 p.m. local time, 2:30 p.m. IST. There is a rest day after every two games. Fifth game is on Saturday 15th April 2023.
Links
---