World Championship Game 14: Ding Liren escapes disaster, Playoff to crown the winner
The 14th game of the FIDE World Championship 2023 was the longest one. It lasted for nearly seven hours and 90 moves. The match witnessed Nimzo-Indian for the second time. It was a different variation in the final Classical game. Ding Liren went for an ambitious 12.Ng5 followed by 13.h4. "If Ng5 and h4 would win every game, chess would be very easy for White." - Ian Nepomniachtchhi quipped. The World no.3 sacrificed a pawn in the endgame and landed himself in a precarious position. Somehow he managed to find the crucial resource 38.b6 in the endgame which saved the day for him. Ding Liren got the white pieces in the first of four Rapid tiebreak games which starts today at 3 p.m. local time, 2:30 p.m. IST. Photo: FIDE/Stev Bonhage
A new World Champion will be decided today
"The most difficult moment I think was the seventh game during the time trouble... I just couldn't make a move, make the decisions. Also the game afterwards influenced me." - Ding Liren on what was the most difficult game for him. His opponent, Nepomniachtchi gave a vague answer, "I guess all games were difficult in its own way. I think I wouldn't specify one."
Ding Liren - Nepomniachtchi, Game 14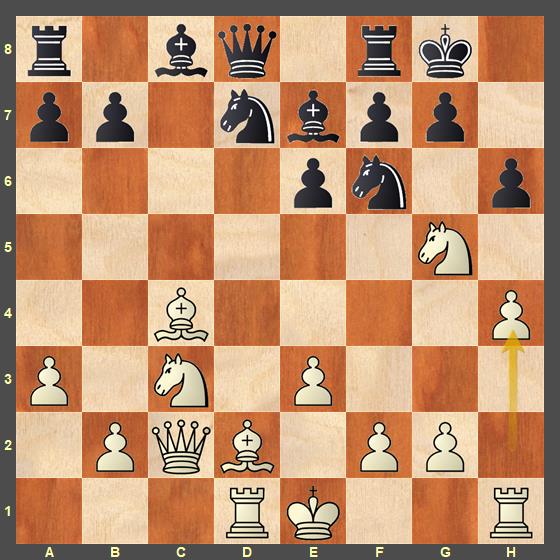 Ding Liren took an ambitious approach 12.Ng5 h6 13.h4. It was evident that he wanted to make the most out of the white pieces in the last Classical game. Vishy Anand was not a fan of Ding's this idea. Nigel Short shared - I love 12.Ng5!, even if the engine doesn't. Here comes the drunk machine-gunner!
The World no.3 when asked about the reasoning behind it shared, "No it depends on the position. I thought I may have some small tempi in this position. So I think I have some chance to launch an attack for example, even g4 I was considering. I was very very optimistic after Ng5, a little bit excited when playing this move but then I realized after 13...Qc7 I suddenly have to go to defense mode. That's a turning point of the game." He also answered his thoughts on 12.Ng5, "Yeah it's during the game. Obviously with this move, I am playing for a win. At that point, I thought it might be the decisive game but I am very lucky, like time in the World Cup against Aronian, I also defended a very bad endgame against him in the Classical game."
"...Actually I just didn't buy it. It didn't seem like it's gonna work because I never played any suspicious moves. I am well-developed. If 12.Ng5 and 13.h4 would win every game then chess would be much easier for White." - Nepomniachtchi's first thoughts after seeing 12.Ng5.
"It was slightly unpleasant for White but after 19.Bb4 it seems like if things don't work out too well for White, he is probably just lost after this move. It looks very suspicious... Thanks to this move 26.Rc4 White is not losing by force. I guess 27.Nc5 was an inaccuracy, maybe 27.Na5 was the move. Surprisingly the position is quite solid. But 19.Bb4 is such a decision, probably indicated that my opponent thinks he is in trouble." - Nepomniachtchi on his evaluation of 19.Bb4 and how he felt about the endgame.
"First I calculated 21.Bf3 but he can play I think both 21...Ng6 and Nd7 with the idea of Ne5. I guess it's difficult to play for White. Also I considered 21.f3 to stay passive but then actually I didn't calculate carefully, the line 21...Bxg2. I just sacrificed a pawn with no effect." - Ding Liren on sacrificing the g2-pawn.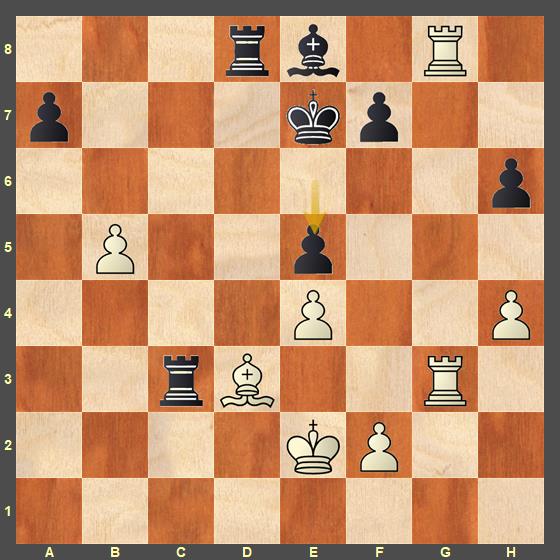 "I guess 36...e5 is the move which spoils the advantage because I missed the idea that after 37.Rh8 he can actually double on the back rank like Rgg8. This was quite a shocking moment. Some move like 36...Rb3 instead of e5 and White is just paralyzed. So it would be basically a matter of quite a simple technique... White has two ideas - first is b6. If I move my rook away from the eighth rank. Another idea is Rgg8 and surprisingly White cannot pin. Yeah this was quite unlucky. I felt like 36...e5 could never spoil anything, such an easy move, fixing the pawn structure and everything, probably 36...Rb3 with the idea after 37.Rh8 Rd4 or Rd6 should be easily winning but yeah." - Nepomniachtchi on his idea, evaluation behind 36...e5 and how he felt about his chances.
The key moment of the game is 38.b6! which saved the day for Ding Liren. The reason behind is 38...axb6/Rxb6 is met by 39.Rxe8+ Kxe8 40.Bb5+ and White salvages the crucial half point. Here are some tweets about this move and the idea
Solve instructive positions from all 14 games in an interactive format at ChessRanga.
Tie-breaks
The World Championship will be decided in a four-game rapid playoff with a time control of 25 minutes plus a 10-second increment per move. There shall be a drawing of lots to decide which player starts with white pieces.
If the score is still a tie after four rapid games, another two-game playoff shall be played with a time control of five minutes plus three seconds increment per move.
If the score is still level, another two-game playoff shall be played with the same time control. If the score is still even after this game, a single game shall be played with a time control of three minutes for each player plus two seconds increment per move, and these games will continue until a decisive result is reached.
For more details on the regulations, please check the link at the conclusion of this article.
Photo Gallery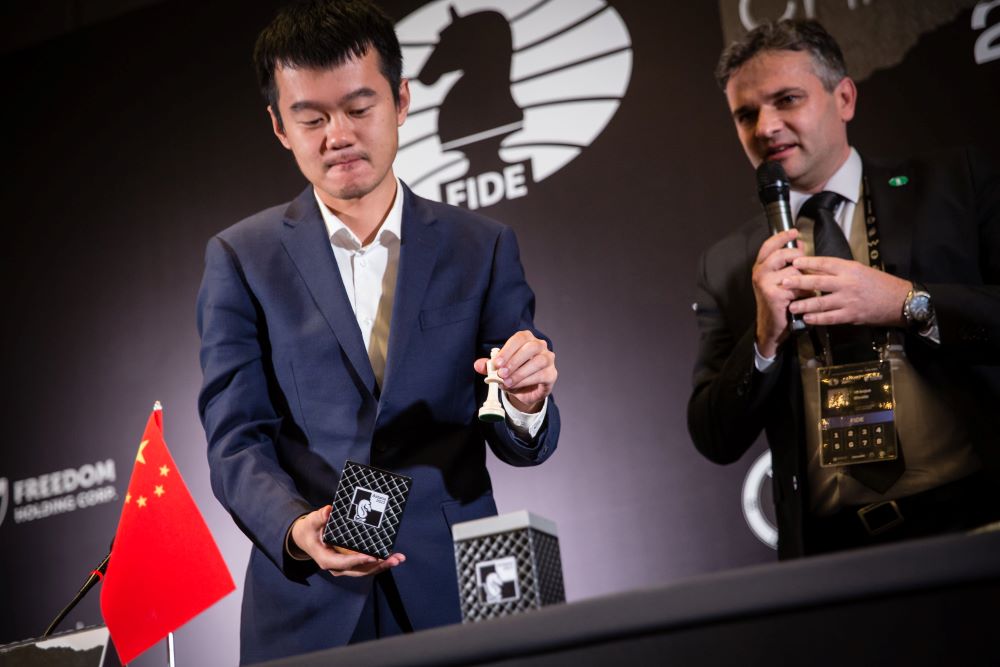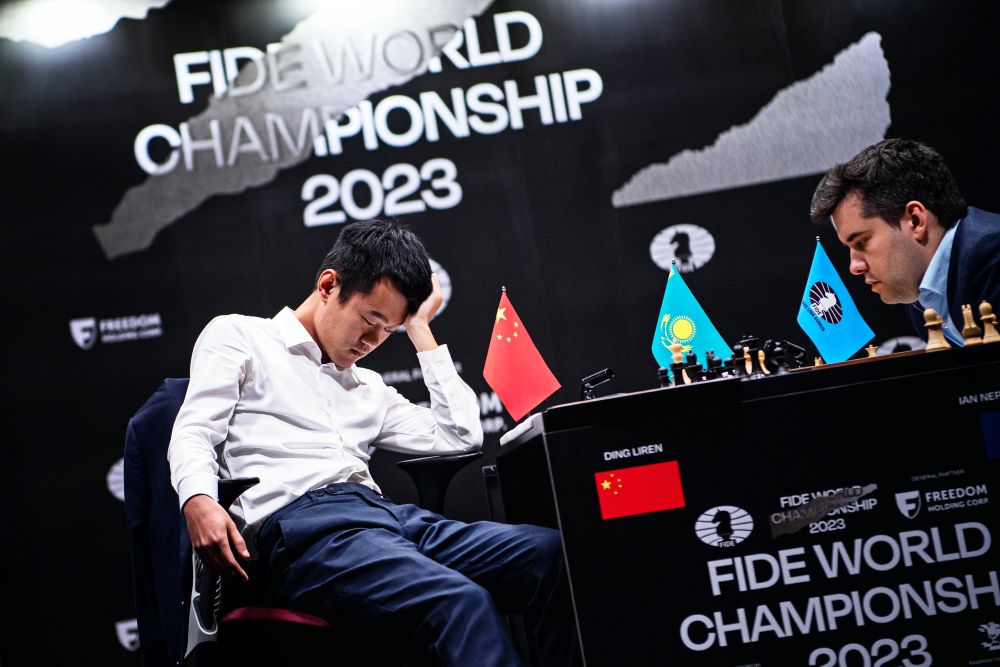 Video Gallery
Replay all 14 games
Schedule
Every game starts at 3 p.m. local time, 2:30 p.m. IST. There is a rest day after every two games. Fifth game is on Saturday 15th April 2023.
Links
---