World Championship Game 1: Ding's daunting defense against Nepomniachtchi
The first game of the FIDE World Championship 2023 between Ian Nepomniachtchi and Ding Liren was an interesting encounter. It certainly seemed like the match will have an unusual start in terms of result. The world no.3 was in quite a bit of a pickle but he lived up to what he is known for - incredible defensive skill. The Chinese might not have played a lot of tournaments or rated games since the travel restrictions were imposed in 2020 due to the pandemic, one thing which should not be forgotten is his 100-game unbeaten streak. In the post-game press conference, we all got to know that Richard Rapport's creative side and the fondness of '80s music are one of the many reasons, why the new Romania no.1 is his second. Game 2 starts today at 3 p.m. local time, 2:30 p.m. IST. Photo: FIDE/Stev Bonhage
"I didn't think about chess so much..."
"Rather interesting game. I think I was pressing at some point, not something like very serious but I think it became at least very unpleasant after 27.Qf4 and 28.Qb8 but then I couldn't make up my mind like which pawn should I take and should I take a pawn at all. Maybe play for domination..." - World no.2 Ian Nepomniachtchi on his overall thoughts of the game.
"I am not happy... I feel a little bit depressed because during the game I feel it's kind of a flow of inconsistent solutions during the game... No I didn't think about chess so much and my mind was very strange, many memories, feelings... I feel a little bit maybe something wrong with my mind. Maybe it can be concluded, it was rooted by the pressure of the match." - Ding Liren on how felt about the first game.
Nepomniachtchi - Ding Liren, Game 1
"Actually I didn't prepare anything yesterday because I am struggling with my feelings, my emotions. The line that you mentioned (6.Bxc6 dxc6) played by me many times but I totally forgot it during the game. I played on my own and it turns out the opening phase I played I think was quite good. Maybe I am slightly better, but it's not so worse..." - Ding Liren on if he was surprised when his opponent played 6.Bxc6 in the Ruy Lopez where he has won games against Carlsen, Grischuk and others.
The world no.1 Magnus Carlsen, tweeted a reply to one of his seconds, Jan Gustafsson about 7.Re1.
When the Press Officer, WGM Keti Tsatsalashvili asked the two-time World Championship Contender if he had seen 14.h3 Qxd4 15.Nd5 trap, he answered that he hadn't during the game.
The queen-bishop battery on the b8-h2 diagonal certainly looks menacing. However, as Nepomniachtchi mentioned in the press conference, he could not make up his mind about whether he should take a pawn or play for domination. He went for the latter as can be seen from the game but it did not yield him a desired outcome.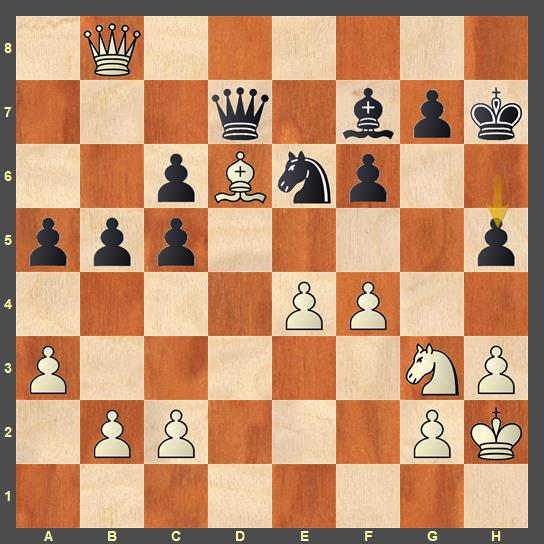 31...h5 is a good way to show that he can and he did manage to defend which seemingly worse for Black and certainly not easy to play.
Photo Gallery
Schedule
Every game starts at 3 p.m. local time, 2:30 p.m. IST. There is a rest day after every two games. Second game is on Monday 10th April 2023.
Links
---