World Championship Game 13: Tense struggle keeps the score level
Ding Liren faced the Ruy Lopez for the fifth time in Game 13 of FIDE World Championship 2023. He managed to equalize easily out of the opening. The World no.3 sacrificed an exchange and drew the game without having any great difficulty. He felt that he had some advantages, but it was not easy to prove it on the board. He once again showed a stroke of his wisdom while answering a question to the official commentary member, GM Irina Krush. Nepomniachtchi did not feel he was better at any point or in the endgame to continue. Today is the last rest day. Game 14 starts tomorrow Saturday 29th April at 3 p.m. local time, 2:30 p.m. IST. Photo: FIDE/Stev Bonhage
"Dark Ocean... I didn't go further into it"
"Well it's a tense struggle. At one point, the potential was occupied by the pieces, not by the pawns. This 19...d5 break, I am very happy to play because like some kind of Sicilian Defence. After Black can successfully play d5, then he has no problem at all. Also hope for some advantages after that. I thought after 21.Be4, I was better in this position but it's not so easy to prove that there is a clear advantage for Black. I want to play for the maximum by 21...Re5. try to protect the knight with a rook but it also had some drawbacks with this move." - Ding Liren on Game 13.
Nepomniachtchi - Ding Liren, Game 13
"I guess I mixed up something. Maybe I should include axb5 before d4... I should check the game later." - Nepomniachtchi on when things started to get worse for him.
"...I surely checked a few options but I guess the problem was that in the line 17.Nxc4 bxc4 18.f3 Bf8 I wanted to play 19.Bf4 then after d5 20.e5 Nd7 21.Re1 Qc7 looks like it is very hard to protect this pawn. Because if I would protect, I think I would get a very nice position but I didn't see it. Also it was let's say plan B like to play just 18.f3 Bf8 19.Nf5 d5 20.Bd4 dxe4 21.fxe4 but here I wasn't so sure like if I really have some compensation if he just takes on e4. It looks very nice but after Nxe4 I didn't see anything. He is got a solution because queen is coming to g5, so it also looks quite nice for Black. It was quite sad for me. I just decided to go to some passive defence and I really didn't like my position but I guess this 21...Re5 perhaps was artificial. Something like Qc7, Rad8 would work like a charm for Black." - Nepomniachtchi on the lines he considered after 16...Nc4.
21...Re5 was deemed 'probably very profound' by Vishy Anand. GM Jonathan Rowson tweeted, 21...Re5 is the move of a man who is thinking for himself. Ding Liren wanted to protect the knight and recapture it with the rook if required. Ding Liren later reasserted that the idea behind Re5 was to stay there and protect the knight.
Black went 24...f5 and decided to sacrifice an exchange for an active play. 25.Bg3 Rxe4 26.fxe4 Qxe4 27.Qxe4 fxe4 Black has a pawn for the exchange. White was not better and Nepomniachtchi also felt the same.
Solve instructive positions from all 13 games in an interactive format at ChessRanga.
Photo Gallery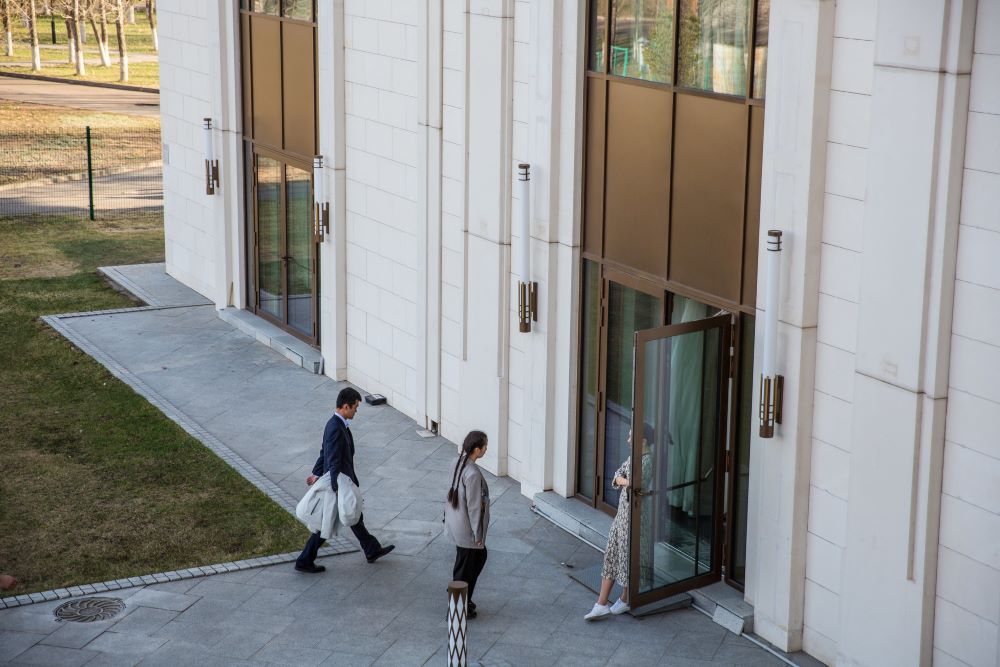 Replay all games
Schedule
Every game starts at 3 p.m. local time, 2:30 p.m. IST. There is a rest day after every two games. Fifth game is on Saturday 15th April 2023.
Links
---