World Championship Game 3: Calm before Storm?
The third game of the FIDE World Championship 2023 was a relatively quiet draw. The first 16 moves followed Giri-Ding's game from the Chessable Masters 2022. The world no.3 deviated with 17.N1e2 this time. His team and supporters were expecting him to find something better than what Giri did in the game. As Nepomniachtchi mentioned in the post-game press conference, it is quite difficult to disrupt the equality when both sides are making reasonable moves. One thing is for sure, Ding seemed more confident at this stage now more than earlier. He himself said, "I would like to thank my friends. They cheered me and helped me to deal with my emotional problem. Now I feel more comfortable at this stage." Game 4 starts today at 3 p.m. local time, 2:30 p.m. IST. Photo: FIDE/Stev Bonhage
"Now I feel more comfortable at this stage"
"...I was playing for a win at some point but I couldn't find a way to break through." - Ding Liren on Game 3. "...In the end a draw is a pretty decent result for the both of us." - The world no.3 on the result of their third game. Whether he got surprised by 1.d4 - "I didn't expect it, especially for this game. Although he played it recently but it's not his main weapon.. So it came out as a total surprise this time."
Nepomniachtchi - Ding Liren, Game 3
The game followed Giri-Ding battle till 16...Ne6 from Chessable Masters last year. Ding Liren deviated with 17.N1e2.
"...Yes I checked it today I guess. Queen's Gambit Declined is a very very solid opening, you are not going to achieve much. Alas it's most common case when both sides are let's say playing more or less reasonable moves. It's hard to disrupt the equality." - Nepomniachtchi when asked about his game following the above-mentioned one till a certain point.
Whether the players had access to a super computer for their preparation
"I don't know what you mean by super computer. It's how strong or how fast it can be called like to be it a super computer. A professional chess player will have very very strong computer but I don't know which kind of computer can be called a supercomputer." - Ding Liren. He also added, "I am pretty strong but not as strong as you were expecting."
"I guess the same story. You know probably to make your opponent afraid, you should claim you have like a super super computer but I think in fact it's pretty much all the same. Everyone has some good engines but I guess it's not something like above the sky." - Ian Nepomniachtchi.
The probable reason behind FM Mike Klein's, CCO of chesskid.com, question is world's most successful chess coach in history, Peter Heine Nielsen's tweet:
If you were wondering what 80's song Ding Liren and his second Richard Rapport listen to, Ding answered - Blowing in the wind by Bob Dylan.
Photo Gallery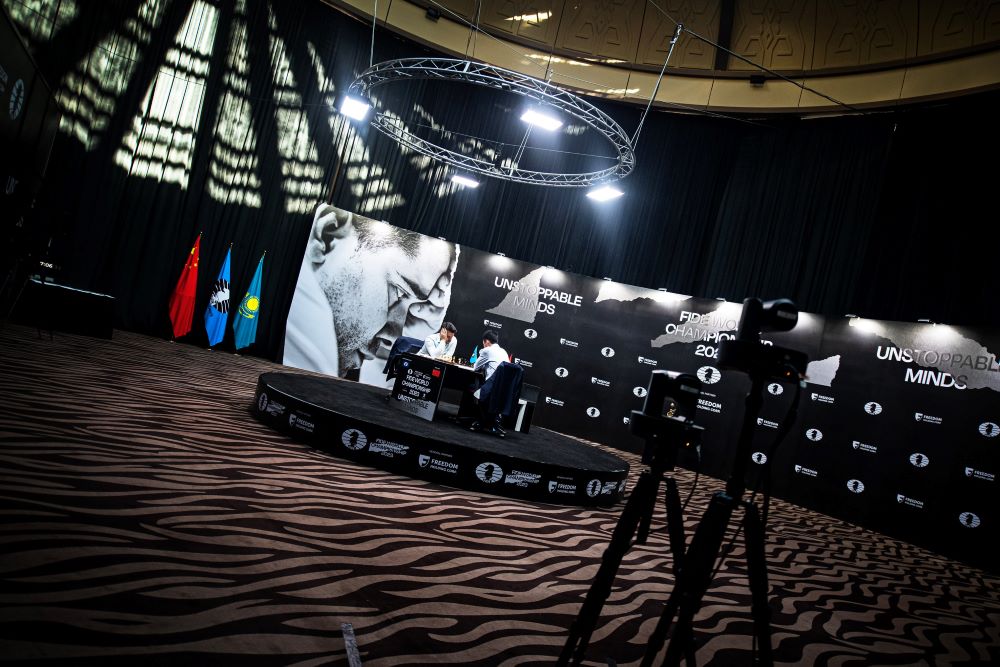 In case you are wondering, where is Magnus Carlsen, check out the video below
Replay all games
Schedule
Every game starts at 3 p.m. local time, 2:30 p.m. IST. There is a rest day after every two games. Fourth game is on Thursday 13th April 2023.
Links
---