World Championship Game 4: Ding Liren delivers equalizer by demolishing Nepomniachtchi
World no.3 Ding Liren struck back in Game 4 of FIDE World Championship 2023. Ding might have been following his second Richard Rapport's decade old game. However, he clearly mentioned that he was on his own after the tenth move. He made a very nice pawn sacrifice on move no.15 to gain total control of the center. After a few moves, his opponent Ian Nepomniachtchi decided against keeping his bishop on the board. Then he made a positional mistake which Ding initially did not consider sacrificing an exchange. Once 28...Nd4 was on the board, it immediately sprung into his mind. It is quite evident that Ding Liren is certainly feeling more comfortable, both on the board and at the press conference. Today is a rest day. Game 5 starts tomorrow Saturday at 3 p.m. local time, 2:30 p.m. IST. Photo: FIDE/Stev Bonhage
"Suddenly I feel I was winning... a little bit hard to believe"
"Of course I am very happy to win the game. I'm pleased with the quality. It's a very hard game and I managed to keep things under control. So I am very happy." - Ding Liren on his immediate feelings about Game 4. "In this game, I guess I made myself fully focus on the game and the result was what I expected. I can say it's the most important win so far since World Championship is a totally different for example let's say Candidates." - World no.3 Ding Liren on if this win felt different than winning games in other tournaments.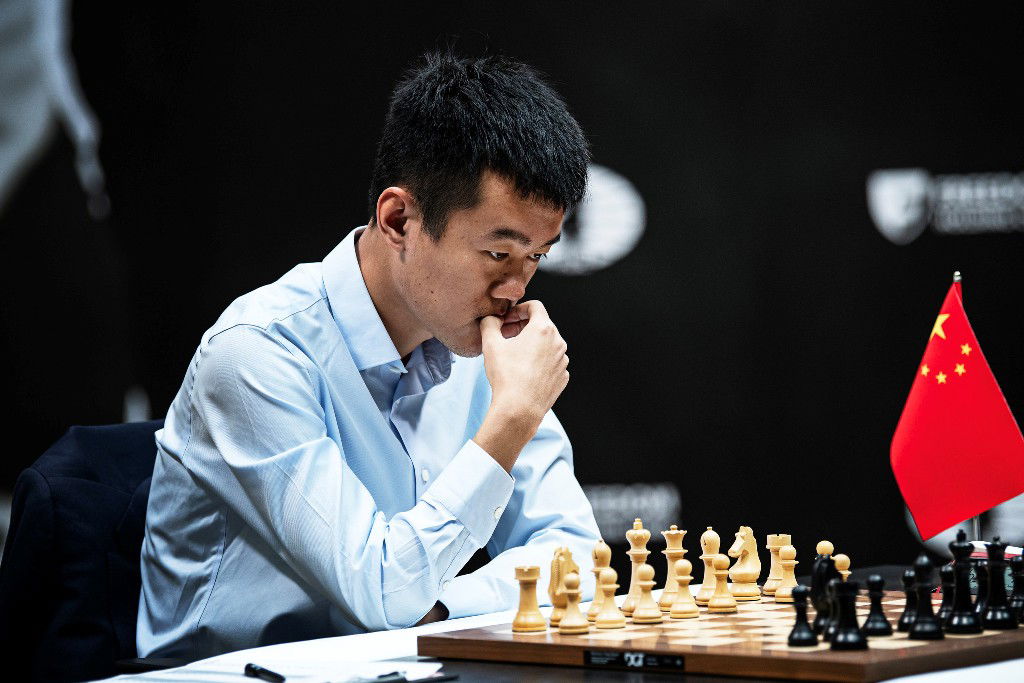 Ding Liren - Nepomniachtchi, Game 4
"...I think I misjudged the position after 15.c5, like letting all this structure happen. I thought it's quite nice for black but even if so, it's incredibly difficult to play. I mean you have basically no idea what to do. I guess it was more or less playable of course, until I lost my focus and ended up letting 29.Rxd4 happen..." - Ian Nepomniachtchi.
15.c5 was certainly a nice pawn sacrifice. The idea behind it was simple - gain full control of the center by putting White's own pawns, transfer White's doubled c-pawn to Black.
White's position is extremely pleasant to play after 20.Be4. The same cannot be said for Black. GM Jonathan Rowson (SCO) mentions 20.Be4 creating a sustained pressure for Black.
Black should have kept his bishop on the board. 25...Nf5 just allowed the bishop to exchange. Vishy Anand tweeted: 24...Bg6 holding on to his bishop would have been more resilient. 26.Bxh5 Qxf5 27.Re4 Qh6 28.Qf3 and then came the blunder Nd4??
"Somehow I of course missed it. I saw okay this move is possible. Of course 29.Rxd4 is strong but it wouldn't be deadly if not for 30.Nb3. 30...c5 does not work because of 31.d6. So yeah, it was quite unfortunate." - Nepomniachtchi whether he missed or evaluated 29.Rxd4 before playing 28...Nd4.
"To be honest, when I played 28.Qf3, I was calculating something like 28...Nd4 and 29.Qd3 back but when he played 28...Nd4, I suddenly saw the idea of exchange sacrifice and the important point is after 30...c5, I have 31.d6. This is very very likely for me since c5 doesn't work and he not only loses the pawn but also my knight is very very strongly placed on d4. Suddenly I feel I was winning at that point, a little bit hard to believe." - Ding Liren on what he felt seeing 28...Nd4 on the board.
After 29.Rxd4 cxd4 30.Nb3 g5 31.Nxd4 Qg6 32.g4 fxg3 33.fxg3 and Ding Liren went on to convert his advantage into a win. He made sure he doesn't fumble on his way towards the first win at this stage and he did not.
"Well it has all passed I guess. Before, a lot of feeling came across to me, but now I was totally focused on this match." - Ding Liren on if he believes in fate as he had to play a minimum number of rated games to become eligible to play in the Candidates when travelling became impossible due to restrictions during the pandemic, Magnus Carlsen forfeiting the World Championship, thus allowing him as the runner-up of the Candidates 2022, become eligible to play the FIDE World Championship 2023 match.
Photo Gallery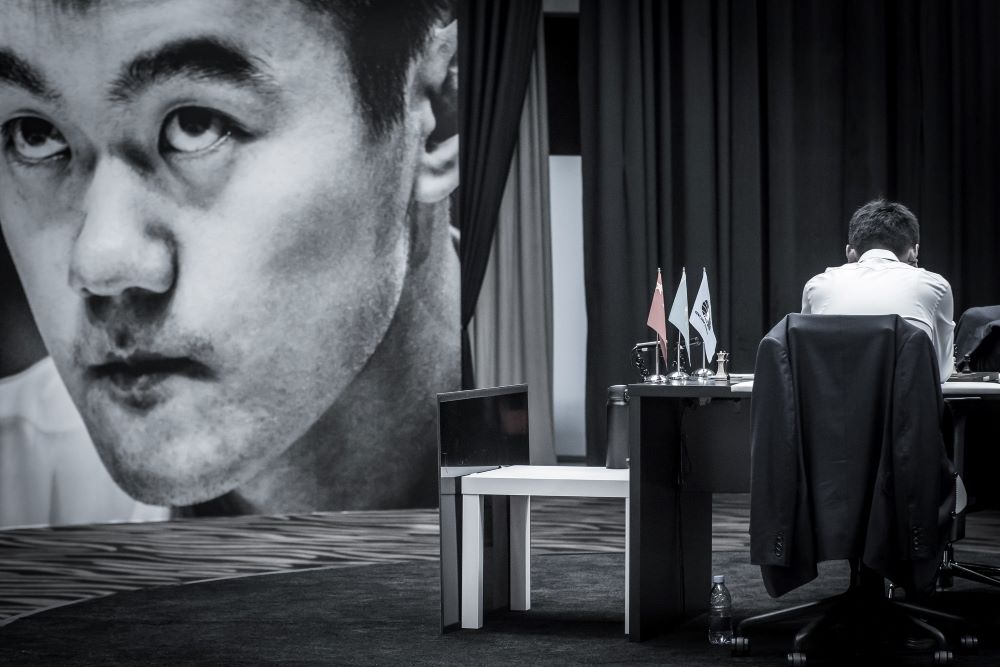 The t-shirt dialogue bubble reads - "Outta the way, nerd." The character is Deadpool. Clearly the t-shirt is making a subtle statement.
Replay all games
Schedule
Every game starts at 3 p.m. local time, 2:30 p.m. IST. There is a rest day after every two games. Fifth game is on Saturday 15th April 2023.
Links
---