World Championship Game 12: Ding Liren is back in the Match as 'Ian curse' strikes
Ding Liren bounced back by winning a virtually must-win Game 12. The World no.3 unleashed Colle System as his weapon of choice which slightly rattled his opponent. Nepomniachtchi moving his queenside bishop twice in the first eight moves was definitely a sign of nerves. Since Ding needed a win to get back in the match, he tried to create imbalance in the position by taking a lot of risks. It turned his position into completely lost. As Vishy Anand tweeted, the 'Ian curse' struck and things took a 180° turn. Ding Liren was not going to slip this golden opportunity. He managed to seize it and level the score 6-6. Only two games left. Will we see tie-breaks or the match gets decided by Saturday? Game 13 starts today at 3 p.m. local time, 2:30 p.m. IST. Photo: FIDE/Stev Bonhage
Fortune favors the brave
"I agree with the first part of his words - it's not about chess. Yeah I know the quality of (the game) was very low. Actually I was not so nervous at that point. At one point, I felt it's totally silent in the playing hall. I didn't feel anybody watching the games. It seems to be the very important game but I didn't feel it at all. I told myself that it's quite important. I have to focus. I didn't feel any kind of emotion at that point. The game itself is quite bad..." - Ding Liren on Game 12.
"No I guess it's still about chess. (It's) not the best thing to do like to lose a supposedly winning position..." - Ian Nepomniachtchi whether he agreed with Caruana's words of it's all about nerves instead of the chess.
Ding Liren - Nepomniachtchi, Game 12
Ding Liren needed to bring a cannonball. Some may have guessed that he ran out of it, one should not forget who his second is - Richard Rapport, the artist. Ding Liren employed the Colle System in Game 12. Whether the opening gave him an advantage right out of the gate, is a different story. Bringing something new to the table to rattle his opponent was important. That is what exactly it did. Kramnik, Vachier-Lagrave and the world no.1 Magnus Carlsen himself have employed this line. 4...cxd4 5.exd4 Qc7 6.c3 Bd7 well it's not a big mistake but the bishop certainly does not want to stay there. It became evident in the next few moves 7.Bd3 Nc6 8.0-0 Bg4 White achieved what he wanted. Black definitely got shook in the opening.
"...I think my mistake earlier is 19.Bc2. I should have played 19.Rg1 I guess Bh2 20.Rf1. Maybe that's an improvement over the game. " - Ding Liren. The above position certainly looks to be quite double edged, White's king being slightly more exposed than Black's, although computer says it's equal. A human would certainly disagree with that evaluation.
"I didn't understand his choice 26...b4 and then he didn't follow through with 27...Nf3. That gave me very very easier play. My queen had developed to a very good square. After 30.Bxe4 I realized I was maybe already better at that point." - Ding Liren on when he realized that the tables turned in his favor.
"I considered it (29.Bxg6) a little bit but I think when I saw 29.Qb7 followed by 30.Be4, I thought it's quite good for White." - World no.3 Ding Liren answered if he considered 29.Bxg6 during the game.
After a lot of ups and downs, Black's final mistake was 34...f5. White took the pawn 35.Rxe6 Rxh5 36.gxh5 Qxh5 37.d5+ Kg8 38.d6 and Black resigned.
Solve instructive positions from all twelve games in an interactive format at ChessRanga.
Photo Gallery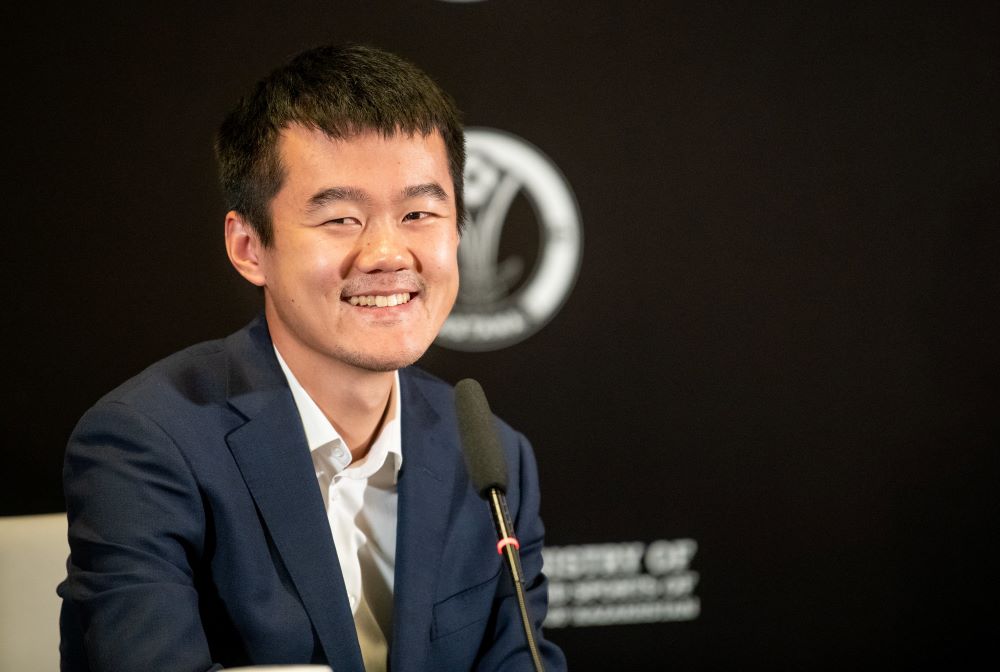 Video Gallery
Replay all games
Schedule
Every game starts at 3 p.m. local time, 2:30 p.m. IST. There is a rest day after every two games. Fifth game is on Saturday 15th April 2023.
Links
---