Chhattisgarh CM Trophy GM Masters R8: Can anyone stop the Pantsulaia juggernaut?
IM Nubairshah Shaikh got himself a very good opportunity to halt GM Levan Pantsulaia's (GEO) fantastic run. However, he could not make the most out of it. With this win, the Georgian extended his lead by 1.5 points. Seven players are at 6/8 each. GM Mitrabha Guha, IM Ajay Karthikeyan, Utsab Chatterjee, IM and Sammed Jaykumar Shete are the four Indians among them. Utsab continues his impressive run. He beat his second consecutive GM of the event, Deepan Chakkravarthy. Srihari L and CM Mayank Chakraborty also scored two big wins over IM Koustav Chatterjee and IM Ratnakaran K respectively. Round 9 starts today at 3 p.m. IST. Photo: Chhattisgarh Pradesh Shatranj Sangh
Utsab, Srihari and Mayank impressive
Apart form Utsab Chatterjee, Srihari L and Mayank Chakraborty, Aswath S is also having a great event. He defeated his first IM of the event, Viani Antonio Dcunha. The teenager is gaining 82 Elo rating points so far. Srihari L scored his maiden IM-norm.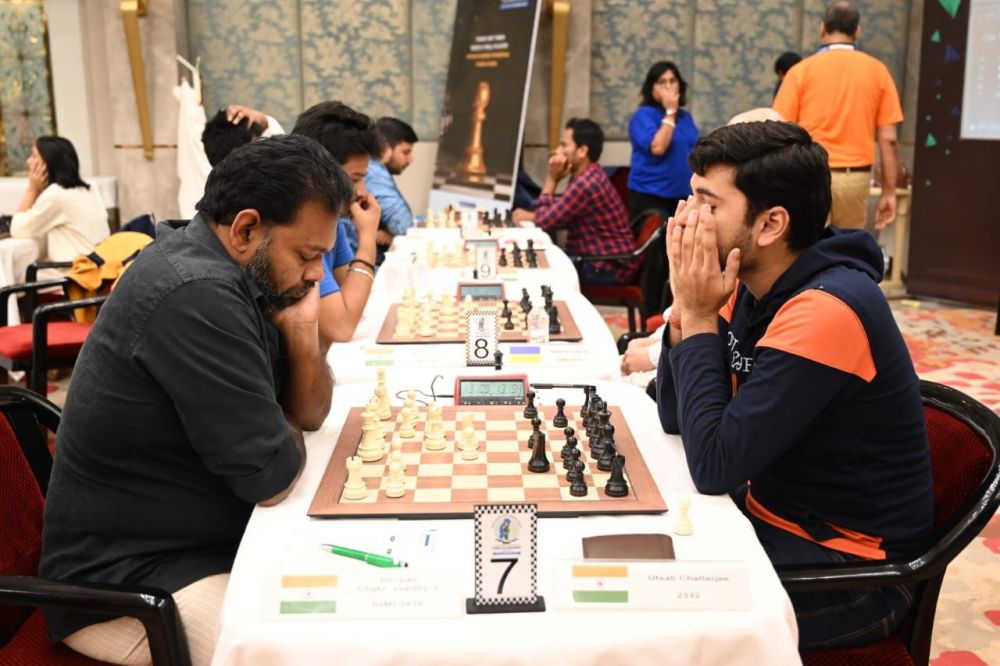 Nubairshah - Pantsulaia: 0-1
IM Nubairshah Shaikh (2461) perhaps had the best opportunity to stop GM Levan Pantsulaia's (2596) momentum.
17...g4 was an overambitious move for Black. 18.hxg4 fxg4 19.Bxg4 Nxc4 20.Ne4 Nxd2 21.Qxd2 Nf6 22.Be6+ Kh8 23.Ng3 Nh7 24.Nf5 Ng5 and now White should have taken the bishop 25.Nxg7 Kxg7 26.b4 c4 27.f4 was one of the ways to play to maintain the advantage for White. 25.Qc2 cost White the upper hand and Black eventually won the game.
Mitrabha - Duc Hoa: 1-0
When you are playing against GM Mitrabha Guha (2471), making a positional mistake is not a good idea. GM Duc Hoa Nguyen (VIE, 2365) made one in the following position
Find out why 33...Bf8 is a mistake.
Deepan - Utsab: 0-1
GM Deepan Chhakravarthy (2439) made a tactical inaccuracy against Utsab Chatterjee (2332), arising out of Sicilian Dragon.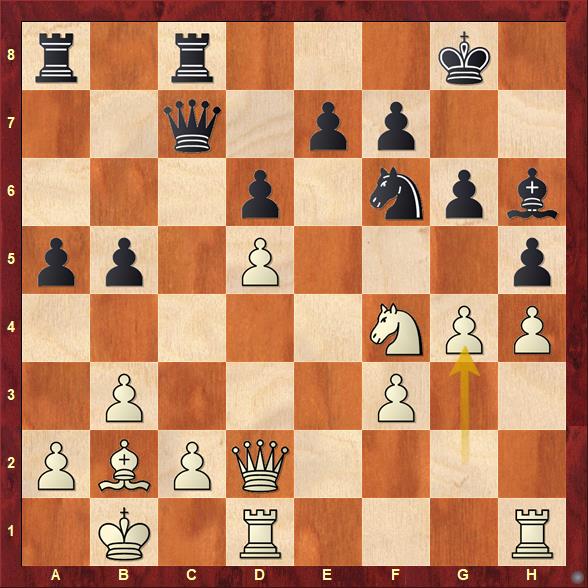 22.Bb2 was the first mistake. 22.g4 directly was possible. 22.Bb2 a5 23.g4 and now White's position fell apart very quickly after hxg4 24.fxg4 Bxf4 25.Qxf4 Qxc2+ 26.Ka1 a4. White can no longer save the game.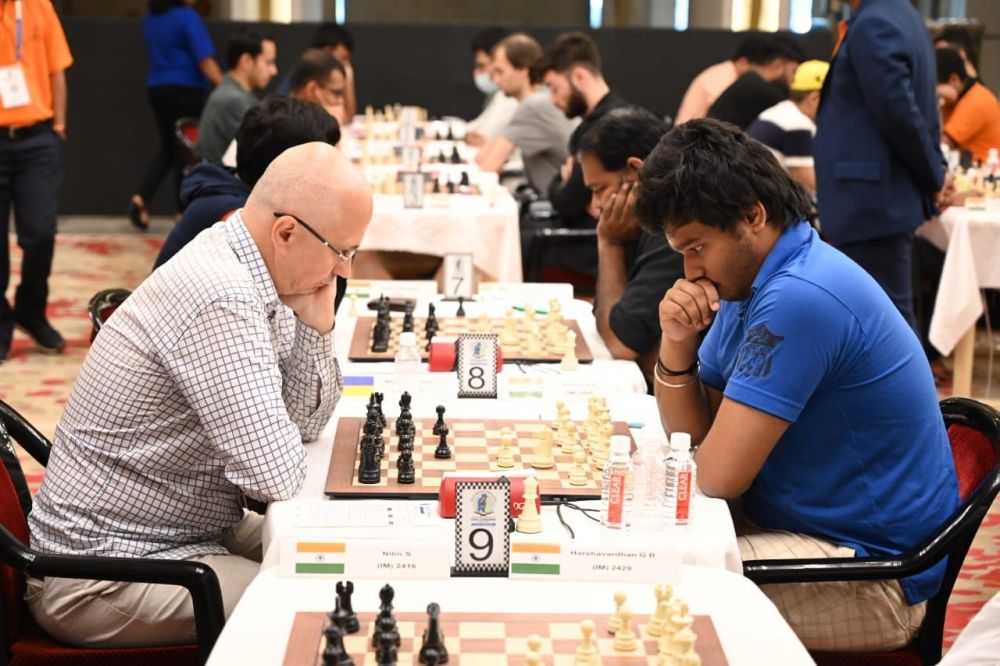 Srihari - Koustav: 1-0
Srihari L (2214) launched a typical attack on the kingside in the Italian Opening against IM Koustav Chatterjee (2513). The latter did not respond correctly.
19...gxf5 was fine 20.exf5 now the bishop retreat Bd7 turned out to be incorrect as it allowed 21.Re4. 20...Bd5 is what Black needed to play to prevent it. Black had to resign in another four moves as checkmate was inevitable.
Mayank - Ratnakaran: 1-0
Reigning National Under-17 Open champion, CM Mayank Chakraborty (2044) is having a phenomenal tournament. He seized his opportunity when IM Ratnakaran K (2352) made a positional inaccuracy.
It is certainly not an easy task to beat Ratnakaran. When he played 25...Rc8, the 12-year-old pounced on the opportunity, 26.Nc5. Mayank had to earn his victory by continuing the fight for another 34 moves.
For more Round 8 photos, please click here.
A total of 127 players including 15 GMs, 23 IMs, 3 WGMs and 11 WIMs are taking part from 14 countries across the world including India in the Masters section. The tournament is organized by Chhattisgarh Pradesh Shatranj Sangh from 19th to 28th September 2022 at Hotel Grand Imperia in Raipur, Chhattisgarh. The ten-round Swiss league tournament has a time control of 90 minutes for 40 moves + 30 minutes with 30 seconds increment from move 1.
Replay Round 8 games
Round 8 results
Round 9 pairings
---