Chhattisgarh CM Trophy GM Masters R4: Ayush Sharma superb against Shyam Sundar
Top seed of the tournament, GM Levan Pantsulaia (GEO) has emerged as the sole leader 4/4 at Chhattisgarh Chief Minister Trophy GM Masters 2022. Chidvilash Sai Surapaneni held the legendary Polish GM Michal Krasenkow to a draw. Ten players are trailing by a half point at 3.5/4 each. Six of them are Indians - Chidvilash, IM Aronyak Ghosh, IM Himal Gusain, GM Laxman R R, GM Mitrabha Guha and IM Harshavardhan G B. FM Ayush Sharma scored the biggest win of the round as he scored a thumping victory over GM Shyam Sundar M. Praloy Sahoo scored an impressive win against IM Avinash Ramesh. Round 5 starts today at 3 p.m. IST. Photo: Mukesh Tandi
Levan Pantsulaia gains sole lead
FM Vedant Panesar, Srihari L, FM Aaryan Varshney, Gaurav Rajesh Zagade, CM Mayank Chakraborty, Harshit Pawar, CM Vinod Kumar Sharma and Indrajeet Mahindrakar drew with IM Nubairshah Shaikh, IM Neelash Saha, GM Luka Paichadze, IM Rajesh Vav, IM Srinath Rao S V, IM Kushagra Mohan, IM Ratnakaran K and WGM Srija Seshadri. Utsab Chatterjee defeated IM Nisha Mohota
Ayush - Shyam: 1-0
GM Shyam Sundar M (2526) went wrong early in the opening against FM Ayush Sharma (2200).
Black neglected the development of his pieces with moves like 8...Rc8 and 9...b5. White immediately struck 10.Nb6 Rb8 11.a4 bxa4 12.Rxa4 Nd4 13.Nbd5 Rxb2 14.Bxd4 exd4 15.Qxd4 White is in complete control. Ayush converted his decisive advantage into a win comfortably.
Praloy - Avinash: 1-0
Praloy Sahoo (2117) defeated IM Avinash Ramesh (2328) after the latter made a bigger mistake trying to correct his first one.
18...Nxe4 was not a good idea in the first place. 18...Qb6 was a better option. 19.Qg4 Nxd5 20.Qxe4 Ra4 21.a3 Nxb4 22.b3
Despite both rook and knight being under attack, Black can still save the game 22...Rd8 23.bxa4 Rd4 24.Qb1 Qc7 the position is very sharp and finding this line was certainly not an easy task. 22...Qc7 23.Bc4 Qa5 24.0-0 and White won the game in another five moves.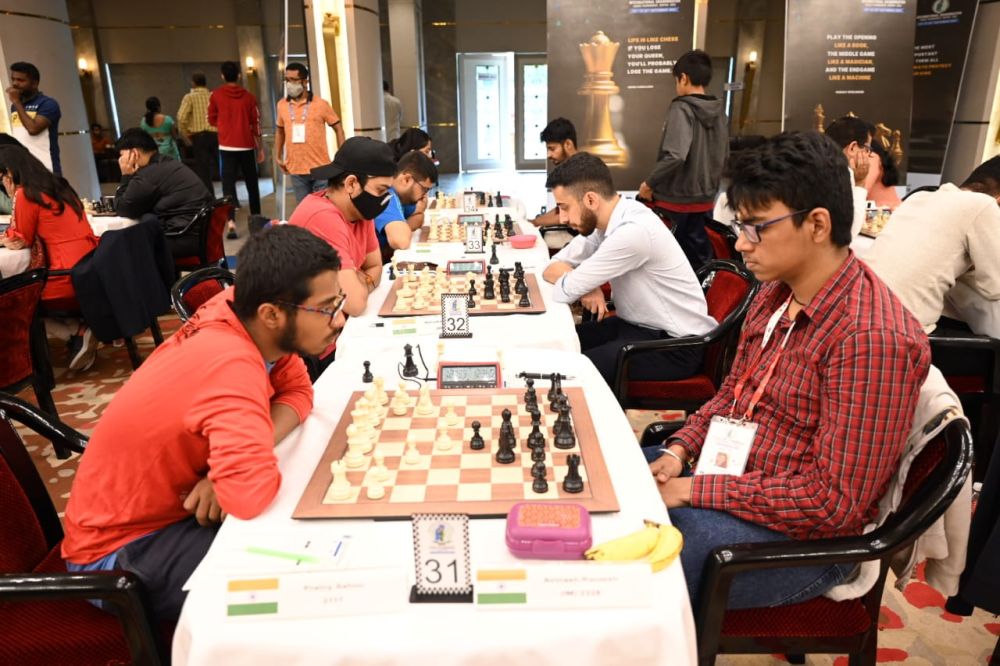 For more Round 4 photos, please click here.
A total of 127 players including 15 GMs, 23 IMs, 3 WGMs and 11 WIMs are taking part from 14 countries across the world including India in the Masters section. The tournament is organized by Chhattisgarh Pradesh Shatranj Sangh from 19th to 28th September 2022 at Hotel Grand Imperia in Raipur, Chhattisgarh. The ten-round Swiss league tournament has a time control of 90 minutes for 40 moves + 30 minutes with 30 seconds increment from move 1.
Replay Round 4 games
Round 4 results
Round 5 pairings
---