Arun R U clinches Chhattisgarh CM Trophy Challengers Below 2000
Arun R U and Shrayan Majumder, both scored an unbeaten 8/9. They were placed first and second according to tie-breaks. Three players - Bishal Basak, Vishrut Parekh and Arnav Kherdekar scored 7.5/9 each. Out of them, Bishal Basak was adjudged third. He remained undefeated too. The total prize fund for the Challengers section was ₹1200000. Top three prizes were ₹100000 and trophy, ₹80000 and ₹70000 each respectively. A total of 343 players participated from various states across India along with Bangladesh, Nepal and USA. The five-day nine-round tournament was organized by Chhattisgarh Pradesh Shatranj Sangh at Shagun Farms, Raipur, Chhattisgarh from 19th to 23rd September 2022. Photo: Chhattisgarh Pradesh Shatranj Sangh
Tough Competition
The time control for the Challengers section is rarely 90 minutes + 30 seconds increment. Ample time control and a huge prize fund attracted a lot of players not only from various parts of India but also from the neighboring countries. Md. Reyan and Aansh Nandan Nerurkar are the youngest ones to make it in the top 10. They scored 7/9 each to finish at sixth and seventh place respectively. Rajanya Datta was the highest finisher among female participants. She scored 7/9 to secure 12th place overall.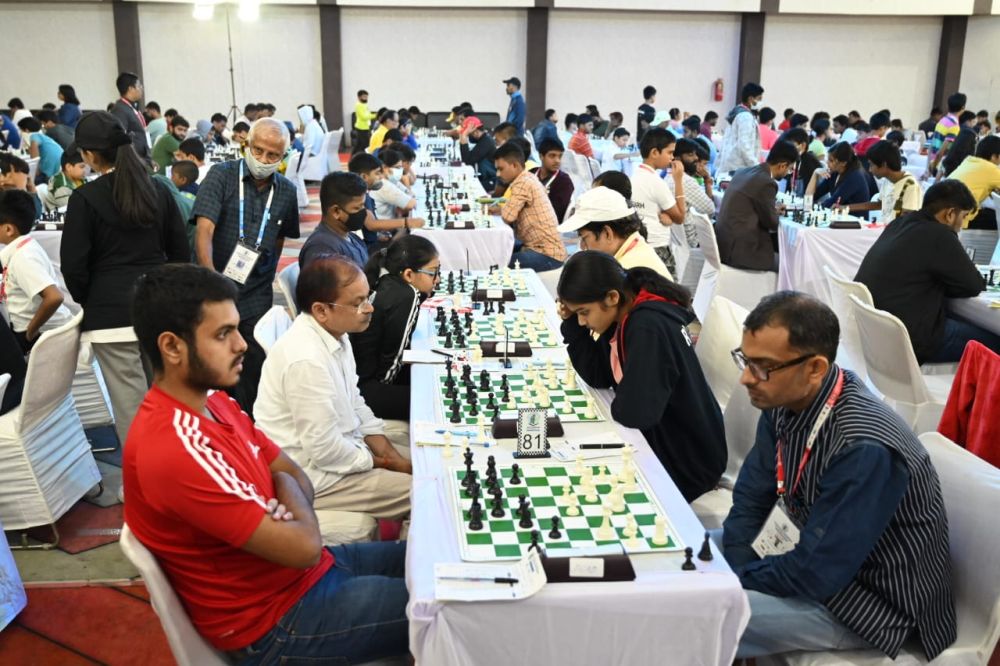 For more Round 1 and Round 9 photos, please click at the respective links.
A total of 343 players participated from Bangladesh, Nepal, India and USA in this five-day nine-round Swiss League tournament. The tournament was organized by Chhattisgarh Pradesh Shatranj Sangh from 19th to 23rd September at Shagun Farms in Raipur, Chhattisgarh. The time control for the event was 90 minutes + 30 seconds increment from move no.1.
Final Standings
| | | | | | | | | | | | | | | | | | |
| --- | --- | --- | --- | --- | --- | --- | --- | --- | --- | --- | --- | --- | --- | --- | --- | --- | --- |
| Rk. | SNo | | | Name | Typ | sex | FED | Rtg | Club/City | Pts. | TB1 | TB2 | TB3 | TB4 | TB5 | K | rtg+/- |
| 1 | 11 | | | Arun R U | | | IND | 1861 | TN | 8 | 51 | 55,5 | 48,75 | 0 | 7 | 20 | 23,8 |
| 2 | 33 | | | Majumder Shrayan | | | IND | 1743 | MAH | 8 | 49,5 | 54 | 46,75 | 0 | 7 | 20 | 46 |
| 3 | 39 | | | Basak Bishal | | | IND | 1716 | WB | 7,5 | 48,5 | 52,5 | 42,50 | 0 | 6 | 20 | 43,4 |
| 4 | 24 | | | Parekh Vishrut | | | IND | 1774 | GUJ | 7,5 | 47 | 51 | 40,75 | 0 | 7 | 20 | 27,4 |
| 5 | 26 | | | Kherdekar Arnav | | | IND | 1770 | MAH | 7,5 | 45,5 | 49 | 38,75 | 0 | 6 | 40 | 47,2 |
| 6 | 63 | | | Reyan Md. | U11 | | IND | 1621 | BIH | 7 | 51,5 | 55,5 | 41,75 | 0 | 6 | 40 | 117,2 |
| 7 | 72 | | | Aansh Nandan Nerurkar | U11 | | IND | 1604 | MAH | 7 | 50,5 | 55 | 41,50 | 0 | 5 | 40 | 128 |
| 8 | 43 | | | Bajaj Prakhar | | | IND | 1699 | MP | 7 | 50,5 | 54,5 | 40,50 | 0 | 6 | 40 | 94,4 |
| 9 | 23 | | | Vishwanath Prasad | | | IND | 1775 | TEL | 7 | 49 | 53,5 | 40,50 | 0 | 5 | 20 | 6,8 |
| 10 | 15 | | | Anurag Jaiswal | | | IND | 1842 | WB | 7 | 48,5 | 51 | 38,50 | 0 | 5 | 20 | -6,6 |
| 11 | 2 | | | Bhosale Shriraj | | | IND | 1974 | MAH | 7 | 47,5 | 51 | 38,50 | 0 | 6 | 20 | -19,6 |
| 12 | 75 | | | Rajanya Datta | F15 | w | IND | 1604 | WB | 7 | 46,5 | 51 | 38,00 | 0 | 7 | 40 | 74,8 |
| 13 | 13 | | | Setumadhav Yellumahanthi | | | IND | 1849 | AP | 7 | 45,5 | 50 | 38,50 | 0 | 6 | 40 | -33,2 |
| 14 | 34 | | | Ajay Santhosh Parvathareddy | U13 | | IND | 1742 | UP | 7 | 41 | 44 | 33,25 | 0 | 6 | 40 | -16,4 |
| 15 | 3 | | | Banerjee Ashutosh | | | IND | 1946 | CG | 6,5 | 53 | 58 | 39,50 | 0 | 5 | 40 | -33,2 |
| 16 | 9 | | | Jihan Tejas Shah | U13 | | IND | 1867 | GUJ | 6,5 | 49,5 | 54 | 38,50 | 0 | 5 | 40 | -39,2 |
| 17 | 69 | | | Rupesh Reddy Y | U15 | | IND | 1608 | AP | 6,5 | 48,5 | 51,5 | 33,50 | 0 | 6 | 40 | 74 |
| 18 | 10 | | | Nikhil M | | | IND | 1866 | AP | 6,5 | 47,5 | 51,5 | 35,50 | 0 | 5 | 20 | -22 |
| 19 | 1 | | | Rishabh Nishad | | | IND | 1975 | UP | 6,5 | 47 | 51,5 | 35,25 | 0 | 6 | 20 | -36,4 |
| 20 | 30 | | | Roneet Das | | | IND | 1748 | MAH | 6,5 | 46,5 | 50,5 | 34,50 | 0 | 6 | 20 | 3,2 |
---