Chhattisgarh CM Trophy GM Masters R1: Angela stuns Ratnakaran
ChessBase India Hindi's head, Niklesh Jain's better half WIM Franco Valencia Angela scored the biggest upset of the first round of Chhattisgarh Chief Minister Trophy GM Open 2022. She defeated IM Ratnakaran in a very sharp battle. IM Anup Deshmukh, recently crowned WIM Srishti Pandey and Chhattisgarh's very own CM Ravi Kumar, all three got themselves very close to beating their Grandmaster opponents. Yet, the seasoned GMs managed to escape with a draw. The tournament witnesses the participation of 127 players including 15 GMs, 23 IMs, 3 WGMs and 11 WIMs from 14 countries across the world including India in the Masters section. The total prize fund of the tournament is ₹3500000, ₹2300000 in Masters and ₹1200000 in Challengers section. Round 2 starts today at 3 p.m. IST. Photo: Niklesh Jain
Missed Opportunities
Arjun Tiwari defeated IM Srinath Rao S V. Arpan Das, CM Mayank Chakraborty, Indrajeet Mahindrakar, Sheikh Idu and FM Ayushh Ravikumar drew with GM Laxman R R, IM Rajesh Vav, WIM Mrudul Dehankar, WIM Sakshi Chitlange and WGM Srija Seshadri respectively.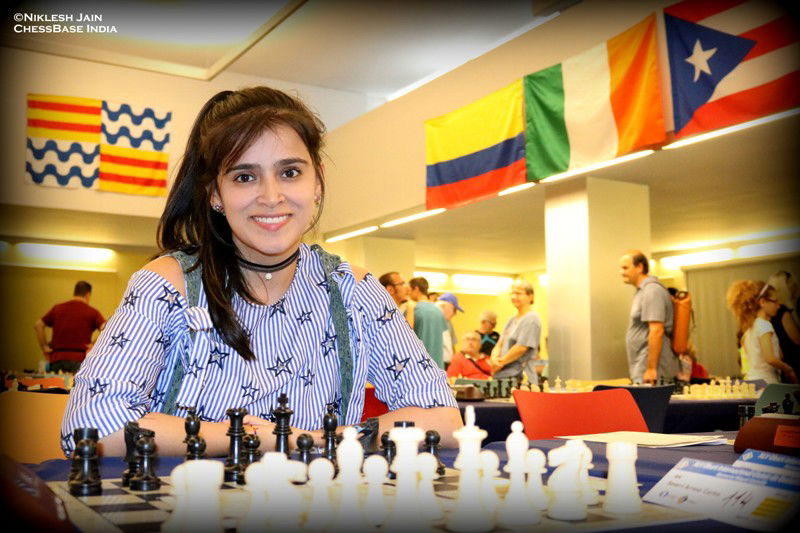 Anup - Luka: 0.5-0.5
IM Anup Deshmukh (2176) was completely winning against GM Luka Paichadze (GEO, 2560) in the final position when the game ended in a draw.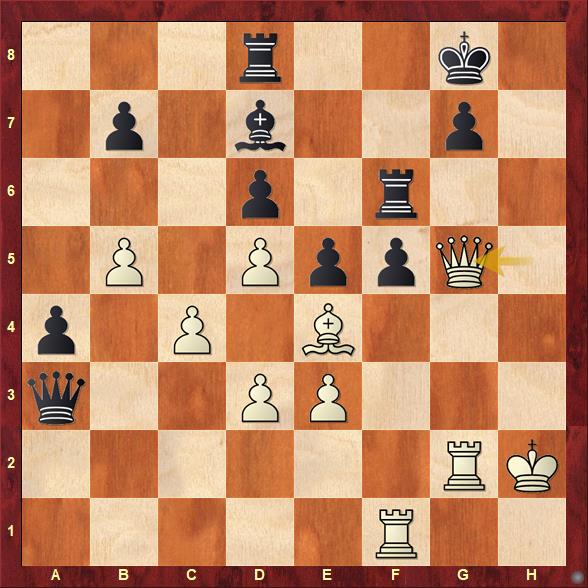 White has a checkmate in six moves, that also in ways where Black delays the inevitable.
Shyam Sundar - Srishti: 0.5-0.5
The recently crowned WIM Srishti Pandey (2173) also was in a similar situation like IM Anup Deshmukh. She incorrectly captured in the final move and the game ended in a draw against GM Shyam Sundar M (2526).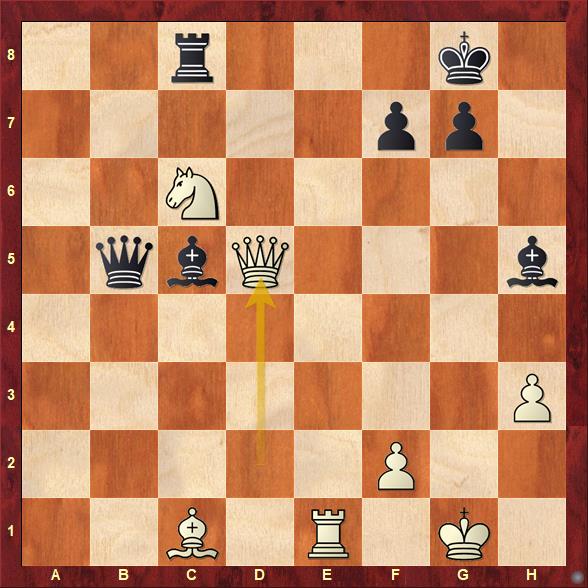 Which is the correct way for Black to capture on c6? 42...Rxc6 or Qxc6. Try to find out the reason behind it.
Ravi - Venkatesh: 0.5-0.5
Chhattisgarh's very own CM Ravi Kumar (2156) almost managed to score the biggest upset of the first round against GM Venkatesh M R (2481).
Black king is in a precarious position. It is on the brink of getting checkmated. 40.Qc1+ Rg5 41.Rxh4+ Kg6 42.Rb6+ Kf7 43.Qxg5 would have been completely winnning for White. However, the game ended in a draw via perpetual check 40.Rb6+ Kh7 41.Rb7+ Kh6 and so on.
Ratnakaran - Angela: 0-1
WIM Franco Valencia Angela (COL, 2066) scored the biggest upset of the first round as she managed to convert her advantage into a win against IM Ratnakaran K (2352).
Black's king might still be in the center, however it is the white king which is in real danger as Black has her queen, knight and both bishops piercing the kingside. Instead of 19.Nxd4, White needed to play 19.Nxe5 to stay ahead. 19.Nxd4 Qh4 20.Bf4 Bxd4 21.cxd4 Bb5 22.Qe4 Bxf1 and it's over for White.
Round 1 results
Arpan Das - GM Laxman R R: 0.5-0.5
IM Rajesh Vav - CM Mayank Chakraborty: 0.5-0.5
Arjun Tiwari - IM Srinath Rao S V: 1-0
Indrajeet Mahindrakar - WIM Mrudul Dehankar: 0.5-0.5
WIM Sakshi Chitlange - Sheikh Idu: 0.5-0.5
FM Ayushh Ravikumar - WGM Srija Seshadri: 1-0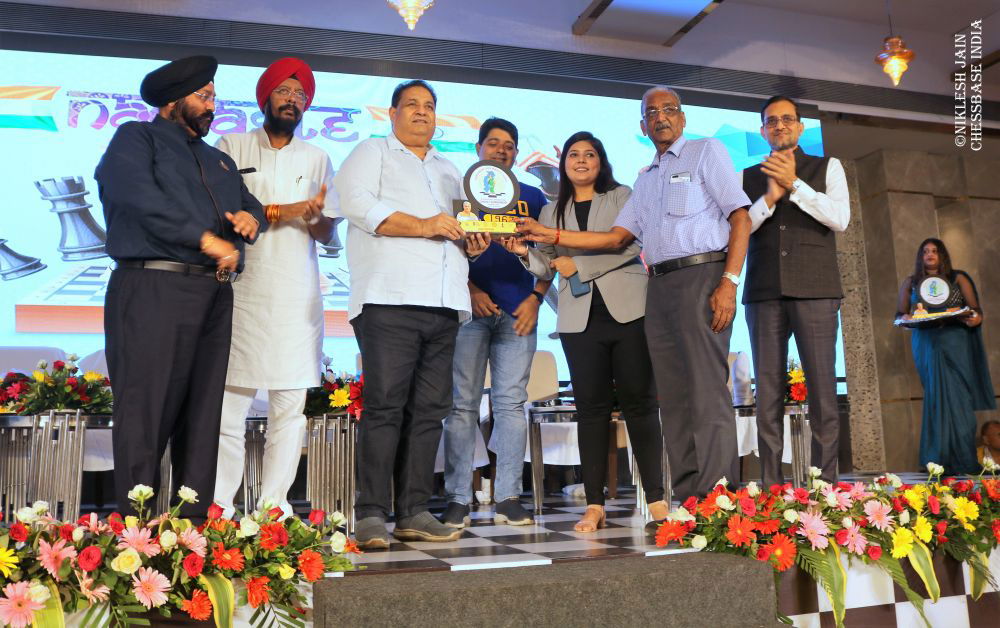 For more Round 1 photos, please click here.
A total of 127 players including 15 GMs, 23 IMs, 3 WGMs and 11 WIMs are taking part from 14 countries across the world including India in the Masters section. The tournament is organized by Chhattisgarh Pradesh Shatranj Sangh from 19th to 28th September 2022 at Hotel Grand Imperia in Raipur, Chhattisgarh. The ten-round Swiss league tournament has a time control of 90 minutes for 40 moves + 30 minutes with 30 seconds increment from move 1.
Replay Round 1 games
Round 1 results
Round 2 pairings
---