Levan Pantsulaia dominates Chhattisgarh CM Trophy GM Masters 2022
GM Levan Pantsulaia (GEO) deservedly won Chhattisgarh Chief Minister Trophy GM Masters Tournament 2022. He drew his final round game against IM Ajay Karthikeyan to finish a full point ahead of the field 8.5/10. Three players followed him at 8.5/10. They are - GM Boris Savchenko, GM Michal Krasenkow (POL) and GM Shyam Sundar M. They were placed second to fourth according to tie-breaks. Apart from Shyam, IM Ajay Karthikeyan, IM Nubairshah Shaikh and GM Mitrabha Guha are the only three Indians to finish in top ten at seventh, eighth and ninth place respectively scoring 7/10 each. The total prize fund in the Masters section was ₹2300000. Top three prizes were ₹331000, ₹231000 and ₹175000 each respectively. Photo: Chhattisgarh Pradesh Shatranj Sangh
Shyam Sundar M is the top Indian finisher
WIM Mahalakshmi M is the highest finisher among female participants. She scored 6.5/10 to finish 23rd overall and win the Best Woman prize. Srihari L, CM Mayank Chakraborty and Chidvilash Sai Surapaneni gained 142.4, 157.6 and 175.2 Elo rating points.
Harshavardhan - Shyam Sundar: 0-1
What separates a strong Grandmaster from the rest is their ability to induce mistakes by their opponent and create opportunities which might seem equal at a first glance. GM Shyam Sundar M (2526) asked his opponent IM Harshavardhan G B (2429), a difficult question in a relatively equal bishop vs knight endgame.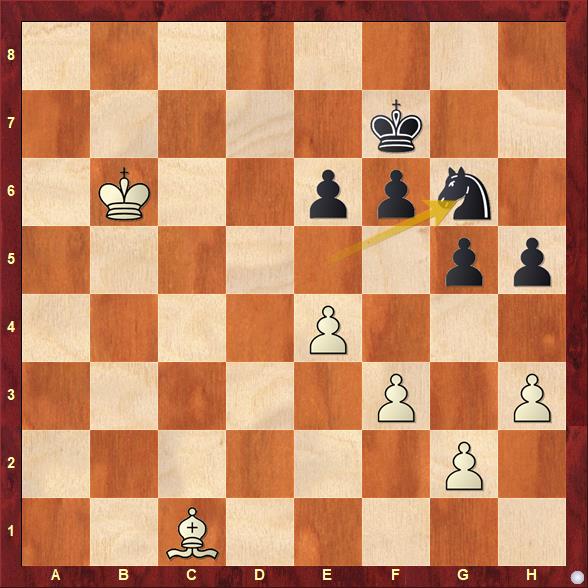 35...Ng6 threatens Nh4. 36.g3 is the first choice as a human reflex. However, that is what causes White to lose the game. Black creates a passed pawn by force 36...Ne5 37.f4 Nd3 38.Be3 h4 and it's over for White. The question arises - how could have White saved the game? Simply by moving the king towards the c-file. 36.Kc6/c5/c7 everything would have been fine. 36...Nh4 is then met by 37.g4 Nxf3 38.gxh5 Ng1 39.h6 Nxh3 40.h7 Kg7 41.Kd6 White utilizes his advanced king to ensure a half point.
Nubairshah - Duc Hoa: 1-0
IM Nubairshah Shaikh (2461) scored a convincing win over GM Duc Hoa Nguyen (VIE, 2365).
Black has gone terribly wrong in the Grunfeld opening. 16...b5 pawn sacrifice did not help Black's case either 17.Qxb5 Qg4 18.0-0 Qxe4 19.Bf4 c5 20.Qd7 and White went on to win the game in the next few moves.
For more Dinner with CM and Prize distribution ceremony photos, please click at the respective links.
A total of 127 players including 15 GMs, 23 IMs, 3 WGMs and 11 WIMs took part from 14 countries across the world including India in the Masters section. The tournament was organized by Chhattisgarh Pradesh Shatranj Sangh from 19th to 28th September 2022 at Hotel Grand Imperia in Raipur, Chhattisgarh. The ten-round Swiss league tournament had a time control of 90 minutes for 40 moves + 30 minutes with 30 seconds increment from move 1.
Replay Round 10 games
Round 10 results
Final standings
| | | | | | | | | | | | | | | | | |
| --- | --- | --- | --- | --- | --- | --- | --- | --- | --- | --- | --- | --- | --- | --- | --- | --- |
| Rk. | SNo | | | Name | sex | FED | Rtg | Club/City | Pts. | TB1 | TB2 | TB3 | TB4 | TB5 | K | rtg+/- |
| 1 | 1 | | GM | Pantsulaia Levan | | GEO | 2596 | GEO | 8,5 | 61,5 | 67 | 56,50 | 0 | 7 | 10 | 12,9 |
| 2 | 3 | | GM | Savchenko Boris | | RUS | 2547 | RUS | 7,5 | 60,5 | 65 | 47,50 | 0 | 6 | 10 | 2,6 |
| 3 | 4 | | GM | Krasenkow Michal | | POL | 2545 | POL | 7,5 | 54 | 58 | 40,25 | 0 | 7 | 10 | 0,9 |
| 4 | 5 | | GM | Shyam Sundar M. | | IND | 2526 | TN | 7,5 | 51 | 55 | 41,25 | 0 | 6 | 10 | -8 |
| 5 | 9 | | GM | Batchuluun Tsegmed | | MGL | 2478 | MGL | 7 | 60,5 | 64,5 | 43,00 | 0 | 5 | 10 | 9,3 |
| 6 | 15 | | IM | Tahbaz Arash | | IRI | 2437 | IRI | 7 | 60 | 65 | 44,00 | 0 | 4 | 10 | 15,2 |
| 7 | 19 | | IM | Ajay Karthikeyan | | IND | 2422 | TN | 7 | 57,5 | 60,5 | 39,75 | 0 | 5 | 10 | 18,7 |
| 8 | 11 | | IM | Mohammad Nubairshah Shaikh | | IND | 2461 | MAH | 7 | 56,5 | 60,5 | 39,00 | 0 | 5 | 10 | -2,2 |
| 9 | 10 | | GM | Mitrabha Guha | | IND | 2471 | WB | 7 | 56 | 59,5 | 38,25 | 0 | 5 | 10 | 2,9 |
| 10 | 17 | | GM | Neverov Valeriy | | UKR | 2430 | UKR | 7 | 55 | 58 | 39,00 | 0 | 4 | 10 | 1,1 |
| 11 | 41 | | | Omidi Arya | | IRI | 2309 | IRI | 7 | 50 | 53,5 | 34,25 | 0 | 6 | 10 | 11,9 |
| 12 | 8 | | GM | Venkatesh M.R. | | IND | 2481 | TN | 7 | 50 | 53 | 35,75 | 0 | 6 | 10 | -11,4 |
| 13 | 27 | | IM | Gusain Himal | | IND | 2359 | RLYS | 6,5 | 57 | 61,5 | 37,50 | 0 | 4 | 10 | 20,2 |
| 14 | 14 | | GM | Deepan Chakkravarthy J. | | IND | 2439 | RLYS | 6,5 | 56,5 | 61 | 36,50 | 0 | 5 | 10 | 0,4 |
| 15 | 13 | | IM | Neelash Saha | | IND | 2454 | WB | 6,5 | 55 | 60 | 38,25 | 0 | 4 | 10 | -8,2 |
| 16 | 48 | | FM | Aaryan Varshney | | IND | 2263 | DEL | 6,5 | 55 | 59 | 36,25 | 0 | 4 | 20 | 49 |
| 17 | 18 | | IM | Harshavardhan G B | | IND | 2429 | TN | 6,5 | 55 | 59 | 35,50 | 0 | 5 | 10 | 4,1 |
| 18 | 34 | | | Utsab Chatterjee | | IND | 2332 | WB | 6,5 | 55 | 58 | 33,50 | 0 | 6 | 10 | 13,3 |
| 19 | 35 | | IM | Rajesh V A V | | IND | 2331 | RLYS | 6,5 | 54 | 58 | 36,25 | 0 | 4 | 10 | 3,2 |
| 20 | 58 | | | Srihari L | | IND | 2214 | PON | 6,5 | 54 | 56,5 | 34,50 | 0 | 5 | 40 | 142,4 |
| 21 | 31 | | IM | Raahul V S | | IND | 2345 | TN | 6,5 | 52 | 56,5 | 33,50 | 0 | 5 | 10 | -2,5 |
| 22 | 37 | | IM | Avinash Ramesh | | IND | 2328 | TN | 6,5 | 48,5 | 51,5 | 29,00 | 0 | 5 | 10 | 6,4 |
| 23 | 51 | | WIM | Mahalakshmi M | w | IND | 2253 | RLYS | 6,5 | 48 | 52 | 33,00 | 0 | 5 | 20 | 4 |
| 24 | 6 | | IM | Aronyak Ghosh | | IND | 2519 | WB | 6 | 58 | 63,5 | 37,75 | 0 | 3 | 10 | -13 |
| 25 | 21 | | IM | Nitin S. | | IND | 2416 | TN | 6 | 57,5 | 61,5 | 33,50 | 0 | 4 | 10 | 0,9 |
| 26 | 79 | | | Praloy Sahoo | | IND | 2117 | WB | 6 | 54,5 | 57 | 32,25 | 0 | 3 | 40 | 124 |
| 27 | 32 | | FM | Panesar Vedant | | IND | 2336 | MAH | 6 | 53 | 57,5 | 32,50 | 0 | 3 | 20 | 10,2 |
| 28 | 24 | | IM | Sammed Jaykumar Shete | | IND | 2387 | MAH | 6 | 52,5 | 56,5 | 31,50 | 0 | 5 | 10 | -1,6 |
| 29 | 25 | | GM | Nguyen Duc Hoa | | VIE | 2365 | VIE | 6 | 51,5 | 55,5 | 30,50 | 0 | 5 | 10 | -4,7 |
| 30 | 22 | | GM | Laxman R.R. | | IND | 2388 | ICF | 6 | 51,5 | 54,5 | 29,25 | 0 | 4 | 10 | -6,2 |
| 31 | 59 | | FM | Mohamed Anees M | | IND | 2204 | TN | 6 | 51 | 53,5 | 27,00 | 0 | 6 | 20 | 32,6 |
| 32 | 33 | | FM | Aradhya Garg | | IND | 2332 | DEL | 6 | 50,5 | 51 | 26,50 | 0 | 4 | 20 | -15 |
| 33 | 47 | | | Ilamparthi A R | | IND | 2269 | TN | 6 | 47,5 | 51,5 | 28,25 | 0 | 5 | 40 | -18 |
| 34 | 40 | | IM | Srinath Rao S.V. | | IND | 2317 | CG | 6 | 47 | 51 | 30,00 | 0 | 5 | 10 | -21,4 |
| 35 | 30 | | IM | Viani Antonio Dcunha | | IND | 2348 | KAR | 6 | 45 | 49 | 26,50 | 0 | 5 | 10 | -15,6 |
---