Chhattisgarh CM Trophy GM Masters R9: Utsab Chatterjee becomes the new IM of India
GM Levan Pantsulaia (GEO) made another quick draw to maintain his sole lead 8/9 at Chhattisgarh CM Trophy Masters. He just needs a draw in the final round to win the tournament. GM Tsegmed Batchuluun (MGL) is the only one who is at a full point behind 7/9. Nine players are at 6.5/9 each. Utsab Chatterjee became the latest International Master of India after he drew his game with GM Mitrabha Guha. FM Aaryan Varshney scored his final IM-norm by scoring a win against GM Saptarshi Roy. After scoring his maiden IM-norm, Srihari L continues his great run by ending IM Aronyak Ghosh's 55-game unbeaten streak. WIM Mahalakshmi M is currently the highest female scoring player after beating WGM Divya Deshmukh. Final Round 10 starts today at 10 a.m. IST.
Aaryan Varshney earns his final IM-norm
The tournament is already a successful event as three IM-norms have been scored - Srihari L, Utsab Chatterjee (also became an International Master) and FM Aaryan Varshney. Srihari scored his maiden IM-norm in eight games.
Boris - Ajay Karthikeyan: 0.5-0.5
Former National Sub-Junior champion, IM Ajay Karthikeyan (2422) had a substantial advantage against GM Boris Savchenko (2547) for the better part of the game.
16.Nd5 was not a good idea as Nc2+ 17.Kf1 Nxa1 18.Ne7+ Kh8 19.Nc6 meets Rb6 20.Bxb6 Qxb6 Black gains material and White has no compensation for it. Black did not opt for it and played 16...Re8 17.0-0-0?! Re6 18.Qc7 Qxc7 19.Nxc7 Rc6 20.Nd5 Rxc4+ 21.Kb1 Bb7. Eventually Black gained a knight for free and was completely winning in the endgame.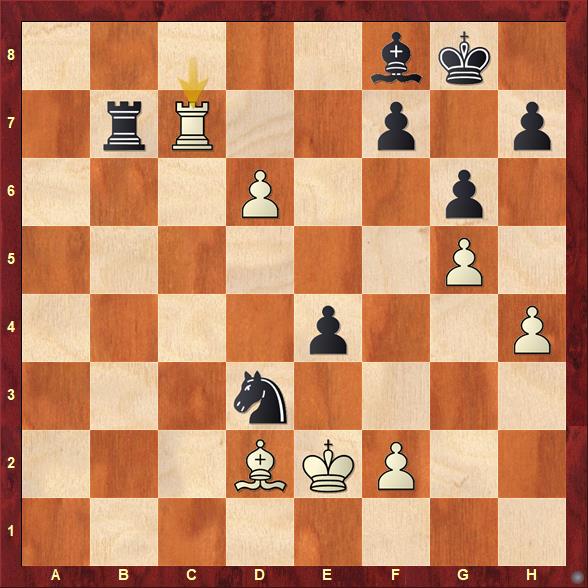 Black's bishop at f8 might be inactive momentarily, however, he can still win this. 39...Rb5 40.Rc8 Rd5 was one of the correct ways to continue for Black. The game continued 39...Rb8 40.d7 Nc5 41.Ba5 and White got back in the game to salvage a draw.
Aronyak - Srihari: 0-1
IM Aronyak Ghosh (2519) had a very good position against Srihari L (2214). A few inaccuracies cost him the advantage and Srihari gained the upper hand.
27.h5 h6 28.Ne4 Rf7 29.Nf6+ Rxf6 30.exf6 Bxf6 31.Qxg6 was one of the ways for White to maintain his advantage. 27.g4 Bb7 28.Ne4 Rf8 29.Nf6+ Rxf6 30.exf6 Bxf6 allowed Black to regroup his pieces. Later Srihari capitalized on his advantage and went on to win the game. Thus, Aronyak's 55-game unbeaten streak came to an end.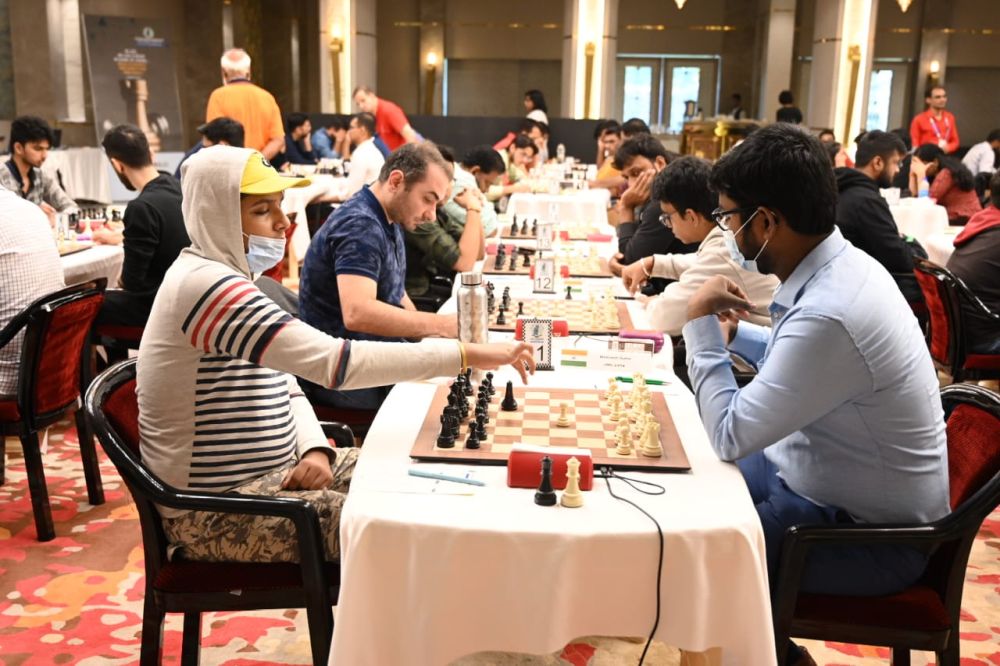 Avinash - Luka: 1-0
IM Avinash Ramesh (2328) seized his opportunity against GM Luka Paichadze (GEO, 2560) in the endgame, when the latter made a couple significant mistakes.
It is always recommended to prevent the passed pawn's movement. Thus, 48...Kd6 is undoubtedly the move Black needed to play. The threat would have been Nxd5 and rest is an easy draw in the rook endgame. Instead, Black played 48...Rc3 49.d6+ Kd8 50.Kxf4 Rxb3 51.Bg4 Rb2 52.Rh1 Rf2+ 53.Kg3 Rf8 now both 54.Ra1 and Rc1 are winning for White. However, White played 55.Rb1 and allowed Black to escape with a draw. He almost did until he made another blunder in the next few moves and lost the game.
Saptarshi - Aaryan: 0-1
GM Saptarshi Roy (2388) played in his signature bold way. However, it did not work out against FM Aaryan Varshney (2263).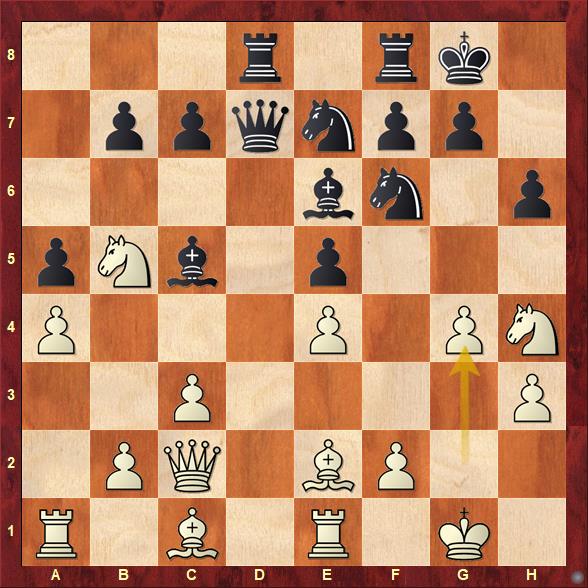 15.g4 in this position does not work as Black has completed his development pieces, his pieces are also well-coordinated. The same cannot be said for White. 15...Nh7 16.Nf5 Ng6 17.Be3 Bxe3 18.Nxe3 Ng5 19.Kh2 Qe7 20.Rg1 Nf4 21.Rg3 c6 22.Na3 Nxe2 23.Qxe2 Nxe4 and things started falling apart for White. This win earned Aaryan his final IM-norm. Now he just needs to fulfill the rating requirement to become India's next International Master.
Ratnakaran K - Aswath S: 0.5-0.5
Aswath S (2135) had a wonderful opportunity to beat IM Ratnakaran K (2352). Unfortunately, the teenager missed it.
34.Rxf5 Qxf5+ 35.Rc2 Rc8 36.Qd1 would have been an extremely passive way to defend. Thus, White wanted to go for something dynamic 34.Ka1 Qe5+ 35.Rc3. Find out the winning continuation for Black which he missed.
For more Round 9 photos, please click here.
A total of 127 players including 15 GMs, 23 IMs, 3 WGMs and 11 WIMs are taking part from 14 countries across the world including India in the Masters section. The tournament is organized by Chhattisgarh Pradesh Shatranj Sangh from 19th to 28th September 2022 at Hotel Grand Imperia in Raipur, Chhattisgarh. The ten-round Swiss league tournament has a time control of 90 minutes for 40 moves + 30 minutes with 30 seconds increment from move 1.
Replay Round 9 games
Round 9 results
Round 10 pairings
---