Mayank Chakraborty and Bhagyashree Patil win the MPL National Under-17 Open and Girls Chess Championships
CM Mayank Chakraborty(Assam) and WFM Bhagyashree Patil (Maharashtra) were the winners of the MPL 32nd National U-17 Open and Girls Championships 2022. Talented youngsters CM Mayank Chakraborty and FM Harshad S both finished with 8.5/11, but Mayank took first place due to better tiebreaks. FM Harsh Suresh and Kushal Jani R finished 3rd in the Open section, scoring 8/11. In the girl's section, WFM Bhagyashree Patil won the event scoring 9/11. Sneha Halder [West Bengal] scored 8.5/11 to take second place. Tejaswini G finished in 3rd place with 8/11. Photo: IA Suresh Kumar Sahoo.
Bhagyashree Patil becomes the national U-17 champion after just 3 months of winning the U-18 title
Generally, a National champion enjoys their title run for almost a year. However, the National age group championships which happened earlier this year were for the previous calendar year, due to the COVID-19 pandemic. Thus, some champions had to defend their title within months, like WFM Bhagyashree Patil became the national U-17 Champion just three months after becoming MPL 31st National Under-18 Girls champion. This makes her win all the more special: becoming the national champion of 2 age groups consecutively!
The MPL 32nd National Under 17 OPEN & GIRLS Chess Championship 2022 concluded with Valedictory ceremony-cum-Prize Distribution, at 04:30 P.M. on 09 July 2022 at International Chess Hall, KIIT University, Bhubaneswar. The total prize funds were Rs.9,00,000/- for the event. The top three prizes were ₹90000, ₹70000, and ₹58000 in each section along with a trophy. Following were the guests in the Prize-giving ceremony:
Chief Guest- G E Sridharan, Arjuna Awardee (Volleyball) in 1982 and Dronacharya Awardee in 2008.
Guest of Honour - Ranjan Mohanty, (Joint Secretary, All India Chess Federation), WGM Kiran Manisha Mohanty, IM Padmini Rout, IA Asit Baran Choudhury, Chief Arbiter, and Debabrata Bhatta (Secretary, All Odisha Chess Association).
Gaurang Bagwe- Mayank Chakraborty, Round 9
After round 8, Mayank and Daakshin were tied for first place with 6.5/8. Gaurang had 6/8 at this point and faced Mayank in board 1.
In a completely equal rook and pawn ending, Gaurang blundered with 60.f6. Mayank played the only winning move 60...h7, and there's no good way to stop black's h-pawn. It was necessary to bring the rook back instead with 60.Ra1 h2 61.Rh1 and the players can shake hands. In the game, Black was able to stop white's f-pawn with Kg7 and Rf4. Gaurang resigned after a few moves.
This win put Mayank in the sole lead with 7.5/9, as Daakshin Arun (Tamil Nadu) lost his game against Manish Kumar (Odisha). He drew the next 2 games to win the event.
Manish Kumar- Harshad S, Round 11
The game started off with a closed Sicilian, where the players castled on opposite sides of the board. Manish went wrong early in the game with 15.h3.
h3 is a positional mistake, weakening the g3-pawn and the whole kingside pawn structure. Harshad assessed the position correctly and went for 15...Bxe2 16.Rxe2 Nh5! hitting the g3 pawn. Manish tried to defend the pawn with 17.Qe3, but the tactics started after 17...exf5. With the bishop open and the d-rook facing the white queen, Black found a nice series of moves to win an exchange and comfortably won the game.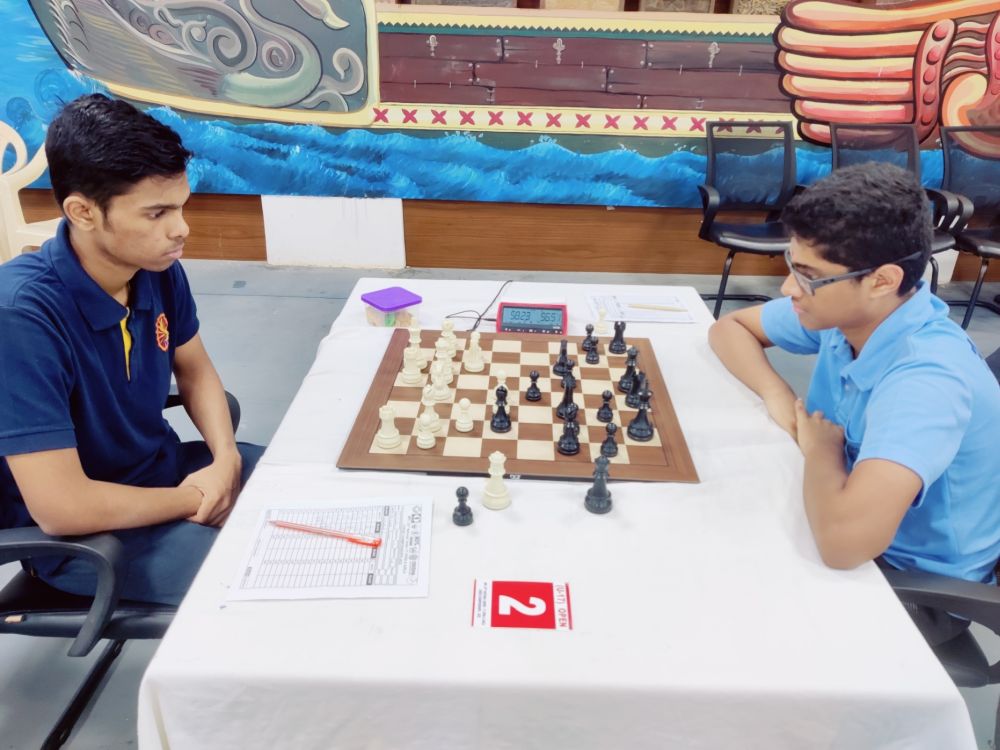 With this win in the final round, FM Harshad finished with 8.5/11. He tied with Mayank for first place with 8.5/11, but Mayank took the first position due to better tiebreaks.
Rakshitta Ravi- Sneha Haldar, Round 10
After Round 9, Sneha was joint lead with Bhagyashree, each of them scoring 7.5/9. Rakshitta was standing 4th at this point with 6.5/9.
Be2 was the losing error by Rakshitta. It was necessary to kick the knight out with 23.b3, then play 24.Rc7. Even though White will lose a couple of pawns, Rakshitta has enough activity with her rook on the 7th rank to hold the game. In the game, Sneha played 23...Nb6! 24.Rc7 Nd5 and now the rook is not able to defend the b7-knight. Rakshitta continued to play with a piece down, eventually resigning on move 52.
With this win, Sneha came out on sole lead with 8.5/10, half a point ahead of Bhagyashree. Tejawsini G defeated Vyshnavi Chinnam, being just half a point below Bhagyashree after Round 10.
Bhagyashree Patil- Vyshnavi Chinnam, Round 11
In a position with play for both sides, Vyshnavi played some inaccurate moves, giving Bhagyashree a positional advantage. All her pieces were more active than Black's, and the Black queen started getting harassed by the minor pieces.
20.c5 was an excellent move by Bhagyashree, hitting the nail in the coffin. The Black bishop on b4 is effectively trapped now, White will play Qb5+ followed by Rb3 and a3. Vyshnavi lost the piece in a few more moves and resigned on move 42.
In Board 1, Sneha Haldar lost her game against Meenatchi Rajam V. So, Bhagyashree's final round win made her the MPL national U-17 champion. Tejaswini G took the third spot, drawing her game against Anushka Gupta.
Replay the games from rounds 7-11(Open)
Replay the games from rounds 7-11(Girls)
Important links:
---