Mayank Chakraborty clinches Gold at Tata Steel Asian Junior Open Rapid 2023, Silver for Jyothsna and Mrudul Bronze among Girls
CM Mayank Chakraborty scored 7/9 to clinch Gold at Tata Steel Asian Junior Open Rapid 2023. Despite losing his seventh round game against IM Srihari L R, he immediately bounced back by winning against IM Avinash Ramesh. In the final round, he was up against the sole leader Srihari L 6.5/8. Mayank was in a must-win situation if he wanted to win the Gold. That is exactly what he did by winning the final round game on demand to win the Gold medal. Srihari L secured Silver 6.5/9 and IM S Rohith Krishna Bronze 6.5/9. In the Girls section, WIM Nazerke Nurgali (KAZ) scored 7.5/9 to win the Gold. WIM Mrudul Dehankar defeated WFM Jyothsna L to win the Bronze 7/9, Jyothsna secured Silver 7/9. Jyothsna is also the only player to beat the eventual Gold medal winner, Nazerke. Classical Round 1 in Open and Girls section starts today from 9 a.m. IST. Photos: Himank Ghosh
Vivaan Vishal Shah stuns Aleksey Grebnev
Commonwealth Under-10 Open 2022 Gold medalist, 10-year-old Vivaan Vishal Shah scored a huge upset in the first round, IM Aleksey Grebnev.
Mayank - Srihari L, Round 9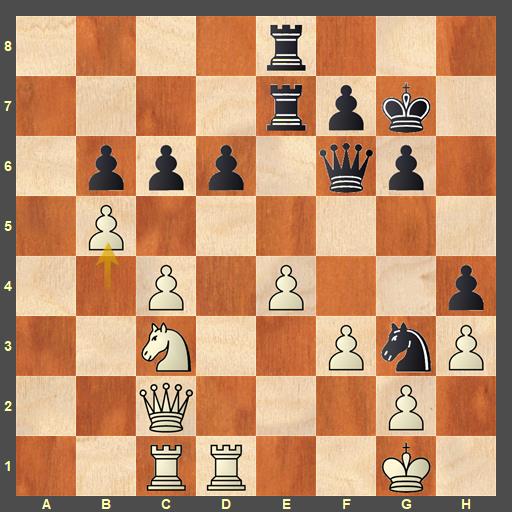 Black is not forced to take on b5. 27...cxb5 allowed 28.Nd5 Qg5 29.Nxe7 now White could have delayed the capture of the rook by improving his position first 29.f4 Qh6 30.Qb2+ Kg8 31.cxb5 due to Nf6+ being there if White wants to gain an exchange.
For more photos from the Rapid Round 1-4 and 5-9, please click at the respective links.
Replay all Open games
Replay all Girls games
Schedule
Rapid - Open and Girls from 9 a.m. IST on 8th September.
Classical - Open and Girls from 9 a.m. IST from 9th to 15th September. There are double rounds on 10th and 12th September.
Blitz - Open and Girls on 15th September 2023
Time Control
Rapid: 10 minutes + 5 seconds increment
Classical: 90 minutes + 30 seconds increment
Blitz: 3 minutes + 2 seconds increment
Final standings in Open
| | | | | | | | | | | | | | | | |
| --- | --- | --- | --- | --- | --- | --- | --- | --- | --- | --- | --- | --- | --- | --- | --- |
| Rk. | SNo | | | Name | Typ | sex | FED | Rtg | Club/City | Pts. | TB1 | TB2 | TB3 | TB4 | TB5 |
| 1 | 17 | | CM | Mayank, Chakraborty | | | IND | 2115 | India | 7 | 46,5 | 50,5 | 0 | 2090 | 6 |
| 2 | 13 | | | Srihari, L | | | IND | 2173 | India | 6,5 | 50,5 | 54 | 0 | 2155 | 5 |
| 3 | 4 | | IM | Rohith, Krishna S | | | IND | 2270 | India | 6,5 | 48,5 | 52 | 0 | 2060 | 6 |
| 4 | 3 | | IM | Srihari, L R | | | IND | 2329 | India | 6,5 | 48 | 52 | 0 | 2039 | 5 |
| 5 | 2 | | IM | Harshavardhan, G B | | | IND | 2336 | India | 6,5 | 46,5 | 50 | 0 | 2057 | 5 |
| 6 | 11 | | FM | Abdilkhair, Abilmansur | U20 | | KAZ | 2188 | Kazakhstan | 6,5 | 45 | 48,5 | 0 | 2067 | 5 |
| 7 | 1 | | IM | Grebnev, Aleksey | U18 | | FID | 2480 | FIDE | 6,5 | 43 | 47 | 0 | 1993 | 6 |
| 8 | 10 | | FM | Liyanage, Ranindu Dilshan | U20 | | SRI | 2210 | Sri Lanka | 6,5 | 42,5 | 45,5 | 0 | 2021 | 5 |
| 9 | 20 | | FM | Krishnan, Ritvik | | | IND | 2051 | India | 6 | 45,5 | 49 | 0 | 2045 | 5 |
| 10 | 7 | | FM | Aswath, S | | | IND | 2259 | India | 6 | 43 | 47 | 0 | 1990 | 6 |
Final standings in Girls
| | | | | | | | | | | | | | | |
| --- | --- | --- | --- | --- | --- | --- | --- | --- | --- | --- | --- | --- | --- | --- |
| Rk. | SNo | | | Name | Typ | sex | FED | Rtg | Pts. | TB1 | TB2 | TB3 | TB4 | TB5 |
| 1 | 1 | | WIM | Nurgali, Nazerke | U20 | w | KAZ | 2110 | 7,5 | 43,5 | 46,5 | 0 | 1734 | 7 |
| 2 | 14 | | WFM | Jyothsna, L | U20 | w | IND | 1807 | 7 | 48 | 51 | 0 | 1800 | 6 |
| 3 | 4 | | WIM | Mrudul, Dehankar | U20 | w | IND | 2052 | 7 | 42,5 | 46,5 | 0 | 1760 | 7 |
| 4 | 19 | | | Divyabharathi, Masanam | U20 | w | IND | 1621 | 7 | 41,5 | 44,5 | 0 | 1636 | 6 |
| 5 | 15 | | | Mrittika, Mallick | U16 | w | IND | 1794 | 6,5 | 49 | 52,5 | 0 | 1761 | 6 |
| 6 | 9 | | | Rindhiya, V | U20 | w | IND | 1860 | 6 | 45 | 47,5 | 0 | 1714 | 6 |
| 7 | 32 | | | Sachi, Jain | U14 | w | IND | 1481 | 6 | 44,5 | 47 | 0 | 1743 | 5 |
| 8 | 5 | | WIM | Sultanbek, Zeinep | U20 | w | KAZ | 2038 | 6 | 42,5 | 45,5 | 0 | 1557 | 5 |
| 9 | 7 | | | Kaldarova, Ayaulym | U16 | w | KAZ | 1872 | 6 | 40,5 | 43,5 | 0 | 1514 | 5 |
| 10 | 10 | | WFM | Bhagyashree, Patil | U18 | w | IND | 1858 | 6 | 39 | 41,5 | 0 | 1552 | 5 |
Links
---