Tata Steel Asian Junior 2023 R8: Tejaswini G on the verge of winning Gold
Tejaswini G defeated WCM Bristy Mukherjee to emerge sole leader 7/8 heading into the final round of Tata Steel Asian Junior 2023 Girls. She is now a full point ahead of the field. WIM Nazerke Nurgali (KAZ), WIM Bommini Mounika Akshaya and Bristy are trailing at 6/8 each. Tejaswini needs a draw against Mounika in the final round to clinch the Gold. IM Aleksey Grebnev, IM S Rohith Krishna, FM Ayush Sharma and FM Aswath S are at 6/8 each. Top three boards ended in draws. Ayush defeated IM Gilbert Elroy Tarigan (INA) to join the lead and put himself in the medal contention. It will be Ayush v Rohith, Grebnev v Alekhya and Aswath v IM Sambit Panda in the final round. Round 9 Open and Girls starts today from 9:30 a.m. IST. Photos: Himank Ghosh
It's a close race in the Open section
Four out of the top five games in the penultimate round of the Open section ended in draws. Out of them, three games finished in 22 moves or less. The scene is quite different in the Girls section. There were no quick draws. Seven out of top ten games ended decisively.
Gilbert - Ayush
IM Gilbert Elroy Tarigan (INA, 2370) decided to sacrifice a piece in order to launch an attack on FM Ayush Sharma's (2371) stranded king in the center. 14.Ndxe4 Nxe4 15.Nxe4?? exf4 16.Nd6+ Bxd6 17.Qxd6 Be6 18.Rfe1 Qd8 19.Bxc6+ bxc6 20.Qxc6+ Kf8 21.Rad1 Qc8 22.Qd6+ Kg8 23.Qxf4 h6 and Black is out of danger. He won the game in another half a dozen moves.
Kushagra - Ajay
Despite the black king being exposed and vulnerable, it is not in any real danger. Black's well coordinated pieces are ensuring the king's safety. 27.Ng3? h4 28.Rd3 Qc1 forcing queen exchange to reduce the intensity of the attack. 29.Qxc1 Bxc1 30.Rdf3 Bf4 31.Rxf8 Rxf8 32.Nf5 Kg5 33.Ne7 Be3+ 34.Kf1 Rxf3+ 35.gxf3 Bc1 36.Nc6 a4 37.Na7 b4 and it's over.
Alekhya - Avinash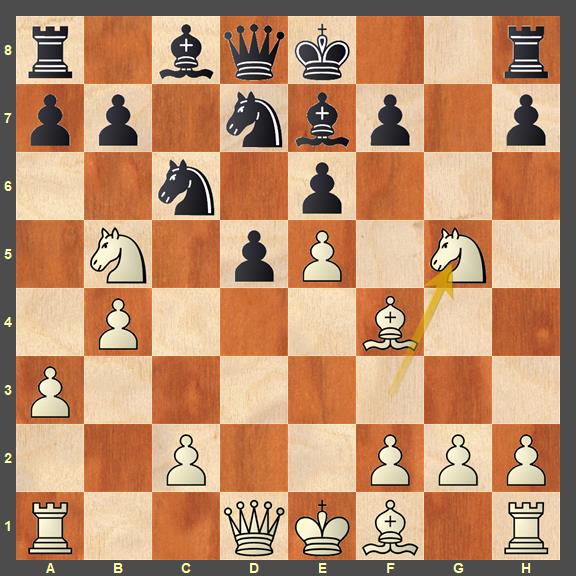 Alekhya Mukhopadhyay (2149) made his intentions very clear early in the game against IM Avinash Ramesh (2292). He was playing for only one result - win. 11.Nxg5 was played only once before by a strong player over a decade and half ago. The knight sacrifice does not give White anything immediately, yet there is a long-term advantage which White gained. It was difficult for Black to defend and eventually he crumbled.
Girls: Tejaswini - Bristy: 1-0
Probably going for a queenless middlegame early in the opening was not the best decision by WCM Bristy Mukherjee (1858) against Tejaswini G (1905). She was defending an inferior position for the better part of the game until Tejaswini crashed through.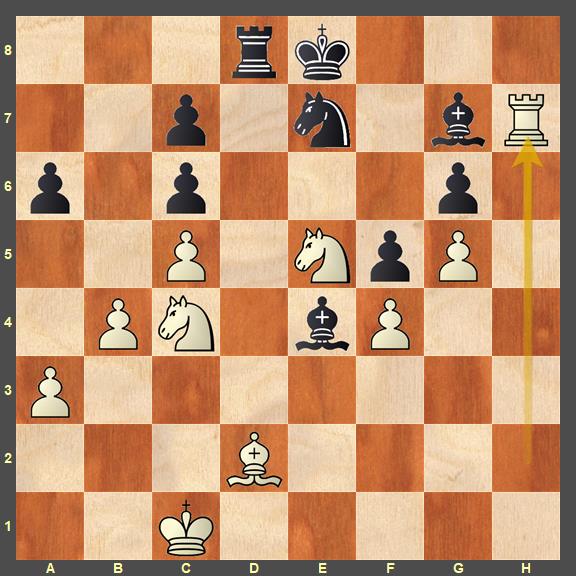 41.Rh7 Kf8 42.Bc3 Bxe5 43.Bxe5 Bd5 44.Rh8+ Bg8 45.Bf6 Re8 46.Ne5 and Black's position is falling apart. However, Bristy did not give up easily. She kept looking for her chances and eventually got one.
73.c8Q+ Rxc8 74.Rxb2 is the simplest way to win for White. Yet, the game continued 73.Rxc2 b1Q+ 74.Kd2 Qb4+ 75.Rc3 and White went on to win eventually.
For more Round 8 photos, please click here.
Replay Round 8 Open games
Replay Round 8 Girls games
Schedule
Classical - Open and Girls from 9:30 a.m. IST from 10th to 15th September. There are double rounds on 10th and 12th September.
Blitz - Open and Girls on 15th September 2023 from 3 p.m. IST.
Time Control
Rapid: 10 minutes + 5 seconds increment
Classical: 90 minutes + 30 seconds increment
Blitz: 3 minutes + 2 seconds increment
Round 8 Open results
| | | | | | | | | | | | | | | | | | | |
| --- | --- | --- | --- | --- | --- | --- | --- | --- | --- | --- | --- | --- | --- | --- | --- | --- | --- | --- |
| Bo. | No. | | | Name | FED | Rtg | Club/City | Pts. | Result | Pts. | | Name | FED | Rtg | Club/City | | No. | PGN |
| 1 | 3 | | IM | Rohith, Krishna S | IND | 2429 | India | 5½ | ½ - ½ | 5½ | IM | Grebnev, Aleksey | FID | 2486 | FIDE | | 1 | PGN |
| 2 | 10 | | IM | Manish, Anto Cristiano F | IND | 2372 | India | 5 | ½ - ½ | 5½ | FM | Aswath, S | IND | 2335 | India | | 13 | PGN |
| 3 | 9 | | IM | Panda, Sambit | IND | 2395 | India | 5 | ½ - ½ | 5 | | Srihari, L | IND | 2207 | India | | 21 | PGN |
| 4 | 12 | | IM | Tarigan, Gilbert Elroy | INA | 2370 | Indonesia | 4½ | 0 - 1 | 5 | FM | Ayush, Sharma | IND | 2371 | India | | 11 | PGN |
| 5 | 20 | | FM | Bizhigitov, Zhangir | KAZ | 2233 | Kazakhstan | 4½ | ½ - ½ | 4½ | IM | Srihari, L R | IND | 2444 | India | | 2 | PGN |
| 6 | 6 | | IM | Kushagra, Mohan | IND | 2410 | India | 4½ | 0 - 1 | 4½ | | Ajay, Santhosh Parvathareddy | IND | 2184 | India | | 22 | PGN |
| 7 | 14 | | CM | Mayank, Chakraborty | IND | 2329 | India | 4½ | 1 - 0 | 4½ | FM | Krishnan, Ritvik | IND | 2062 | India | | 27 | PGN |
| 8 | 26 | | | Alekhya, Mukhopadhyay | IND | 2149 | India | 4½ | 1 - 0 | 4½ | IM | Avinash, Ramesh | IND | 2292 | India | | 18 | PGN |
| 9 | 17 | | FM | Mohamed, Anees M | IND | 2295 | India | 4 | 0 - 1 | 4 | FM | Liyanage, Ranindu Dilshan | SRI | 2407 | Sri Lanka | | 7 | PGN |
| 10 | 30 | | CM | Adireddy, Arjun | IND | 2057 | India | 4 | 0 - 1 | 4 | FM | Zia, Tahsin Tajwar | BAN | 2321 | Bangladesh | | 15 | PGN |
Standings after Round 8
| | | | | | | | | | | | | | | | |
| --- | --- | --- | --- | --- | --- | --- | --- | --- | --- | --- | --- | --- | --- | --- | --- |
| Rk. | SNo | | | Name | Typ | sex | FED | Rtg | Club/City | Pts. | TB1 | TB2 | TB3 | TB4 | TB5 |
| 1 | 1 | | IM | Grebnev, Aleksey | U18 | | FID | 2486 | FIDE | 6 | 39 | 43 | 0 | 2332 | 4 |
| 2 | 3 | | IM | Rohith, Krishna S | U18 | | IND | 2429 | India | 6 | 36,5 | 41 | 0 | 2265 | 4 |
| 3 | 11 | | FM | Ayush, Sharma | U18 | | IND | 2371 | India | 6 | 34,5 | 36 | 0 | 2191 | 4 |
| 4 | 13 | | FM | Aswath, S | U16 | | IND | 2335 | India | 6 | 31,5 | 33 | 0 | 2173 | 5 |
| 5 | 10 | | IM | Manish, Anto Cristiano F | U18 | | IND | 2372 | India | 5,5 | 36,5 | 40 | 0 | 2255 | 4 |
| 6 | 9 | | IM | Panda, Sambit | | | IND | 2395 | India | 5,5 | 34,5 | 38 | 0 | 2275 | 3 |
| 7 | 21 | | | Srihari, L | | | IND | 2207 | India | 5,5 | 31,5 | 34 | 0 | 2049 | 5 |
| 8 | 14 | | CM | Mayank, Chakraborty | U16 | | IND | 2329 | India | 5,5 | 31,5 | 32 | 0 | 2089 | 4 |
| 9 | 26 | | | Alekhya, Mukhopadhyay | U16 | | IND | 2149 | India | 5,5 | 30,5 | 33 | 0 | 2045 | 5 |
| 10 | 22 | | | Ajay, Santhosh Parvathareddy | U16 | | IND | 2184 | India | 5,5 | 29 | 32 | 0 | 2022 | 5 |
Round 9 pairings
| | | | | | | | | | | | | | | | | | |
| --- | --- | --- | --- | --- | --- | --- | --- | --- | --- | --- | --- | --- | --- | --- | --- | --- | --- |
| Bo. | No. | | | Name | FED | Rtg | Club/City | Pts. | Result | Pts. | | Name | FED | Rtg | Club/City | | No. |
| 1 | 11 | | FM | Ayush, Sharma | IND | 2371 | India | 6 | | 6 | IM | Rohith, Krishna S | IND | 2429 | India | | 3 |
| 2 | 1 | | IM | Grebnev, Aleksey | FID | 2486 | FIDE | 6 | | 5½ | | Alekhya, Mukhopadhyay | IND | 2149 | India | | 26 |
| 3 | 13 | | FM | Aswath, S | IND | 2335 | India | 6 | | 5½ | IM | Panda, Sambit | IND | 2395 | India | | 9 |
| 4 | 22 | | | Ajay, Santhosh Parvathareddy | IND | 2184 | India | 5½ | | 5½ | IM | Manish, Anto Cristiano F | IND | 2372 | India | | 10 |
| 5 | 21 | | | Srihari, L | IND | 2207 | India | 5½ | | 5½ | CM | Mayank, Chakraborty | IND | 2329 | India | | 14 |
| 6 | 7 | | FM | Liyanage, Ranindu Dilshan | SRI | 2407 | Sri Lanka | 5 | | 5 | FM | Bizhigitov, Zhangir | KAZ | 2233 | Kazakhstan | | 20 |
| 7 | 15 | | FM | Zia, Tahsin Tajwar | BAN | 2321 | Bangladesh | 5 | | 5 | | Dhyey, Agarwal | IND | 2178 | India | | 23 |
| 8 | 2 | | IM | Srihari, L R | IND | 2444 | India | 5 | | 4½ | IM | Kushagra, Mohan | IND | 2410 | India | | 6 |
| 9 | 5 | | IM | Hari, Madhavan N B | IND | 2425 | India | 4½ | | 4½ | | Vrashank, Chouhan | IND | 1985 | India | | 32 |
| 10 | 8 | | IM | Harshavardhan, G B | IND | 2397 | India | 4½ | | 4½ | | Bharadia, Yash | IND | 2000 | India | | 31 |
Round 8 Girls results
| | | | | | | | | | | | | | | | | |
| --- | --- | --- | --- | --- | --- | --- | --- | --- | --- | --- | --- | --- | --- | --- | --- | --- |
| Bo. | No. | | | Name | FED | Rtg | Pts. | Result | Pts. | | Name | FED | Rtg | | No. | PGN |
| 1 | 11 | | | Tejaswini, G | IND | 1905 | 6 | 1 - 0 | 6 | WCM | Bristy, Mukherjee | IND | 1858 | | 13 | PGN |
| 2 | 1 | | WIM | Nurgali, Nazerke | KAZ | 2268 | 5½ | ½ - ½ | 5½ | WIM | Bommini, Mounika Akshaya | IND | 2096 | | 3 | PGN |
| 3 | 5 | | | Mrittika, Mallick | IND | 2059 | 5 | ½ - ½ | 5 | WIM | Mrudul, Dehankar | IND | 2059 | | 4 | PGN |
| 4 | 2 | | WIM | Salonika, Saina | IND | 2140 | 4½ | 1 - 0 | 4½ | | Sherali, Pattnaik | IND | 1478 | | 37 | PGN |
| 5 | 6 | | WIM | Sultanbek, Zeinep | KAZ | 2022 | 4½ | 0 - 1 | 4½ | | Kaldarova, Ayaulym | KAZ | 1933 | | 9 | PGN |
| 6 | 35 | | | Patil, Divya | IND | 1496 | 4½ | 0 - 1 | 4½ | | Ivanova, Anastasia S. | FID | 1840 | | 15 | PGN |
| 7 | 20 | | AFM | Shubhi, Gupta | IND | 1761 | 4½ | ½ - ½ | 4½ | | Keerti, Shree Reddy | IND | 1580 | | 32 | PGN |
| 8 | 10 | | | Rindhiya, V | IND | 1918 | 4 | 1 - 0 | 4 | | Khairmode, Dhanashree | IND | 1616 | | 29 | PGN |
| 9 | 12 | | WFM | Bhagyashree, Patil | IND | 1879 | 4 | 1 - 0 | 4 | WCM | Sanudula, K M Dahamdi | SRI | 1731 | | 22 | PGN |
| 10 | 17 | | | Poorna, Sri M.K | IND | 1821 | 4 | 1 - 0 | 4 | WCM | Kriti, Mayur Patel | IND | 1435 | | 40 | PGN |
Standings after Round 8
| | | | | | | | | | | | | | | |
| --- | --- | --- | --- | --- | --- | --- | --- | --- | --- | --- | --- | --- | --- | --- |
| Rk. | SNo | | | Name | Typ | sex | FED | Rtg | Pts. | TB1 | TB2 | TB3 | TB4 | TB5 |
| 1 | 11 | | | Tejaswini, G | F16 | w | IND | 1905 | 7 | 37 | 41 | 0 | 1925 | 6 |
| 2 | 1 | | WIM | Nurgali, Nazerke | | w | KAZ | 2268 | 6 | 36 | 39 | 0 | 1767 | 4 |
| 3 | 3 | | WIM | Bommini, Mounika Akshaya | | w | IND | 2096 | 6 | 35,5 | 39,5 | 0 | 1881 | 4 |
| 4 | 13 | | WCM | Bristy, Mukherjee | | w | IND | 1858 | 6 | 35 | 38 | 0 | 1686 | 5 |
| 5 | 2 | | WIM | Salonika, Saina | | w | IND | 2140 | 5,5 | 37 | 40,5 | 0 | 1773 | 4 |
| 6 | 5 | | | Mrittika, Mallick | F16 | w | IND | 2059 | 5,5 | 36 | 40 | 0 | 1754 | 4 |
| 7 | 9 | | | Kaldarova, Ayaulym | F16 | w | KAZ | 1933 | 5,5 | 33,5 | 36 | 0 | 1714 | 5 |
| 8 | 4 | | WIM | Mrudul, Dehankar | | w | IND | 2059 | 5,5 | 30,5 | 33,5 | 0 | 1685 | 4 |
| 9 | 15 | | | Ivanova, Anastasia S. | | w | FID | 1840 | 5,5 | 26,5 | 29 | 0 | 1555 | 5 |
| 10 | 32 | | | Keerti, Shree Reddy | F16 | w | IND | 1580 | 5 | 37,5 | 42 | 0 | 1945 | 4 |
Round 9 pairings
| | | | | | | | | | | | | | | | |
| --- | --- | --- | --- | --- | --- | --- | --- | --- | --- | --- | --- | --- | --- | --- | --- |
| Bo. | No. | | | Name | FED | Rtg | Pts. | Result | Pts. | | Name | FED | Rtg | | No. |
| 1 | 3 | | WIM | Bommini, Mounika Akshaya | IND | 2096 | 6 | | 7 | | Tejaswini, G | IND | 1905 | | 11 |
| 2 | 13 | | WCM | Bristy, Mukherjee | IND | 1858 | 6 | | 6 | WIM | Nurgali, Nazerke | KAZ | 2268 | | 1 |
| 3 | 4 | | WIM | Mrudul, Dehankar | IND | 2059 | 5½ | | 5½ | WIM | Salonika, Saina | IND | 2140 | | 2 |
| 4 | 9 | | | Kaldarova, Ayaulym | KAZ | 1933 | 5½ | | 5½ | | Mrittika, Mallick | IND | 2059 | | 5 |
| 5 | 15 | | | Ivanova, Anastasia S. | FID | 1840 | 5½ | | 5 | | Rindhiya, V | IND | 1918 | | 10 |
| 6 | 20 | | AFM | Shubhi, Gupta | IND | 1761 | 5 | | 5 | WFM | Bhagyashree, Patil | IND | 1879 | | 12 |
| 7 | 32 | | | Keerti, Shree Reddy | IND | 1580 | 5 | | 5 | | Poorna, Sri M.K | IND | 1821 | | 17 |
| 8 | 26 | | | Vakcheri, Mohitha | IND | 1653 | 4½ | | 4½ | WIM | Sultanbek, Zeinep | KAZ | 2022 | | 6 |
| 9 | 27 | | | Pragnya, H G | IND | 1624 | 4½ | | 4½ | WFM | Wadifa, Ahmed | BAN | 1833 | | 16 |
| 10 | 37 | | | Sherali, Pattnaik | IND | 1478 | 4½ | | 4½ | | Sachi, Jain | IND | 1756 | | 21 |
Links
---