Vishy Anand inaugurates Tata Steel Asian Junior Open and Girls 2023
Vishy Anand inaugurated the Tata Steel Asian Junior Open and Girls Chess Championship 2023 in Jamshedpur, Jharkhand. He declared the meet 'Open' in presence of Chanakya Chaudhary, Vice President Corporate Services, Tata Steel and 'Hati', the official mascot. IM Srihari L R and WIM Saina Salonika are the highest rated Indians in Open and Girls category. The championships will start with Rapid event tomorrow, Friday 8th September from 9 a.m. IST at JFC Lounge, JRD Tata Sports Complex, Jamshedpur. Tata Steel is synonymous with the chess universe since 1986. From 2018, Tata Steel Chess India, India's first super tournament started in Kolkata. For the first time, a chess tournament of this magnitude is taking place in Jamshedpur. This shows Tata's commitment to promoting chess in the region. Photos: Himank Ghosh
Srihari L R and Saina Salonika are the top Indians in Open and Girls
49 out of the 58 players in Classical Open section are from host country - India. In the Girls section, it is 44 Indians out of 52. Apart from India, players from Bangladesh, Indonesia, Kazakhstan and Sri Lanka are slated to take part in both Open and Girls section. Only Nepal will have one player taking part in the Open section.
Photo Gallery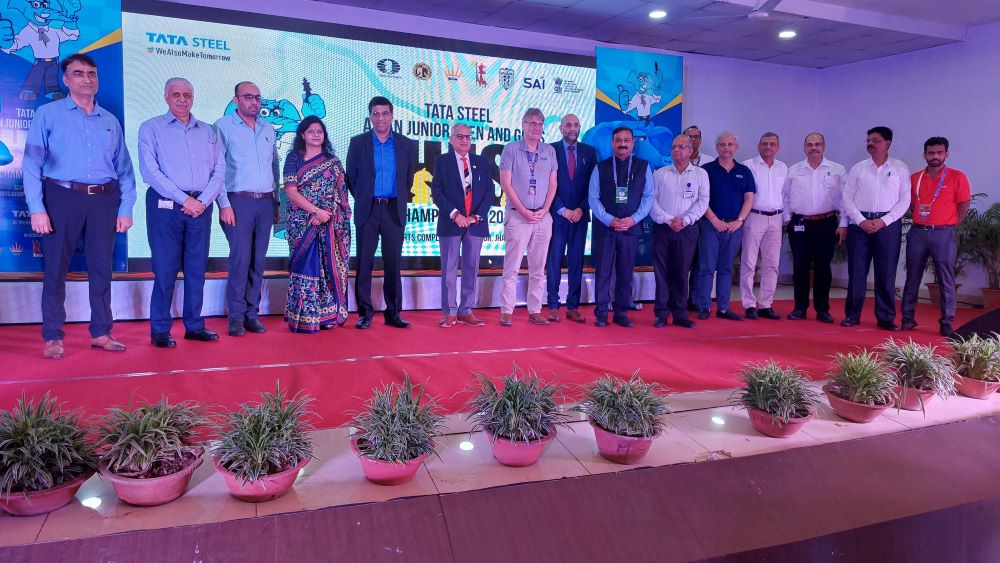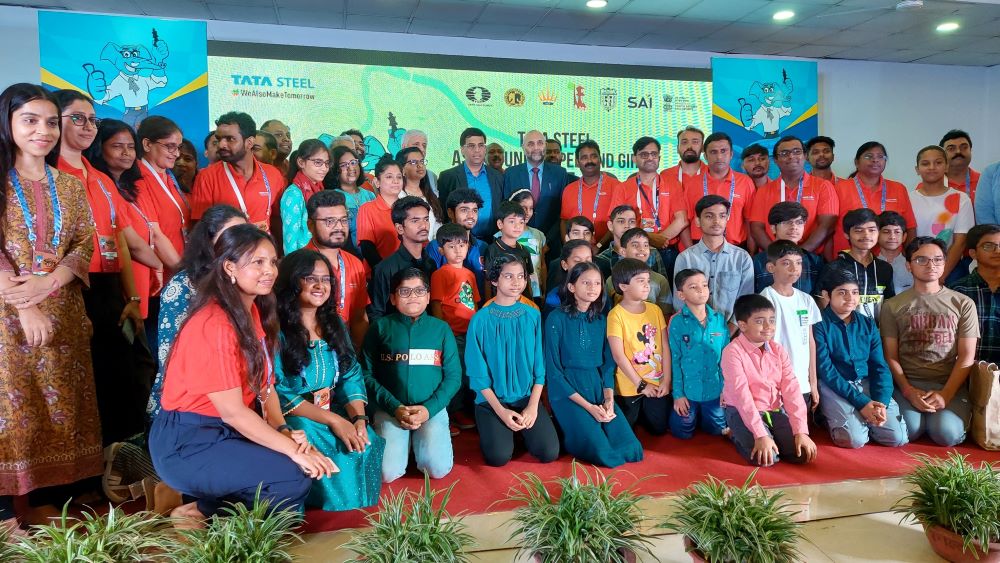 For more photos from the opening ceremony and draw of lots, please click here.
Schedule
Rapid - Open and Girls from 9 a.m. IST on 8th September.
Classical - Open and Girls from 9 a.m. IST from 9th to 15th September. There are double rounds on 10th and 12th September.
Blitz - Open and Girls on 15th September 2023
Time Control
Rapid: 10 minutes + 10 seconds increment
Classical: 90 minutes + 30 seconds increment
Blitz: 3 minutes + 2 seconds increment
Players list in Open
| | | | | | | | | | |
| --- | --- | --- | --- | --- | --- | --- | --- | --- | --- |
| No. | | | Name | FideID | FED | Rtg | sex | Typ | Club/City |
| 1 | | IM | Grebnev, Aleksey | 34189030 | FID | 2486 | | U18 | FIDE |
| 2 | | IM | Srihari, L R | 46617116 | IND | 2444 | | | India |
| 3 | | IM | Rohith, Krishna S | 46617051 | IND | 2429 | | | India |
| 4 | | CM | Daakshin, Arun | 366195016 | IND | 2427 | | | India |
| 5 | | IM | Hari, Madhavan N B | 25054309 | IND | 2425 | | | India |
| 6 | | IM | Kushagra, Mohan | 25033638 | IND | 2410 | | | India |
| 7 | | FM | Liyanage, Ranindu Dilshan | 9915834 | SRI | 2407 | | U20 | Sri Lanka |
| 8 | | IM | Harshavardhan, G B | 25059009 | IND | 2397 | | | India |
| 9 | | IM | Panda, Sambit | 25091794 | IND | 2395 | | | India |
| 10 | | IM | Manish, Anto Cristiano F | 25095927 | IND | 2372 | | | India |
Players list in Girls
| | | | | | | | | |
| --- | --- | --- | --- | --- | --- | --- | --- | --- |
| No. | | | Name | FideID | FED | Rtg | sex | Typ |
| 1 | | WIM | Nurgali, Nazerke | 13711261 | KAZ | 2268 | w | U20 |
| 2 | | WIM | Salonika, Saina | 25013971 | IND | 2140 | w | U20 |
| 3 | | WIM | Bommini, Mounika Akshaya | 25019872 | IND | 2096 | w | U20 |
| 4 | | WIM | Mrudul, Dehankar | 25096990 | IND | 2059 | w | U20 |
| 5 | | | Mrittika, Mallick | 25902997 | IND | 2059 | w | U16 |
| 6 | | WIM | Sultanbek, Zeinep | 13710419 | KAZ | 2022 | w | U20 |
| 7 | | WFM | Jyothsna, L | 35013220 | IND | 1940 | w | U20 |
| 8 | | WCM | Ahmed, Walijah | 2831193 | BAN | 1936 | w | U20 |
| 9 | | | Kaldarova, Ayaulym | 13720503 | KAZ | 1933 | w | U16 |
| 10 | | | Rindhiya, V | 25040529 | IND | 1918 | w | U20 |
Links
---