Tata Steel Asian Junior 2023 R4: Liyanage Ranindu Dilshan goes on a king hunt
Sri Lanka no.1 FM Liyanage Ranindu Dilshan defeated FM Abilmansur Abdilkhair (KAZ) to maintain his lead. IM Gilbert Elroy Tarigan (INA) also won his game against IM Hari Madhavan N B to stay at the top of Tata Steel Asian Junior 2023 Open. Both Liyanage and Gilbert are sharing the lead 3.5/4. They are closely followed by a dozen players at 3/4 each. In the Girls section, WIM Saina Salonika and Tejaswini G defeated Keerti Shree Reddy and WIM Zeinep Sultanbek (KAZ) respectively to join the leaders 3.5/4. Rindhiya V drew against WIM Mounika Akshaya to stay at the top. All four - Saina, Mounika, Tejaswini and Rindhiya are at 3.5/4 each. Round 5 in Open and Girls section starts today from 9:30 a.m. IST. Photos: Himank Ghosh
Saina Salonika and Tejaswini G join the lead among the Girls
Open: Abilmansur - Liyanage: 0-1
FM Abilmansur Abdilkhair (KAZ, 2241) got his king hunted by the Sri Lanka no.1, FM Ranindu Dilshan Liyanage (SRI, 2407).
Black is threatening Qd1# White went for the logical 20.Bh3?? which actually spells doom for the white king Nd3+ 21.Kf1 Qd1+ 22.Kg2 Nxf2 23.Bg4 Nxg4 24.Rxg4 f5 25.Nb3 Qg1+ 26.Kh3 fxg4+ and Black checkmated in another six moves. 20.Ke2 is recommended by the computer to keep the game going. No human is going to play like that.
Girls: Saina - Keerti: 1-0
WIM Saina Salonika (2140) showed a fine positional understanding to capitalize on her advantage against Keerti Shree Reddy (1580).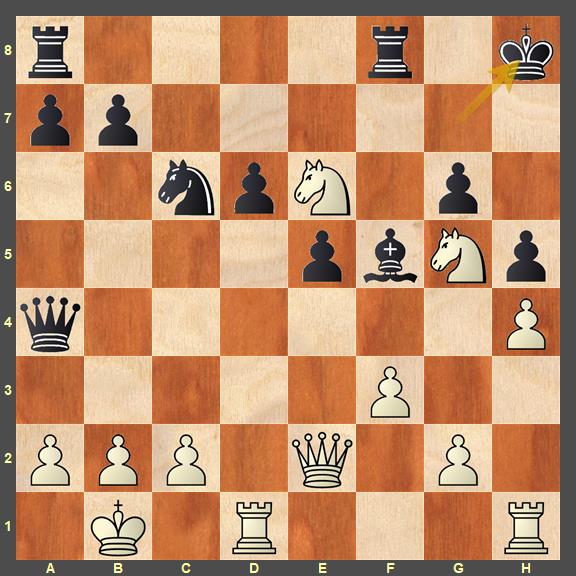 White should not capture the rook at f8 due to Nb4 creating counterplay for Black. Instead, 24.Rxd6! is a nice intermediate move. Now Nb4 does not work as Qxe5+ forces checkmate. 24...Bxe6 25.Nxe6 Rf5 26.g4 White's attack continues and she won the game in another five moves.
Zeinep - Tejaswini
The only thing White should not do here is, allow the black king to infiltrate. 59.Kg3?? allowed just that Kf1-+ 60.Bc8 Ra2 61.Bb7 Kg1 to ensure bishop moves away from the long diagonal. 62.Bc8 Rg2+ 63. Kh3 Kf2 now White cannot even play 64.a7 as Rg1 threatens mate at h1 and also Ra1 drops the a7-pawn.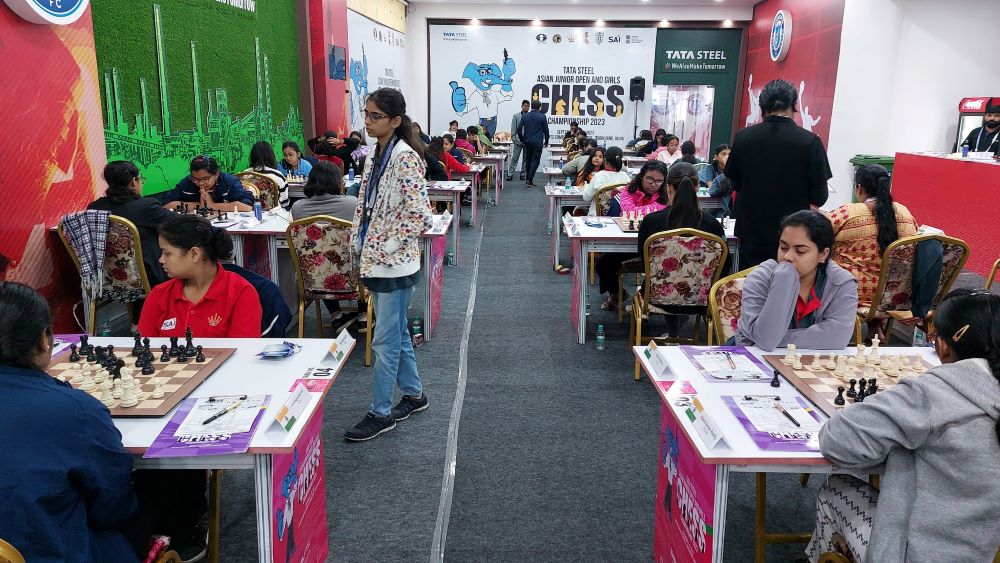 For more Round 4 photos, please click here.
Replay Round 4 Open games
Replay Round 4 Girls games
Schedule
Classical - Open and Girls from 9:30 a.m. IST from 10th to 15th September. There are double rounds on 10th and 12th September.
Blitz - Open and Girls on 15th September 2023 from 3 p.m. IST.
Time Control
Rapid: 10 minutes + 5 seconds increment
Classical: 90 minutes + 30 seconds increment
Blitz: 3 minutes + 2 seconds increment
Round 4 Open results
| | | | | | | | | | | | | | | | | | | |
| --- | --- | --- | --- | --- | --- | --- | --- | --- | --- | --- | --- | --- | --- | --- | --- | --- | --- | --- |
| Bo. | No. | | | Name | FED | Rtg | Club/City | Pts. | Result | Pts. | | Name | FED | Rtg | Club/City | | No. | PGN |
| 1 | 9 | | IM | Panda, Sambit | IND | 2395 | India | 2½ | ½ - ½ | 2½ | IM | Grebnev, Aleksey | FID | 2486 | FIDE | | 1 | PGN |
| 2 | 10 | | IM | Manish, Anto Cristiano F | IND | 2372 | India | 2½ | ½ - ½ | 2½ | IM | Rohith, Krishna S | IND | 2429 | India | | 3 | PGN |
| 3 | 12 | | IM | Tarigan, Gilbert Elroy | INA | 2370 | Indonesia | 2½ | 1 - 0 | 2½ | IM | Hari, Madhavan N B | IND | 2425 | India | | 5 | PGN |
| 4 | 6 | | IM | Kushagra, Mohan | IND | 2410 | India | 2½ | ½ - ½ | 2½ | FM | Ayush, Sharma | IND | 2371 | India | | 11 | PGN |
| 5 | 19 | | FM | Abdilkhair, Abilmansur | KAZ | 2241 | Kazakhstan | 2½ | 0 - 1 | 2½ | FM | Liyanage, Ranindu Dilshan | SRI | 2407 | Sri Lanka | | 7 | PGN |
| 6 | 8 | | IM | Harshavardhan, G B | IND | 2397 | India | 2½ | ½ - ½ | 2½ | FM | Mohamed, Anees M | IND | 2295 | India | | 17 | PGN |
| 7 | 2 | | IM | Srihari, L R | IND | 2444 | India | 2 | 1 - 0 | 2 | | Dhyey, Agarwal | IND | 2178 | India | | 23 | PGN |
| 8 | 26 | | | Alekhya, Mukhopadhyay | IND | 2149 | India | 2 | 1 - 0 | 2 | CM | Daakshin, Arun | IND | 2427 | India | | 4 | PGN |
| 9 | 27 | | FM | Krishnan, Ritvik | IND | 2062 | India | 2 | 1 - 0 | 2 | FM | Zia, Tahsin Tajwar | BAN | 2321 | Bangladesh | | 15 | PGN |
| 10 | 16 | | FM | Manon, Reja Neer | BAN | 2295 | Bangladesh | 2 | ½ - ½ | 2 | | Bharadia, Yash | IND | 2000 | India | | 31 | PGN |
Standings after Round 4
| | | | | | | | | | | |
| --- | --- | --- | --- | --- | --- | --- | --- | --- | --- | --- |
| Rk. | SNo | | | Name | Typ | sex | FED | Rtg | Club/City | TB1 |
| 1 | 7 | | FM | Liyanage, Ranindu Dilshan | U20 | | SRI | 2407 | Sri Lanka | 3,5 |
| | 12 | | IM | Tarigan, Gilbert Elroy | U20 | | INA | 2370 | Indonesia | 3,5 |
| 3 | 1 | | IM | Grebnev, Aleksey | U18 | | FID | 2486 | FIDE | 3 |
| | 2 | | IM | Srihari, L R | | | IND | 2444 | India | 3 |
| | 3 | | IM | Rohith, Krishna S | | | IND | 2429 | India | 3 |
| | 6 | | IM | Kushagra, Mohan | | | IND | 2410 | India | 3 |
| | 8 | | IM | Harshavardhan, G B | | | IND | 2397 | India | 3 |
| | 9 | | IM | Panda, Sambit | | | IND | 2395 | India | 3 |
| | 10 | | IM | Manish, Anto Cristiano F | | | IND | 2372 | India | 3 |
| | 11 | | FM | Ayush, Sharma | | | IND | 2371 | India | 3 |
Round 5 pairings
| | | | | | | | | | | | | | | | | | |
| --- | --- | --- | --- | --- | --- | --- | --- | --- | --- | --- | --- | --- | --- | --- | --- | --- | --- |
| Bo. | No. | | | Name | FED | Rtg | Club/City | Pts. | Result | Pts. | | Name | FED | Rtg | Club/City | | No. |
| 1 | 7 | | FM | Liyanage, Ranindu Dilshan | SRI | 2407 | Sri Lanka | 3½ | | 3 | IM | Srihari, L R | IND | 2444 | India | | 2 |
| 2 | 1 | | IM | Grebnev, Aleksey | FID | 2486 | FIDE | 3 | | 3½ | IM | Tarigan, Gilbert Elroy | INA | 2370 | Indonesia | | 12 |
| 3 | 3 | | IM | Rohith, Krishna S | IND | 2429 | India | 3 | | 3 | | Alekhya, Mukhopadhyay | IND | 2149 | India | | 26 |
| 4 | 17 | | FM | Mohamed, Anees M | IND | 2295 | India | 3 | | 3 | IM | Kushagra, Mohan | IND | 2410 | India | | 6 |
| 5 | 8 | | IM | Harshavardhan, G B | IND | 2397 | India | 3 | | 3 | FM | Krishnan, Ritvik | IND | 2062 | India | | 27 |
| 6 | 11 | | FM | Ayush, Sharma | IND | 2371 | India | 3 | | 3 | IM | Panda, Sambit | IND | 2395 | India | | 9 |
| 7 | 21 | | | Srihari, L | IND | 2207 | India | 3 | | 3 | IM | Manish, Anto Cristiano F | IND | 2372 | India | | 10 |
| 8 | 5 | | IM | Hari, Madhavan N B | IND | 2425 | India | 2½ | | 2½ | IM | Avinash, Ramesh | IND | 2292 | India | | 18 |
| 9 | 13 | | FM | Aswath, S | IND | 2335 | India | 2½ | | 2½ | FM | Abdilkhair, Abilmansur | KAZ | 2241 | Kazakhstan | | 19 |
| 10 | 31 | | | Bharadia, Yash | IND | 2000 | India | 2½ | | 2½ | CM | Mayank, Chakraborty | IND | 2329 | India | | 14 |
Round 4 Girls results
| | | | | | | | | | | | | | | | | |
| --- | --- | --- | --- | --- | --- | --- | --- | --- | --- | --- | --- | --- | --- | --- | --- | --- |
| Bo. | No. | | | Name | FED | Rtg | Pts. | Result | Pts. | | Name | FED | Rtg | | No. | PGN |
| 1 | 10 | | | Rindhiya, V | IND | 1918 | 3 | ½ - ½ | 3 | WIM | Bommini, Mounika Akshaya | IND | 2096 | | 3 | PGN |
| 2 | 20 | | AFM | Shubhi, Gupta | IND | 1761 | 2½ | ½ - ½ | 2½ | WIM | Nurgali, Nazerke | KAZ | 2268 | | 1 | PGN |
| 3 | 2 | | WIM | Salonika, Saina | IND | 2140 | 2½ | 1 - 0 | 2½ | | Keerti, Shree Reddy | IND | 1580 | | 32 | PGN |
| 4 | 12 | | WFM | Bhagyashree, Patil | IND | 1879 | 2½ | ½ - ½ | 2½ | | Mrittika, Mallick | IND | 2059 | | 5 | PGN |
| 5 | 6 | | WIM | Sultanbek, Zeinep | KAZ | 2022 | 2 | 0 - 1 | 2½ | | Tejaswini, G | IND | 1905 | | 11 | PGN |
| 6 | 23 | | | Marium, Fatima | IND | 1715 | 2 | ½ - ½ | 2 | WFM | Jyothsna, L | IND | 1940 | | 7 | PGN |
| 7 | 25 | | | Saparya, Ghosh | IND | 1668 | 2 | 0 - 1 | 2 | | Kaldarova, Ayaulym | KAZ | 1933 | | 9 | PGN |
| 8 | 26 | | | Vakcheri, Mohitha | IND | 1653 | 2 | 0 - 1 | 2 | WCM | Bristy, Mukherjee | IND | 1858 | | 13 | PGN |
| 9 | 16 | | WFM | Wadifa, Ahmed | BAN | 1833 | 2 | 1 - 0 | 2 | | Swara, Lakshmi S Nair | IND | 1601 | | 30 | PGN |
| 10 | 35 | | | Patil, Divya | IND | 1496 | 2 | 1 - 0 | 2 | | Sachi, Jain | IND | 1756 | | 21 | PGN |
Standings after Round 4
| | | | | | | | | | | | | | | |
| --- | --- | --- | --- | --- | --- | --- | --- | --- | --- | --- | --- | --- | --- | --- |
| Rk. | SNo | | | Name | Typ | sex | FED | Rtg | Pts. | TB1 | TB2 | TB3 | TB4 | TB5 |
| 1 | 2 | | WIM | Salonika, Saina | U20 | w | IND | 2140 | 3,5 | 8,5 | 10,5 | 0 | 1704 | 3 |
| 2 | 3 | | WIM | Bommini, Mounika Akshaya | U20 | w | IND | 2096 | 3,5 | 8,5 | 10 | 0 | 1764 | 3 |
| 3 | 11 | | | Tejaswini, G | U16 | w | IND | 1905 | 3,5 | 7,5 | 9,5 | 0 | 1823 | 3 |
| 4 | 10 | | | Rindhiya, V | U20 | w | IND | 1918 | 3,5 | 7,5 | 9,5 | 0 | 1734 | 3 |
| 5 | 16 | | WFM | Wadifa, Ahmed | U16 | w | BAN | 1833 | 3 | 8,5 | 10 | 0 | 1631 | 3 |
| 6 | 35 | | | Patil, Divya | U14 | w | IND | 1496 | 3 | 8 | 10 | 0 | 1892 | 2 |
| 7 | 5 | | | Mrittika, Mallick | U16 | w | IND | 2059 | 3 | 8 | 10 | 0 | 1726 | 2 |
| 8 | 20 | | AFM | Shubhi, Gupta | U14 | w | IND | 1761 | 3 | 8 | 9 | 0 | 1746 | 2 |
| 9 | 12 | | WFM | Bhagyashree, Patil | U18 | w | IND | 1879 | 3 | 7 | 8 | 0 | 1675 | 2 |
| 10 | 9 | | | Kaldarova, Ayaulym | U16 | w | KAZ | 1933 | 3 | 7 | 8 | 0 | 1533 | 3 |
Round 5 pairings
| | | | | | | | | | | | | | | | |
| --- | --- | --- | --- | --- | --- | --- | --- | --- | --- | --- | --- | --- | --- | --- | --- |
| Bo. | No. | | | Name | FED | Rtg | Pts. | Result | Pts. | | Name | FED | Rtg | | No. |
| 1 | 3 | | WIM | Bommini, Mounika Akshaya | IND | 2096 | 3½ | | 3½ | WIM | Salonika, Saina | IND | 2140 | | 2 |
| 2 | 11 | | | Tejaswini, G | IND | 1905 | 3½ | | 3½ | | Rindhiya, V | IND | 1918 | | 10 |
| 3 | 1 | | WIM | Nurgali, Nazerke | KAZ | 2268 | 3 | | 3 | WFM | Wadifa, Ahmed | BAN | 1833 | | 16 |
| 4 | 5 | | | Mrittika, Mallick | IND | 2059 | 3 | | 3 | WCM | Sanudula, K M Dahamdi | SRI | 1731 | | 22 |
| 5 | 9 | | | Kaldarova, Ayaulym | KAZ | 1933 | 3 | | 3 | AFM | Shubhi, Gupta | IND | 1761 | | 20 |
| 6 | 40 | | WCM | Kriti, Mayur Patel | IND | 1435 | 3 | | 3 | WFM | Bhagyashree, Patil | IND | 1879 | | 12 |
| 7 | 13 | | WCM | Bristy, Mukherjee | IND | 1858 | 3 | | 3 | | Patil, Divya | IND | 1496 | | 35 |
| 8 | 4 | | WIM | Mrudul, Dehankar | IND | 2059 | 2½ | | 2½ | | Marium, Fatima | IND | 1715 | | 23 |
| 9 | 7 | | WFM | Jyothsna, L | IND | 1940 | 2½ | | 2½ | | Poorna, Sri M.K | IND | 1821 | | 17 |
| 10 | 32 | | | Keerti, Shree Reddy | IND | 1580 | 2½ | | 2 | | Sachi, Jain | IND | 1756 | | 21 |
Links
---