Tata Steel Asian Junior 2023 R5-6: Tejaswini, Mrittika and Bristy in a three-way lead
Tejaswini G defeated Rindhiya V to gain sole lead after Round 5 at Tata Steel Asian Junior Girls 2023. WIM Mounika Akshaya drew against WIM Saina Salonika. Although, Mounika had a good opportunity but she did not capitalize on it. In Round 6, Tejaswini held the top seed WIM Nazerke Nurgali (KAZ) to a draw. WCM Bristy Mukherjee defeated the second seeded WIM Saina Salonika with some precise play. WCM Kriti Mayur Patel lost against Mrittika Mallick. Thus, Tejaswini, Mrittika and Bristy are now in a three-way lead 5/6. Mrittika will face Tejaswini in the seventh round. Bristy will be up against Shubhi Gupta. All four of them are undefeated so far. Round 7 in Open and Girls section starts today from 9:30 a.m. IST. Photos: Himank Ghosh
Aleksey Grebnev emerges sole leader in the Open
IM Aleksey Grebnev defeated IM Gilbert Elroy Tarigan (INA) and IM Manish Anto Cristiano F to gain sole lead 5/6. Six players - IM Srihari L R, IM S Rohith Krishna, FM Ayush Sharma, IM Gilbert, FM Aswath S and FM Ritvik Krishnan are trailing by a half point at 4.5/6 each.
Open Round 5: Ranindu - Srihari L R: 0-1
Sri Lanka no.1, FM Ranindu Dilshan Liyanage (SRI, 2407) blundered in an equal rook and few pawns endgame against IM Srihari L R (2444).
55.Kf4 Ra1 56.Kg4 Kg6 57.Kg3 a2 58.Kg2 would have been enough to share the point. 54.Rh5?? Ra1 55.Ra5 a2 56.Kf4 e5+ and it's over as no matter where the king goes, the rook gives a check and promotes the a-pawn.
Kushagra - Aswath, Round 6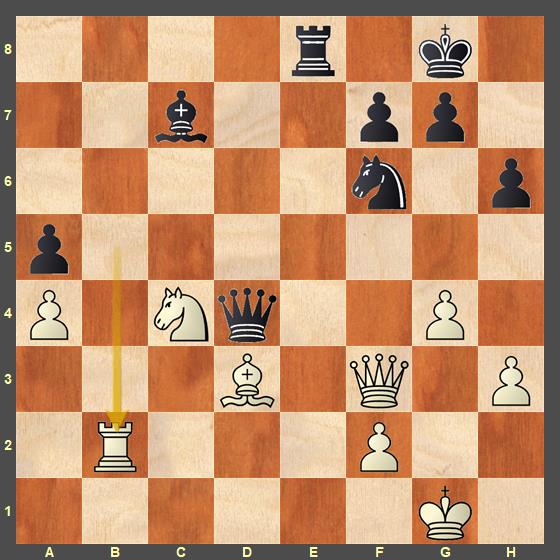 Find out the winning continuation for Black after 36.Rb2??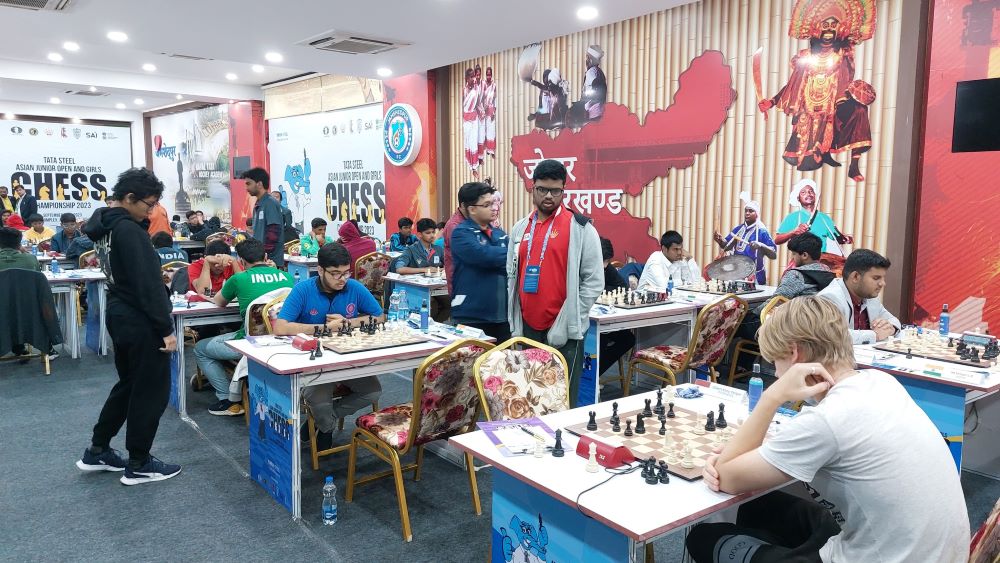 Girls Round 5: Mounika - Saina: 0.5-0.5
WIM Mounika Akshaya (2096) had a great opportunity against WIM Saina Salonika (2140).
20.Rxf7! is what White needed to play here. 20...Kxf7 21.Qd5+ Re6 22.Rf1+ Kg8 23.Nd4 and White would have been on her way to a full point. 20.Rc1 and the window of opportunity was shut.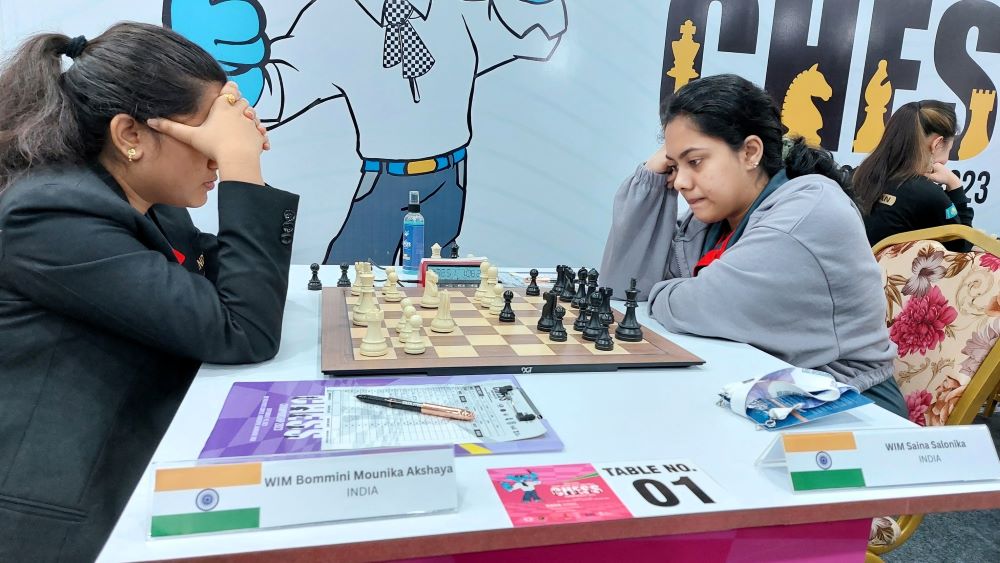 Saina - Bristy, Round 6
29...b4!-+ started turning things in WCM Bristy Mukherjee's (1858) favor. 30.axb4 Bxb4 31.Ra1 a3 32.Be3 Bxc3 33.bxc3 the resultant double rook and opposite color bishop is winning for Black as Black's light square bishop is more predominant than White's dark square bishop.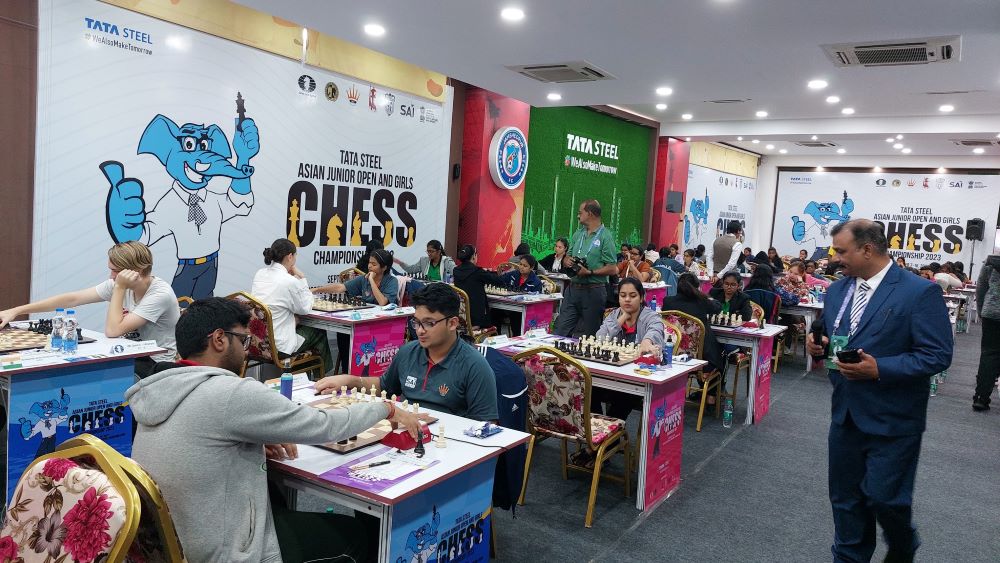 For more Round 5 and Round 6 photos, please click at the respective links.
Replay Round 5-6 Open games
Replay Round 5-6 Girls games
Schedule
Classical - Open and Girls from 9:30 a.m. IST from 10th to 15th September. There are double rounds on 10th and 12th September.
Blitz - Open and Girls on 15th September 2023 from 3 p.m. IST.
Time Control
Rapid: 10 minutes + 5 seconds increment
Classical: 90 minutes + 30 seconds increment
Blitz: 3 minutes + 2 seconds increment
Round 6 Open results
| | | | | | | | | | | | | | | | | | | |
| --- | --- | --- | --- | --- | --- | --- | --- | --- | --- | --- | --- | --- | --- | --- | --- | --- | --- | --- |
| Bo. | No. | | | Name | FED | Rtg | Club/City | Pts. | Result | Pts. | | Name | FED | Rtg | Club/City | | No. | PGN |
| 1 | 10 | | IM | Manish, Anto Cristiano F | IND | 2372 | India | 4 | 0 - 1 | 4 | IM | Grebnev, Aleksey | FID | 2486 | FIDE | | 1 | PGN |
| 2 | 2 | | IM | Srihari, L R | IND | 2444 | India | 4 | ½ - ½ | 4 | IM | Rohith, Krishna S | IND | 2429 | India | | 3 | PGN |
| 3 | 6 | | IM | Kushagra, Mohan | IND | 2410 | India | 3½ | 0 - 1 | 3½ | FM | Aswath, S | IND | 2335 | India | | 13 | PGN |
| 4 | 11 | | FM | Ayush, Sharma | IND | 2371 | India | 3½ | 1 - 0 | 3½ | FM | Liyanage, Ranindu Dilshan | SRI | 2407 | Sri Lanka | | 7 | PGN |
| 5 | 12 | | IM | Tarigan, Gilbert Elroy | INA | 2370 | Indonesia | 3½ | 1 - 0 | 3½ | IM | Harshavardhan, G B | IND | 2397 | India | | 8 | PGN |
| 6 | 9 | | IM | Panda, Sambit | IND | 2395 | India | 3½ | ½ - ½ | 3½ | FM | Mohamed, Anees M | IND | 2295 | India | | 17 | PGN |
| 7 | 27 | | FM | Krishnan, Ritvik | IND | 2062 | India | 3½ | 1 - 0 | 3 | IM | Hari, Madhavan N B | IND | 2425 | India | | 5 | PGN |
| 8 | 14 | | CM | Mayank, Chakraborty | IND | 2329 | India | 3 | 1 - 0 | 3 | | Dishank, Sachin Bajaj | IND | 1641 | India | | 48 | PGN |
| 9 | 26 | | | Alekhya, Mukhopadhyay | IND | 2149 | India | 3 | 1 - 0 | 3 | FM | Zia, Tahsin Tajwar | BAN | 2321 | Bangladesh | | 15 | PGN |
| 10 | 16 | | FM | Manon, Reja Neer | BAN | 2295 | Bangladesh | 3 | 1 - 0 | 3 | | Arun, Kataria | IND | 2170 | India | | 25 | PGN |
Standings after Round 6
| | | | | | | | | | | |
| --- | --- | --- | --- | --- | --- | --- | --- | --- | --- | --- |
| Rk. | SNo | | | Name | Typ | sex | FED | Rtg | Club/City | TB1 |
| 1 | 1 | | IM | Grebnev, Aleksey | U18 | | FID | 2486 | FIDE | 5 |
| 2 | 2 | | IM | Srihari, L R | U18 | | IND | 2444 | India | 4,5 |
| | 3 | | IM | Rohith, Krishna S | U18 | | IND | 2429 | India | 4,5 |
| | 11 | | FM | Ayush, Sharma | U18 | | IND | 2371 | India | 4,5 |
| | 12 | | IM | Tarigan, Gilbert Elroy | | | INA | 2370 | Indonesia | 4,5 |
| | 13 | | FM | Aswath, S | U16 | | IND | 2335 | India | 4,5 |
| | 27 | | FM | Krishnan, Ritvik | U16 | | IND | 2062 | India | 4,5 |
| 8 | 9 | | IM | Panda, Sambit | | | IND | 2395 | India | 4 |
| | 10 | | IM | Manish, Anto Cristiano F | U18 | | IND | 2372 | India | 4 |
| | 14 | | CM | Mayank, Chakraborty | U16 | | IND | 2329 | India | 4 |
Round 7 pairings
| | | | | | | | | | | | | | | | | | |
| --- | --- | --- | --- | --- | --- | --- | --- | --- | --- | --- | --- | --- | --- | --- | --- | --- | --- |
| Bo. | No. | | | Name | FED | Rtg | Club/City | Pts. | Result | Pts. | | Name | FED | Rtg | Club/City | | No. |
| 1 | 1 | | IM | Grebnev, Aleksey | FID | 2486 | FIDE | 5 | | 4½ | FM | Ayush, Sharma | IND | 2371 | India | | 11 |
| 2 | 3 | | IM | Rohith, Krishna S | IND | 2429 | India | 4½ | | 4½ | FM | Krishnan, Ritvik | IND | 2062 | India | | 27 |
| 3 | 13 | | FM | Aswath, S | IND | 2335 | India | 4½ | | 4½ | IM | Tarigan, Gilbert Elroy | INA | 2370 | Indonesia | | 12 |
| 4 | 2 | | IM | Srihari, L R | IND | 2444 | India | 4½ | | 4 | IM | Panda, Sambit | IND | 2395 | India | | 9 |
| 5 | 17 | | FM | Mohamed, Anees M | IND | 2295 | India | 4 | | 4 | IM | Manish, Anto Cristiano F | IND | 2372 | India | | 10 |
| 6 | 18 | | IM | Avinash, Ramesh | IND | 2292 | India | 4 | | 4 | CM | Mayank, Chakraborty | IND | 2329 | India | | 14 |
| 7 | 21 | | | Srihari, L | IND | 2207 | India | 4 | | 4 | FM | Manon, Reja Neer | BAN | 2295 | Bangladesh | | 16 |
| 8 | 7 | | FM | Liyanage, Ranindu Dilshan | SRI | 2407 | Sri Lanka | 3½ | | 4 | | Alekhya, Mukhopadhyay | IND | 2149 | India | | 26 |
| 9 | 4 | | CM | Daakshin, Arun | IND | 2427 | India | 3½ | | 3½ | FM | Bizhigitov, Zhangir | KAZ | 2233 | Kazakhstan | | 20 |
| 10 | 41 | | | Sharnarthi, Viresh | IND | 1764 | India | 3½ | | 3½ | IM | Kushagra, Mohan | IND | 2410 | India | | 6 |
Round 6 Girls results
| | | | | | | | | | | | | | | | | |
| --- | --- | --- | --- | --- | --- | --- | --- | --- | --- | --- | --- | --- | --- | --- | --- | --- |
| Bo. | No. | | | Name | FED | Rtg | Pts. | Result | Pts. | | Name | FED | Rtg | | No. | PGN |
| 1 | 1 | | WIM | Nurgali, Nazerke | KAZ | 2268 | 4 | ½ - ½ | 4½ | | Tejaswini, G | IND | 1905 | | 11 | PGN |
| 2 | 2 | | WIM | Salonika, Saina | IND | 2140 | 4 | 0 - 1 | 4 | WCM | Bristy, Mukherjee | IND | 1858 | | 13 | PGN |
| 3 | 20 | | AFM | Shubhi, Gupta | IND | 1761 | 4 | ½ - ½ | 4 | WIM | Bommini, Mounika Akshaya | IND | 2096 | | 3 | PGN |
| 4 | 40 | | WCM | Kriti, Mayur Patel | IND | 1435 | 4 | 0 - 1 | 4 | | Mrittika, Mallick | IND | 2059 | | 5 | PGN |
| 5 | 10 | | | Rindhiya, V | IND | 1918 | 3½ | 0 - 1 | 3½ | | Keerti, Shree Reddy | IND | 1580 | | 32 | PGN |
| 6 | 12 | | WFM | Bhagyashree, Patil | IND | 1879 | 3 | ½ - ½ | 3½ | WIM | Mrudul, Dehankar | IND | 2059 | | 4 | PGN |
| 7 | 6 | | WIM | Sultanbek, Zeinep | KAZ | 2022 | 3 | ½ - ½ | 3 | WCM | Sanudula, K M Dahamdi | SRI | 1731 | | 22 | PGN |
| 8 | 24 | | | Dakshita, Kumawat | IND | 1690 | 3 | ½ - ½ | 3 | WFM | Jyothsna, L | IND | 1940 | | 7 | PGN |
| 9 | 26 | | | Vakcheri, Mohitha | IND | 1653 | 3 | 0 - 1 | 3 | | Kaldarova, Ayaulym | KAZ | 1933 | | 9 | PGN |
| 10 | 37 | | | Sherali, Pattnaik | IND | 1478 | 3 | 1 - 0 | 3 | WFM | Wadifa, Ahmed | BAN | 1833 | | 16 | PGN |
Standings after Round 6
| | | | | | | | | | | | | | | |
| --- | --- | --- | --- | --- | --- | --- | --- | --- | --- | --- | --- | --- | --- | --- |
| Rk. | SNo | | | Name | Typ | sex | FED | Rtg | Pts. | TB1 | TB2 | TB3 | TB4 | TB5 |
| 1 | 11 | | | Tejaswini, G | F16 | w | IND | 1905 | 5 | 19 | 22 | 0 | 1913 | 4 |
| 2 | 5 | | | Mrittika, Mallick | F16 | w | IND | 2059 | 5 | 18,5 | 21,5 | 0 | 1678 | 4 |
| 3 | 13 | | WCM | Bristy, Mukherjee | | w | IND | 1858 | 5 | 18,5 | 21 | 0 | 1638 | 4 |
| 4 | 20 | | AFM | Shubhi, Gupta | F16 | w | IND | 1761 | 4,5 | 20 | 22 | 0 | 1835 | 3 |
| 5 | 32 | | | Keerti, Shree Reddy | F16 | w | IND | 1580 | 4,5 | 19,5 | 22,5 | 0 | 1922 | 4 |
| 6 | 3 | | WIM | Bommini, Mounika Akshaya | | w | IND | 2096 | 4,5 | 19 | 22 | 0 | 1826 | 3 |
| 7 | 1 | | WIM | Nurgali, Nazerke | | w | KAZ | 2268 | 4,5 | 17,5 | 20 | 0 | 1743 | 3 |
| 8 | 2 | | WIM | Salonika, Saina | | w | IND | 2140 | 4 | 22 | 24,5 | 0 | 1795 | 3 |
| 9 | 35 | | | Patil, Divya | F16 | w | IND | 1496 | 4 | 20 | 22,5 | 0 | 1857 | 3 |
| 10 | 40 | | WCM | Kriti, Mayur Patel | F18 | w | IND | 1435 | 4 | 18,5 | 19,5 | 0 | 1859 | 4 |
Round 7 pairings
| | | | | | | | | | | | | | | | |
| --- | --- | --- | --- | --- | --- | --- | --- | --- | --- | --- | --- | --- | --- | --- | --- |
| Bo. | No. | | | Name | FED | Rtg | Pts. | Result | Pts. | | Name | FED | Rtg | | No. |
| 1 | 5 | | | Mrittika, Mallick | IND | 2059 | 5 | | 5 | | Tejaswini, G | IND | 1905 | | 11 |
| 2 | 13 | | WCM | Bristy, Mukherjee | IND | 1858 | 5 | | 4½ | AFM | Shubhi, Gupta | IND | 1761 | | 20 |
| 3 | 32 | | | Keerti, Shree Reddy | IND | 1580 | 4½ | | 4½ | WIM | Nurgali, Nazerke | KAZ | 2268 | | 1 |
| 4 | 3 | | WIM | Bommini, Mounika Akshaya | IND | 2096 | 4½ | | 4 | | Poorna, Sri M.K | IND | 1821 | | 17 |
| 5 | 9 | | | Kaldarova, Ayaulym | KAZ | 1933 | 4 | | 4 | WIM | Salonika, Saina | IND | 2140 | | 2 |
| 6 | 4 | | WIM | Mrudul, Dehankar | IND | 2059 | 4 | | 4 | WCM | Kriti, Mayur Patel | IND | 1435 | | 40 |
| 7 | 37 | | | Sherali, Pattnaik | IND | 1478 | 4 | | 4 | | Patil, Divya | IND | 1496 | | 35 |
| 8 | 24 | | | Dakshita, Kumawat | IND | 1690 | 3½ | | 3½ | WIM | Sultanbek, Zeinep | KAZ | 2022 | | 6 |
| 9 | 7 | | WFM | Jyothsna, L | IND | 1940 | 3½ | | 3½ | | Ivanova, Anastasia S. | FID | 1840 | | 15 |
| 10 | 22 | | WCM | Sanudula, K M Dahamdi | SRI | 1731 | 3½ | | 3½ | | Rindhiya, V | IND | 1918 | | 10 |
Links
---