Tata Steel Asian Junior 2023 R7: Rohith Krishna and Aswath join Grebnev at the top
FM Ayush Sharma held the top seed, IM Aleksey Grebnev to a draw at Tata Steel Asian Junior 2023 Open Round 7. IM S Rohith Krishna and Aswath S defeated FM Ritvik Krishnan and IM Gilbert Elroy Tarigan (INA) respectively to join the lead 5.5/7. Both Rohith and Aswath capitalized on their chances in the endgame. Rohith will face Grebnev and Aswath will be up against Manish in the penultimate round. In the Girls section, Tejaswini G won against Mrittika Mallick in a clash of the current National age group champions. WCM Bristy Mukherjee defeated Shubhi Gupta to maintain her lead. Tejaswini and Bristy will inevitably clash in Round 8 as they are the coleaders 6/7. Round 8 Open and Girls starts today from 9:30 a.m. IST. Photos: Himank Ghosh
Tejaswini and Bristy maintain their lead
Seven out of the top ten games ended decisively in each section of Round 7. That certainly speaks a lot about how the competition is heating up as the fight for the medal contention gets intense.
Rohith - Rithvik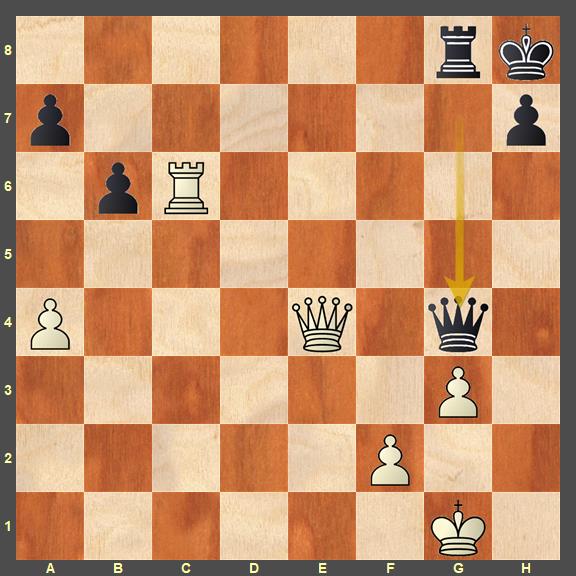 It was not an easy position to defend for FM Ritvik Krishnan (2062), considering the fact that his king is cornered. It reduced his options to move his queen and rook freely. Compared to that, White can keep improving his queen and rook's position until he gets what he wants. That is what IM S Rohith Krishna (2429) did. 40.Qe5+ Qg7 41.Rf6 Qg5 42.Qe7 Qc1+ 43.Kh2 Qg5 after repeating once 46.Qe6 Qg4 47.Rf5 White obviously does not want to trade queens Qg6 48.Qd7 Rg7 49.Rf8+ Rg8 50.Rf7 Qe4+ 51.Kh2 a5 52.Qd6 and it's over.
Aswath - Gilbert
First IM Gilbert Elroy Tarigan (INA, 2370) sacrificed his pawn 34...d4?! 35.exd4 Then he allowed the white rook to access e-file 35...Bc6 36.Re2. Aswath S (2335) gained another pawn and converted his advantage into a win comfortably.
Srihari - Sambit
IM Sambit Panda (2395) made a correct queen exchange for two rooks against IM Srihari L R (2444) 21...Qxd1+ 22.Qxd1 bxc5 23.Bxc5 Rfd8 24.Qa1? Rd2! 25.Bf3 Rad8 26.Be3 Nxe5! 27.Bg4 Nxg4 28.Bxd2 Rxd2 and White does not have much to go on.
Girls: Mrittika - Tejaswini: 0-1
In a battle of two National champions - reigning Sub-Junior Girls champion, Tejaswini G (1905) got the better of the current Under-17 Girls champion, Mrittika Mallick (2059).
Black offered her second pawn as a sacrifice to gain positional advantage. 32...b4! 33.Bxb4 g4 34.h4 Qe7 35.g3 Ba7 36.Bxc5 Bxc5 37.Rf1 Rd7 and things just slowly went out of hand for White.
Bristy - Shubhi
Shubhi Gupta (1761) advanced her king to the wrong part of the board. However, it was not over yet after 50.Nd7. Sure, Black is losing the b6-pawn and there is no way to defend it. Black needed to better her worst placed piece, which is the king. 50...Kg3 51.Nxb6 Kf2 52.Nd7 Bb4 was a way to continue the fight. 50...a4? 51.bxa4 Ba5 52.Nf8 Kg3 53.Ne6 and White won the game in the next few moves.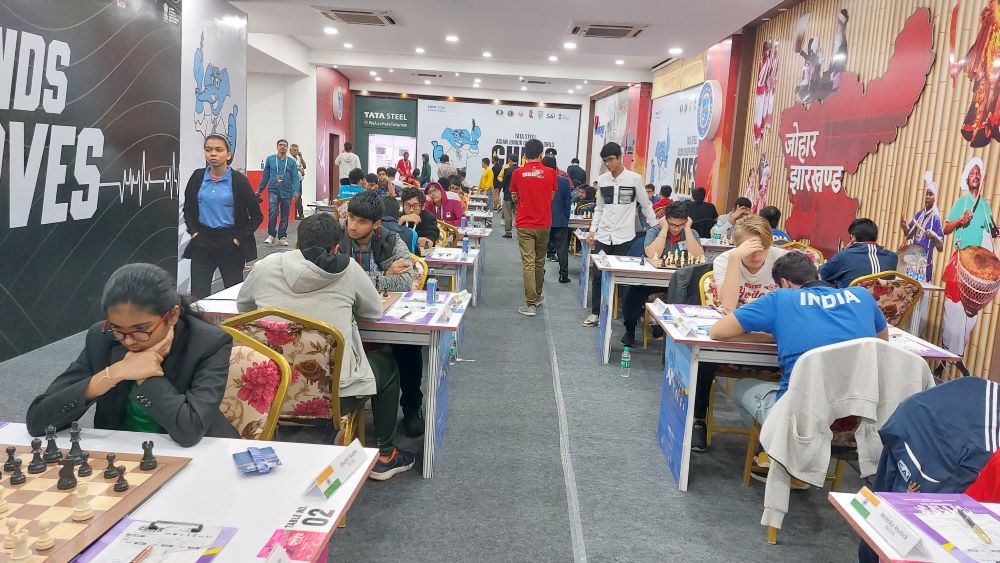 For more Round 7 photos, please click here.
Replay Round 7 Open games
Replay Round 7 Girls games
Schedule
Classical - Open and Girls from 9:30 a.m. IST from 10th to 15th September. There are double rounds on 10th and 12th September.
Blitz - Open and Girls on 15th September 2023 from 3 p.m. IST.
Time Control
Rapid: 10 minutes + 5 seconds increment
Classical: 90 minutes + 30 seconds increment
Blitz: 3 minutes + 2 seconds increment
Round 7 Open results
| | | | | | | | | | | | | | | | | | | |
| --- | --- | --- | --- | --- | --- | --- | --- | --- | --- | --- | --- | --- | --- | --- | --- | --- | --- | --- |
| Bo. | No. | | | Name | FED | Rtg | Club/City | Pts. | Result | Pts. | | Name | FED | Rtg | Club/City | | No. | PGN |
| 1 | 1 | | IM | Grebnev, Aleksey | FID | 2486 | FIDE | 5 | ½ - ½ | 4½ | FM | Ayush, Sharma | IND | 2371 | India | | 11 | PGN |
| 2 | 3 | | IM | Rohith, Krishna S | IND | 2429 | India | 4½ | 1 - 0 | 4½ | FM | Krishnan, Ritvik | IND | 2062 | India | | 27 | PGN |
| 3 | 13 | | FM | Aswath, S | IND | 2335 | India | 4½ | 1 - 0 | 4½ | IM | Tarigan, Gilbert Elroy | INA | 2370 | Indonesia | | 12 | PGN |
| 4 | 2 | | IM | Srihari, L R | IND | 2444 | India | 4½ | 0 - 1 | 4 | IM | Panda, Sambit | IND | 2395 | India | | 9 | PGN |
| 5 | 17 | | FM | Mohamed, Anees M | IND | 2295 | India | 4 | 0 - 1 | 4 | IM | Manish, Anto Cristiano F | IND | 2372 | India | | 10 | PGN |
| 6 | 18 | | IM | Avinash, Ramesh | IND | 2292 | India | 4 | ½ - ½ | 4 | CM | Mayank, Chakraborty | IND | 2329 | India | | 14 | PGN |
| 7 | 21 | | | Srihari, L | IND | 2207 | India | 4 | 1 - 0 | 4 | FM | Manon, Reja Neer | BAN | 2295 | Bangladesh | | 16 | PGN |
| 8 | 7 | | FM | Liyanage, Ranindu Dilshan | SRI | 2407 | Sri Lanka | 3½ | ½ - ½ | 4 | | Alekhya, Mukhopadhyay | IND | 2149 | India | | 26 | PGN |
| 9 | 4 | | CM | Daakshin, Arun | IND | 2427 | India | 3½ | 0 - 1 | 3½ | FM | Bizhigitov, Zhangir | KAZ | 2233 | Kazakhstan | | 20 | PGN |
| 10 | 41 | | | Sharnarthi, Viresh | IND | 1764 | India | 3½ | 0 - 1 | 3½ | IM | Kushagra, Mohan | IND | 2410 | India | | 6 | PGN |
Standings after Round 7
| | | | | | | | | | | |
| --- | --- | --- | --- | --- | --- | --- | --- | --- | --- | --- |
| Rk. | SNo | | | Name | Typ | sex | FED | Rtg | Club/City | TB1 |
| 1 | 1 | | IM | Grebnev, Aleksey | U18 | | FID | 2486 | FIDE | 5,5 |
| | 3 | | IM | Rohith, Krishna S | U18 | | IND | 2429 | India | 5,5 |
| | 13 | | FM | Aswath, S | U16 | | IND | 2335 | India | 5,5 |
| 4 | 9 | | IM | Panda, Sambit | | | IND | 2395 | India | 5 |
| | 10 | | IM | Manish, Anto Cristiano F | U18 | | IND | 2372 | India | 5 |
| | 11 | | FM | Ayush, Sharma | U18 | | IND | 2371 | India | 5 |
| | 21 | | | Srihari, L | | | IND | 2207 | India | 5 |
| 8 | 2 | | IM | Srihari, L R | U18 | | IND | 2444 | India | 4,5 |
| | 6 | | IM | Kushagra, Mohan | | | IND | 2410 | India | 4,5 |
| | 12 | | IM | Tarigan, Gilbert Elroy | | | INA | 2370 | Indonesia | 4,5 |
Round 8 pairings
| | | | | | | | | | | | | | | | | | |
| --- | --- | --- | --- | --- | --- | --- | --- | --- | --- | --- | --- | --- | --- | --- | --- | --- | --- |
| Bo. | No. | | | Name | FED | Rtg | Club/City | Pts. | Result | Pts. | | Name | FED | Rtg | Club/City | | No. |
| 1 | 3 | | IM | Rohith, Krishna S | IND | 2429 | India | 5½ | | 5½ | IM | Grebnev, Aleksey | FID | 2486 | FIDE | | 1 |
| 2 | 10 | | IM | Manish, Anto Cristiano F | IND | 2372 | India | 5 | | 5½ | FM | Aswath, S | IND | 2335 | India | | 13 |
| 3 | 9 | | IM | Panda, Sambit | IND | 2395 | India | 5 | | 5 | | Srihari, L | IND | 2207 | India | | 21 |
| 4 | 12 | | IM | Tarigan, Gilbert Elroy | INA | 2370 | Indonesia | 4½ | | 5 | FM | Ayush, Sharma | IND | 2371 | India | | 11 |
| 5 | 20 | | FM | Bizhigitov, Zhangir | KAZ | 2233 | Kazakhstan | 4½ | | 4½ | IM | Srihari, L R | IND | 2444 | India | | 2 |
| 6 | 6 | | IM | Kushagra, Mohan | IND | 2410 | India | 4½ | | 4½ | | Ajay, Santhosh Parvathareddy | IND | 2184 | India | | 22 |
| 7 | 14 | | CM | Mayank, Chakraborty | IND | 2329 | India | 4½ | | 4½ | FM | Krishnan, Ritvik | IND | 2062 | India | | 27 |
| 8 | 26 | | | Alekhya, Mukhopadhyay | IND | 2149 | India | 4½ | | 4½ | IM | Avinash, Ramesh | IND | 2292 | India | | 18 |
| 9 | 17 | | FM | Mohamed, Anees M | IND | 2295 | India | 4 | | 4 | FM | Liyanage, Ranindu Dilshan | SRI | 2407 | Sri Lanka | | 7 |
| 10 | 30 | | CM | Adireddy, Arjun | IND | 2057 | India | 4 | | 4 | FM | Zia, Tahsin Tajwar | BAN | 2321 | Bangladesh | | 15 |
Round 7 Girls results
| | | | | | | | | | | | | | | | | |
| --- | --- | --- | --- | --- | --- | --- | --- | --- | --- | --- | --- | --- | --- | --- | --- | --- |
| Bo. | No. | | | Name | FED | Rtg | Pts. | Result | Pts. | | Name | FED | Rtg | | No. | PGN |
| 1 | 5 | | | Mrittika, Mallick | IND | 2059 | 5 | 0 - 1 | 5 | | Tejaswini, G | IND | 1905 | | 11 | PGN |
| 2 | 13 | | WCM | Bristy, Mukherjee | IND | 1858 | 5 | 1 - 0 | 4½ | AFM | Shubhi, Gupta | IND | 1761 | | 20 | PGN |
| 3 | 32 | | | Keerti, Shree Reddy | IND | 1580 | 4½ | 0 - 1 | 4½ | WIM | Nurgali, Nazerke | KAZ | 2268 | | 1 | PGN |
| 4 | 3 | | WIM | Bommini, Mounika Akshaya | IND | 2096 | 4½ | 1 - 0 | 4 | | Poorna, Sri M.K | IND | 1821 | | 17 | PGN |
| 5 | 9 | | | Kaldarova, Ayaulym | KAZ | 1933 | 4 | ½ - ½ | 4 | WIM | Salonika, Saina | IND | 2140 | | 2 | PGN |
| 6 | 4 | | WIM | Mrudul, Dehankar | IND | 2059 | 4 | 1 - 0 | 4 | WCM | Kriti, Mayur Patel | IND | 1435 | | 40 | PGN |
| 7 | 37 | | | Sherali, Pattnaik | IND | 1478 | 4 | ½ - ½ | 4 | | Patil, Divya | IND | 1496 | | 35 | PGN |
| 8 | 24 | | | Dakshita, Kumawat | IND | 1690 | 3½ | 0 - 1 | 3½ | WIM | Sultanbek, Zeinep | KAZ | 2022 | | 6 | PGN |
| 9 | 7 | | WFM | Jyothsna, L | IND | 1940 | 3½ | 0 - 1 | 3½ | | Ivanova, Anastasia S. | FID | 1840 | | 15 | PGN |
| 10 | 22 | | WCM | Sanudula, K M Dahamdi | SRI | 1731 | 3½ | ½ - ½ | 3½ | | Rindhiya, V | IND | 1918 | | 10 | PGN |
Standings after Round 7
| | | | | | | | | | | | | | | |
| --- | --- | --- | --- | --- | --- | --- | --- | --- | --- | --- | --- | --- | --- | --- |
| Rk. | SNo | | | Name | Typ | sex | FED | Rtg | Pts. | TB1 | TB2 | TB3 | TB4 | TB5 |
| 1 | 11 | | | Tejaswini, G | F16 | w | IND | 1905 | 6 | 27,5 | 31 | 0 | 1934 | 5 |
| 2 | 13 | | WCM | Bristy, Mukherjee | | w | IND | 1858 | 6 | 25 | 28 | 0 | 1655 | 5 |
| 3 | 1 | | WIM | Nurgali, Nazerke | | w | KAZ | 2268 | 5,5 | 25 | 27,5 | 0 | 1720 | 4 |
| 4 | 3 | | WIM | Bommini, Mounika Akshaya | | w | IND | 2096 | 5,5 | 24,5 | 28 | 0 | 1826 | 4 |
| 5 | 5 | | | Mrittika, Mallick | F16 | w | IND | 2059 | 5 | 26,5 | 30 | 0 | 1711 | 4 |
| 6 | 4 | | WIM | Mrudul, Dehankar | | w | IND | 2059 | 5 | 23 | 26 | 0 | 1631 | 4 |
| 7 | 2 | | WIM | Salonika, Saina | | w | IND | 2140 | 4,5 | 30 | 33,5 | 0 | 1815 | 3 |
| 8 | 32 | | | Keerti, Shree Reddy | F16 | w | IND | 1580 | 4,5 | 29 | 32,5 | 0 | 1972 | 4 |
| 9 | 20 | | AFM | Shubhi, Gupta | F16 | w | IND | 1761 | 4,5 | 29 | 31,5 | 0 | 1838 | 3 |
| 10 | 35 | | | Patil, Divya | F16 | w | IND | 1496 | 4,5 | 27 | 30,5 | 0 | 1803 | 3 |
Round 8 pairings
| | | | | | | | | | | | | | | | |
| --- | --- | --- | --- | --- | --- | --- | --- | --- | --- | --- | --- | --- | --- | --- | --- |
| Bo. | No. | | | Name | FED | Rtg | Pts. | Result | Pts. | | Name | FED | Rtg | | No. |
| 1 | 11 | | | Tejaswini, G | IND | 1905 | 6 | | 6 | WCM | Bristy, Mukherjee | IND | 1858 | | 13 |
| 2 | 1 | | WIM | Nurgali, Nazerke | KAZ | 2268 | 5½ | | 5½ | WIM | Bommini, Mounika Akshaya | IND | 2096 | | 3 |
| 3 | 5 | | | Mrittika, Mallick | IND | 2059 | 5 | | 5 | WIM | Mrudul, Dehankar | IND | 2059 | | 4 |
| 4 | 2 | | WIM | Salonika, Saina | IND | 2140 | 4½ | | 4½ | | Sherali, Pattnaik | IND | 1478 | | 37 |
| 5 | 6 | | WIM | Sultanbek, Zeinep | KAZ | 2022 | 4½ | | 4½ | | Kaldarova, Ayaulym | KAZ | 1933 | | 9 |
| 6 | 35 | | | Patil, Divya | IND | 1496 | 4½ | | 4½ | | Ivanova, Anastasia S. | FID | 1840 | | 15 |
| 7 | 20 | | AFM | Shubhi, Gupta | IND | 1761 | 4½ | | 4½ | | Keerti, Shree Reddy | IND | 1580 | | 32 |
| 8 | 10 | | | Rindhiya, V | IND | 1918 | 4 | | 4 | | Khairmode, Dhanashree | IND | 1616 | | 29 |
| 9 | 12 | | WFM | Bhagyashree, Patil | IND | 1879 | 4 | | 4 | WCM | Sanudula, K M Dahamdi | SRI | 1731 | | 22 |
| 10 | 17 | | | Poorna, Sri M.K | IND | 1821 | 4 | | 4 | WCM | Kriti, Mayur Patel | IND | 1435 | | 40 |
Links
---