Will Pranav Venkatesh win 2nd Chessable Sunway Formentera 2023?
Pranav Venkatesh drew with Aryan Chopra to maintain his sole lead 7/9, heading into the final round of 2nd Chessable Sunway Formentera Open 2023. The reigning National Senior champion, Karthik Venkataraman maintained his sole second place 6.5/9 by sharing the point with India's first triple crown champion, Aravindh Chithambaram. IM Prraneeth Vuppala played fantastic chess to draw with the super strong Vladimir Fedoseev. It also secured his third GM-norm. Prraneeth is now 20.6 Elo rating points away from becoming India's next Grandmaster. It will be Pranav V vs Leon Luke Mendonca and Brandon Jacobson (USA) vs Karthik in Round 10 which starts today at 9 p.m. local time, 12:30 p.m. IST. Photo: Amruta Mokal
Prraneeth Vuppala scores his third GM-norm
GM Pranav Venkatesh has gained 67 Elo rating points this month alone combining four tournaments - Reykjavik Open, 49th La Roda Open, 2nd Menorca Open and this event 2nd Chessable Sunway Formentera Open. His ranks have been - tenth, third, second and this event is still on as he has one more game to play.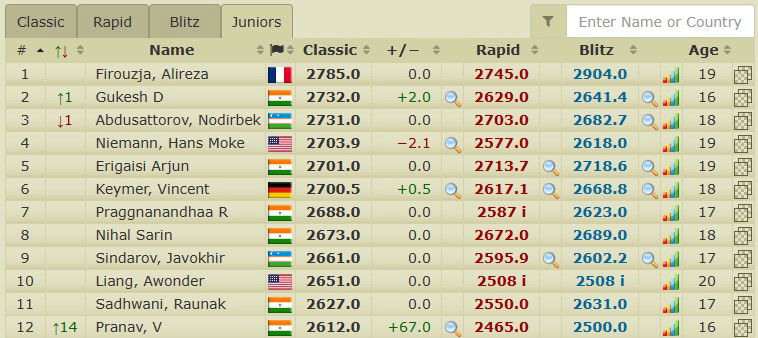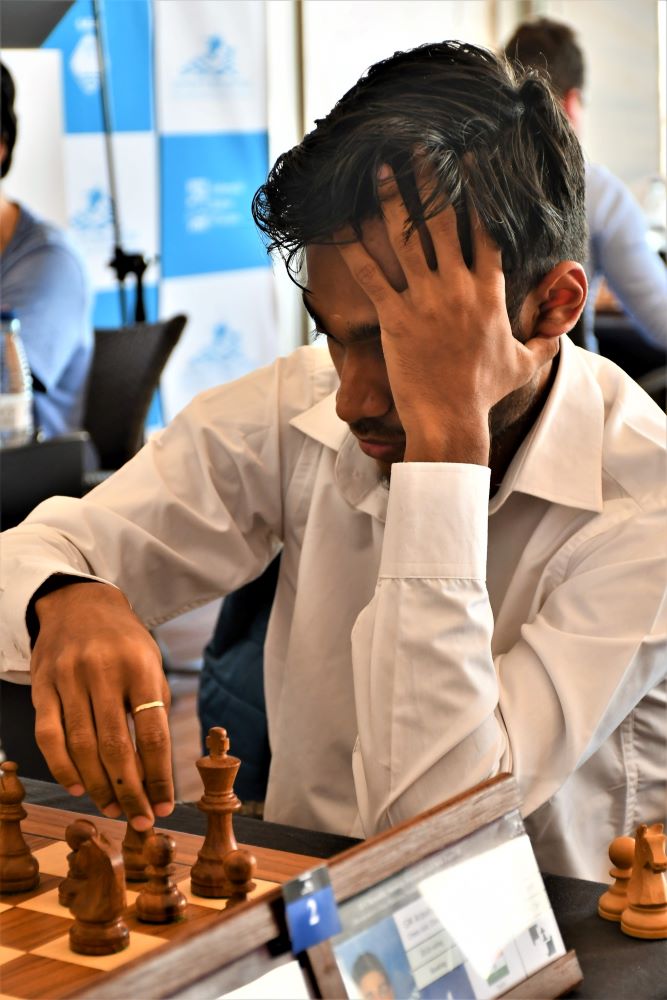 Fedoseev - Prraneeth
IM Prraneeth Vuppala (2437) generated great counterplay on the kingside against GM Vladimir Fedoseev (2674) after sacrificing his b-pawn. 40...Nh4 threatening Rxd2 and Nf3+ White was forced to play 41.f3 Qb4 42.gxh4 Rxd2 43.Rxd2 Rxd2 44.Qe4 Qb2 Black is making some checkmate threats 45.Qf4 protecting the h2-pawn exd5 46.Qxf7+ Qg7 47.Qe6 d4 48.e4 d3 and Prraneeth played really well to draw the major piece endgame.
A total of 57 players including 19 GMs, 11 IMs, 2 WGMs and 2 WIMs are taking part from 18 countries across the world in Group A (>1700). The eleven day ten-round Swiss League Rating tournament is organized by and at Hotel Club Sunway Punta Prima from 18th to 28th April 2023 in Spain. The time control of the tournament is 90 minutes/40 moves + 30 minutes + 30 seconds per move from the first move.
Replay Round 9 games
Round 9 results
Standings after Round 9
| | | | | | | | | | | | | |
| --- | --- | --- | --- | --- | --- | --- | --- | --- | --- | --- | --- | --- |
| Rk. | SNo | | | Name | sex | FED | Rtg | Club/City | Pts. | TB1 | TB2 | TB3 |
| 1 | 11 | | GM | Pranav, V | | IND | 2545 | | 7 | 41,5 | 45 | 35,25 |
| 2 | 14 | | GM | Karthik, Venkataraman | | IND | 2516 | | 6,5 | 43 | 44 | 32,50 |
| 3 | 4 | | GM | Aravindh, Chithambaram Vr. | | IND | 2607 | | 6 | 48 | 51,5 | 32,25 |
| 4 | 5 | | GM | Aryan, Chopra | | IND | 2607 | | 6 | 46,5 | 51,5 | 33,25 |
| 5 | 1 | | GM | Fedoseev, Vladimir | | FID | 2674 | | 6 | 45,5 | 49 | 30,25 |
| 6 | 25 | | IM | Prraneeth, Vuppala | | IND | 2437 | | 6 | 45 | 48,5 | 30,75 |
| 7 | 10 | | GM | Li, Di | | CHN | 2554 | | 6 | 43,5 | 47,5 | 29,75 |
| 8 | 6 | | GM | Mendonca, Leon Luke | | IND | 2596 | | 6 | 42,5 | 46,5 | 30,75 |
| 9 | 9 | | GM | Jacobson, Brandon | | USA | 2556 | | 6 | 41,5 | 45,5 | 29,25 |
| 10 | 27 | | | Chen, Peng | | CHN | 2425 | | 6 | 39,5 | 43 | 29,00 |
Round 10 pairings
Links
---