2nd Chessable Sunway Formentera R8: Pranav Venkatesh outplays Vladimir Fedoseev
Pranav Venkatesh outplayed Vladimir Fedoseev to emerge sole leader 6.5/8 at 2nd Chessable Sunway Formentera Open 2023. The World Rapid 2017 Silver medalist, sacrificed his bishop for two pawns in the Advance Caro-Kann. However, he was unable to gain enough compensation for it. Pranav seized his opportunity to grab a crucial pawn on his opponent's kingside and converted it into a win without any difficulty. The current National Senior champion, Karthik Venkataraman defeated the Belgium no.1, Daniel Dardha to move to sole second spot 6/8, a half point behind Pranav. IM Prraneeth Vuppala won against GM Daniel Alsina Leal (ESP) to move to 5.5/8. It will be Aryan vs Pranav V, Karthik vs Aravindh and Fedoseev vs Prraneeth on the top three boards of Round 9 starting today at 3 p.m. local time, 6:30 p.m. IST. Photo: Sunway Chess Open
Karthik ascends to the top
GM Aravindh Chithambaram bounced back with a victory over GM Hipolito Asis Gargatagli (ESP). IM Kushagra Mohan drew with GM Aditya Mittal and IM Sambit Panda defeated GM Harmen Jonkman (NED).
Pranav Venkatesh - Fedoseev
GM Vladimir Fedoseev (2674) sacrificed his bishop for two pawns 14...Bxc5 15.dxc5 Nxc5 16.Qe2 d4 17.Nd1 d3 18.Qf2 Ne4 19.Qxa7 White recovered one of the two pawns.
26...Rfc8 gave up the support of the f7-pawn 27.Rd7 Qc4 28.Qa7 and now Black cannot defend it without conceding material. Fedoseev ignored protecting the pawn as now it was too little to late to make an attempt of saving it. 28...Qe2 29.Rxf7 Qg4 30.Rd7 and White gained a decisive advantage. Almost anything works here.
Dardha - Karthik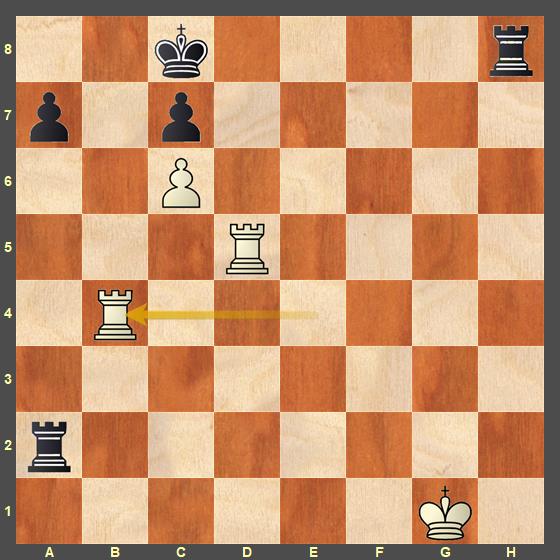 Reigning National Senior champion, GM Karthik Venkataraman (2516) is someone whom you don't want to face at the second half of the tournament because generally he plays at a much stronger level than the first half. This event is no different either. Belgium no.1 GM Daniel Dardha (2625) made a minute inaccuracy 39.Rb4. Black gave a couple of checks to improve his rook's position and cross the first time control simultaneously 39...Rg8+ 40.Kf1 Rf8+ 41.Kg1 Ra6 42.Rc5. The key difference is now 42.Rb7 Rxc6 43.Rxa7 does not work as Black has checkmate threats. 42...Rf6 43.Rg5 White decided to abandon the pawn for active play, instead of going for the passive 43.Rbc4 Rb6 which would have had the same result eventually. 43...Raxc6 44.Rg8+ Kd7 45.Rg7+ Kd6 and Black had no trouble converting his advantage into a win.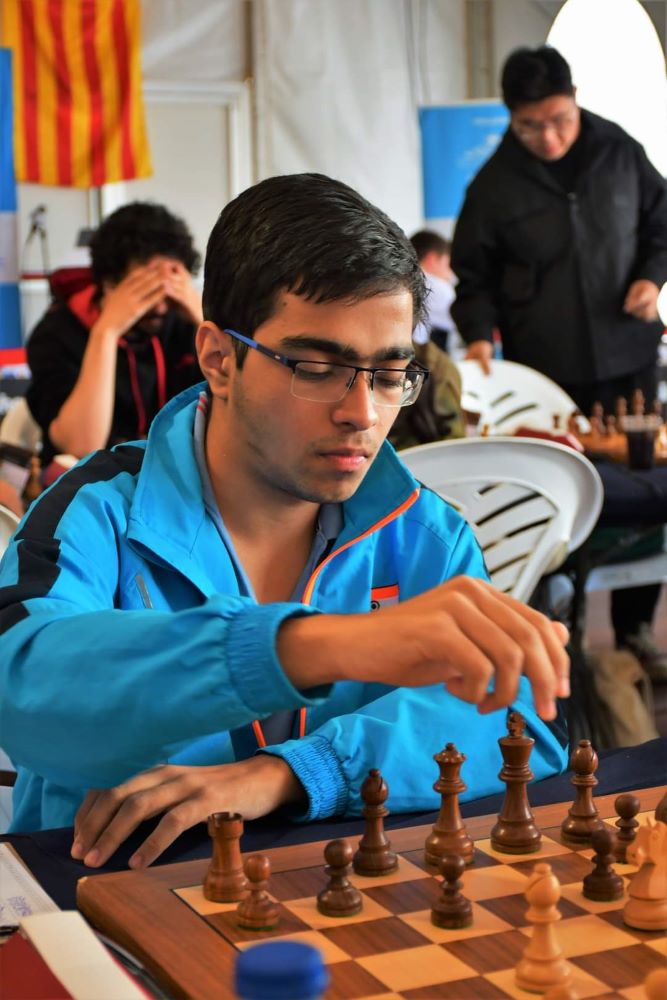 A total of 57 players including 19 GMs, 11 IMs, 2 WGMs and 2 WIMs are taking part from 18 countries across the world in Group A (>1700). The eleven day ten-round Swiss League Rating tournament is organized by and at Hotel Club Sunway Punta Prima from 18th to 28th April 2023 in Spain. The time control of the tournament is 90 minutes/40 moves + 30 minutes + 30 seconds per move from the first move.
Replay Round 8 games
Round 8 results
Standings after Round 8
| | | | | | | | | | | | | |
| --- | --- | --- | --- | --- | --- | --- | --- | --- | --- | --- | --- | --- |
| Rk. | SNo | | | Name | sex | FED | Rtg | Club/City | Pts. | TB1 | TB2 | TB3 |
| 1 | 11 | | GM | Pranav, V | | IND | 2545 | | 6,5 | 33,5 | 36,5 | 29,50 |
| 2 | 14 | | GM | Karthik, Venkataraman | | IND | 2516 | | 6 | 34 | 37 | 26,25 |
| 3 | 4 | | GM | Aravindh, Chithambaram Vr. | | IND | 2607 | | 5,5 | 37,5 | 40,5 | 26,00 |
| 4 | 1 | | GM | Fedoseev, Vladimir | | FID | 2674 | | 5,5 | 35,5 | 39 | 24,50 |
| 5 | 5 | | GM | Aryan, Chopra | | IND | 2607 | | 5,5 | 35 | 39 | 25,75 |
| 6 | 10 | | GM | Li, Di | | CHN | 2554 | | 5,5 | 34 | 38 | 25,00 |
| 7 | 25 | | IM | Prraneeth, Vuppala | | IND | 2437 | | 5,5 | 33,5 | 35,5 | 23,00 |
| 8 | 9 | | GM | Jacobson, Brandon | | USA | 2556 | | 5,5 | 32 | 35,5 | 23,25 |
| 9 | 6 | | GM | Mendonca, Leon Luke | | IND | 2596 | | 5 | 34 | 38 | 23,25 |
| 10 | 21 | | GM | Raja, Rithvik R | | IND | 2472 | | 5 | 33,5 | 36 | 21,25 |
Round 9 pairings
Links
---