2nd Chessable Sunway Formentera R7: Pranav Venkatesh wins a 105-move marathon against Aravindh
Pranav Venkatesh ended Aravindh Chithambaram's 34-game unbeaten streak which he achieved in 2023. He managed to endure a difficult position where only Aravindh could make a breakthrough which he did. The teenager waited with bated breath for his opportunity. When it arose, Pranav struck and scored a full point. Aryan Chopra suffered a loss against the super-strong Vladimir Fedoseev. First, he made an incorrect decision in the endgame which created some practical chances for Fedoseev. Later he missed his last opportunity in the final stage of the rook and few pawns endgame. Pranav and Fedoseev are currently the coleaders at 5.5/7 each. Round 8 starts today at 3 p.m. local time, 6:30 p.m. IST. Photo: Patricia Claros Aguilar
No less than 97 moves
Beating Aravindh Chithambaram in a Classical game is no easy task. Considering the position that was on the board, Pranav Venkatesh showed his true grit against someone who is equally gritty as well when it comes to tournament games. This win certainly shows that Pranav can easily overcome a first-round loss. One should not forget that he had already won the first Blitz event, a week ago on 19th April.
Fedoseev - Aryan
GM Aryan Chopra (2607) found himself in a complex rook and minor piece endgame where he was down by a pawn against GM Vladimir Fedoseev (2674). Black had to find 47...Rg3 which would have been easier to draw the game. The key difference between 47...Ke7 and 47...Rg3 is, Black not only exchanges the kingside pawn but also the minor pieces. Thus, the knight is unable to cause further trouble which is what happened in the game. The lack of space, suffocated the bishop soon.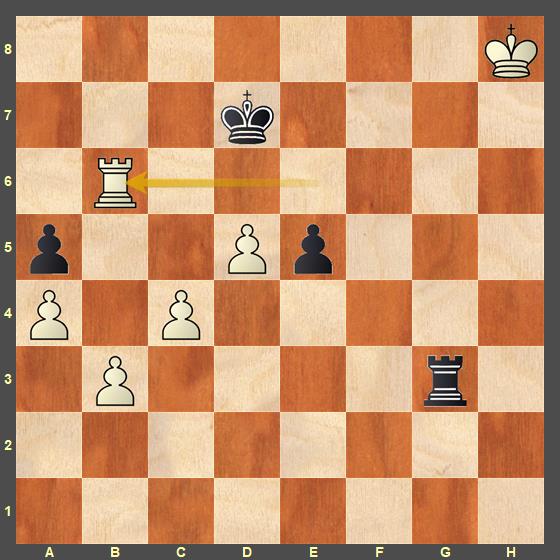 Yes, Black is two pawns behind and it seems like White is winning. Yet, there is a way for Black to save the game. One last chance. What was it? The game continued 76...Kc7 77.c5 Rc3 78.d6+ and White went on to win the game.
Aravindh - Pranav Venkatesh
GM Aravindh Chithambaram (2607) got a stronghold against GM Pranav Venkatesh (2545). His king is well-placed on d3 and it certainly does not seem like White is going to lose the game.
If anyone could win from the above position, it has to be White. Only White had the opportunity to break the position and create something. 81.e5 dxe5 82.d6 Qf8 83.Be4 exf4 84.Bd5 Ne5 now here 85.Be6 would have maintained the grip for White. 85.Bxf7 loosened it Qxf7 86.Qe4 b5! Black is back in the game. 87.Rgg1 further worsened White's position bxa4+ 88.Ka2 f3. 88...Nxc4 would have ended things much sooner.
A total of 57 players including 19 GMs, 11 IMs, 2 WGMs and 2 WIMs are taking part from 18 countries across the world in Group A (>1700). The eleven day ten-round Swiss League Rating tournament is organized by and at Hotel Club Sunway Punta Prima from 18th to 28th April 2023 in Spain. The time control of the tournament is 90 minutes/40 moves + 30 minutes + 30 seconds per move from the first move.
Replay Round 7 games
Round 7 results
Standings after Round 7
| | | | | | | | | | | | | |
| --- | --- | --- | --- | --- | --- | --- | --- | --- | --- | --- | --- | --- |
| Rk. | SNo | | | Name | sex | FED | Rtg | Club/City | Pts. | TB1 | TB2 | TB3 |
| 1 | 1 | | GM | Fedoseev, Vladimir | | FID | 2674 | | 5,5 | 25,5 | 28 | 21,00 |
| 2 | 11 | | GM | Pranav, V | | IND | 2545 | | 5,5 | 24,5 | 27,5 | 21,00 |
| 3 | 5 | | GM | Aryan, Chopra | | IND | 2607 | | 5 | 27 | 30,5 | 20,50 |
| 4 | 14 | | GM | Karthik, Venkataraman | | IND | 2516 | | 5 | 26 | 28 | 18,50 |
| 5 | 10 | | GM | Li, Di | | CHN | 2554 | | 5 | 24,5 | 28 | 19,25 |
| 6 | 4 | | GM | Aravindh, Chithambaram Vr. | | IND | 2607 | | 4,5 | 28,5 | 31,5 | 18,75 |
| 7 | 25 | | IM | Prraneeth, Vuppala | | IND | 2437 | | 4,5 | 26 | 27,5 | 16,25 |
| 8 | 6 | | GM | Mendonca, Leon Luke | | IND | 2596 | | 4,5 | 25,5 | 29,5 | 18,75 |
| 9 | 16 | | GM | Xu, Yi | | CHN | 2505 | | 4,5 | 25,5 | 28 | 17,00 |
| 10 | 2 | | GM | Dardha, Daniel | | BEL | 2625 | SK Moretus Hoboken | 4,5 | 25,5 | 27,5 | 16,75 |
Round 8 pairings
Links
---