2nd Chessable Sunway Formentera R4: A beautiful day to Sac the Queen
GM Aravindh Chithambaram scored a beautiful victory by offering his queen as a sacrifice. The win allowed him to join the lead with GM Aryan Chopra 3.5/4 at 2nd Chessable Sunway Formentera Open 2023. The reigning National Senior champion, GM Karthik Venkataraman had a couple of good chances against GM Vladimir Fedoseev before he managed to escape with a draw. Speaking of chances, FM Ritvik Krishnan and IM Aditya S Samant missed some great opportunities to beat GM Fernando Peralta (ARG) and GM Leon Luke Mendonca, both drew their games and are now at 3/4 and 2.5/4 each respectively. Aravindh and Aryan will inevitably clash against each other in Round 5 which starts today at 3 p.m. local time, 6:30 p.m. IST. Photo: Patricia Claros Aguilar
Ten players at 3/4
Among the pursuers, six out of ten players are Indians. They are - FM Ritvik Krishnan, GM Raja Rithvik R, GM Karthik Venkataraman, GM Pranav Anand, GM Pranav Venkatesh and GM Aditya Mittal.
Brandon - Aravindh
GM Brandon Jacobson (USA, 2556) made a huge mistake by accepting the knight sacrifice 23.bxa4 which weakened his king further. 23...Rfc8 24.Kd2 Qb3!!
White cannot take it as 25.axb3 Nxb3#. So he went 25.Rc1 Qxa3 26.Rc2 Nxd3 and Black won.
Fernando - Ritvik
FM Ritvik Krishnan (2004) drew a back and forth game against GM Fernando Peralta (ARG, 2592). The best opportunity to win the game was in the above position when White played 62.Re5. Try to find what Black missed here.
Aditya Samant - Leon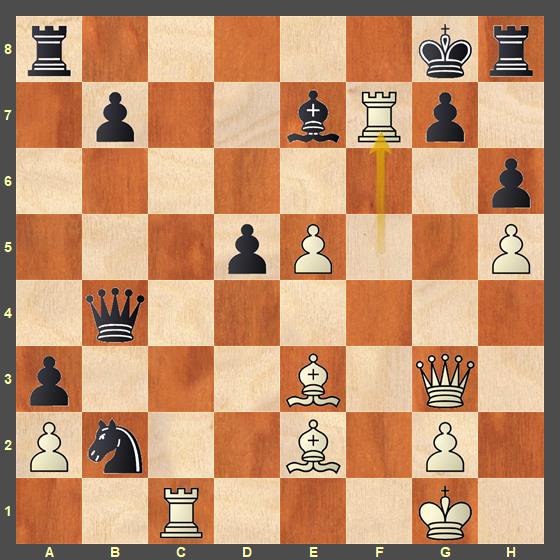 IM Aditya S Samant (2496) is a very strong player. He crossed 2500 in the live ratings at Kenya Open, earlier this month and now a final norm away from becoming India's latest GM. He had GM Leon Luke Mendonca (2596) on the ropes. White executed the correct sacrifice 26.Rxf7! Kxf7 27.Qg6+ Kg8 28.Bg4 Qxg4 29.Qxg4 Nc4 30.Qe6+ Kh7 31.Qf5+ Kg8 after repeating the check once, White made the mistake of losing his bishop 33.Bxh6 Ra6 and Leon made an incredible save. What White needed to do was 31.Qg6+ Kg8 32.Bd4 and put the bishop on the long diagonal to gain some more material and win the game comfortably.
The 40th move conundrum to reach the second time control, struck White. 41.Qd5+ would have still been enough to win. Leon found the correct resource 40...Rxh5+ 41.gxh5 Rxh5 42.Kg2 Rg5+ and now White is unable to move his king safely to the f-file without avoiding the loss of material. Thus, he had to settle for a draw 43.Kh2 Rh5+ 44.Qh3 Bd4 45.Qxh5 gxh5 46.Rxc4 Bxe5+ and draw became the obvious result.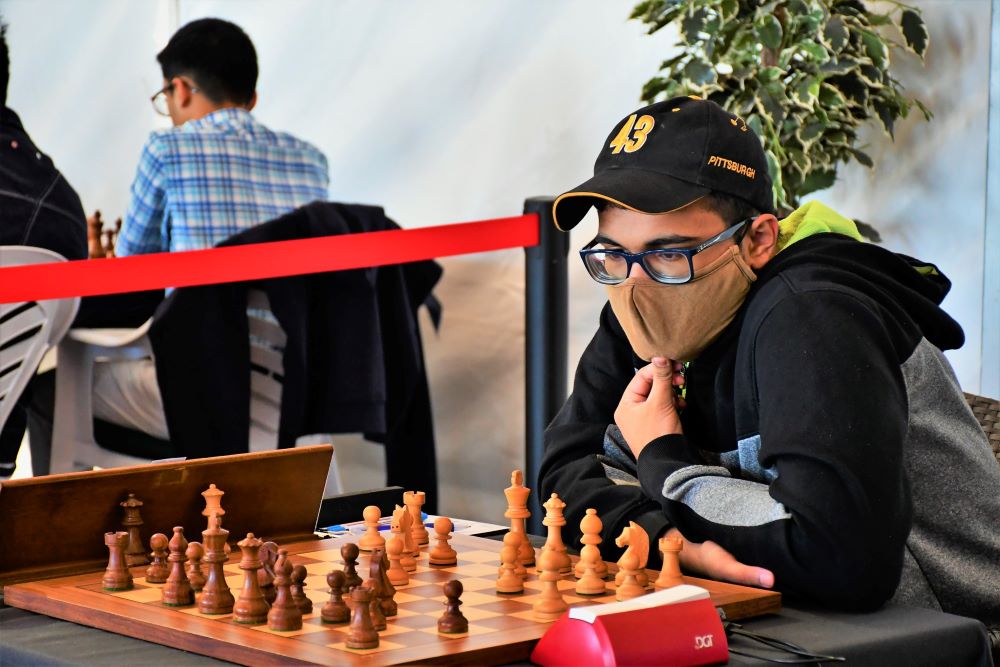 A total of 57 players including 19 GMs, 11 IMs, 2 WGMs and 2 WIMs are taking part from 18 countries across the world in Group A (>1700). The eleven day ten-round Swiss League Rating tournament is organized by and at Hotel Club Sunway Punta Prima from 18th to 28th April 2023 in Spain. The time control of the tournament is 90 minutes/40 moves + 30 minutes + 30 seconds per move from the first move.
Replay Round 4 games
Round 4 results
Standings after Round 4
| | | | | | | | | | | | | |
| --- | --- | --- | --- | --- | --- | --- | --- | --- | --- | --- | --- | --- |
| Rk. | SNo | | | Name | sex | FED | Rtg | Club/City | Pts. | TB1 | TB2 | TB3 |
| 1 | 5 | | GM | Aryan, Chopra | | IND | 2607 | | 3,5 | 7 | 9 | 7,50 |
| 2 | 4 | | GM | Aravindh, Chithambaram Vr. | | IND | 2607 | | 3,5 | 6,5 | 8,5 | 7,50 |
| 3 | 55 | | FM | Krishnan, Ritvik | | IND | 2004 | | 3 | 8,5 | 11 | 8,00 |
| 4 | 7 | | GM | Peralta, Fernando | | ARG | 2592 | Escola d'Escacs de Barcelona | 3 | 8 | 10 | 7,00 |
| 5 | 2 | | GM | Dardha, Daniel | | BEL | 2625 | SK Moretus Hoboken | 3 | 8 | 9 | 6,25 |
| 6 | 21 | | GM | Raja, Rithvik R | | IND | 2472 | | 3 | 7,5 | 8,5 | 5,75 |
| 7 | 14 | | GM | Karthik, Venkataraman | | IND | 2516 | | 3 | 7,5 | 8,5 | 5,50 |
| 8 | 12 | | GM | Pranav, Anand | | IND | 2525 | All India Chess Federation | 3 | 7 | 9 | 6,50 |
| 9 | 3 | | GM | Bernadskiy, Vitaliy | | UKR | 2619 | | 3 | 7 | 8,5 | 6,25 |
| 10 | 1 | | GM | Fedoseev, Vladimir | | FID | 2674 | | 3 | 7 | 8,5 | 5,75 |
Round 5 pairings
Links
---