2nd Chessable Sunway Formentera R6: Aryan Chopra regains sole lead
Aryan Chopra defeated Raja Rithvik R to regain his sole lead. Aravindh Chithambaram and Pranav Venkatesh drew with Vladimir Fedoseev and Karthik Venkataraman respectively. IM Prraneeth Vuppala scored an impressive win over the World Under-16 champion, GM Pranav Anand. IM Vaishali drew with GM Xu Yi (CHN). Aravindh, Fedoseev and Pranav V are in pursuit at 4.5/6 each. Karthik finished third in the second Blitz event on 23rd April, scoring 7/9. Vitaliy Bernadskiy (UKR) and Daniel Dardha (BEL) scored 7.5/9 each. They were placed first and second respectively. Aryan will face Fedoseev at the top board in the seventh round which starts today at 3 p.m. local time, 6:30 p.m. IST. Photo: Patricia Claros Aguilar
Prraneeth scores an impressive win over Pranav Anand
Aryan - Raja Rithvik
GM Aryan Chopra (2607) played 21.d6 to keep the bishop pair on the board. 21...Rxb1 22.Rxb1 Bh6 is what the computer recommends being balanced. GM Raja Rithvik R (2472) opted for 21...Nd7? 22.Bh3 Red8 23.Bxd7 Rxb1 24.Rxb1 Rxd7 25.Rb6 d3 26.Rxa6 Nb7 27.Ra7 the d6-pawn is tactically defended. Eventually the passed d-pawn played a crucial role in White earning the victory.
Prraneeth - Pranav Anand
IM Prraneeth Vuppala (2437) made a positional squeeze against GM Pranav Anand (2525). White already had a space advantage on the queenside. He increased it further 26.c4, 27.c5. Black's crippled pieces could not save the game. White is positionally winning in the above diagram and he had no trouble converting it into a win.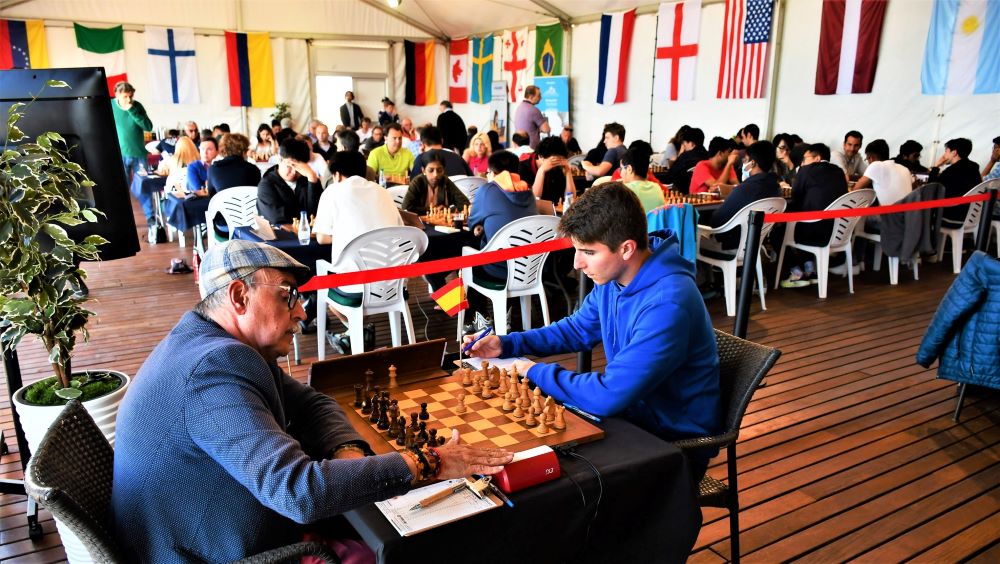 A total of 57 players including 19 GMs, 11 IMs, 2 WGMs and 2 WIMs are taking part from 18 countries across the world in Group A (>1700). The eleven day ten-round Swiss League Rating tournament is organized by and at Hotel Club Sunway Punta Prima from 18th to 28th April 2023 in Spain. The time control of the tournament is 90 minutes/40 moves + 30 minutes + 30 seconds per move from the first move.
Replay Round 6 games
Round 6 results
Standings after Round 6
| | | | | | | | | | | | | |
| --- | --- | --- | --- | --- | --- | --- | --- | --- | --- | --- | --- | --- |
| Rk. | SNo | | | Name | sex | FED | Rtg | Club/City | Pts. | TB1 | TB2 | TB3 |
| 1 | 5 | | GM | Aryan, Chopra | | IND | 2607 | | 5 | 19 | 22 | 17,75 |
| 2 | 4 | | GM | Aravindh, Chithambaram Vr. | | IND | 2607 | | 4,5 | 20,5 | 23,5 | 17,00 |
| 3 | 1 | | GM | Fedoseev, Vladimir | | FID | 2674 | | 4,5 | 17,5 | 20 | 14,00 |
| 4 | 11 | | GM | Pranav, V | | IND | 2545 | | 4,5 | 16,5 | 19,5 | 14,50 |
| 5 | 2 | | GM | Dardha, Daniel | | BEL | 2625 | SK Moretus Hoboken | 4 | 20 | 21,5 | 13,50 |
| 6 | 6 | | GM | Mendonca, Leon Luke | | IND | 2596 | | 4 | 19 | 22,5 | 14,75 |
| 7 | 14 | | GM | Karthik, Venkataraman | | IND | 2516 | | 4 | 19 | 21 | 12,75 |
| 8 | 25 | | IM | Prraneeth, Vuppala | | IND | 2437 | | 4 | 19 | 20,5 | 12,25 |
| 9 | 21 | | GM | Raja, Rithvik R | | IND | 2472 | | 4 | 19 | 20,5 | 12,00 |
| 10 | 9 | | GM | Jacobson, Brandon | | USA | 2556 | | 4 | 18,5 | 21 | 12,75 |
Round 7 pairings
Links
---