2nd Chessable Sunway Formentera R2: Prraneeth Vuppala beats Li Di
IM Prraneeth Vuppala scored an impressive win over GM Li Di (CHN) in the second round of 2nd Chessable Sunway Formentera Open 2023. The Chinese had trouble getting his kingside rook into the play for the entire game. In the end, he had to pay a price for it by losing the game. Prraneeth is now one of the eight players to have a made a perfect start 2/2. GM Aryan Chopra and the reigning National Senior champion, GM Karthik Venkataraman are the remaining two Indians among the pack. IM Kushagra Mohan had a good opportunity to beat the current World Under-16 Open champion, GM Pranav Anand. However, practically it was not so easy to convert. FM Mahitosh Dey and FM Ritvik Krishnan drew with GM Hipolito Asis Gargatagli (ESP) and GM Vitaliy Bernadskiy (UKR) each respectively. Round 3 starts today at 3 p.m. local time, 6:30 p.m. IST. Photo: Patricia Claros Aguilar
Kushagra, Mahitosh and Ritvik draw with GMs
After Round 2 got over, there was a Blitz event. Third seeded GM Pranav Venkatesh scored 8/9 and finished a full point ahead to win the event. We will mention it in detail in a separate report.
Prraneeth - Li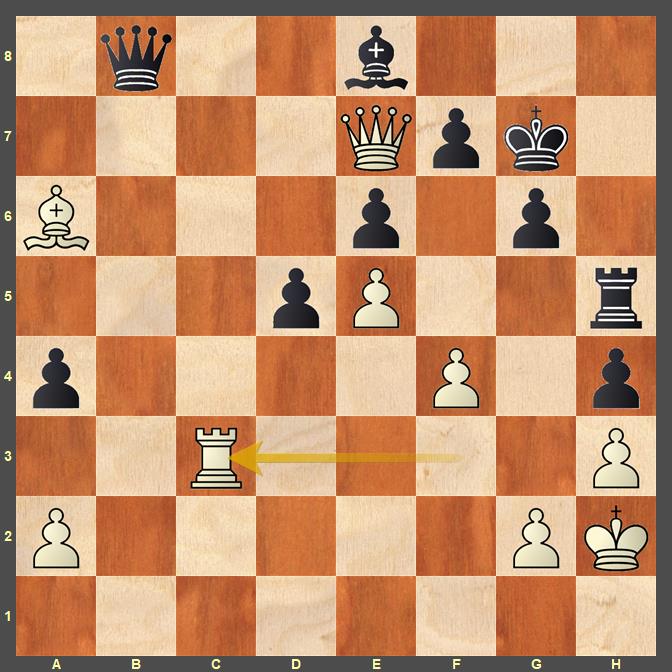 GM Li Di (CHN, 2554) had trouble getting the rook into play right out of the opening against IM Prraneeth Vuppala (2437). 39...Rh8 just ended the game for him 40.Rc8 Qb6 41.Qf6+ Kh7 42.Qxh4+ Kg7 43.Qf6+ Kh7 44.Rxe8 and Black resigned.
Raja Rithvik - Leon
GM Raja Rithvik R (2472) opted for a bishop vs double bishop endgame where he had three pawns for his opponent, GM Leon Luke Mendonca's (2596) extra bishop. It was a drawn endgame from the 61st move after the queens got traded. However, White made an attempt to push for a win 90.e4. It was actually a fatal mistake. Luckily for him, his opponent did not notice and he played 90...dxe4. The winning continuation was 90...Bg6 pinning the e4-pawn. 91.Ba4 Bxe4 92.Bxc6 Bg6 and White does not get to promote any of this center pawns.
Kushagra - Pranav Anand
IM Kushagra Mohan (2400) had a decisive advantage for the better part of the endgame against GM Pranav Anand (2525). However, practically it was not easy to convert it into a win. 79.f6 allowed his opponent to find a cute finish Rd4+! 80.Kxd4 and it's a stalemate. The game would have ended in a draw anyway even if White had decided not to take the rook.
A total of 57 players including 19 GMs, 11 IMs, 2 WGMs and 2 WIMs are taking part from 18 countries across the world in Group A (>1700). The eleven day ten-round Swiss League Rating tournament is organized by and at Hotel Club Sunway Punta Prima from 18th to 28th April 2023 in Spain. The time control of the tournament is 90 minutes/40 moves + 30 minutes + 30 seconds per move from the first move.
Replay Round 2 games
Round 2 results
Round 3 pairings
Links
---