2nd Chessable Sunway Formentera R3: Aryan Chopra emerges sole leader
GM Aryan Chopra scored his third consecutive victory to become the sole leader at 2nd Chessable Sunway Formentera Open 2023. He defeated GM Daniel Alsina Leal (ESP) convincingly. First he transferred his king from kingside to the queenside, before liquidating into a winning a rook endgame. FM Ritvik Krishnan scored an excellent win against GM Hipolito Asis Gargatagli (ESP). The GM could not manage to gain enough compensation for the sacrificed knight against the teenager. Ritvik, GM Aravindh Chithambaram and GM Karthik Venkataraman are trailing the leader by a half point at 2.5/3 each. Round 4 starts today at 3 p.m. local time, 6:30 p.m. IST. Photo: 2nd Menorca Chess Open 2023
Ritvik Krishnan makes an impressive start
FM Ritvik Krishnan is the sole non IM/GM player among the top 25 who is undefeated with a score 2.5/3. IM Kushagra Mohan drew with GM Xu Yi (CHN), after Kushagra made some grave mistakes in the pawn endgame and eventually saved the day.
Alsina Leal - Aryan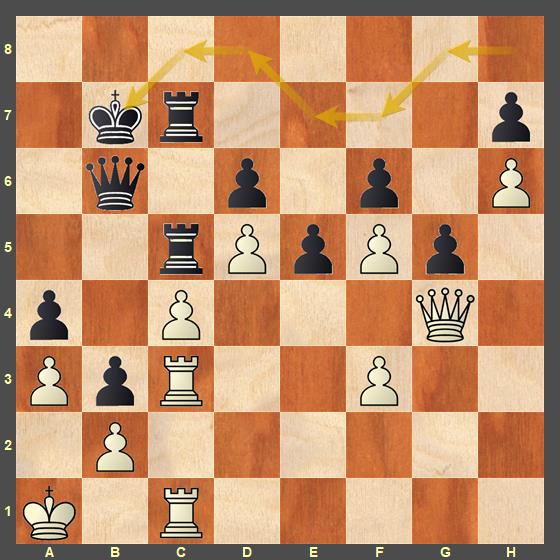 GM Aryan Chopra (2607) transferred his king from the kingside to the queenside via h8, g8, f7, e7, d8, c8 and b7. GM Daniel Alsina Leal (ESP, 2520) had a slightly inferior pawn structure and weaknesses on c4 and h6. 41.Qg1 Rc8 42.Kb1? R5c7! Black forces queen exchange. If White wants to avoid it, the queen will invade via d4 and try to gain White's weak pawns. 43.Qxb6+ Kxb6 44.Ka1 e4! the theory of two weaknesses. White had one weakness at c4. However, it was not easy to exploit without creating another and simultaneously opening up another file. 45.fxe4 Rxe4 46.c5+ Rxc5 47.Rxc5 dxc5 48.Re1 g4 49.Kb1 c4 50.Kc1 Kc5 and Black won the game in the next few moves.
Pranav Anand - Raja Rithvik
GM Pranav Anand (2525) escaped a loss for the second consecutive game. GM Raja Rithvik R (2472) was on the better side compared to his previous round encounter. The game ended in a draw via threefold repetition 48...Kf7 49.Rg1 Ke6 50.Rg6+ Kf7 51.Rg1 Ke6. Find out what did Black miss in the final moments and how he could have avoided repetition to push for a win.
Ritvik - Hipolito
GM Hipolito Asis Gargatagli (ESP, 2511) made a sound sacrifice 18...cxd5 to expose the white king. However, he was unable to follow through correctly and his opponent, FM Ritvik Krishnan (2004) handled it quite well. 19.axb4 axb4 20.Nxd5 Nxd5 21.cxd5 Qc7+. Here computer recommends 21...Bd7 and use the rooks on the open c and e-file. Black could not get enough compensation for the rest of the game and went on to lose eventually.
A total of 57 players including 19 GMs, 11 IMs, 2 WGMs and 2 WIMs are taking part from 18 countries across the world in Group A (>1700). The eleven day ten-round Swiss League Rating tournament is organized by and at Hotel Club Sunway Punta Prima from 18th to 28th April 2023 in Spain. The time control of the tournament is 90 minutes/40 moves + 30 minutes + 30 seconds per move from the first move.
Replay Round 3 games
Round 3 results
Standings after Round 3
| | | | | | | | | | | | | |
| --- | --- | --- | --- | --- | --- | --- | --- | --- | --- | --- | --- | --- |
| Rk. | SNo | | | Name | sex | FED | Rtg | Club/City | Pts. | TB1 | TB2 | TB3 |
| 1 | 5 | | GM | Aryan, Chopra | | IND | 2607 | | 3 | 4 | 5 | 5,00 |
| 2 | 7 | | GM | Peralta, Fernando | | ARG | 2592 | Escola d'Escacs de Barcelona | 2,5 | 4,5 | 5,5 | 4,25 |
| 3 | 4 | | GM | Aravindh, Chithambaram Vr. | | IND | 2607 | | 2,5 | 4 | 5 | 4,00 |
| 4 | 9 | | GM | Jacobson, Brandon | | USA | 2556 | | 2,5 | 4 | 5 | 3,75 |
| 5 | 2 | | GM | Dardha, Daniel | | BEL | 2625 | SK Moretus Hoboken | 2,5 | 4 | 4,5 | 3,50 |
| 6 | 1 | | GM | Fedoseev, Vladimir | | FID | 2674 | | 2,5 | 3,5 | 5 | 4,00 |
| | 55 | | FM | Krishnan, Ritvik | | IND | 2004 | | 2,5 | 3,5 | 5 | 4,00 |
| 8 | 14 | | GM | Karthik, Venkataraman | | IND | 2516 | | 2,5 | 3,5 | 4,5 | 3,25 |
| 9 | 8 | | GM | Xu, Xiangyu | | CHN | 2587 | | 2 | 5 | 6 | 3,00 |
| 10 | 16 | | GM | Xu, Yi | | CHN | 2505 | | 2 | 4,5 | 5,5 | 3,25 |
Round 4 pairings
Links
---