Fedoseev first at 2nd Chessable Sunway Formentera 2023, Karthik second and Leon third
Leon Luke Mendonca ended Pranav Venkatesh's fantastic run in the final round of 2nd Chessable Sunway Formentera Open 2023. In the battle of teenagers, Pranav's bold approach in the Advance Caro-Kann did not pan out the way he wanted. Leon beautifully maneuvered his pieces and display his great positional understanding. Fedoseev, Karthik Venkataraman, Pranav V and Leon, all four of them ended up with the same score 7/10. Fedoseev won the Armageddon against Karthik to become champion, thus Karthik secured second place. Leon finished third and Pranav fourth, as per Playoff results. IM Prraneeth Vuppala, GM Aravindh Chithambaram and GM Aryan Chopra scored 6.5/10 each to secure fifth, sixth and seventh place respectively. Photo: Sunway Chess Festival
Playoff changes the standings
GM Pranav Venkatesh had the sole lead heading into the final round. However, a last round loss and Playoff games changed the standings slightly. Only GM Karthik Venkataramn maintained his second place after the final round and Playoffs. The total prize fund of the tournament was €20500. The top three prizes in the Group A (>1700) were €3000, €2000 and €1000 along with a trophy each.
Pranav V - Leon: 0-1
GM Pranav Venkatesh's (2545) bold approach in the Advance Caro-Kann did not work out well against GM Leon Luke Mendonca (2596). White decided not to castle and rush his g and h-pawns down the board which left his king vulnerable and pieces uncoordinated. Leon gained control in the center and beautifully maneuvered his pieces.
28.Bc1? was unnecessary as the d4-pawn was pinned anyway Qa8 29.Ng3 Qd5 30.Ne2 Qe6 Black moved his queen from a5 to e6 as it was not doing much on a5. 31.Rh2 Nf5 32.h6 g6 33.Kg1 Rfd8 34.a5 d3 35.Ng3 Nxg3 36.fxg3 e4 and Black went on to win the game.
GM Brandon Jacobson (USA) drew with GM Karthik Venkataraman. IM Peng Chen (CHN) lost against GM Vladimir Fedoseev. Thus four players - Fedoseev, Karthik, Pranav V and Leon ended up having the same score 7/10.
GM Vladimir Fedoseev defeated GM Karthik Venkataraman in Armageddon to win the tournament
Fedoseev was thrown to the pool after becoming the champion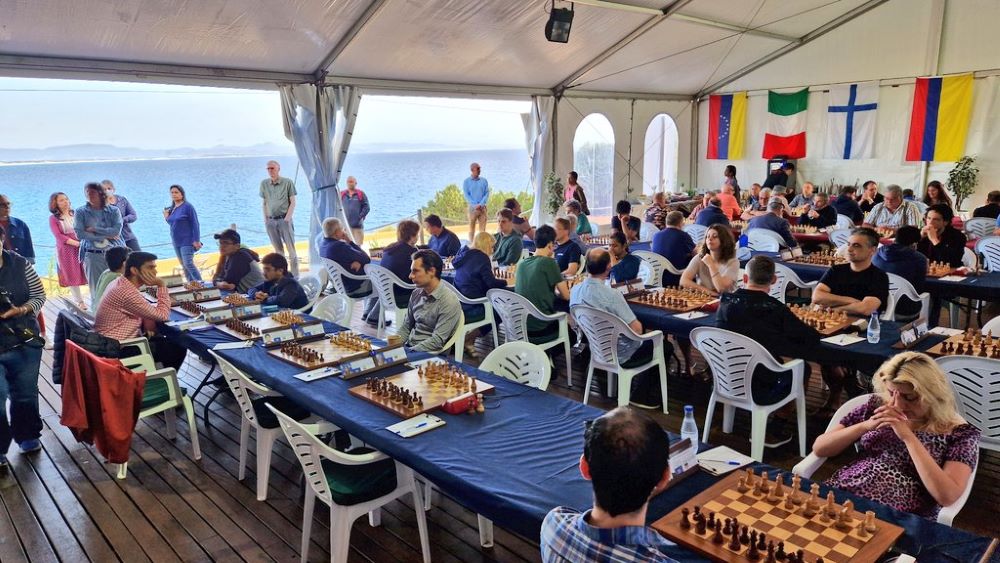 A total of 57 players including 19 GMs, 11 IMs, 2 WGMs and 2 WIMs took part from 18 countries across the world in Group A (>1700). The eleven day ten-round Swiss League Rating tournament was organized by and at Hotel Club Sunway Punta Prima from 18th to 28th April 2023 in Spain. The time control of the tournament was 90 minutes/40 moves + 30 minutes + 30 seconds per move from the first move.
Replay Round 10 games
Round 10 results
Standings after Round 10
| | | | | | | | | | | | | |
| --- | --- | --- | --- | --- | --- | --- | --- | --- | --- | --- | --- | --- |
| Rk. | SNo | | | Name | sex | FED | Rtg | Club/City | Pts. | TB1 | TB2 | TB3 |
| 1 | 1 | | GM | Fedoseev, Vladimir | | FID | 2674 | | 7 | 56,5 | 61 | 41,00 |
| 2 | 14 | | GM | Karthik, Venkataraman | | IND | 2516 | | 7 | 53,5 | 54,5 | 38,25 |
| 3 | 11 | | GM | Pranav, V | | IND | 2545 | | 7 | 52,5 | 56,5 | 39,25 |
| 4 | 6 | | GM | Mendonca, Leon Luke | | IND | 2596 | | 7 | 52 | 56 | 40,75 |
| 5 | 25 | | IM | Prraneeth, Vuppala | | IND | 2437 | | 6,5 | 57,5 | 61 | 38,25 |
| 6 | 4 | | GM | Aravindh, Chithambaram Vr. | | IND | 2607 | | 6,5 | 57 | 61,5 | 38,50 |
| 7 | 5 | | GM | Aryan, Chopra | | IND | 2607 | | 6,5 | 56 | 61 | 38,25 |
| 8 | 9 | | GM | Jacobson, Brandon | | USA | 2556 | | 6,5 | 51,5 | 55,5 | 35,00 |
| 9 | 13 | | GM | Alsina Leal, Daniel | | ESP | 2520 | | 6,5 | 47 | 51 | 31,25 |
| 10 | 2 | | GM | Dardha, Daniel | | BEL | 2625 | SK Moretus Hoboken | 6 | 55 | 59,5 | 32,75 |
| 11 | 10 | | GM | Li, Di | | CHN | 2554 | | 6 | 52,5 | 56,5 | 32,75 |
| 12 | 16 | | GM | Xu, Yi | | CHN | 2505 | | 6 | 51,5 | 55,5 | 31,25 |
| 13 | 3 | | GM | Bernadskiy, Vitaliy | | UKR | 2619 | | 6 | 50,5 | 54,5 | 32,50 |
| 14 | 27 | | | Chen, Peng | | CHN | 2425 | | 6 | 50 | 53,5 | 31,50 |
| 15 | 17 | | IM | Aditya, Mittal | | IND | 2505 | | 6 | 49 | 53,5 | 30,75 |
Links
---