1st ever FIDE rated tournament in Silchar begins!
The Cachar District Chess Association (CDCA) is hosting its first international chess tournament in Silchar. The event kicked off on 26th September 2018. GM Dibyendu Barua is the top seed of the tournament followed by IM Sayantan Das of West Bengal and Australian IM Rishi Sardana. The event is a 10 round Swiss League and has attracted the participation of players from four countries. Moreover, the 209-player-field includes one Grandmaster, four International Masters and one Woman International Master. Below is a detailed report of Day 1 and 2 with a game annotated by Ravi Kant Tiwari.
Island of Peace hosted its first open rated chess tournament
Silchar, AKA the "Island of Peace", is the headquarters of Cachar district of the state of Assam in India. It is also the place where the world's first polo club was formed. In recent time, Silchar has conducted a lot of state events successfully and this has encouraged its district association to hold it's first ever open rated event.

The event is organized by the Cachar District Chess Association (C.D.C.A) in the spacious and beautiful premises of Hotel Ellora, which is in the heart of the city. In total, the tournament has attracted a total of 209 players from 4 different countries with as many as 111 rated players.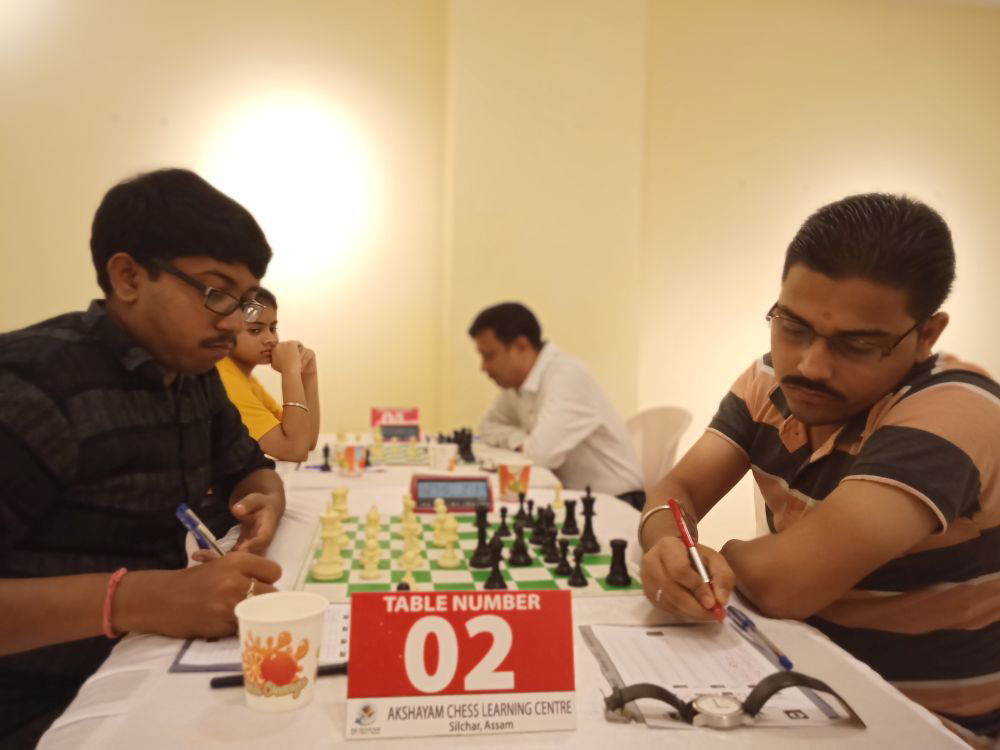 One of the best thing about the event is that the oldest and youngest player are both ladies.
A major upset of round three was National U-9 runners up Mayank Chakraborty drew against WIM Saheli Dhar-Barua, Ravi Kant Tiwari has annotated the game for us.
At the end of round 3 there as 21 players leading the event with 3.0/3 points.
Starting Ranking:
Standing list after 3rd round:

| | | | | | | | | | | | | | | |
| --- | --- | --- | --- | --- | --- | --- | --- | --- | --- | --- | --- | --- | --- | --- |
| Rk. | SNo | | | Name | Typ | sex | Gr | FED | Rtg | TB1 | TB2 | TB3 | TB4 | TB5 |
| 1 | 8 | | | Arpan Das | | | | IND | 2164 | 3,0 | 0,0 | 6,0 | 4,0 | 6,00 |
| | 15 | | | Sharma Aribam M. | | | | IND | 1968 | 3,0 | 0,0 | 6,0 | 4,0 | 6,00 |
| 3 | 6 | | IM | Suvrajit Saha | | | | IND | 2224 | 3,0 | 0,0 | 5,5 | 4,0 | 5,50 |
| 4 | 2 | | IM | Das Sayantan | | | | IND | 2425 | 3,0 | 0,0 | 5,0 | 4,0 | 5,00 |
| | 4 | | CM | Aronyak Ghosh | U15 | | | IND | 2331 | 3,0 | 0,0 | 5,0 | 4,0 | 5,00 |
| | 10 | | | Apollosana Mangang Rajkumar | | | | IND | 2082 | 3,0 | 0,0 | 5,0 | 4,0 | 5,00 |
| | 11 | | | Singh Bhogen R K | | | | IND | 2033 | 3,0 | 0,0 | 5,0 | 4,0 | 5,00 |
| | 13 | | CM | Thapa Krishna | | | | NEP | 2026 | 3,0 | 0,0 | 5,0 | 4,0 | 5,00 |
| | 14 | | | Majumdar Shankar | | | | IND | 2023 | 3,0 | 0,0 | 5,0 | 4,0 | 5,00 |
| | 19 | | | Subedi Rajan | | | | NEP | 1896 | 3,0 | 0,0 | 5,0 | 4,0 | 5,00 |
Click here for full standing list
---