Mohit Kumar Soni clinches 4th CPPA Rating Open 2022
Mohit Kumar Soni of Bihar scored 8.5/10 to win 4th CPPA Rating Open 2022. He finished a half point ahead of the field. Both Iftikar Alom Mazumdar of Assam and Kishan Kumar of Bihar scored 8/10 each. They were placed second and third according to tie-breaks. WCM Bristy Mukherjee was the only player to beat the eventual champion, Mohit, scored 7.5/10 and edged past three more players on tie-breaks to finish fourth. The total prize fund of the tournament was ₹250000. The top three prizes were ₹33000, ₹22000 and ₹16000 along with a trophy each. This is Mohit's first-ever Rating tournament triumph of his career. Photo: FA FI Pranab Kumar Nath
Mohit's first Rating tournament triumph
WCM Bristy Mukherjee had defeated Mohit Kumar Soni in the fourth round. She gained sole lead 6.5/7. Mohit won the next four game after his loss and had a half point lead heading into the final round 8/9. Bristy suffered her only loss in the final round against Kishan Kumar, while Mohit drew against Cheniram Pegu. Mohit became a clear champion and tie-breaks were not required. Fourth place is certainly a good finish for Bristy.
The tournament was inaugurated by Sasanka Pratim Deka, Executive Director, Oil India Limited in the presence of Probin Gogoi, President, Dibrugarh District Chess Association and FA FI Pranab Kumar Nath, Joint Secretary, All Assam Chess Association and also Chief Arbiter of the tournament.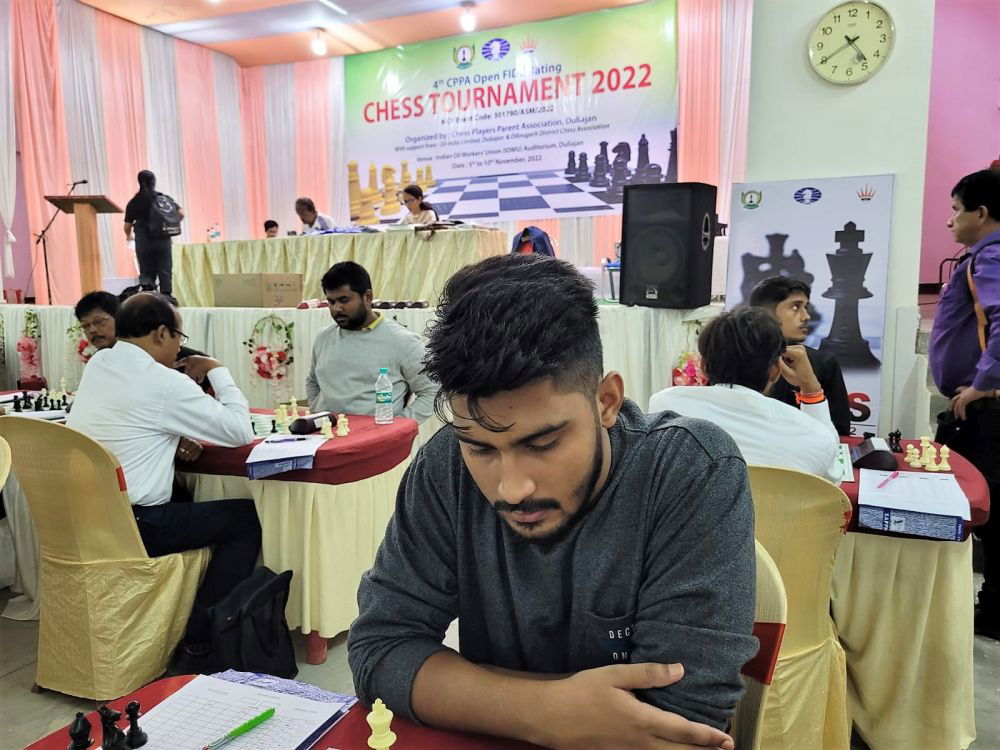 Thanks to the Chief Arbiter FA FI Pranab Kumar Nath for sharing the photos and information about the tournament.
A total of 117 players took part from various parts of the country and one from Canada. The six-day ten-round Swiss league Rating tournament was organized by Chess Players' Parents' Association (CPPA) Duliajan. It took place at Indian Oil Workers' Union (IOWU) Auditorium in Duliajan, Assam from 5th and 10th November 2022. The time control of the tournament was 90 minutes + 30seconds increment from move no.1.
Final standings
| | | | | | | | | | | | |
| --- | --- | --- | --- | --- | --- | --- | --- | --- | --- | --- | --- |
| Rk. | SNo | | Name | Gr | FED | Rtg | Club/City | Pts. | TB1 | TB2 | TB3 |
| 1 | 6 | | Mohit Kumar Soni | | IND | 1738 | Bihar | 8,5 | 62,5 | 67,5 | 56,25 |
| 2 | 7 | | Iftikar Alom Mazumdar | | IND | 1700 | Cachar | 8 | 59,5 | 62,5 | 47,50 |
| 3 | 4 | | Kishan Kumar | | IND | 1778 | Bihar | 8 | 59 | 62 | 47,50 |
| 4 | 3 | WCM | Bristy Mukherjee | | IND | 1797 | West Bengal | 7,5 | 63,5 | 67,5 | 48,50 |
| 5 | 1 | | Kumar Gaurav | | IND | 2041 | Bihar | 7,5 | 62,5 | 64,5 | 44,50 |
| 6 | 5 | | Neelabh Jyoti Borthakur | | IND | 1755 | Jorhat | 7,5 | 61,5 | 65,5 | 45,75 |
| 7 | 8 | | Cheniram Pegu | | IND | 1681 | Dibrugarh | 7,5 | 61 | 65 | 47,25 |
| 8 | 9 | | Mrinmoy Rajkhowa | | IND | 1643 | Guwahati | 7 | 61 | 65,5 | 43,00 |
| 9 | 10 | | Elangbam Shashikanta Singh | | IND | 1632 | Manipur | 7 | 56,5 | 60,5 | 36,00 |
| 10 | 28 | | Jadav Gogoi | | IND | 1335 | Jorhat | 7 | 54 | 58 | 36,00 |
| 11 | 12 | | Yuwan Das | | IND | 1594 | Tinsukia | 7 | 52,5 | 56,5 | 38,50 |
| 12 | 13 | | Moses Neil | | CAN | 1560 | | 7 | 51,5 | 56 | 39,25 |
| 13 | 15 | | Abinash P Gogoi | Duli | IND | 1500 | Dibrugarh | 6,5 | 61 | 65,5 | 40,25 |
| 14 | 25 | | Nalinakhya Kashyap | | IND | 1336 | Guwahati | 6,5 | 60 | 62 | 36,50 |
| 15 | 2 | | Singh Soram Rahul | | IND | 1904 | Cachar | 6,5 | 59 | 63 | 38,75 |
| 16 | 14 | | Chiraranjan Bhuyan | | IND | 1523 | Guwahati | 6,5 | 57 | 62 | 37,25 |
| 17 | 23 | | Abhishek Borthakur | | IND | 1361 | Jorhat | 6,5 | 56 | 59,5 | 33,75 |
| 18 | 24 | | Moirangthem Modhusudon | | IND | 1358 | Manipur | 6,5 | 54,5 | 59 | 34,75 |
| 19 | 30 | | Tapovrata Handique | Duli | IND | 1326 | Dibrugarh | 6,5 | 54,5 | 57,5 | 33,25 |
| 20 | 17 | | Anuraag Saikia | | IND | 1472 | Dibrugarh | 6,5 | 54 | 58 | 36,00 |
| 21 | 27 | | Ananga Harsha Borthakur | | IND | 1335 | Jorhat | 6,5 | 54 | 56 | 33,25 |
| 22 | 29 | | Winee Thengal | | IND | 1327 | Golaghat | 6,5 | 51,5 | 54,5 | 33,00 |
| 23 | 18 | | Anik Kumar Lahon | Duli | IND | 1429 | Dibrugarh | 6,5 | 51 | 55 | 32,25 |
| 24 | 11 | | Tanisha A R Som | | IND | 1621 | Jorhat | 6,5 | 50 | 54,5 | 34,75 |
| 25 | 20 | | Purnananda Buragohain | | IND | 1397 | Jorhat | 6,5 | 49,5 | 54 | 30,75 |
---