Caruana's London Redemption and Yu Yangyi's Stirring Finish!
Fabiano Caruana grabs the spotlight today! The World No.2 handed Magnus his only loss of the tournament in the Armageddon, after missing a simple win in a crazy classical game, and thus finished 4th on the table after a disastrous start. Yu Yangyi commemorated his Norway Chess finish with a thumping of Mamedyarov within a mere 30 moves! He finished an impressive tied 2nd with Levon Aronian, who managed to get past Anand in the tiebreakers. So and Grischuk ended their tournament with unorthodox wins over MVL and Ding Liren. A massive report from Norway Chess by Tanmay Srinath.
Yu Yangyi provided solace for the classical format by destroying Mamedyarov's scotch 4 knights defense in quick time . Caruana was incessantly defending against Carlsen, but missed a chance to mate the World Champion when it came his way. The rest of the games were drawn out and ended level, but only MVL had some chances as Black against So. In the Armageddons, better placed players dominated, winning 3 out of the 4 games, with Aronian, So and Caruana being the beneficiaries. Alexander Grischuk ended a disappointing tournament with a wonderful win as Black in the fianchetto Grunfeld against Ding Liren. Let's now get into the thick of things:
Classical: Yu Yangyi's Scotch and Caruana's Bungle!
No, the Chinese didn't invent a new drink! Yu Yangyi's impressive opening preparation confused Mamedyarov, and the latter ended up playing average chess to lose in just 30 moves! Let's have a look:
Yu Yangyi-Mamedyarov
Fabiano Caruana committed a surprising blundering, missing a mating opportunity against Magnus Carlsen in time trouble:
Caruana-Carlsen
In the other games, MVL had a chance to torture So in a long endgame where he would have had a nagging edge:
So - MVL
Anand - Aronian was an interesting Italian Game, where Vishy won the bishop pair soon. He had the chance to make better use of them deep into the middlegame:
Anand-Aronian
Alexander Grischuk had a chance to turn a drab draw into something interesting against Ding Liren:
Ding Liren - Grischuk
Armageddon: Caruana does a 'Carlsen', Aronian's practical draw offer!
Fabiano Caruana played a clean positional game in the Armageddon to get the better of his strongest rival Magnus Carlsen. The choice of opening and the manner of victory was Carlsenesque, showing how big an influence the current World Champion has on the styles of his compatriots. A deeper look at some of the fascinating moments:
Caruana-Carlsen
Vishy Anand was outplaying Levon Aronian in an Italian game, and had the Madras Tiger found the best move in the following critical position he wouldn't have lost:
Anand-Aronian
Instead, Anand played Bd5?, got into a jam, and lost, as he accepted a draw offer by Levon in a completely lost position. A disappointing end to the tournament for Anand, who has to share second last place with MVL.
Wesley So played the e3 poison against the King's Indian Defense, but struggled to come up with something useful. MVL took over, and soon had a chance to take a decisive step towards victory:
So-MVL
Alexander Grischuk played a fine game with the Black pieces and had Ding Liren staring at defeat, one way or another:
Ding Liren-Grischuk
The final standings doesn't fully reflect how the players played. Magnus was unstoppable, but Levon got all of his wins in the Armageddons and so did So. Ding Liren and Caruana played a great Classical portion, but couldn't capitalise on the opportunities in the Rapids.
About the Author: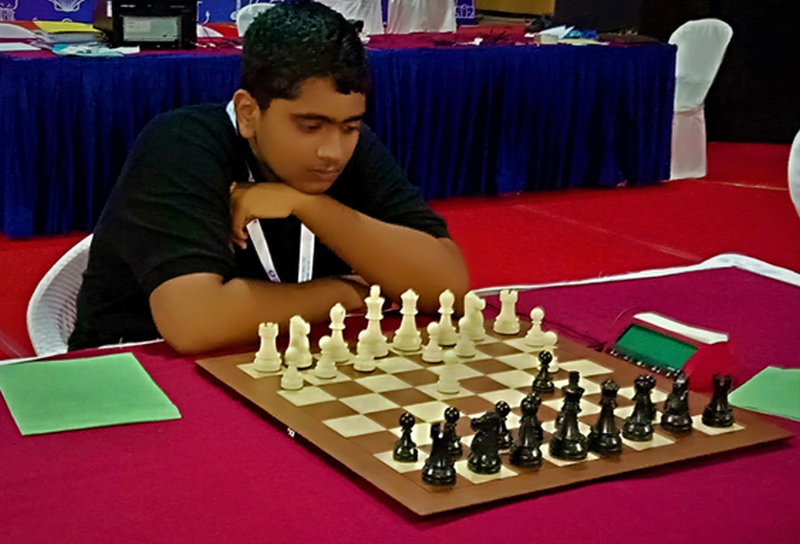 Tanmay Srinath is an 18-year-old chess player from Bangalore, Karnataka, currently pursuing both chess and engineering at BMSCE Bangalore. Tanmay is also a Taekwondo Black Belt, who has represented the country in an International Tournament in Thailand. He is a big fan of Mikhail Tal and Vishy Anand, and sincerely believes in doing his bit to Power Chess in India!
---