Magnus Carlsen wins Norway Chess 2019 with one round to spare!
What a player! What a record! Magnus Carlsen vanquished Yu Yangyi in an artful endgame to take sole 1st in Norway Chess for the 2nd time! That too with a round to spare! His 7th tournament win in a row is testament to his efforts and verve, as he successfully puts behind him a pale patch of performances at the Norway Chess. Fabiano Caruana played a magnificent game as black in the Reversed Rossolimo to defeat Levon Aronian and retain chances of sole second. MVL, Anand and So took their time in the Armageddons to vanquish their rivals, and cling on to chances of being the best of the rest. An all-inclusive report from Norway Chess by Tanmay Srinath.
The Magnus tempest trounces Norway!
There aren't enough superlatives to explain what Magnus Carlsen has just achieved. By outplaying Yu Yangyi with White, he won his 6th tournament in 6 appearances this year. This is slowly building up into one of the most dominant streaks in chess. That Magnus is unbeaten in 67(!) games is an indication of the kind of the kind of chess the World Champion is currently playing-dynamic, rich yet solid. The fact that he is still losing rating(!) shows how well he has played in the previous events. One hopes that this streak continues for as long as possible! In other games, Caruana showed why he is the World No.2 in classical chess with a clinical display against Levon Aronian, while the others decided to take it to the armageddons. Vishy Anand and MVL won outright as Black and White against Grischuk and Ding Liren, while So forced a draw in a winning position to seal the tie in his favour. A comprehensive look at the games now follows:
Classical: Carlsen's Endgame Grind and Caruana's Sudden Attack!
There aren't many players in the history of the game that play the endgame as well as Magnus Carlsen, and maybe none better than peak Carlsen. Today the World Champion took on a hanging pawns structure against the debutant Yu Yangyi, and showed subtle understanding of nuances to take home the full point:
Carlsen-Yu Yangyi
Carlsen has now won 7 straight tournaments:
🏆 Norway Chess
🏆 Lindores Abbey
🏆 Abidjan GCT
🏆 Grenke Chess Classic
🏆 Shamkir Chess
🏆 Wijk aan Zee
🏆 World Blitz Ch.

— Tarjei J. Svensen (@TarjeiJS) June 13, 2019
Fabiano Caruana is perhaps the favourite to win a rematch against Carlsen in 2020. The World No.2 is so far unchallenged for the title of best of the rest, and he continues to remain virtually unbeatable in classical chess. Today he dismissed Levon Aronian, one the most promising Candidates, in a mere 41 moves:
Aronian-Caruana
MVL-Ding Liren was a 20 move draw in the Quiet Italian. Grischuk-Anand was an Open Ruy Lopez which was decided by Anand's opening preparation:
Grischuk-Anand
Mamedyarov missed a great chance to put extra pressure on Wesley So:
Mamedyarov-So
Armageddon: Anand's skill and MVL's will!
Vishy Anand was known as the lightning kid, because he could (and still can!) combine speed and accuracy to an unprecedented level. Today he showed glimpses of his former self by beating Grischuk as Black in the Armageddon, after being worse initially:
Grischuk-Anand
MVL completed an amazing turnaround against Ding Liren after the latter missed a chance to increase his advantage:
MVL-Ding Liren
Wesley So outplayed Shakriyar Mamedyarov and soon got a winning attack:

Mamedyarov-So
Standings after Round 8
| | | | | |
| --- | --- | --- | --- | --- |
| # | Name | Country | Rating | Points |
| 1 | Magnus Carlsen | Norway | 2875 | 13 |
| 2 | Levon Aronian | Armenia | 2752 | 9 |
| 3 | Yu Yangyi | China | 2738 | 8½ |
| 4 | Wesley So | USA | 2754 | 8½ |
| 5 | Fabiano Caruana | USA | 2819 | 8½ |
| 6 | Ding Liren | China | 2754 | 8 |
| 7 | Maxime Vachier-Lagrave | France | 2779 | 7½ |
| 8 | Viswanathan Anand | India | 2767 | 7½ |
| 9 | Shakhriyar Mamedyarov | Azerbaijan | 2774 | 5½ |
| 10 | Alexander Grischuk | Russia | 2775 | 4 |
Magnus Carlsen has already won the tournament, so the main battle will be for 2nd place. Everyone from 2 to 8 have a chance to finish as the runner up, so the final round will definitely witness intense clashes.
About the Author: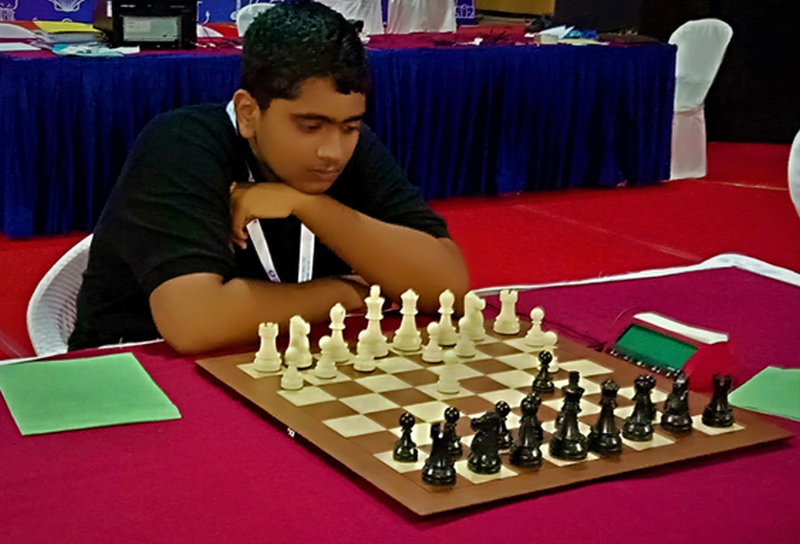 Tanmay Srinath is an 18-year-old chess player from Bangalore, Karnataka, currently pursuing both chess and engineering at BMSCE Bangalore. Tanmay is also a Taekwondo Black Belt, who has represented the country in an International Tournament in Thailand. He is a big fan of Mikhail Tal and Vishy Anand, and sincerely believes in doing his bit to Power Chess in India!
---