Fatigue supersedes brilliance as Carlsen continues to march ahead
On a day where blunders were commonplace, Magnus Carlsen and Yu Yangyi consolidated their positions in the tournament standings with contrasting wins over Ding Liren and Vishy Anand in the armageddons after all the five classical games finished without a winner. Anand was the only one who got some chances in classical chess, but he failed to take them. In the Armageddons, the tiredness showed - Grischuk left a piece en prise, So blundered mate in one, Ding Liren gave up a free rook and Anand lost an exchange to keep his king alive! With Black continuing to dominate the tiebreakers, Caruana and MVL seized their chances to climb up the leaderboard. A comprehensive report from Norway Chess by Tanmay Srinath.
The classical games disappointed yet again, as all of them were drawn without much of a fight. Vishy Anand had the best chance to make something out of a promising position, but he failed to capitalise and had to go to the tiebreakers. The Armageddons were again full of action, with Black winning three encounters and White two. Magnus Carlsen and Yu Yangyi maintained their standings as 1st and 2nd going into the second rest day. It's now time to analyse what exactly happened:
Classical: Anand's imaginative Petroff and Grischuk's 'symbolic' advantage:
Vishy Anand had seemingly prepared well for Yu Yangyi's Petroff defense, and the Madras Tiger soon got a stable advantage. When it came to decision making time however, Anand chose peace over war:
Anand-Yu Yangyi
Alexander Grischuk played the mainline Sveshnikov against Caruana, and won a pawn, but the American World No.2 (and maybe Sasha as well) had seen further:
Grischuk - Caruana
One of the other notable event was MVL's deep opening preparation in the Fianchetto Grunfeld against Mamedyarov:
Mamedyarov-MVL
Carlsen-Ding Liren was an interesting reversed Alapin, with the World Champion sacrificing a pawn for barely sufficient compensation. Ding couldn't find a way to break through though, because the positional nature of the pawn sacrifice meant that Black's pieces were in disarray. There were no improvements found for both sides, except in the opening phase where Carlsen uncharacteristically agreed to an exchange of queens despite having better options: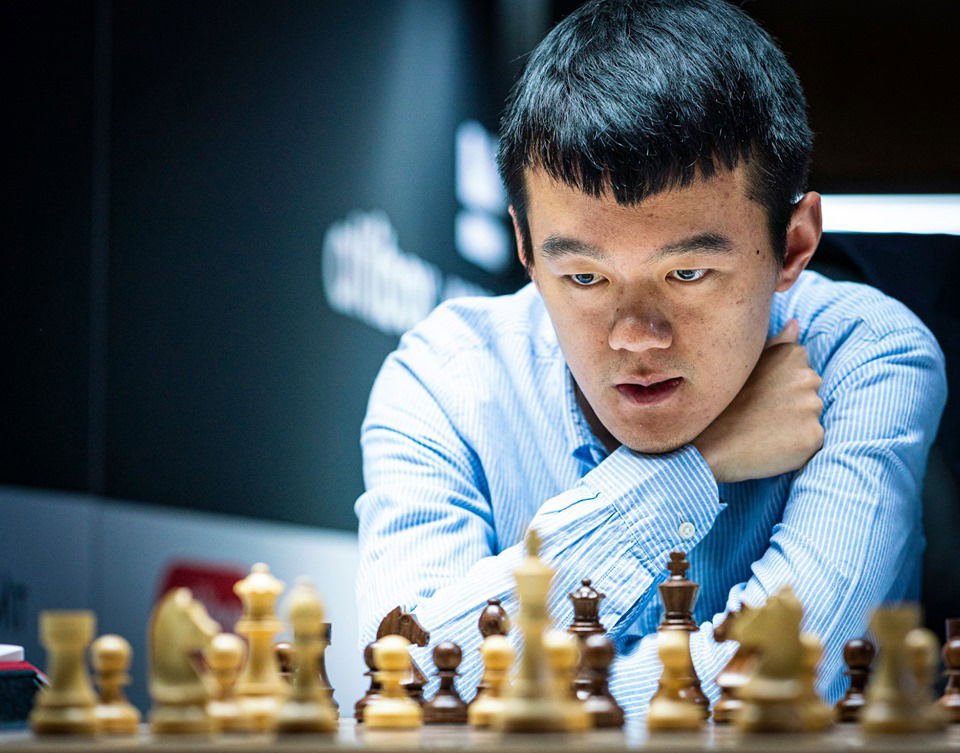 Carlsen-Ding Liren
Aronian-So was a 31 move draw in a reversed Dragon where both sides weren't interested in fighting it out.
Armageddon: Yu's tenacity and Carlsen's doggedness!
Yu Yangyi definitely deserves praise for the way he has played in this tournament - consistent and accurate chess. Today, against Vishy Anand, he was in a world of trouble, but somehow managed to complete an astounding comeback after the Indian legend missed numerous chances to increase his advantage:
Anand-Yu Yangyi
Carlsen-Ding Liren was a fascinating Ruy Lopez where the Chines player essayed both b5 and g5, signalling his aggressive intentions. He won the bishop pair, but had to suffer in passivity for a long time. Carlsen sacrificed a pawn with the hopes of breaking through, but soon had his good luck smiling on him after he over-pressed:
Carlsen-Ding Liren
Aronian-So was a horror show for the latter! Levon incisively outplayed the American GM, but when the chance came to end the game then and there he didn't properly evaluate it:
Aronian-So
After this miss, Levon was still better, but it took a brain fade from So to finally seal the win for White:
The most pleasing rook swing of all. https://t.co/qyLqcrhsqc pic.twitter.com/eAzANtBHC4

— Olimpiu G. Urcan (@olimpiuurcan) June 10, 2019
Shakriyar Mamedyarov lost his armageddon against MVL, but had the latter found the most precise continuation the game would have been over much sooner:
Mamedyarov-MVL
Fabiano Caruana was the beneficiary of a shocking piece blunder by Alexander Grischuk:
Grischuk-Caruana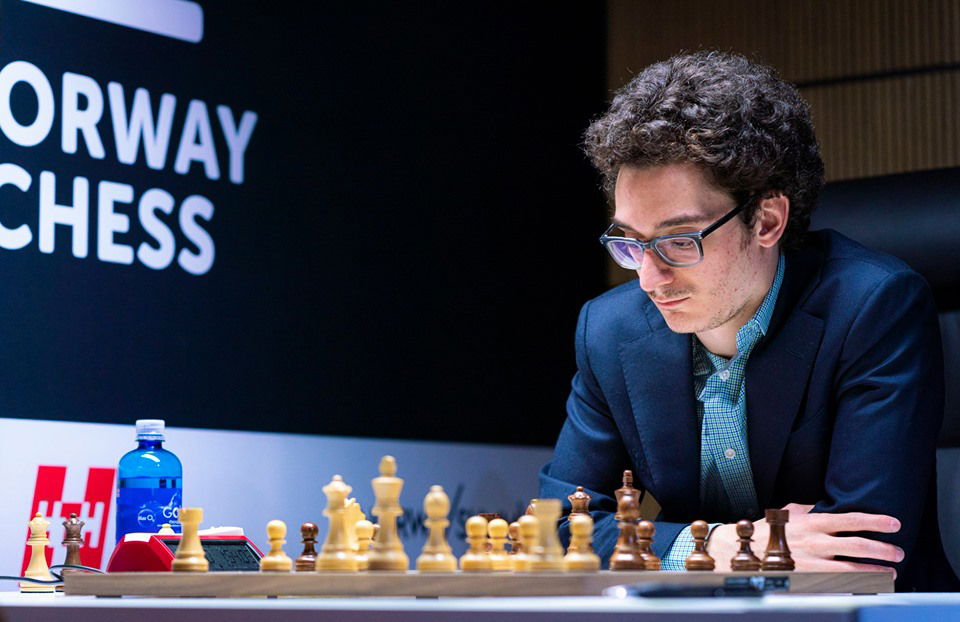 Standings after round 6
| | | | | |
| --- | --- | --- | --- | --- |
| # | Name | Country | Rating | Points |
| 1 | Magnus Carlsen | Norway | 2875 | 9.5 |
| 2 | Yu Yangyi | China | 2738 | 8 |
| 3 | Levon Aronian | Armenia | 2752 | 7.5 |
| 4 | Wesley So | USA | 2754 | 6.5 |
| 5 | Ding Liren | China | 2805 | 5.5 |
| 6 | Viswanathan Anand | India | 2767 | 5.5 |
| 7 | Shakhriyar Mamedyarov | Azerbaijan | 2774 | 5 |
| 8 | Fabiano Caruana | USA | 2819 | 5 |
| 9 | Maxime Vachier-Lagrave | France | 2779 | 4.5 |
| 10 | Alexander Grischuk | Russia | 2775 | 3 |
With Magnus Carlsen currently in red hot form, the Norwegian is currently the favourite to win his 2nd Norway Chess title. However, with Yu Yangyi breathing down his neck, Carlsen has to ensure that he doesn't lose in the upcoming rounds. Also the fact that you get 2 points for the Classical win means that Magnus Carlsen's 1.5 point lead is not the same as it would be in other events with just 1 point for each win! The tournament is heading for an exciting climax!
About the Author: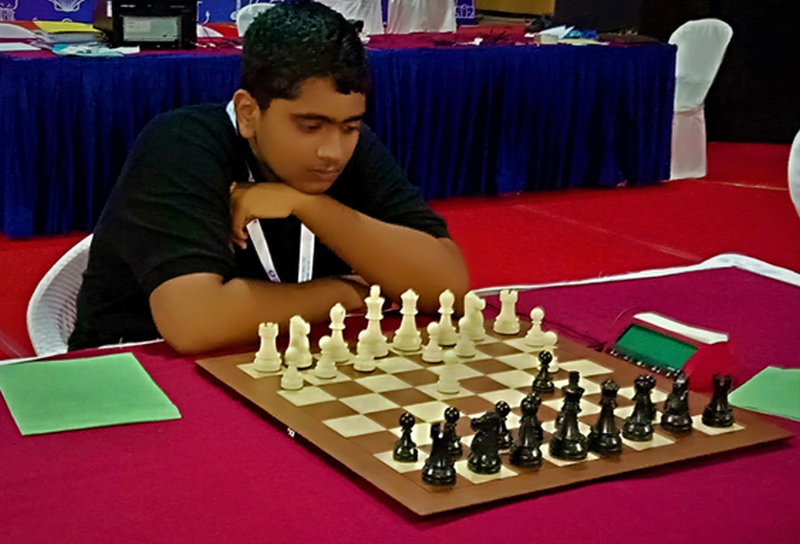 Tanmay Srinath is an 18-year-old chess player from Bangalore, Karnataka, currently pursuing both chess and engineering at BMSCE Bangalore. Tanmay is also a Taekwondo Black Belt, who has represented the country in an International Tournament in Thailand. He is a big fan of Mikhail Tal and Vishy Anand, and sincerely believes in doing his bit to Power Chess in India!
---