Norway Blitz: Hurricane MVL destroys the competition, moves to world no.1 with 2948 Elo!
2948! His New Rating! French No.1 Maxime Vachier Lagrave produced another breathtaking blitzkering to take sole first in Norway with an unearthly score of 7.5/9, thus retaking the top spot in the World Rankings in blitz. The Frenchman lost only once, but won 7(!) games with Magnus Carlsen being the biggest casualty. The resurgent Levon Aronian played a remarkable tournament, and so did Carlsen, but their untimely losses meant that they took 2nd and 3rd respectively. Mamedyarov was a distant 4th, while Ding and Yu Yangyi produced mid table performances. Grischuk, Caruana and Anand finished tied at the bottom with a sombre 3.0/9. An illustrated report by Tanmay Srinath.
MVL dismantles...while Carlsen and Aronian put on a creativity exhibition
The 7th Altibox Norway Chess Tournament began with the traditional blitz tournament to determine the pairing numbers. While the classical tournament promises to be a closely fought one, the blitz was dominated by one man and one man alone! Maxime Vachier Lagrave claimed his World No 1 ranking in blitz with an absolutely stunning performance of 7.5/9, finishing a huge 1.5 points ahead of the Blitz King Magnus himself, and the vastly improved Levon Aronian. The usual blitz suspects struggled to fulfill expectations, as Anand and Grischuk started their Norwegian sojourn on a sour note, scoring just 3.0/9 to join Fabiano Caruana at the bottom of the pile. Yu Yangyi impressed on his debut in top level chess, while Ding, So and Shak showed flashes of brilliance on an eventful day.
Aronian's Originality
No one has ever doubted Levon Aronian's playing strength. At his peak, he can beat anyone, be it from the past or the present. However, his results haven't been so great off late, with his classical rating slowly dripping away from the world top 10, partly due to a transition in his opening repertoire and mostly due to inconsistency. However, if there is anyone who can comeback from all this, it is Levon. He showed us what he can do with a stellar 2017, and considering the way he has played this blitz tournament, one only hopes that this is Levon's tournament to lose!
He began the tournament with 4.0/5, with a clinical demolition of Magnus Carlsen's Pirc Defense in Round 1:
Aronian-Carlsen
He tore apart Wesley So's Italian in Round 2 with a fine exchange sacrifice, and collected the full point with a neat tactic:
So-Aronian
He got plain lucky against Sasha Grischuk in Round 4:
Grischuk-Aronian
Sasha played the seemingly winning Ra2?? (instead, the simple Nc4! wins rather easily) a blunder that is not so easy to refute. Levon however did find the precise Rxa2! b7 Ne2+ Kb3 Nc1+!(Sasha must have missed this) Kc3 Ra3+ Kc2 Rb3-+ and the pawn is easily stopped.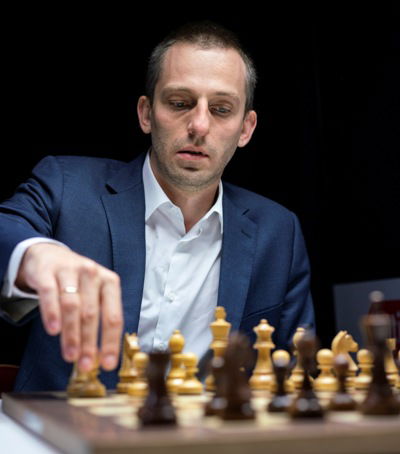 Aronian finally succumbed to MVL in Round 6, but before coming to that, here's his creative beauty against Yu Yangyi:
Yu Yangyi-Aronian
With 6.0 out of 9 he finished 2nd, ahead of Carlsen (who was on the same number of points) due to a better tiebreak. Hearty Congratulations to Levon, and let us all hope that he keeps producing such master pieces.
Carlsen's Trailblazers
Let's save the best for last, shall we? Before going on to MVL, we must definitely praise Magnus Carlsen for staying true to his word of playing fighting chess! Stupefying opening choices against the world's best (For example 1.e4 g6!? 2.d4 Nf6?!, which was tried not once, but twice!!) when followed up energetically yield staggering results! Magnus definitely wasn't at this best (home front!?) but the entertainer in him certainly had a field day!
He first steadied the ship after the 1st round loss with a draw against Ding, then beat Yu Yangyi in a complex Kings Indian as black. His game against Alexander Grischuk was particularly noteworthy :
Carlsen-Grischuk
Before this he played the idiosyncratic opening (e4 g6 d4 Nf6!?) mentioned above against Vishy Anand, and took advantage of the latter's late mistake:
Anand-Carlsen
Its definitely not easy to defeat an out of form Anand or Grischuk, but the effortlessness that Carlsen shows in these games tells us time and again why he is the best player on the planet currently. He subdued Shak Mamedyarov in a Benoni as Black in Round 6:
Mamedyarov - Carlsen
In the penultimate round Magnus incessantly put pressure on Caruana till the latter cracked:
Caruana-Carlsen
A last round loss against MVL spoilt Carlsen's otherwise brilliant tournament, but it was in total another superb performance from the World Champion.
MVL's Steamroller
Before the tournament, I had thought of MVL as a contender, but not for first place, completely forgetting that he had won the Cote D'Ivoire Blitz over Carlsen himself! Thus, this result should not be a surprise, but the magnitude of the win might!
He started well, confidently outplaying So in a Bird-English hybrid, and squeezing out a win in the resulting endgame. By capitalising on Shak's blunder, he moved on to 2/2. He only really got going after Grischuk missed a finesse in their encounter:
MVL-Grischuk
Fabi then played amazingly well to get the better of Maxime in the 4th round, but the champion Frenchman bounced back with a draw in the 5th round, followed by taking down the leader Aronian in a tense struggle:
MVL-Aronian
MVL tricked the Chinese GM in an interesting, albeit level endgame:
Ding Liren-MVL
After smooth sailing against the debutant Yu Yangyi, MVL managed to win a tight game against Magnus Carlsen in the last round, thus securing sole first:
Carlsen-MVL
With this, MVL secured another tournament win, and a big lead in the world blitz ratings (2948 to Carlsen's 2920!). I'm sure that MVL will now challenge for top spot in the classical section not only based on his chess skill, but also on the momentum gained from this steamroller he built up!!
Best of the Rest

Shak Mamedyarov and Ding Liren were the only other players to end at or above 50%, while the rest impressed in bursts:
Caruana-Mamedyarov
Grischuk-Caruana
Caruana-Anand
Ding Liren-So
Caruana-MVL
Yu Yangyi-Mamedyarov
Grischuk-Yu Yangyi
Grischuk-So
So-Caruana
Mamedyarov-Grischuk
This concludes the coverage of the Blitz Tournament. Lets hope the players stay this enterprising in the main event starting tomorrow!

Important rules to be known for the classical event:

1. 10 players are to take part in the Tournament.

2. The Tournament is a round-robin event.

3. The Tournament consists of 9 rounds.

4. Time control: Each player will have 120 minutes on the clock with an increment of 10 seconds after move 40. Participant is obliged to record the moves on the score-sheet, starting from the first move. A player can stop recording the moves in the second period when he has less than 5 minutes. Time control for the Armageddon game: white has 10 minutes and black has 7 minutes with an increment of 3 seconds per move, starting from move 61.

5. Players are not allowed to agree on a draw until after move 30.

6. Points: Players will get following points per round:

Victory main game: 2 points

Loss main game: 0 points

Draw main game & victory Armageddon: 1.5 points

Draw main game & loss Armageddon: ½ point

If there's a draw in the classical game then the players will move on to Armageddon after all classical games are over. White pieces will continue with white in Armageddon. With this, there will be a winner in each game due to the fact that the player with the black pieces in the Armageddon game will win if the game ends in a draw.
About the Author: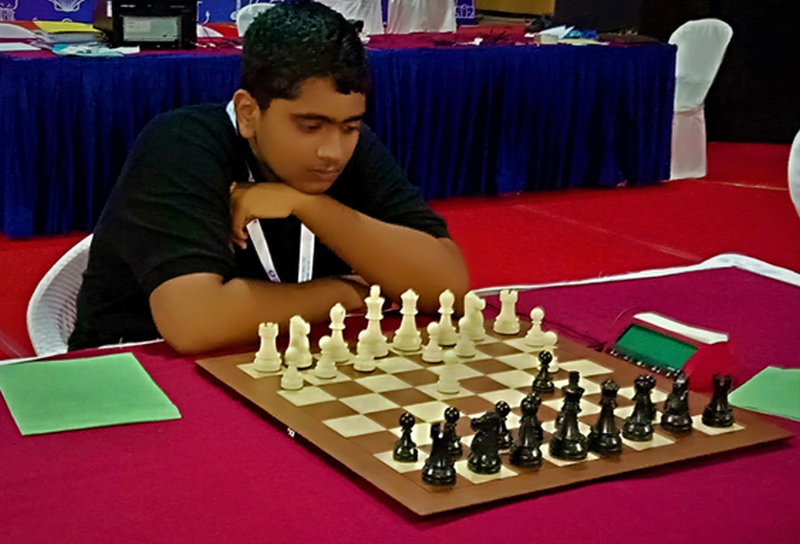 Tanmay Srinath is an 18-year-old chess player from Bangalore, Karnataka, currently pursuing both chess and engineering at BMSCE Bangalore. Tanmay is also a Taekwondo Black Belt, who has represented the country in an International Tournament in Thailand. He is a big fan of Mikhail Tal and Vishy Anand, and sincerely believes in doing his bit to Power Chess in India.
---