Norway 2019 Round 3: Carlsen's Alpha Zero Strategy amidst an uncompromising day!
4 decisive games in classical chess meant that any debate about lack of fighting spirit was put off for now. Magnus Carlsen's mastery of Alpha Zero's innovative kingside attacks in the Grunfeld meant he only needed 34 moves to force Grischuk's resignation. Wesley So swindled Yu Yangyi using triangulation, Aronian busted Mamedyarov's English with fine counterattacking play, and Ding Liren's imaginative endgame play was too much for Caruana's fortress to bear. Anand drew both the classical and the armageddon games as Black against MVL, scoring his first win of the tournament. A mammoth report from Norway Chess by Tanmay Srinath
Top chess players no longer go for the stereotypical +0.4 advantage as White, but instead steer games into interesting positions where they hope to outplay their opponents, an opening revolution that was started by Magnus Carlsen and continued by the AI Alpha Zero. Carlsen's innovative middlegame play in a topical Grunfeld line got him the win against Alexander Grischuk. Fabiano Caruana messed up his position as early as move 5! but defended like a hero until finally giving up on move 77 against Ding Liren. Wesley So and Levon Aronian used simple and complex tactics respectively to get the better of Yu Yangyi and Mamedyarov respectively. Anand finally got off the mark in the armageddonagainst MVL. It's time to go deeper:
Carlsen-Grischuk:
Magnus started the game with 1.d4, and without much ado Grischuk opted for the Grunfeld Defense. The game remained balanced until Carlsen's kingside attack pushed Grischuk into making a mistake by breaking in the center. The World Champion gave few chances after that, and won brilliantly. Here are some of the critical moments:
Carlsen-Grischuk
Today's computers, while clearly better than us human, have one serious defect- they fail to see slow burning attacks. After 18.h4 my intuition suggested that White is breaking through soon on the kingside, but the computers failed to agree. See the situation 6 moves later! Grischuk's one mistake was enough for Carlsen to pounce and now White's attack is of menacing proportions. The final nail in the coffin was laid by Sasha himself, with 24...gxf5? What follows is a wonderful example of non sacrificial interference. Watch closely!
Ding Liren-Caruana
The game of the round. Ding Liren's innovative opening play got him a large plus, but it took a lot of skill and will to exploit it. Here are the highlights:
Ding-Caruana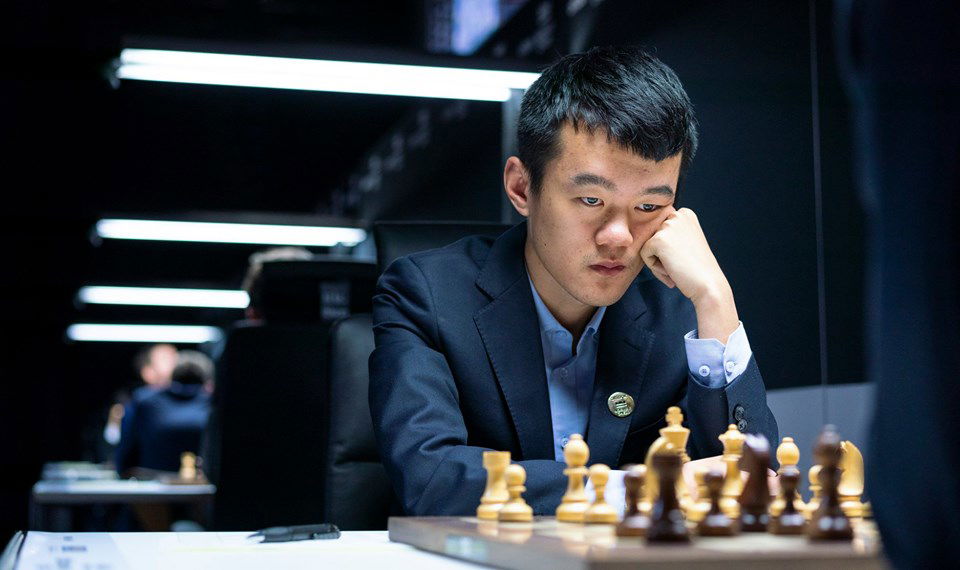 In other games, Wesley So took down Yu Yangyi using a difficult to see motif: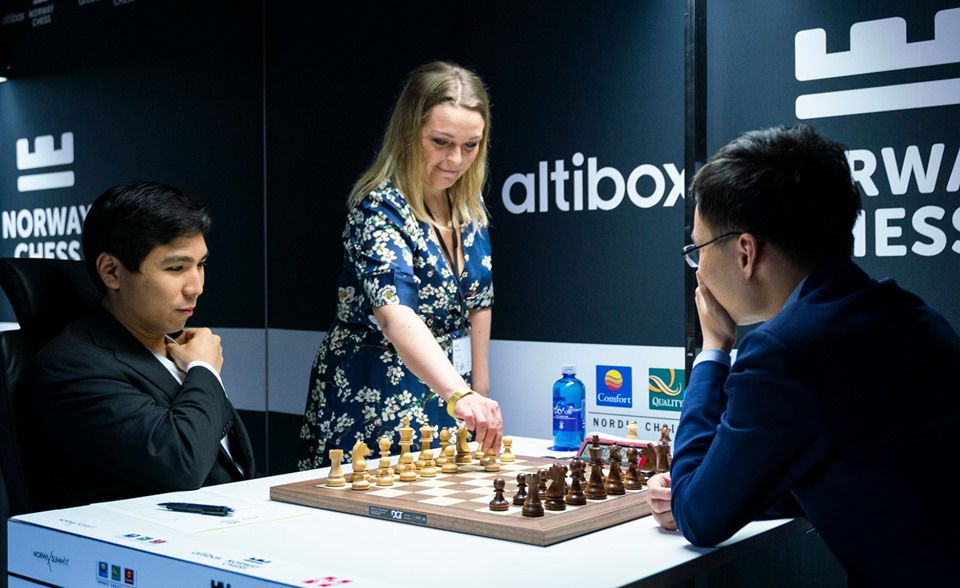 So-Yu Yangyi
Levon Aronian made use of a deep nuance to trick Shakriyar Mamedyarov:
Mamedyarov-Aronian
MVL-Anand was a tie that had two draws. The classical and the Armageddon both featured the Archangel, but while the former went almost eventless, the latter contained a very interesting moment:

MVL-Anand
So, after three rounds, we have a sole leader in Magnus Carlsen, with the chasing pack getting longer by the day. It will be fascinating to observe how the players fare after the first rest day tomorrow.
Standings after round 3
Rk

Player

Classical

Armageddon

Pts

W

D

L

W

L

1

M. Carlsen

1
2
0
2
0

5

2

Ding Liren

1
2
0
1
1

4

3

L. Aronian

1
2
0
1
1

4

4

W. So

1
2
0
1
1

4

5

S. Mamedyarov

1
1
1
1
0

3½

6

Yu Yangyi

0
2
1
2
0

3

7

F. Caruana

1
1
1
0
1

2½

8

V. Anand

0
2
1
1
1

2

9

A. Grischuk

0
2
1
0
2

1

10

M. Vachier-Lagrave

0
2
1
0
2

1
About the Author: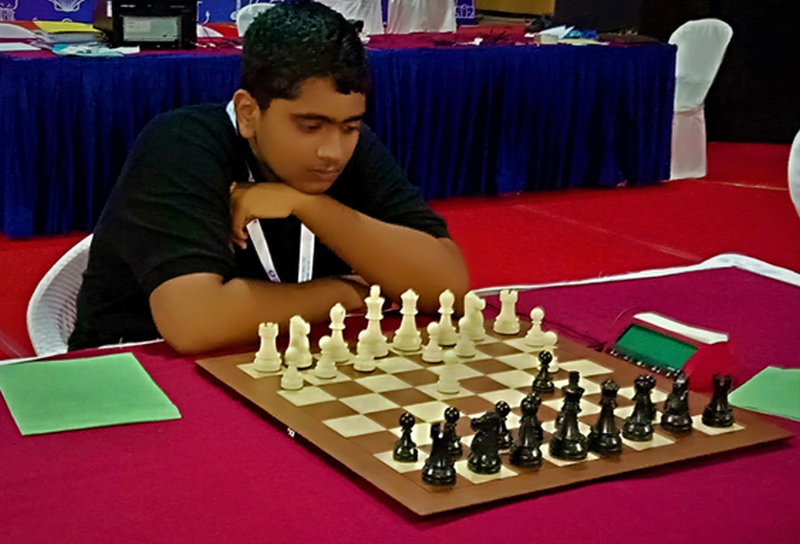 Tanmay Srinath is an 18-year-old chess player from Bangalore, Karnataka, currently pursuing both chess and engineering at BMSCE Bangalore. Tanmay is also a Taekwondo Black Belt, who has represented the country in an International Tournament in Thailand. He is a big fan of Mikhail Tal and Vishy Anand, and sincerely believes in doing his bit to Power Chess in India.
---