Norway 2019 Round 5: Aronian's trickery and Vishy's consecutive Armageddon wins!
The symphony with mathematics continued, as all 5 classical games were drawn in Round 5! Levon Aronian had the best chance to win against Ding Liren, but the Armenian genius couldn't properly assess the winning continuation. The Armageddons though were something else. Ding Liren was completely lost, somehow managed to find himself a queen up, yet could only find perpetual check. Carlsen was suffering against MVL before escaping with a repetition. Yu Yangyi turned the tables on a hapless Caruana after finding his king under a monsterous kingside attack. Grischuk won on time against Mamedyarov, who had White! Anand was the only one who drew his game as black comfortably without much action. An exhaustive report from Norway Chess by Tanmay Srinath.
As is customary of a classical chess tournament, there are times when there is action on all the boards, but somehow the games wither out to tame draws. This is what happened in round 5. The longest game of the round lasted 46 moves, and it definitely wasn't the most fighting one. What was amazing today was the magnitude of errors by some of the best players in the world, clearly due to nervous tension and tiredness! Let us now go into the intricacies:
Classical: Aronian misses big chance, as Yu fluffs up his assessment!
Before going into the most interesting game of the round, we shall look at the longest game, So-Anand. Vishy played the new Archangel with the improved Moller move order, and soon equalised chances. In the next part of the game, it seemed to me that Anand was pressing for an advantage, with possibilities down the open f-file.There were two different times where he could have successfully unbalanced the play:
So-Anand
Ding Liren-Aronian was a Queen's Indian Structure where black seemed to have equalised rather easily on first sight. The position however was very deceptive, and Ding Liren had a great chance to seize the initiative:
Ding Liren-Aronian
MVL-Carlsen and Mamedyarov-Grischuk were tame draws. Yu Yangyi-Caruana was the most curious results in recent times-the Chinese player took the threefold repetition in what seems to be a much better position for him:
Yu Yangyi-Caruana
Armageddon: Yu's retribution, Aronian's Houdini Act, Anand's solidity!
Yu Yangyi made up for his miss in the classical game by making a fine comeback as White after Caruana missed a winning continuation:
Yu-Yangyi-Caruana
Vishy Anand won his encounter confidently against Wesley So, by transposing into a drawn double rook endgame that is a book draw:
So-Anand
Ding Liren will be cursing his luck in this tournament. First he missed a wonderful pawn sacrifice in the classical encounter, then messed up a clear win against Levon Aronian:
Ding Liren-Aronian
Here are the game annotations. I have slightly modified the tactical analysis-the comps don't understand fortresses effectively.
Magnus Carlsen too won his armageddon against MVL by simplifying into an equal rook and bishop endgame: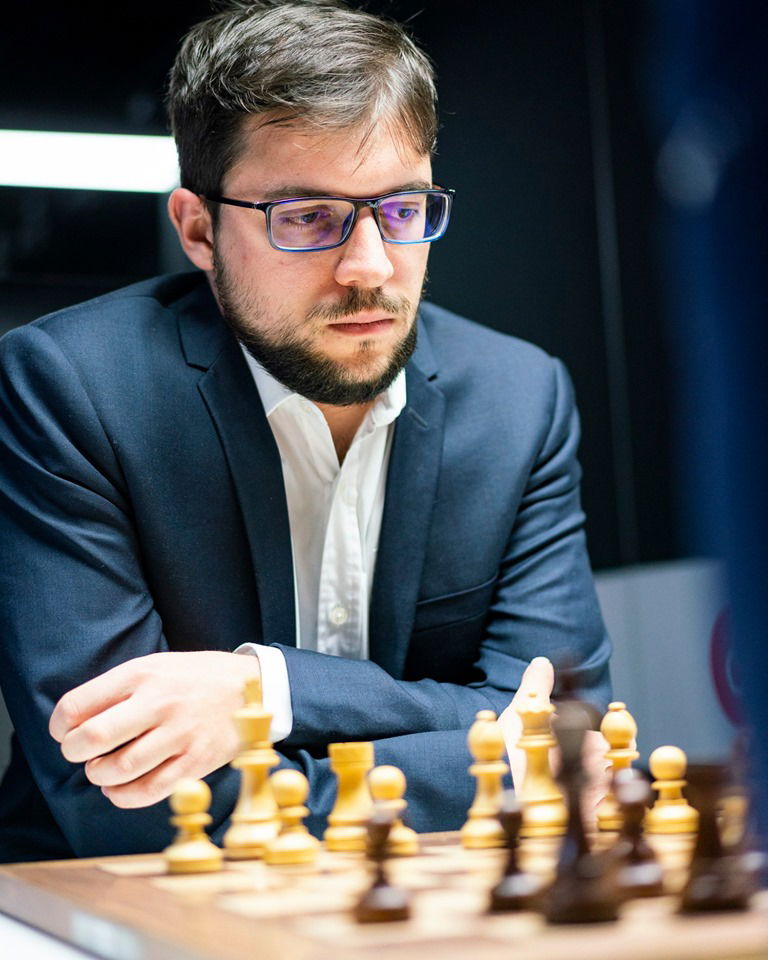 MVL-Carlsen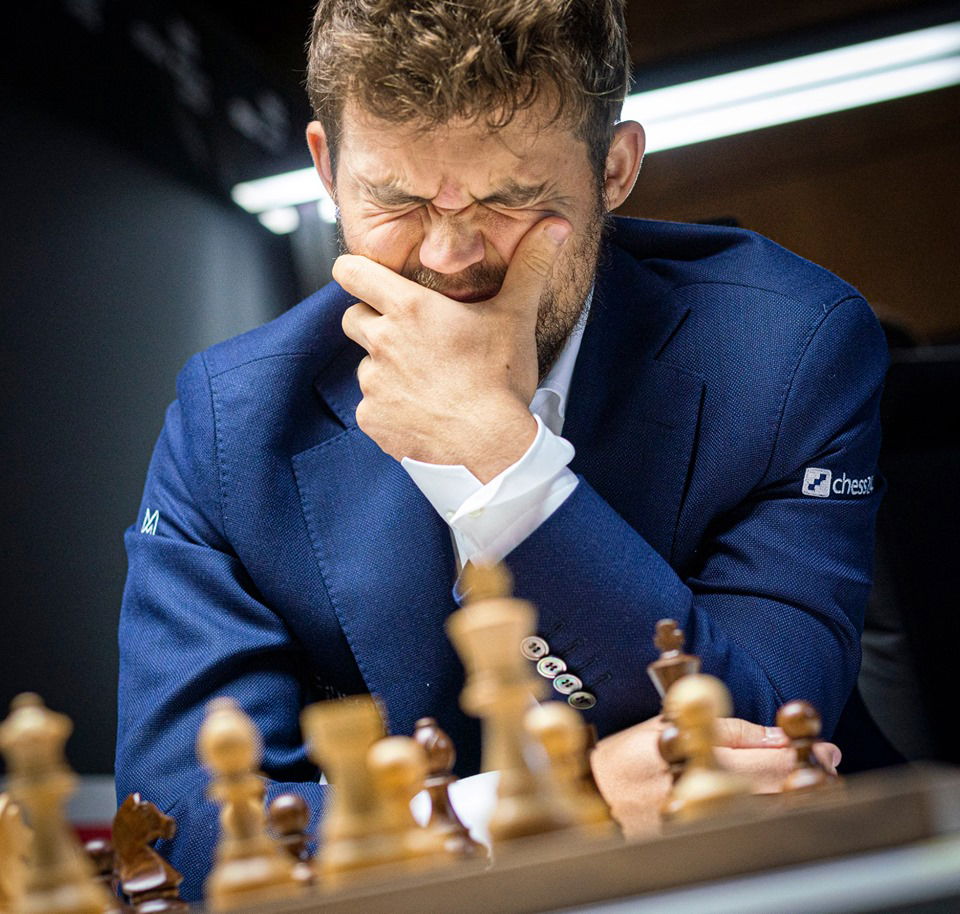 Alexander Grischuk finally won an Armageddon(!), but he could have forced Mamedyarov's resignation much earlier:
Mamedyarov-Grischuk
Standings after Round 5
| | | | | |
| --- | --- | --- | --- | --- |
| # | Name | Country | Rating | Points |
| 1 | Magnus Carlsen | Norway | 2875 | 8 |
| 2 | Yu Yangyi | China | 2738 | 6½ |
| 3 | Levon Aronian | Armenia | 2752 | 6 |
| 4 | Wesley So | USA | 2754 | 6 |
| 5 | Ding Liren | China | 2805 | 5 |
| 6 | Viswanathan Anand | India | 2767 | 5 |
| 7 | Shakhriyar Mamedyarov | Azerbaijan | 2774 | 4½ |
| 8 | Fabiano Caruana | USA | 2819 | 3½ |
| 9 | Maxime Vachier-Lagrave | France | 2779 | 3 |
| 10 | Alexander Grischuk | Russia | 2775 | 2½ |
Carlsen extends his lead to 1.5 points, over the surprise second place Yu Yangyi. Wesley So and Levon Aronian are close enough, and so are Ding Liren, Anand and Shak. Fabiano, MVL and Sasha have to pray they start winning soon, to have hopes of catching. But for now, it's the Magnus Show!
About the Author: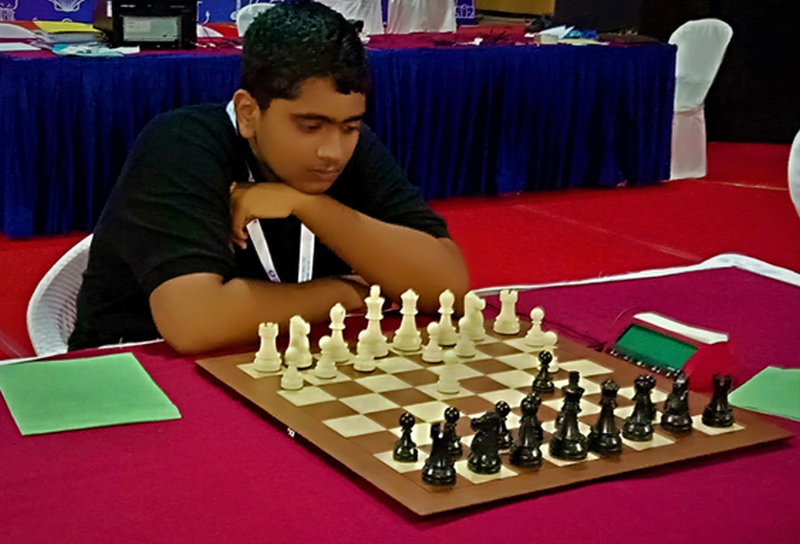 Tanmay Srinath is an 18-year-old chess player from Bangalore, Karnataka, currently pursuing both chess and engineering at BMSCE Bangalore. Tanmay is also a Taekwondo Black Belt, who has represented the country in an International Tournament in Thailand. He is a big fan of Mikhail Tal and Vishy Anand, and sincerely believes in doing his bit to Power Chess in India!

---