Berlin GP R4: Vidit and Harikrishna still in the hunt
Both Vidit Gujrathi and Pentala Harikrishna drew their respective games against Levon Aronian and Alexei Shirov in Round 4 of FIDE Berlin GP 2022. They are now at 2.0/4 each. Aronian and So lead Pool C and D 3.0/4 each. Shirov arrived 14 minutes late to his game as he mistook it to be a rest day. A minute late would have cost him the game instead of €500 from his prize money as mentioned in the tournament regulations. Nakamura and Fedoseev lead Pool A and B respectively with a score of 2.5/4 each. Today is a rest day. Round 5 starts tomorrow Wednesday 9th February at 7:30 p.m. IST. Photo: World Chess
Fedoseev, Dubov and So score full point
Three games ended decisively in the fourth round. Two wins were scored with the black pieces by Vladimir Fedoseev (RUS) and Wesley So (USA) against fellow countrymen Grigoriy Oparin (RUS) and Leinier Dominguez Perez (USA) respectively.
Pool B: Oparin - Fedoseev: 0-1
Grigoriy Oparin made a questionable decision to shuffle his king towards the queenside. It allowed Black to take advantage of the stranded king at the middle of the board.
17.Bxe6 would have been fine for White. 17.Kd1 allowed Black to gain the upper hand fxe4 18.dxe4 Bxc4 19.Qxc4 Qg4 20.Qd3 c4 and now Black is completely winning.
Pool C: Dubov - Keymer: 1-0
Daniil Dubov bounced back well by winning against Vincent Keymer convincingly.
Black's position looks uncomfortable as the rooks are still disconnected and the king is awkwardly placed in the middle. 24...Kd7 was a viable option as 25.Bb5+ runs into Rxb5 26.Nxb5 Nc6 and Black would have been fine. The game continued 24...Rc6 25.Bb5 Rb8 26.Ra4 and White won the game in another six moves.
Pool C: Vidit - Aronian: 0.5-0.5
Vidit Gujrathi had a solid draw with Levon Aronian.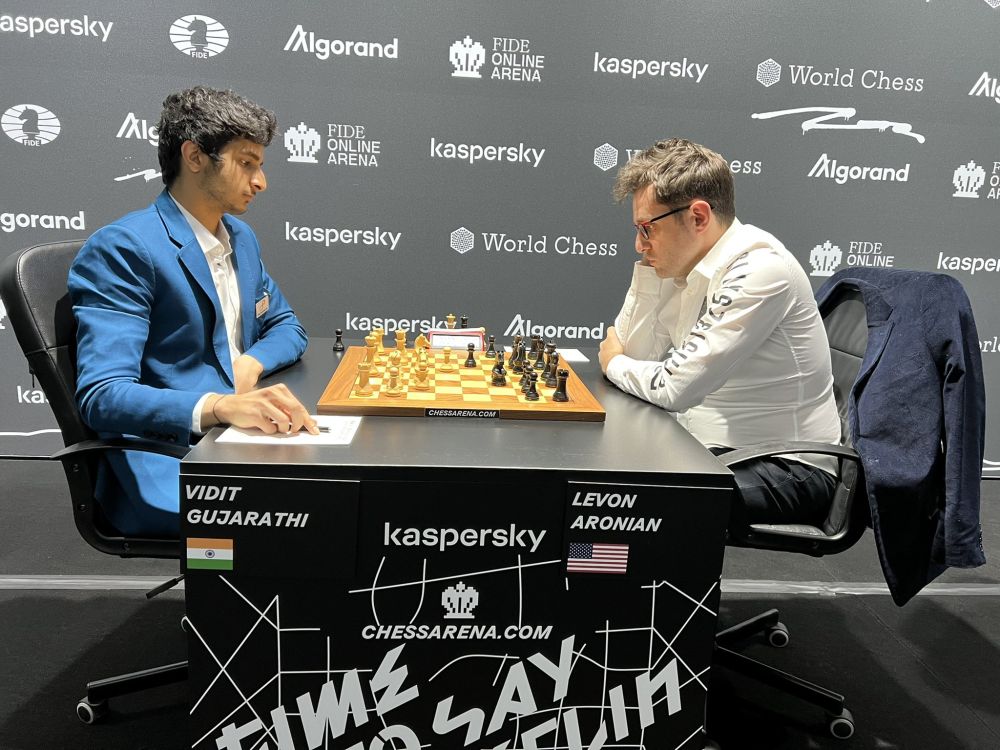 Pool D: Leinier - So: 0-1
It would have taken a computer-like accuracy for Leinier Dominguez Perez to save his position against Wesley So.
Generally exchanging queens to reduce the intensity of the attack would be a good idea here because white has a bishop pair and we know it works well with rooks. So, Leinier played 23.Qg3. It did not turn out to be a good idea as 23...Qxg3 24.fxg3 Nd3 25.Bc2 Rf2 and Black manages to exchange his knight with one of the bishops. 26.Bxd3 Rxd2 27.Bxg6 hxg6 and now Black has a substantial advantage. White exchanging another bishop with a knight turned out to be a bad idea due to the fact that White's pawn structure is in complete disarray. 23.Bc2 was the best way for White to survive the onslaught, according to the computer.
Harikrishna - Shirov: 0.5-0.5
Pentala Harikrishna had a long grueling draw with Alexei Shirov.
Replay Round 4 games
Round 4 results
Standings after Round 4
Pool A
Pool B
Pool C
Pool D
Time control
The time control for each standard game in pools and play-off is: 90 minutes for the first 40 moves, followed by 30 minutes for the rest of the game with an increment of 30 seconds per move starting from move 1. In case if a player arrives at the chessboard with a delay of up to 15 minutes from the actual start of the game, he/she should be charged of five hundred (500) euros deducted from his/her prize money. In case of delay of more than 15 minutes, the player loses the game (without financial penalty).
Draw
The players cannot draw any game by mutual agreement before black's 30th move. A claim for a draw before black's 30th move is permitted only in the case of a draw by repetition.
Prize
Each Grand Prix tournament has a total prize fund - €150000.
Links
---