Belgrade GP R2: Vidit beats Fedoseev to take a full point lead in Pool C
by Shahid Ahmed - 03/03/2022
Vidit Gujrathi scored his second consecutive victory at FIDE Belgrade Grand Prix 2022. Vladimir Fedoseev's tactical error cost him an exchange. Later, Vidit found a beautiful move to secure his win. He is now a full point ahead of the field in Pool B. Harikrishna was unable to seize his advantage in a completely winning position against Tabatabaei. Anish Giri is playing some of his best chess as he also scored his second win with another sacrifice. Vidit will face Richard Rapport in Round 3. The Hungary no.1 started the event with two consecutive draws. Round 3 of Pool stage starts today at 6:30 p.m. IST. Photo: Mark Livshitz/FIDE
Anish Giri leads Pool B
Vidit's good friend Anish Giri leads Pool B in the exact same fashion, by a full point ahead of the field. Round 2 of Belgrade GP 2022 had three decisive games and White won in all of them.
Pool A: Vidit - Fedoseev: 1-0
Vladimir Fedoseev made a simple tactical error which cost him an exchange. However, that was not the most interesting aspect of Vidit Gujrathi's win.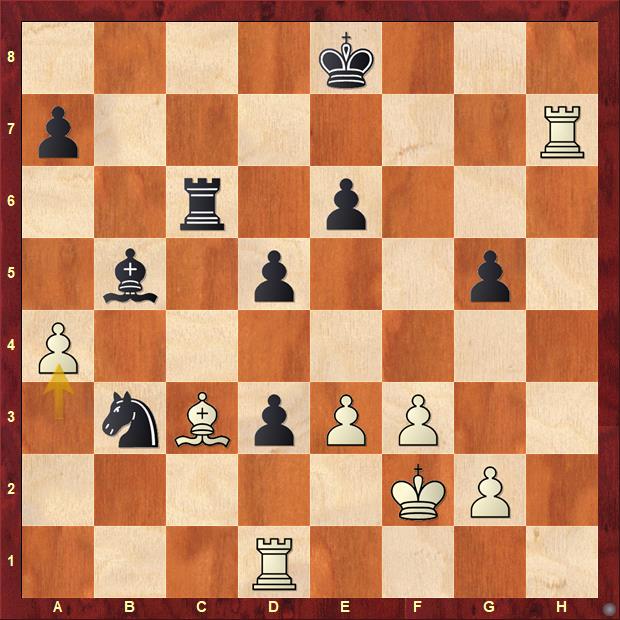 The most beautiful move of the game played was 42.a4. Although White was already winning, yet 42.a4 was necessary for White to ensure Black cannot make a comeback. Vidit found it and scored his second consecutive move.
Pool B: Tabatabaei - Harikrishna: 0.5-0.5
Harikrishna was completely winning against Tabatabaei. However, he was unable to capitalize on his opportunity.
Find out the winning continuation for Black after 29.Kd1.
Giri - Vitiugov: 1-0
Anish Giri continues to play ambitiously. He sacrificed his bishop to gain initiative against Nikita Vitiugov.
24.hxg5 is not immediately winning for White. The intention of playing g6 is quite obvious. Thus, Black took on g5 first 24...hxg5 25.Qxg5 Nxa3 26.Rh4. Vitiugov was unable to defend correctly and resigned the game in another six moves.
Replay Round 2 games
Round 2 results
Time control
The time control for each standard game in pools and play-off is: 90 minutes for the first 40 moves, followed by 30 minutes for the rest of the game with an increment of 30 seconds per move starting from move 1. In case if a player arrives at the chessboard with a delay of up to 15 minutes from the actual start of the game, he/she should be charged of five hundred (500) euros deducted from his/her prize money. In case of delay of more than 15 minutes, the player loses the game (without financial penalty).
Draw
The players cannot draw any game by mutual agreement before black's 30th move. A claim for a draw before black's 30th move is permitted only in the case of a draw by repetition.
Prize
Each Grand Prix tournament has a total prize fund - €150000.
Links
---